Something I always hear when people get back from trekking in Nepal, is how surprised they are at how many choices are on the menu. For some reason, everyone expects three to five selections, but the truth is you can order plenty of options in the mountains from pizza to chow mein. Although you can order things you recognize from home, I'd recommend the Nepali dishes which always taste better than the western food.
---
Dal Baht
---
There's a joke in Nepal, "Dal baht power 24 hour." Nepali people eat dal baht for lunch and dinner almost every day. This sounded crazy to me at first, but dal baht really varies a lot based on how each person cooks it. "Dal" is a very popular lentil soup. "Baht" is rice. Most dal baht comes with a vegetable curry which could vary between potato, cauliflower, squash or even pumpkin. It really depends on what grows at the altitude you are at.
You can also get chicken, yak (like beef), or buffalo (like beef but tougher) dal baht. My rule of thumb is only order meat if you see it roaming around town. For instance, if there are chickens running around, order the chicken. If you don't see any chickens, don't order it. That's an easy way to tell how fresh the meat you're eating is. At lower altitudes you'll even be served a green usually similar to spinach or kale. The best part of dal baht is that you get refills of rice and lentil if you're still hungry at the end.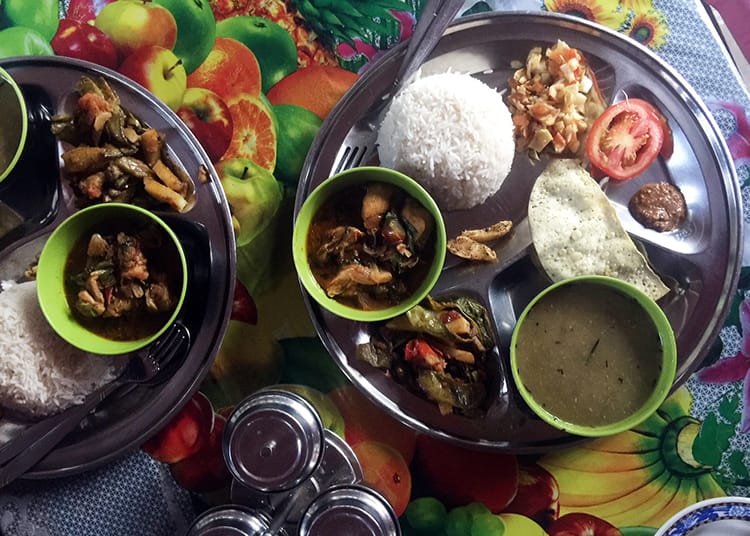 Sherpa Stew (Thukpa or Thenthuk)
---
Found mostly in the Everest region, Sherpa stew is clear soup loaded with vegetables and noodles or rice. The best and most authentic ones I've had, have thick dumpling like noodles that are homemade. The soup comes in two major varieties including thukpa and thenthuk. Thukpa tends to have long noodles kind of like a ramen. Thenthuk is my favorite as it has the more dumpling like noodles. If you don't like chili, make sure to ask for it "not spicy" as I was once served one so hot that it left a rash on my lips.
---
Fried Tibetan Bread
---
Tibetan bread is often on breakfast menus alongside things like chapatti. I can best describe it as a mix between a pancake and a funnel cake. It's a bit like a large flat donut with a little bit of sweetness. It's really delicious and you can order it with honey or jam in lieu of typical toast. You can also dip it into curry which is a more savory treat.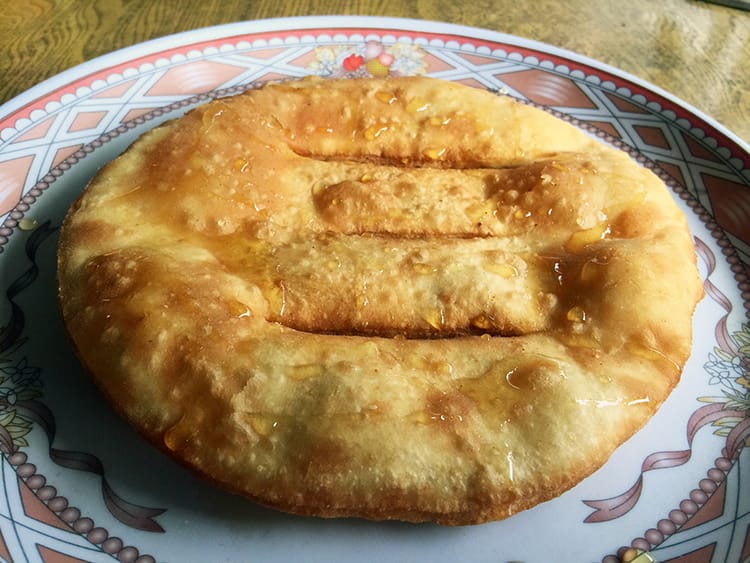 ---
---
Authentic Tibetan Bread
---
Every time I ordered Tibetan bread, I got the fried version mentioned above. In the Langtang Region where many Tibetans live, they serve it differently. When I asked why, they said this was the authentic version. It's basically a really thick chapati. Instead of frying it, they grill it on a flat pan. It was a little too thick for me, so we cut it in half and filled with with yak cheese for a kind of Nepali style grilled cheese.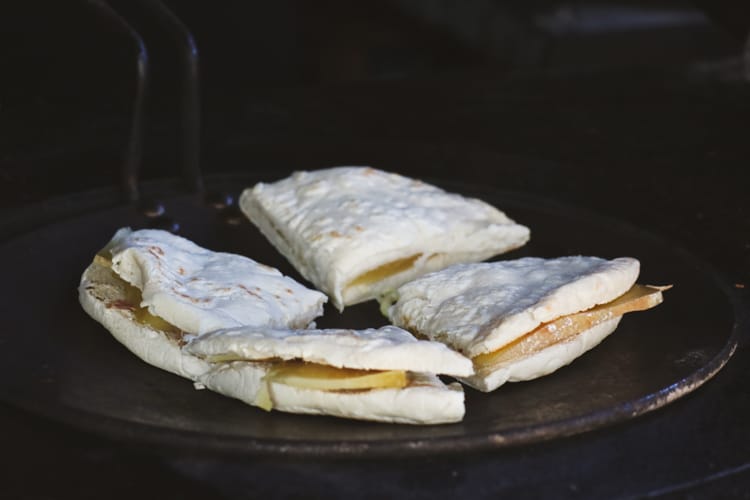 Thongba
---
Thongba was originally a Tibetan drink that you'll find around Nepal. It's often served in a bucket or metal container and consists of fermented millet with hot water poured on top. I found this drink to be really delicious. It got me a little bit drunk but didn't leave me with a hangover. Plus, drinking out of a bucket with a straw was fun and reminded me a bit of college. I'd recommend drinking this on the way down as a celebration for completing your trek since drinking at altitude is not recommended.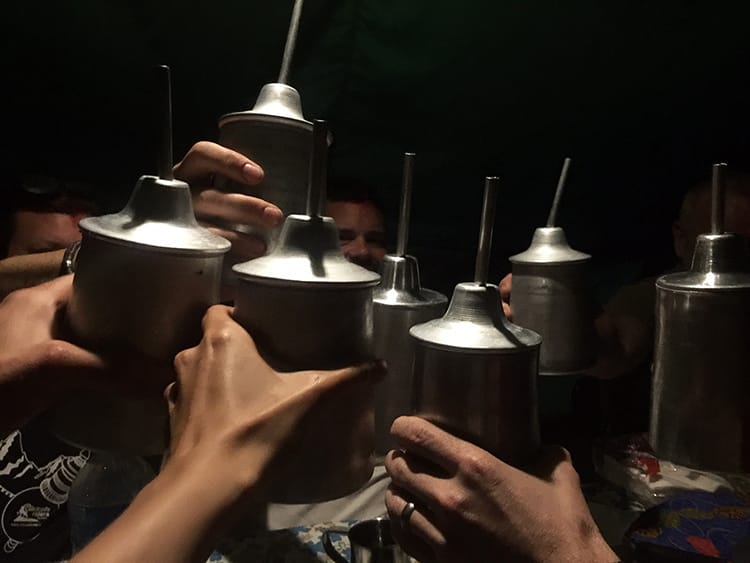 Rice Pudding
---
Sometimes offered as a breakfast and sometimes as a dessert, rice pudding is made fresh in tea houses. On the Annapurna Circuit, it's made with fresh coconut and cinnamon. It immediately became one of my favorite snacks and is some of the best rice pudding I've ever had.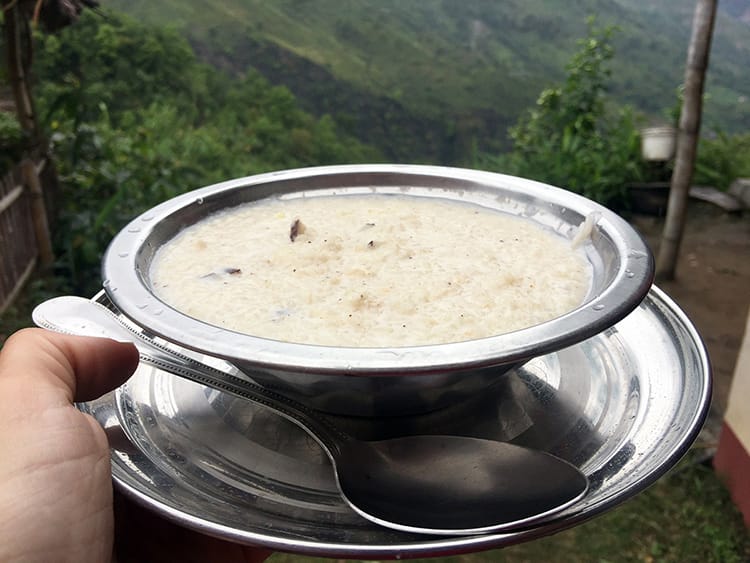 ---
---
Tingmo
---
A popular dish in the Langtang region, tingmo is a lot like a Nepali garlic know. Dough is wrapped around into a knot and then put into a steamer. It becomes a soft dough that is best dipped in curry. The dough itself doesn't have a ton of flavor but it soaks up all the spices and flavors of whatever you eat it with.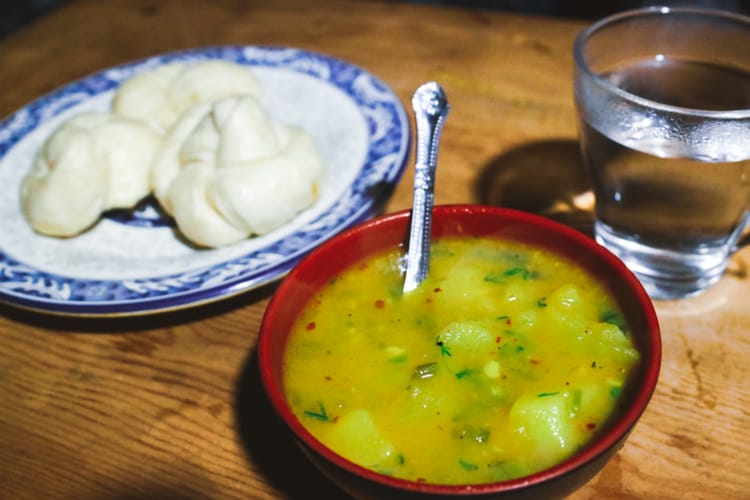 Champa (Tsampa) Porridge
---
Champa porridge is often listed for breakfast and is popular among locals. According to the tea house owner, it's made from a kind of flour. To me, it had the texture of cornmeal. It definitely wasn't my favorite dish I've tried, but it was still worth having once. I've also been told it's one of the most filling things you can order for cheap.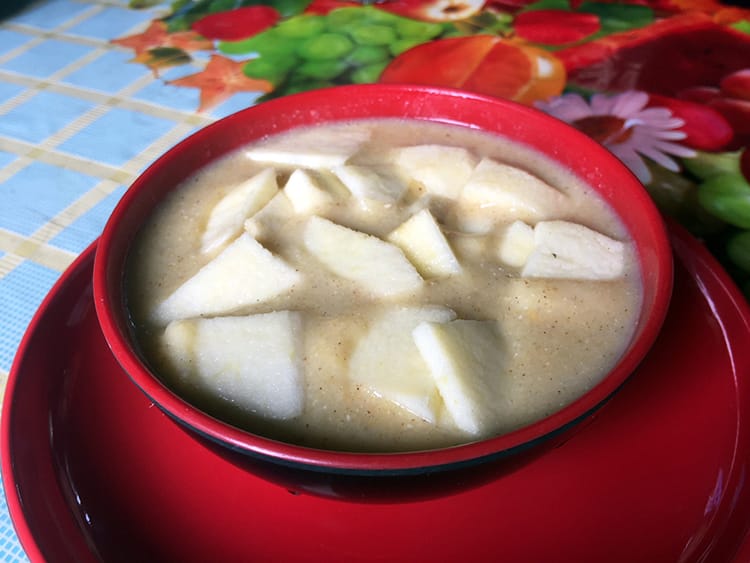 Sea Buckthorn Juice
---
Sea buckthorn is a berry found mostly in the Everest Region. It contains 15 times the vitamin C of an orange, making it super healthy. The juice itself is neon in color. Everyone in our group who tried it had a different opinion. Some thought it tasted like orange or mango juice while others thought it was closer to tomato juice. For me, it did taste a bit like a V8. Either way, a hot cup of sea buckthorn is great for trekkers lacking in vitamins. I've also heard the berries are used to treat diarrhea.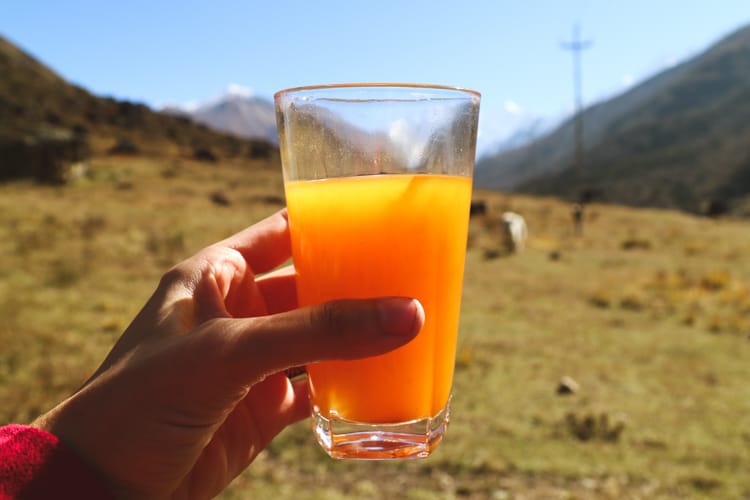 ---
---
Masala Tea
---
Masala tea is popular all across Nepal. It's similar to the typical milk tea you can find anywhere, but masala tea has spices added in. In the Everest Region, it was mostly cinnamon, while in the Annapurna Region it had a much spicier taste which included pepper. In major cities, it's not much different from milk tea.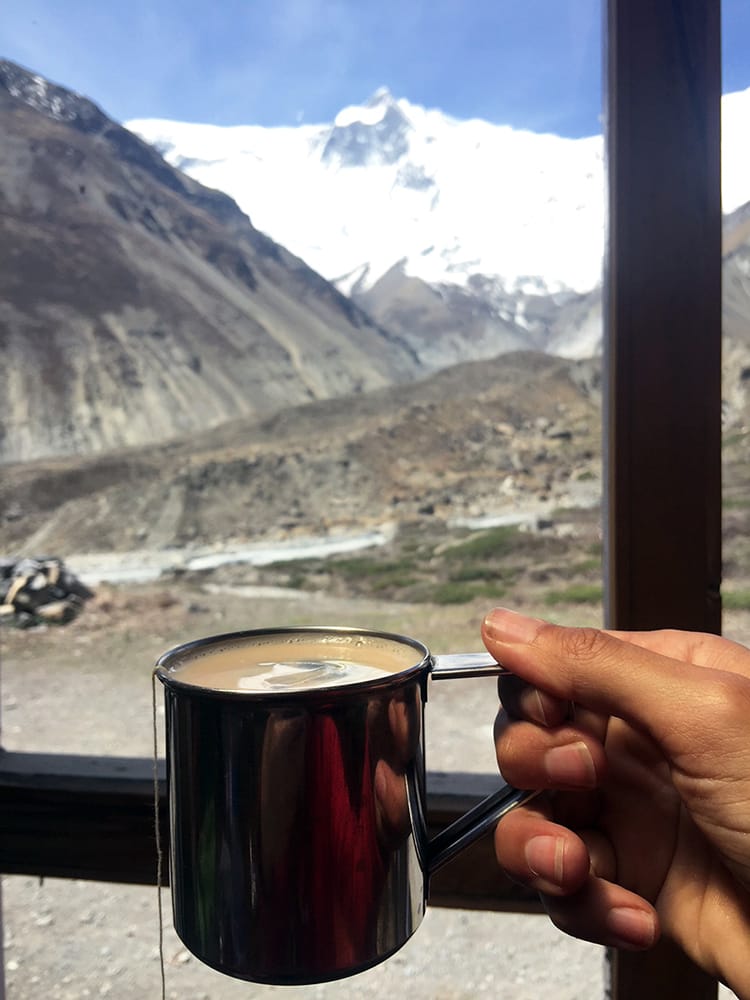 Momo
---
Momo are Nepali dumplings that are served with a chutney dipping sauce. They come in a variety of flavors. In cities, I'd recommend the meat momo, but on the trail, it's the vegetable and cheese momo or potato and cheese momo that always seem to be the best. I tend to avoid chicken momo because several times I found tiny bones in them, and it was difficult to eat.
You can learn to make momo in major cities or at homestays!
Pakoda
---
Pakoda is a snack that often consists of vegetables dipped in batter and then fried in dumpling sized balls. You can also get cheese or egg pakoda among other variations. It's a good snack to share with others, but I wouldn't recommend it as an entire meal since it's a bit greasy.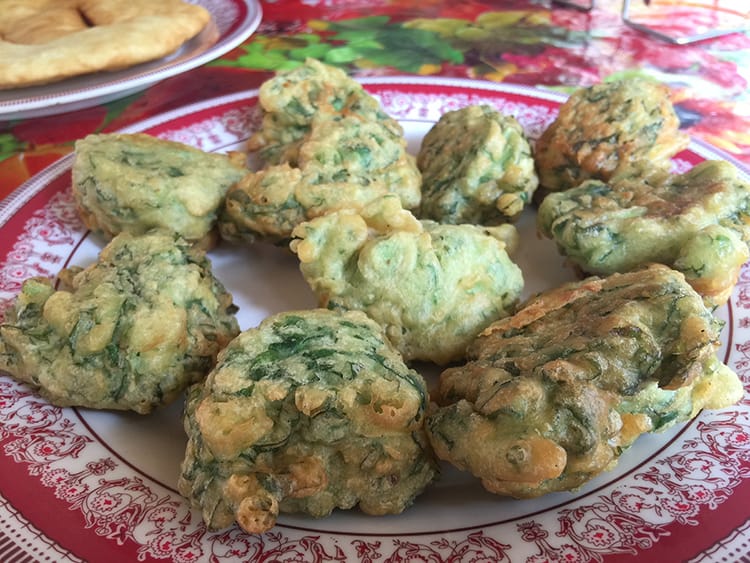 Yak Cheese
---
Yak cheese is amazing! I'm a huge fan of cheese, and you can buy this in giant chunks and store it in zip lock bags to take with you on your trek. It's a mild cheese which is kind of like a soft version of parmesan. You can also order it as an add on at some restaurants. For instance, chow mein with yak cheese or dal baht with yak cheese. The photo below is from the famous Kyangin Yak Cheese factory which you can visit in Langtang.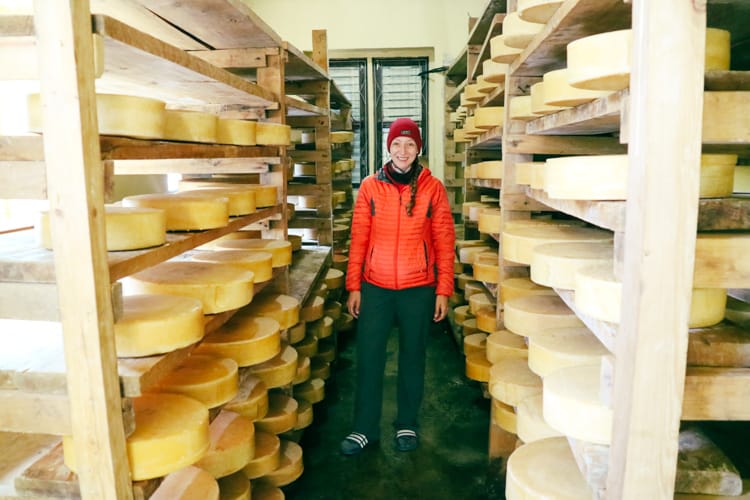 Himalayan Flower Tea
---
I haven't seen Himalayan flower tea on many menus, but I did see it several times in the Langtang region and gave it a try. It's a light floral tea, often served with honey. It reminded me a bit of chamomile. If you see it, it's worth a try and gives you a little variety in your drinks. It's supposed to have some health benefits as well, but I have no idea what flower they used as the name was in Nepali.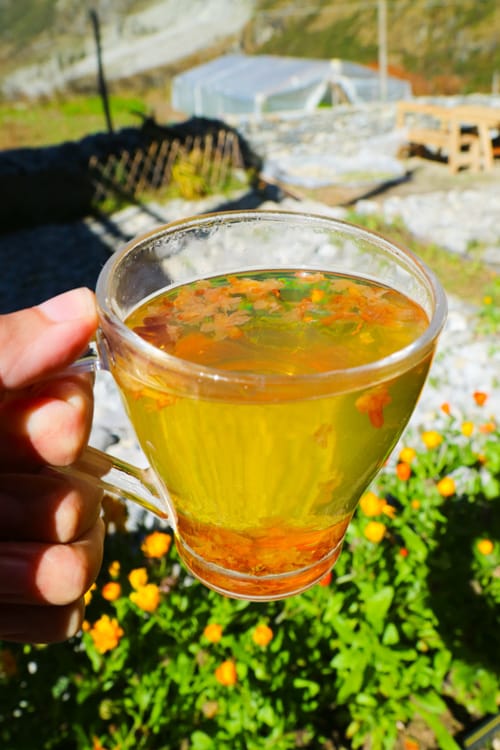 Mars or Snickers Rolls
---
This is probably the most American thing you could order in Nepal, and yet we don't really have them in America. In almost every single tea house on the main trekking routes, you'll see Mars/Snickers Rolls listed on the dessert menu. They take a candy bar and wrap it in dough (kind of like an apple strudel), and then they fry it into a delicious dessert. I get these after long trekking days when I think I deserve a special treat.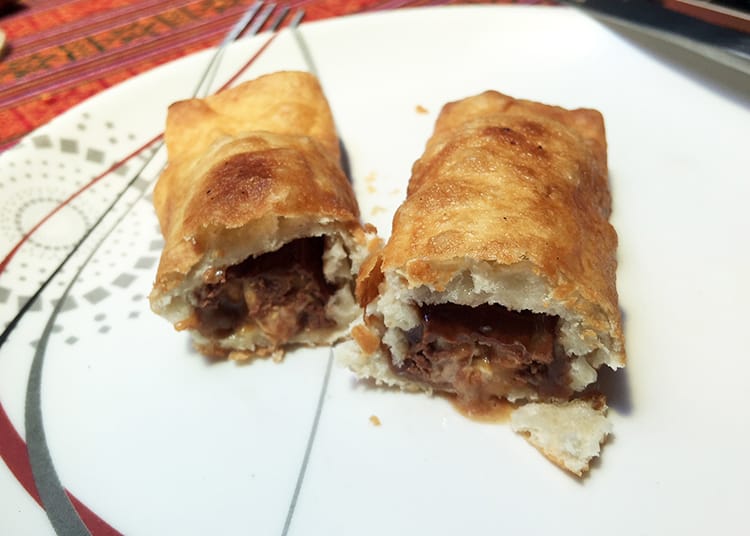 Rhildu
---
Rhildu is described as a potato dumpling soup which is popular among Tibetans. We tried it in the Langtang Valley. That is the only place I've ever seen it on a menu. This soup is made with thick potato dumplings and a creamy garlic broth. It's topped with some spices to give it a little bit of a kick. I believe the spice had Sichuan pepper which makes your mouth a little tingly but isn't overbearingly spicy.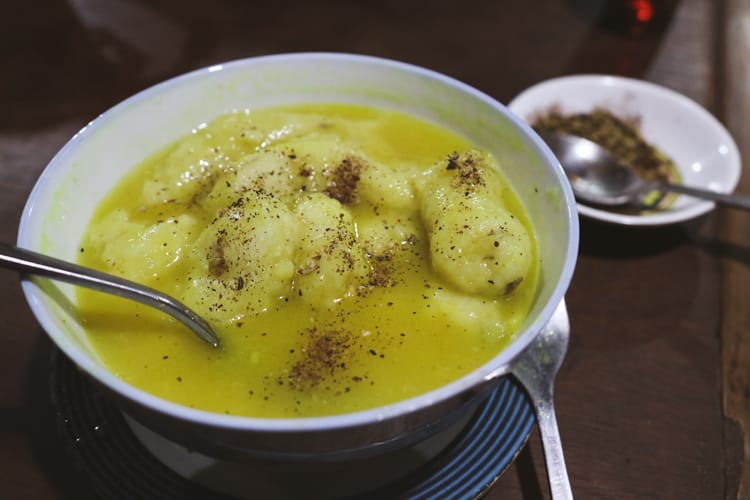 Garlic Soup
---
This one is pretty self-explanatory. It's a broth like soup full of garlicy goodness. As a lover of garlic, this is one of my favorite treats. The reason it's popular on trekking routes is because locals believe that garlic helps prevent altitude sickness. I'm not sure if there's any scientific proof to back this up, but any excuse to eat garlic is okay by me.
---
Khoo
---
Khoo is a Manangi dish which can be found in the Manang region of the Annapurna Circuit. It's a rice and potato soup that is super creamy and chunky. It has the flavor of mashed potatoes with bits of garlic in it, but the texture of rice porridge.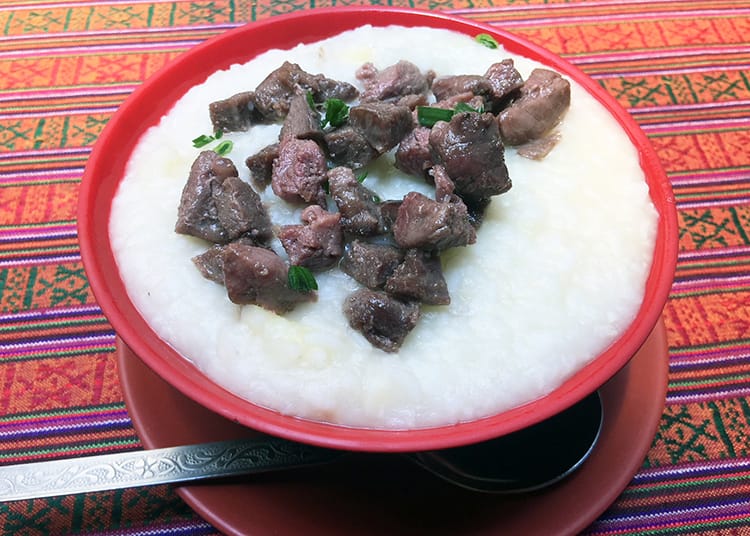 Apples Apples & Apples
---
Mustang (in the Annapurna Region) is famous for their apples, which means you can get apple brandy, dried apples, apple crumble, apple pie, apple fritters, apple in your dinner, and apple ciders. Everything apple! And, if you're there during the right season, they're the best apples you'll ever have.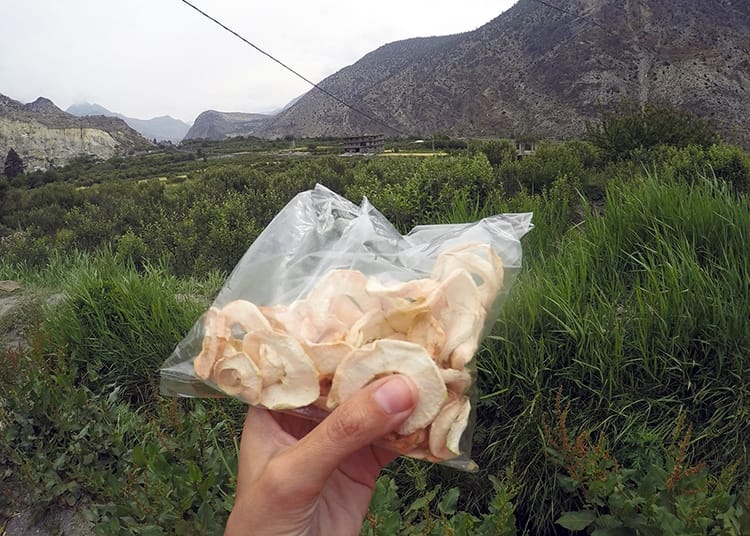 Dhindo
---
Dhindo is a traditional Nepali dish which we often found in the Mustang Region. It's water and flour mixed together in a pan. It becomes a bit of a dough without ever fully cooking. It had a texture somewhere between mashed potatoes and bubble gum. While bizarre, it was a great substitute to try with dal baht instead of the typical rice.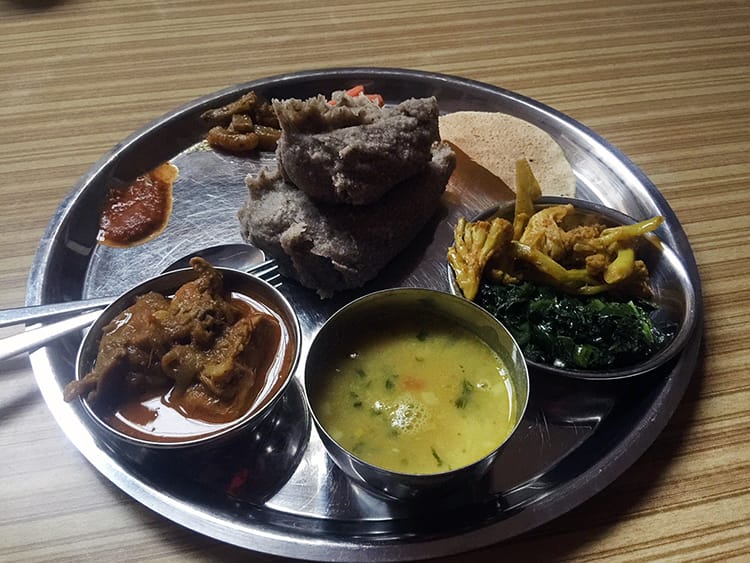 Thakali Khana Set
---
To the average person, this will look exactly like dal baht, but with some extra stuff on the plate. According to my Nepali friends, a Thakali set must be made by a Thakali person. Although similar to dal baht, they usually put ghee in the rice. It's also fancier and richer in flavor than dal baht. I found it to be a bit spicier as well. It was like having dal baht at a fancy restaurant rather than a tea house.
Which Nepali dish are you most excited to try?
---
You might also like…