The Tilicho Lake is a glacial lake located near the very popular Annapurna Circuit at an altitude of 4919m (16,138 ft). The Tilicho Lake trek takes three to four days depending on your itinerary and weather conditions. The lake is famous for being the "biggest highest lake" in the world. Although there are smaller higher lakes, this one is notable for its size. It has a depth of 85m and is the site of one of the highest ever altitude scuba dives. The lake is meant to be the main attraction of this side trek, but I personally found the variety of landscapes on route to Tilicho Lake to be the best part. The landslide areas on the way there make you feel like you're on the moon, while the views 35 minutes before the lake are some of the best mountain views I've ever seen.
Tilicho Lake Trek Itinerary Map
Please note: the locations on this map are estimates since I couldn't find their exact location on any online maps. This map should not be used for navigational purposes. It is just meant as a visual aid.
---
Day 1 – Braka to Shri Kharka
---
Starting Altitude: 3,439m (11,279 ft)
Ending Altitude: 4,050m (13,284 ft)
Walking Time: 4 hours
Tea House: Himalayan Guest House
Oxygen Concentration (at sleeping location): 62%
While most people stay in Manang, we chose to stay in Braka for an acclimation day since the nearby side treks felt like a better option. We had been choosing smaller towns over bigger ones and knew we'd have time to stop in Manang on the way back. That being said, I think it's better to spend one night in Braka and one in Manang after your acclimation hike. The two villages are only 40 minutes apart, but it will make the trek to Tilicho Lake a bit easier. Also, Manang has a movie theater and coffee shops, making it a great place to spend a little time. I highly recommend seeing the movie Caravan while you're there which is a favorite among Nepalis.
The road from Braka to Manang is easy and straight forward to follow. Stay on the main road until you hit the village. Jeeps can't go beyond this point, which is a breath of fresh air, literally. Pass through the main gate and follow the path into town. This is a great place to stop and grab any last minute supplies. I got a pair of shoe laces since mine were wearing thin. You'll pass through an ACAP checkpoint for your permits. Once you've checked in, keep on the main path and follow the signs to "Thorong La" until you get out of the main village.
Once you leave Manang, you'll see a small sign on the left directing you to Tilicho Lake. Ahead, the trail splits, and we chose the path on the left which wrapped around the mountain and offered incredible views of the Annapurna Range. The road starts to descend to the river, but don't go all the way down. There's a path on the right halfway down that's easy to miss. You'll know you've got the right one if you cross the suspension bridge. The trail is narrower, but it stays pretty flat compared to the road which has lots of hills.
The path will reconnect with the road and take you to Khangsar (3,734 meters or 12,247 feet). It took us two and a half hours to reach here from Braka. If you are coming from Manang, it will take less than two hours. At the end of the village, we stopped for a cup of tea at Hotel on Heights Restaurant because it had a balcony with a nice view of the mountains.
Follow the main path out of the village, and you'll end up back on the trail. It starts out pretty gradual, but as you get closer to Shri Kharka, the elevation begins to increase and the trail gets steeper. At the top, we chose to stay in the Himalayan Guest House. They have excellent food (the cheese dal baht is great) and a hot gas shower. We were the first people there, so we got the room on the end with an ensuite toilet and views in all three directions. They'll also store your bag while you take a daypack to the lake. This makes a huge difference when going over the landslides and was the best advice I got.
We decide to spend the night in Shri Kharka because we arrived around 12pm when the wind starts to pick up. On the next leg of the trek, there is an area known for landslides and rock fall. These are more likely to happen in the afternoon when the rocks have heated up and when it is windy. It's safer to cross this section in the morning when the wind is low, so we decided to wait for the next day.
Day 2 – Shir Kharka to Tilicho Base Camp
---
Starting Altitude: 4,050m (13,284 ft)
Ending Altitude: 4,150m (13,612 ft)
Walking Time: 2 hours
Tea House: Hotel New Tilicho Base Camp
Oxygen Concentration (at sleeping location): 61%
The path from Shri Kharka to Tilicho Base Camp is easy to navigate since it's the only path in sight. We followed it for a while before running into a large group of Nepali tourists who were on their way back from the lake. Each one greeted us ominously with a, "Namaste" and "Safe travels." No one had wished us safe travels for 13 days so it seemed strange to hear it from everyone all of a sudden. We had been told how dangerous this section would be multiple times, so I already expected the worst.
Once we arrived to the notorious landslide area, I was pleasantly surprised that the path was much wider than I had anticipated. Because we broke this section of the trek up into two days instead of one, we arrived early in the morning with no wind and no rocks tumbling down at us. My last trek had a similar appearance, although the path was covered in ice instead of rubble which was much scarier. This might have skewed my opinion on the danger level, but after consulting others, they too thought it wasn't as bad as others made it out to be.
The path narrowed in sections ranging from 5 feet to 20 feet long. These areas weren't exactly easy, but as long as I went slow and took my time making sure my footing was right, it seemed to be ok. That being said, if you stopped and looked down, or stopped to think of all the things that could go wrong it would be absolutely terrifying. I stared at the path and my feet and just focused on that as opposed to what would happen if I slipped, a rock hit me, or a sudden earthquake occurred. When you get in a car, you don't think of all the ways you could die, so don't psych yourself out here.
My best advice is not to let people scare you away from doing this trek. Is it scary? Yes. Should that deter you? No. The landslide section only took 2 hours to cross and most of it was safe. We actually saw guys riding mountain bikes down it and a caravan of mules carrying propane tanks. If they can do it, you can do it. Just make sure not to go during bad weather or windy conditions, and take your time.
At Tilicho Base Camp, we decide to stay in the Hotel New Tilicho Base Camp. The hot showers are good and the rooms are really clean. We even had an ensuite toilet. The views from the hotel are amazing. It's the best part of the Annapurna Circuit up to this point.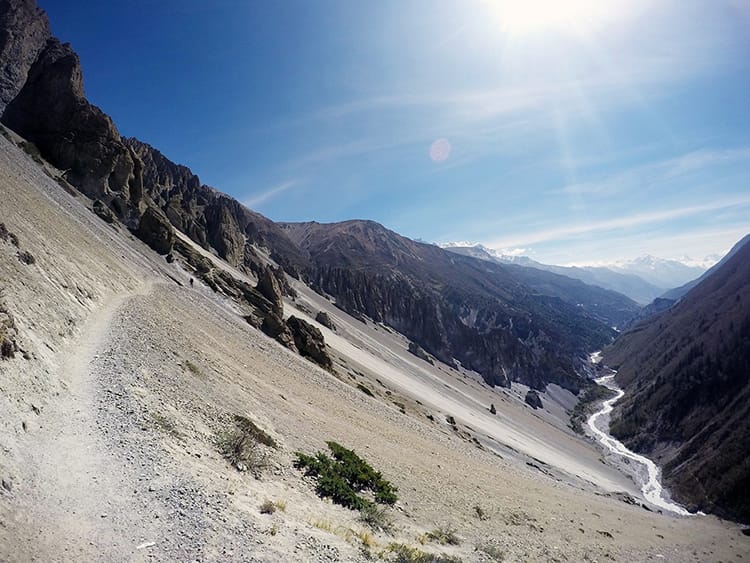 Day 3 –Tilicho Base Camp to Tilicho Lake to Shri Kharka
---
Starting Altitude: 4,150m (13,612 ft)
Tilicho Lake Altitude: 5,023m (16,475 feet)
Ending Altitude: 4,050m (13,284 ft)
Walking Time: 8 hours
Tea House: Himalayan Guest House
Oxygen Concentration (at highest point): 55%
We decided to leave the hotel at 4:00am, so we ordered breakfast the night before and packed it into Zip Lock baggies. I ordered two boiled eggs and Tibetan bread. We heard from other trekkers that waking up at 2:00am ensured you'd see the stars including the whole Milky Way and the sunrise at Tilicho Lake. It was very cloudy the night before, and none of us felt committed enough to wake up that early. By 4:00am you couldn't see the stars, but it was also somewhat cloudy when we went.
We walked toward the other two hotels in town and followed the path that goes in between them. The Himalayas were pure white in the distance, the snow bright as day against the stark sky. The path goes slightly uphill at the start. Although the incline is gradual, you're trekking above 4000m (13,120 ft) so it's difficult to breathe.
The hike up to Tilicho Lake has some landslide areas as well. They aren't as bad as the ones from the day before, but they are difficult to navigate at night. Some of the gravel is dark and some is light, making it hard to differentiate the cliff from the different colors of dust. I walked extra slow to be safe. After a while, I stopped to take a breathing break and realize the sun was rising behind us. Everyone told us the sunrise wasn't special, but the overcast sky worked in our favor. The clouds turned to embers, and I couldn't help but stop and stare for over five minutes.
At the end of the landslide section, right before a steep hill covered in switchbacks, there's a gradual incline that was extremely exhausting to me. I tried not to stop because stopping to rest on a landslide seemed like a bad idea, but it was too tough. In those 20 feet, I must have stopped at least three times to catch my breath. Even though the next part with the switchbacks looked so much worse, it was actually easier. At the top, a sign reads "Tilicho Lake 35 minutes."
From here, the ground evens out with barely any incline. We passed a few small ponds which are calm in the morning and reflect the beautiful mountains nearby. The view from this section is easily in the top three views of my life. The mountains are gorgeous, reflecting the soft morning sunlight. I took a few minutes just to stop and appreciate them before moving on.
With one last tiny hill, we made it to the lake which we already knew would be frozen. It snowed the night before, so it was also covered in a fresh sheet of snow. Unfortunately, it looked a bit more like a giant field than anything else. One girl joked that she'd only give it a "solid five" out of ten. We had previously joked that the lake was the "biggest highest lake." Wording that is a little tricky because it's not actually the "highest lake" in the world. I personally didn't think the lake was anything to write home about, but the sunrise and views along the way were worth every second of the walk.
After spending an hour at the top, the sky began to warm up and we started our slow decent back to Base Camp. It took us about 3 hours to reach the top. On the way down, we stopped for photos, water breaks, and breaks for no reason. It took us two hours to descend at our leisurely pace, but we really got to enjoy the incredible views on the way.
We all grabbed a real breakfast at the hotel. I highly recommend the set breakfast which includes everything and is very filling. We all looked like zombies, but picked ourselves up and began the trek back over the landslides to Shri Kharka. We began to walk at 11:00am as opposed to the day before when we began at 8:00am. You could already feel the difference in the wind, and I realized why people were so afraid of the landslide zone. Although no rocks were falling, the wind made balancing on the narrow parts a little trickier.
Again, we took a leisurely pace and stopped for long breaks between the dangerous spots to regroup. At one point, I heard beautiful bells and thought someone had hung wind chimes. Note, if you hear bells, it means an animal is coming. As I turned along the cliff, a pack of mules came running down a blind spot. Luckily, the owner saw us and yelled for the horses to stop. They obeyed immediately before running us over the side of the mountain. He then proceeded to pull us up over the landslide and out of the path of the horses. It definitely gave us an adrenaline rush.
It took us about 3 hours to get back to Shri Kharka, but we stopped for a lot of photos, and to just sit and chat after the landslide zone. It could easily be done in 2 hours if you are focused on getting there quickly. The entire hike for the day added up to approximately 8 hours of walking. We spent another night at the Himalayan Guest House where we'd left our larger bags the day before.
Day 4 – Shri Kharka to Manang
---
Starting Altitude: 4,050m (13,284 ft)
Ending Altitude: 3,540m (11,611 ft)
Walking Time: 2.5 hours
Tea House: Hotel Royal Manang
Oxygen Concentration (at sleeping location): 66%
Depending on your trek itinerary, you can either go back to Manang or forward to Yak Kharka. We chose to return to Manang because I needed WiFi for work. This is the route you would take if you are headed back down instead of continuing onto the pass. For those who plan to go over the pass, you should follow the signs from Shri Kharka to Yak Kharka. I've been told it takes 4-5 hours to reach Yak Kharka and an extra hour to reach Ledar.
The path to Manang starts with a steep descent which hurt my knees. After that, it's an easy walk along the road most of the way. During one section, there is a path to the left which is a shortcut that bypasses the road. It's the same path you took on the way there. Since we didn't stay in Manang on the way up, we took full advantage of the cinema, restaurants, and WiFi while in town. Oh yeah, and stocked up on some well-deserved yak cheese.
Are you headed to Tilicho Lake? Would you cross these landslides to see it?
---
You might also like…