I knew I'd be visiting Austin, Texas in September for a Travel Blogging Conference and wanted to make the most out of my trip. When I thought about all the things Austin is known for, it seemed like trying all of the food was the obvious choice. I decided I wanted to go on a food tour including the best desserts in Austin Texas and the best food trucks in Austin. I might have overdone it considering I only had a couple of days to cram all the food in that I could, but these were my favorites.
I did this as a walking tour, but scooter rentals are available in the area and it would be much easier to use a push scooter since walking takes a long time. The tour can be done in a half day, but it is A LOT of dessert. I might choose 5 of the items below since it adds up to a lot of sugar. Two of the items I mention, I would recommend seeing on a separate day because they were too far to include in the main trip.
---
The Best Desserts in Austin Texas
---
Mañana
Mañana popped up on my list of places to eat several times, and I can see why. It's a super cute little coffee shop with a bakery. While the desserts don't necessarily scream for your attention or look "instagram worthy," they are incredible when it comes to flavor. I tried the kouign amann for $4.50 which came highly recommended online. It looked a bit like a croissant and had the same flakiness, but it also had this incredible crunch on the outside that was formed from caramelized sugar. The sugar gave it a sweetness without being overwhelming. The texture of all the layers added to the experience. Overall, it was like a croissant but way better. If I had to pick just one of the best desserts in Austin Texas to recommend, it would be this one.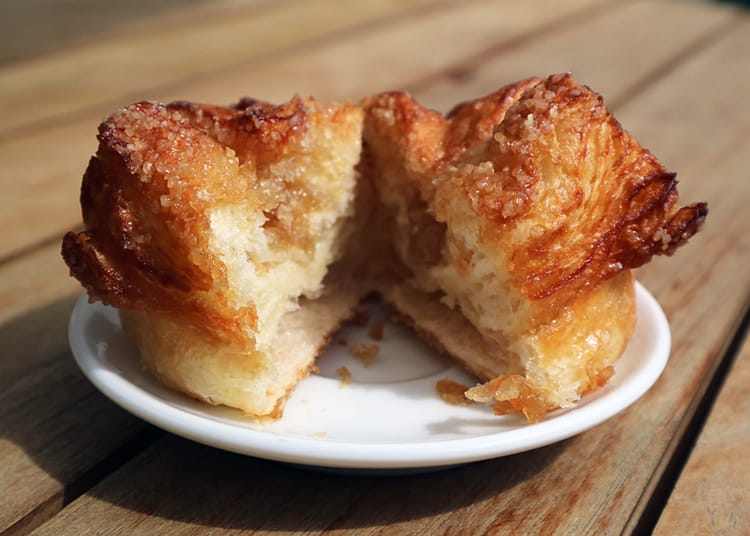 Sugar Momma's Bakeshop
If you have a sweet tooth, Sugar Momma's is the place for you. This vintage 50's inspired bakery offers cupcakes that make you drool just by looking at them. The cupcakes cost $3.50 each. I decided to get a Harlow's Honey Baklava. The really lovely woman at the counter told me it was one of her favorites, and honestly, I'd never seen a baklava cupcake before. Also, it was super pretty.
The icing was thick and extremely sweet. Almost pure sugar. Normally it would be too much for me, but the cupcake was toned down and felt more like a muffin which completely balanced out the icing. The filling gave it the real baklava flavor while the decoration on top added texture. Somehow, all these components combined made one perfect bite. It's definitely the type of cupcake that requires a fork because I made quite the mess eating it.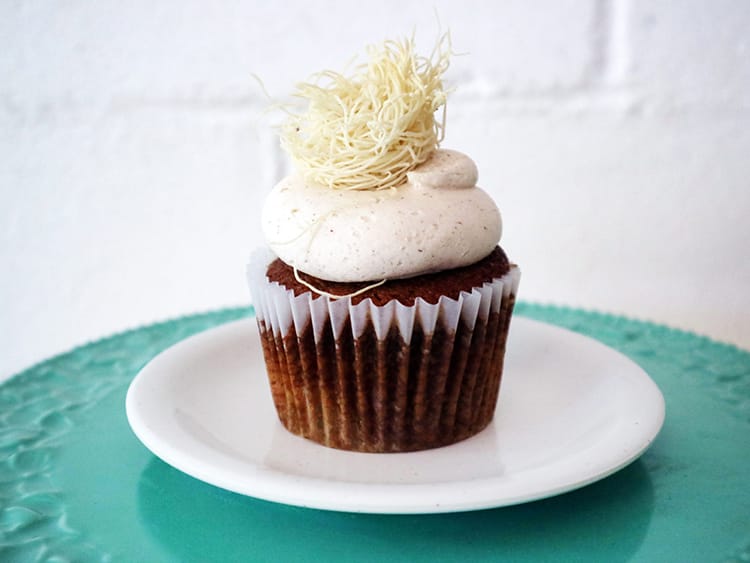 Lick Honest Ice Cream
By the time I got to Lick, I was honestly so tired of eating sweets. I don't generally eat desserts all day, so I was feeling a little sick. I asked for the kiddie size since I wasn't hungry, and it was a cheaper option coming in at $3.50 for 1 scoop. Here's the thing, I thought the ice cream was going to kill me until I took a bite. I ordered their famous Beet and Mint since the store is known for its crazy flavors. It ended up being amazing!
The ice cream is super light and dare I say fluffy? Not like a mousse, but it didn't feel dense or heavy. It was extremely refreshing after being in the heat and actually made my overly sugared stomach feel better. Lick only uses dairy sourced from Texas which is grass fed, non-homogenized, and has no extra hormones. Maybe happy cows really do make happy milk. And happy milk clearly makes happy ice cream.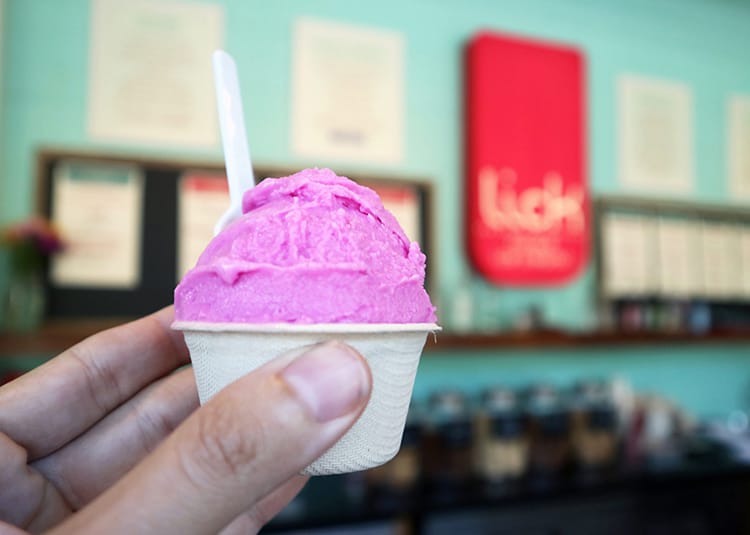 Voodoo Doughnut
Voodoo is one of those uber trendy places that everyone seems to know even if they don't live in a city that has one. Some say they have the best donuts in the United States, others got on board because of its cult following, but it seems no matter who you talk to, no one hates Voodoo. What I love about this place is the awesome décor, cool hipster vibe, and crazy selection of donuts. I honestly couldn't choose, so I asked the girl working there what her favorite was. She recommended the Butter Finger donut which was really good. The donut was only $1.95. For such a trendy place, I figured I was in for one of those overpriced $4 or $5 donuts.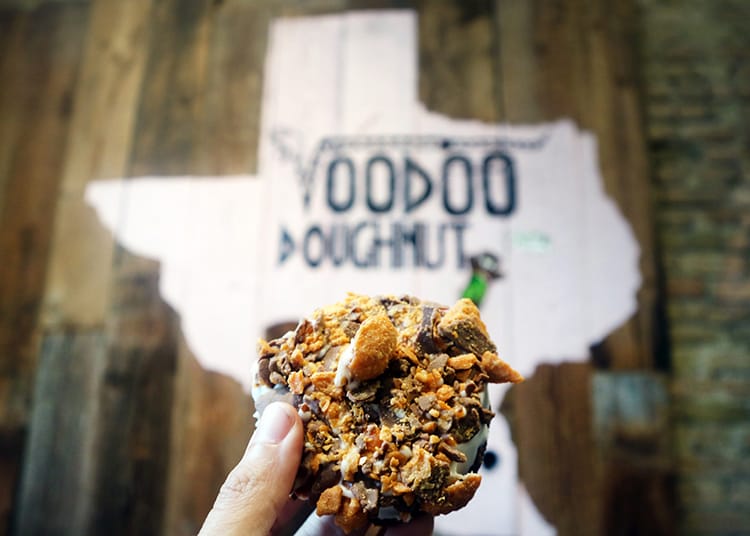 Le Café Crepe
I had Le Café Crepe on my list of places to go, and I happened to be walking by with a local. She pointed to the restaurant and confirmed they had amazing crepes. Since I was short on time, and had a food truck calling my name in the distance, I only got a sugar butter crepe which was $4. It was the cheapest crepe on the menu with the others costing around $6 – $10. I would recommend this place for lunch instead of dessert because it felt a little overpriced for dessert. By the time you add in the tip, it was a little too pricey for a crepe. That being said, it was delicious.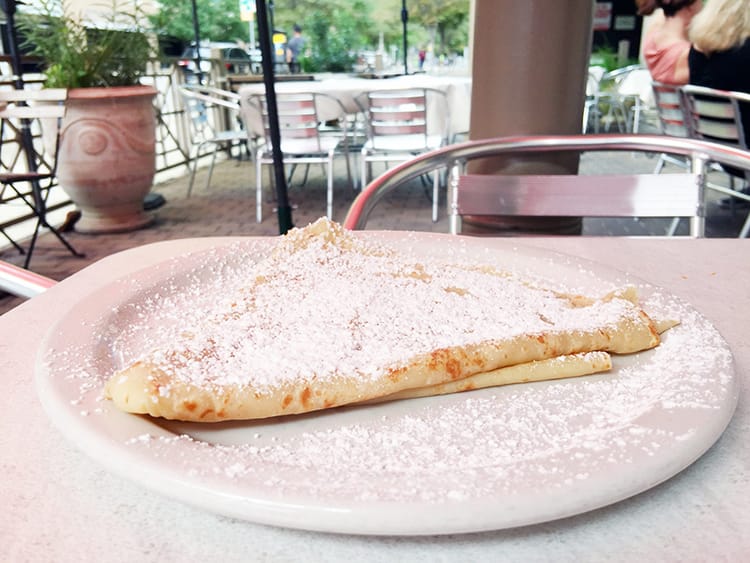 Dolce Bacio
I actually had a list of three or four ice cream places that were highly recommended in Austin. I had removed Dolce Bacio thinking gelato wouldn't be anything special. Man was I wrong. I stumbled upon this food truck with a friend while we were searching for Arlo's food truck. Lucky for us, the really sweet woman who owns the truck called us over in her adorable Italian accent. The man, who I assume is her husband, convinced us to try one of the flavors they had just made fresh.
It was so incredible that we abandoned our plans and returned after dinner. They continued to hand us samples of every single flavor in their fresh creamy arsenal. My favorite was the strawberry which tasted like each one had been hand-picked just seconds before being turned into this icy treat. Justyn decided to get papaya which was vegan and gluten free. They had so many options, I wish I could have parked their truck outside my hostel so that I could try a different flavor every day.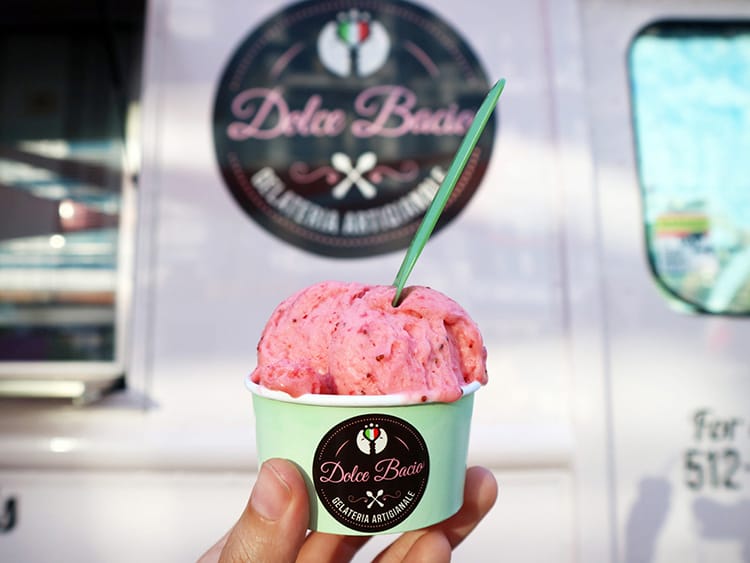 Little Lucy's Mini Donuts
I had read about Little Lucy's a few times and everyone recommended the famous cinnamon sugar donuts. While they didn't look like anything special, they ended up being delicious and slightly addicting. They were light and fluffy and not too sweet. I ended up eating them like a bag of potato chips. Devouring one after another without even noticing until suddenly my little paper bag was empty. It costs $5 for a small bag of about 8 mini donuts.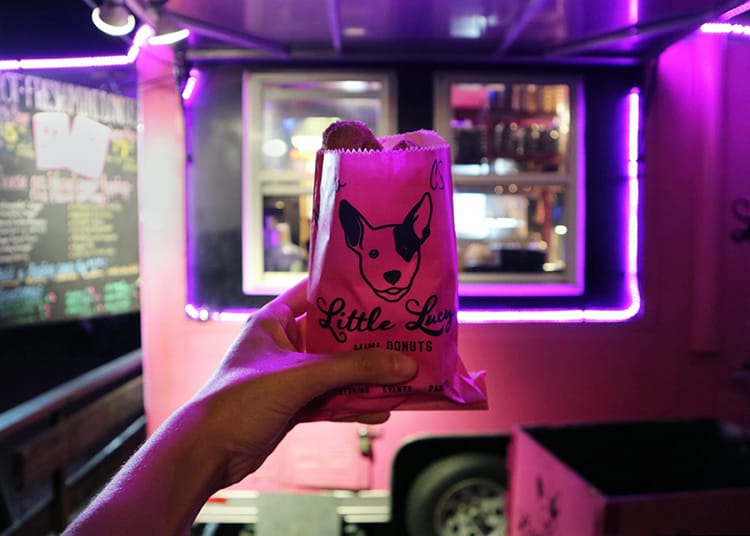 The Churro Co.
I desperately wanted to try The Churro Co. which is a food truck in SOCO (South Congress). Unfortunately, their machine broke and was waiting for replacement parts the week I was in town. I hear the "date night" is the best thing to get on the menu. It looks a bit like a banana split with churros in lieu of banana and costs $5.
Prohibition Creamery
Since I was in town for a conference and this was a little further of a walk, I didn't get time to visit the Prohibition Creamery. I had read that it offers alcoholic flavored ice cream. I can't attest to how good it is, but I love how original the theme is. If anyone goes, let me know if you like it!
Have any questions about the best desserts in Austin Texas? Leave it in the comments!
---
You might also like…