When I think of Austin, Texas, I think of food trucks and bright painted murals. That pretty much sums up my time there. I went to Austin for a travel blogging conference and spent my free time eating my way through
the city. I had no idea what I was in for until I realized the amount of food trucks in Austin, TX. After doing a ton of research, I decided to check out the highest rated food trucks in town. I have to say, the food scene in Austin really did blow me away. Check out my favorites below!
---
Tommy Want Wingy
---
Tommy Want Wingy was my first stop when I arrived in Austin around 7pm and was in desperate need of dinner. The area it's located in has great vibes. Outdoor lights with Edison bulbs were strung over outdoor seating areas. The entire street was lined with restaurants or bars with live music playing. The wings were some of the best I've ever had. I opted for garlic parmesan wings which were crisp and crunchy on the outside and had great flavor. Even the ranch dip was better than I expected. I probably could have licked the container clean if no one was looking. I was still dipping the bone of my wing in it well after all the meat was gone. For $7 (plus tax), I got five wings and a dipping sauce.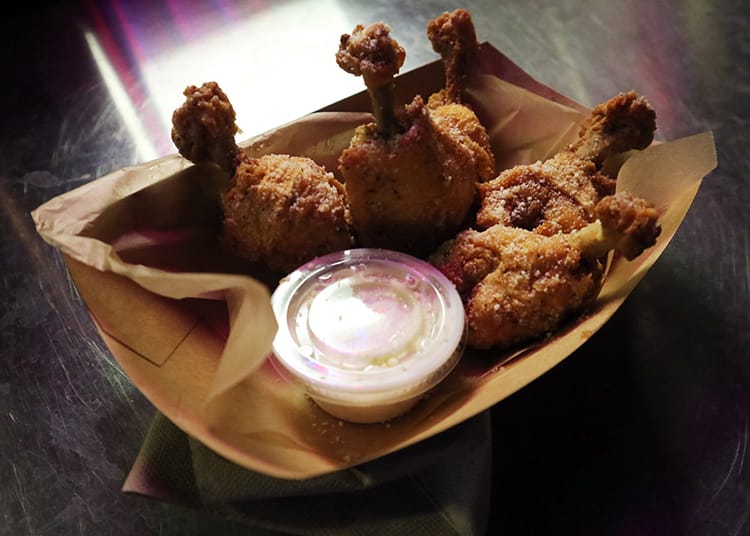 Little Lucy's
---
Little Lucy's is located right down the street from Tommy Want Wingy, so it made sense to have dessert there. The adorable hot pink truck with a disco ball hanging outside had me sold before I even ordered. I was a little bummed that I had to buy a whole bag of mini's because I really only wanted to try one. I'd read online that the cinnamon sugar donuts were incredible. Here's the thing, I ate the first one and then the second, and suddenly, the whole bag was gone. I stopped to think and realized that although simple, these donuts really are great. They're light and fluffy. They're sweet because of the sugar coating but not too sweet because the dough balances it. And to be honest, they weren't overly filling. I ate about ten and didn't feel stuffed. A small bag costs $5.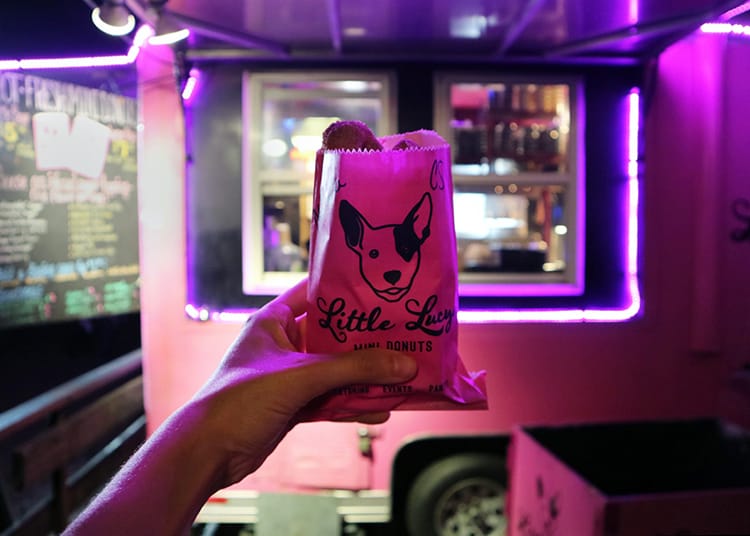 Arlo's
---
I'd read online that the burgers at Arlo's were amazing. What I didn't read was that they were vegetarian. It ended up being a happy accident since I was having dinner with a friend who is vegan. While the burgers came highly recommended, I opted for the "chicken" tacos for $6. The fake chicken was really yummy and the chipotle mayo was great. There was one bite which was insanely hot and spicy, but other than that tear jerking moment, the food was definitely worth checking out.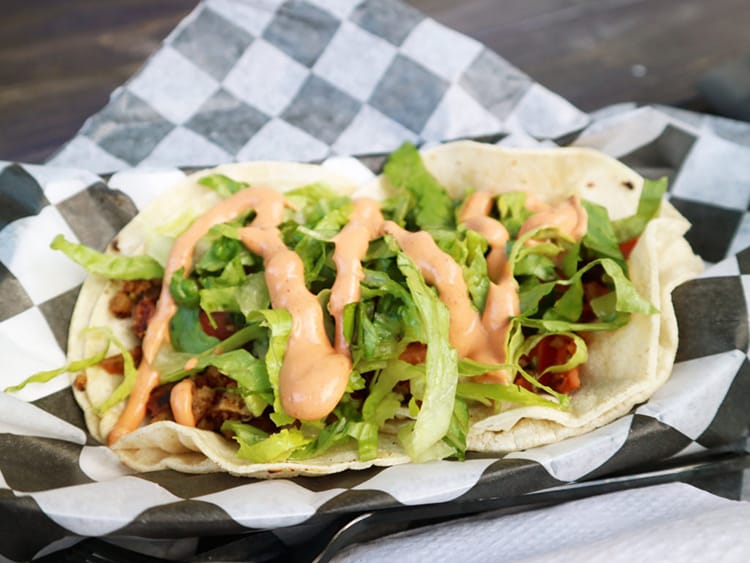 Dolce Bacio
---
Right down the block from Arlo's is Dolce Bacio Gelateria. We stumbled upon it accidentally because we were a little bit lost. The lovely owners started feeding us samples of all the freshly made flavors. My favorites were the chocolate coconut, tiramisu, papaya, and strawberry. Honestly, you can't go wrong with any of the options. I feel like the gelato we had was better than the gelato I had when I was in Italy. It was so insanely fresh and creamy. If it had been closer to my hostel, I would have gone every day I was in Austin. A single scoop is $5 however you'll probably get a second scoop worth of samples while hanging out there.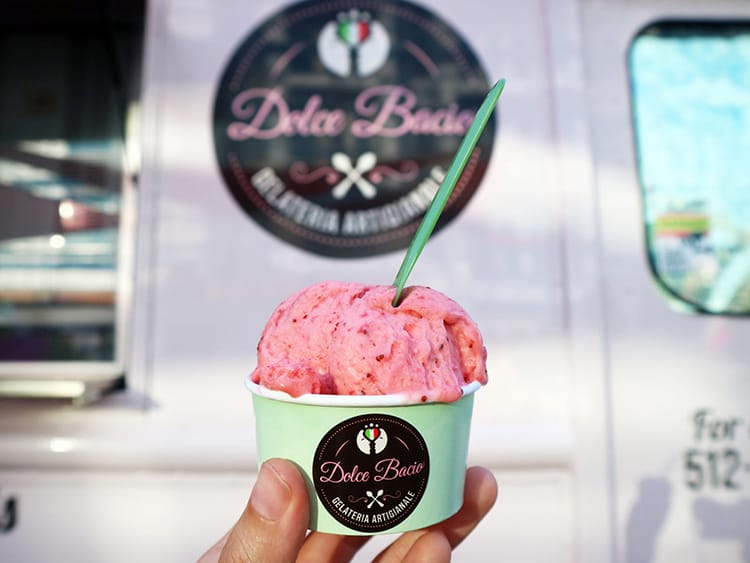 Torchy's Tacos
---
I went to Torchy's Tacos as part of the conference I was attending. I'm going to be honest and say that I can't remember what I ordered, but I really loved the vegetarian one made with beans. After looking at the website, I think it was the "independent" taco. I could probably eat these tacos all day long. They had incredible flavor, just enough seasoning, and weren't dry. The queso and chips were also amazing. This food truck is located just across the river in South Congress.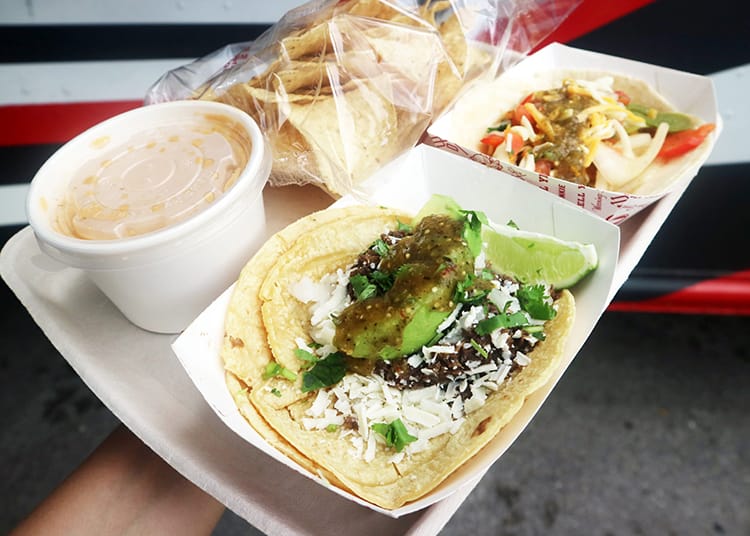 Juice Austin
---
Juice Austin is located in Soco (South Congress), which is across the river from downtown. The area it's located in is popular for shopping, so it's an awesome stop on the way to some really cute and unique boutiques. It's no surprise that Juice Austin specializes in fresh juices. Since I'd had about 4 cups of coffee in the morning, I wasn't exactly thirsty when I arrived. I opted for a shot for $1.89. The turmeric, lemon, and coconut water shot was made fresh and served quickly. It had a great zing to it without being too spicy. It was extremely refreshing, and I could have gone for another one.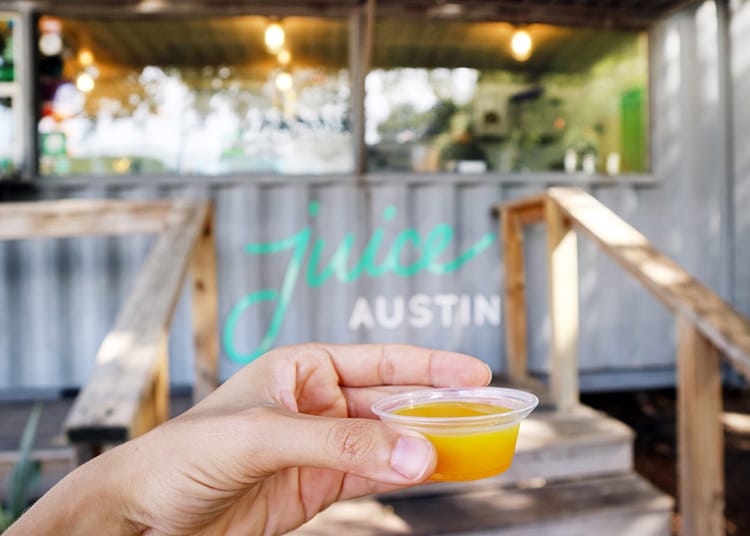 Conscious Cravings
---
Conscious Cravings grabbed my attention because it's a vegetarian food truck existing in the land of BBQ. If it can stay in business and get good reviews in a place as meat driven as Texas, then it must be crazy good. I chose to get a $7 Bella Wrap. The Bella Wrap had fairly simple ingredients including portobello mushrooms, lettuce, tomato, onions and herbed vegan mayo. The spinach wrap was toasted and had a nice crunch to it. I also loved that the mayo was melted throughout the entire wrap. The flavors were simple but good, and after eating pastries all morning, it felt amazing to have fresh healthy ingredients.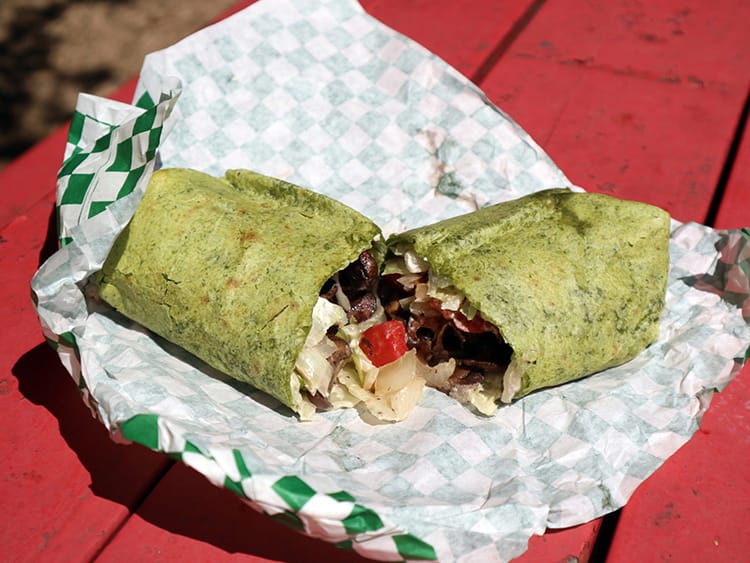 Dock & Roll
---
I went to Dock & Roll after checking out 5 other places that morning, so I was insanely full. I ordered the shrimp tacos for $7.50 (without the two sides) because I thought their famous lobster roll would be too rich. The shrimp were cooked to absolute perfection. They practically melted in my mouth with every bite. What lost me was the jalapeño. I can handle spicy food, but I don't like spices to overpower the main ingredient. I really couldn't taste the flavors of the sauce or sautéed onions. I'd like to try this again and ask for it to be mild because the bites without the jalapeño were amazingly good.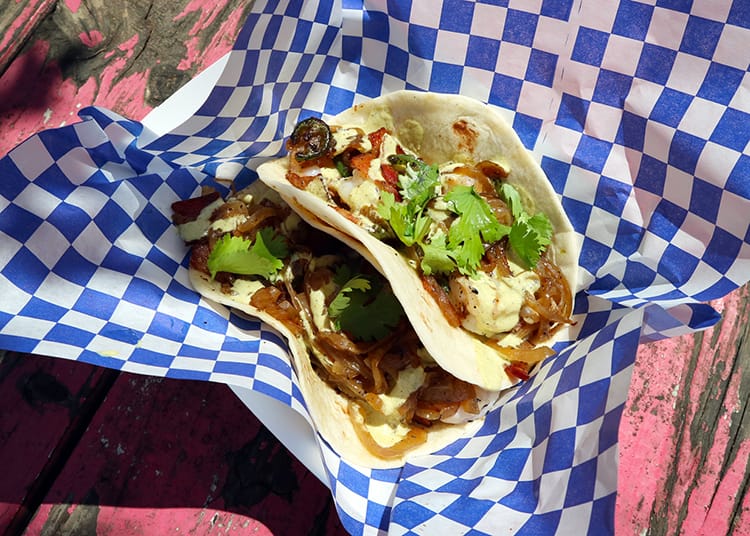 Chi'lantro
---
I decided to have Chi'lantro's breakfast tacos after reading how amazing they were on several websites. They had 5 or 6 different choices, but I was in the mood for something traditional. Each taco is $3, and I opted to get two of the bacon, egg and cheese tacos. It's pretty much a breakfast sandwich in taco form. What I really liked was the crispy bacon. My big pet peeve is undercooked bacon that is chewy. They also weren't stingy with the cheese. Next time I would try one of the more interesting flavors that incorporate Korean BBQ.
---
You might also like…