As a digital nomad, one of the major things I look for when traveling is how hard it is to get WiFi in a country. WiFi in Nepal is surprisingly accessible, but takes a bit of patience. Although most places have WiFi, it doesn't always work. A common expression in Nepal is "Ke garne?" or "What to do?" If something isn't working, Nepali people tend to be very laid back and relaxed about it. They'll often shrug something off and say "Ke garne?" and hope the situation works itself out. So yes, there is definitely WiFi, but it might not be as fast as you hope, or working at all. Here's info on the different areas…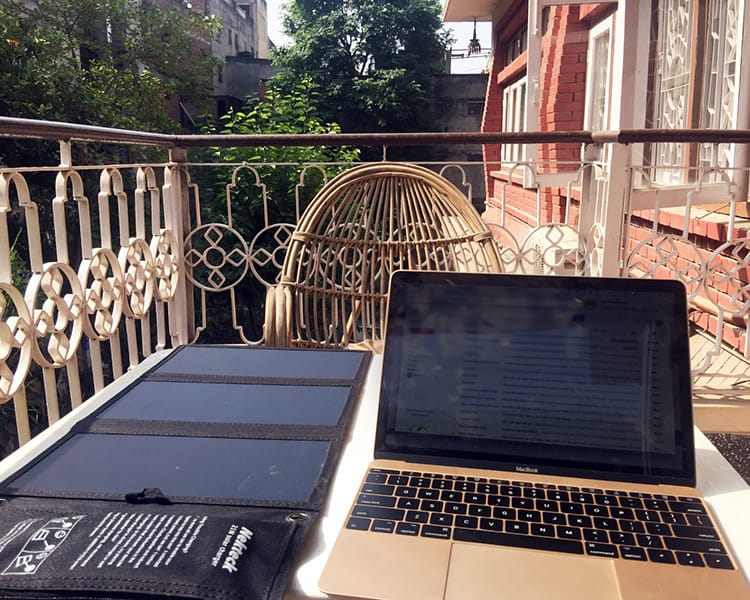 ---
Internet & WiFi in Nepal
---
WiFi in Kathmandu, Nepal
Kathmandu has some of the best WiFi in Nepal. As the capital city, it's not much of a surprise. On the occasion that my hotel WiFi isn't working well, I go and work at different restaurants or cafes. The internet speed is surprisingly fast if you get a good connection. Thamel is the easiest place to find a solid internet connection because it caters to tourists. Generally, WiFi is free at hotels and restaurants as long as you are staying or eating there.
My favorite restaurants and cafes for WiFi: Himalayan Java, Or2k, Gaia, or Sarangi
My favorite upscale hotel for WiFi: Kumari Inn
My favorite guest house for WiFi: Thorong Peak Guest House
My favorite hostel for WiFi: Milarepa Hostel
WiFi in Pokhara, Nepal
Although Pokhara is a major city, it's WiFi access is not as great as Kathmandu. Often times, the WiFi in my hotels and hostels did not work. Therefore, I frequented cafes and restaurants to get my work done. Eventually, I found a few hotels and hostels that had a good internet connection.
My favorite restaurants and cafes for WiFi: Himalayan Java, Or2k, Roadhouse
My favorite upscale hotel for WiFi: Hotel Middle Path and Spa
My favorite hostel for WiFi: Forest Lake Backpackers Hostel
WiFi in Off-the-Beaten Path Cities
(Patan, Bhaktapur, Lumbini, etc)
These areas are still popular among backpackers; however they haven't developed as much as the major cities. You can definitely get a WiFi connection in smaller cities, but you're more likely to experience outages and slow internet speeds.
Patan restaurants and cafes for WiFi: Himalayan Java and Evoke Bistro
Everest Base Camp Trek WiFi
I remember reading an article a while back that spoke about how impossible it was to get away from WiFi. This was a prime example. Even at Everest Base Camp, you can get a WiFi connection. But, it comes with a cost. For about 1GB of data, you'll pay $5 and it will only last 24 hours. I did purchase data once or twice on my Everest Base Camp Trek and my Mera Peak trek, but the cost adds up if you want to check in every day.
Annapurna Trek WiFi
The Annapurna Circuit has been modernized somewhat recently with the addition of a road. Because of that, amenities are a bit cheaper and electricity isn't as hard to come by. Some places will charge for WiFi, but usually it was $1 for unlimited access. Most places offered WiFi for free. As I mentioned above, the "What to do?" question came into action on my trek. The power was out for half of the Annapurna Circuit which meant no charging phones and no WiFi. But, "What to do?"
---
When the WiFi in Nepal Doesn't Work
---
Since my job requires internet access, I always have a backup plan. If the WiFi isn't working or speeds are slow, I have a simple solution. I'll switch over to data on my phone and then create a personal hotspot. From there, I can connect my computer to my data. I tend to get a 16GB package through Ncell (SIM Card), so I always have some data to spare. It'll cost less that $15 USD and is worth it if you need to be connected all the time. You can read about data options in my post about Nepal SIM Cards. Just be sure to turn the hotspot off when you're done.
---
Keeping your data safe while using WiFi in Nepal
---
Something I hadn't considered the first two times I was in Nepal was how to keep my data safe. I had my credit card number stolen two times in Nepal. Both times, I had to cancel my card which is a huge pain when traveling. Now, I use a VPN (virtual private network) which allows me to use public wifi and data while keeping my information safe. I use banking apps, booking sites, etc. a lot on the road, so if you'll be doing any kind of online transactions, I recommend looking into one. I chose ExpressVPN which was recommended to me by several other travelers. It's about $8 a month for their annual plan or $12 for a single month. It's super easy to use and gives me peace of mind.
---
You might also like…