When I tell people how much time I spend in Nepal, one of the first questions is, "Is Nepal safe?" It's a curious question to me because no one ever asked me if it was safe to go to countries in Europe. It was just assumed. The truth is, people don't really know much about Nepal. As Americans, we know very little about most Asian countries.
My answer to this question is short: Nepal is safe. But there's a million different versions of safety, and those who choose to travel to Nepal should be aware of several things. I don't want this post to scare anyone away from seeing my favorite country, but knowing these things will make your stay more enjoyable. So here's my very detailed, very in depth list of everything that could maybe, possibly go wrong while in Nepal.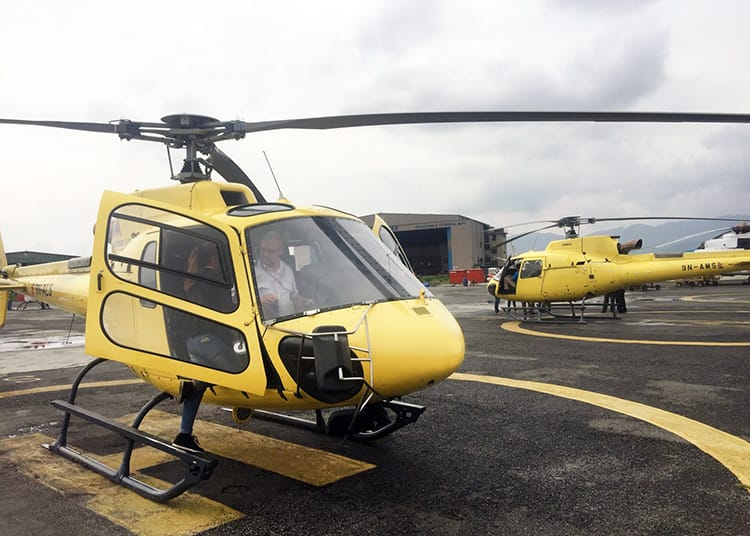 Common Scams in Nepal
---
These are fairly easy to avoid if you stay on your toes. Note, I don't consider people going out of their way to sell you a product a scam. Yes, people may talk to you, and then, start telling you about their painting school and how you should come buy some art. It's very simple to see where that is going and then say no thank you. The scams I'm mentioning are the kind that take you off guard.
Overly Friendly People
There are many people who do nice things simply out of the kindness of their heart or for good karma. Sometimes it's hard to tell the difference between someone being nice and someone who wants a tip in return. For that, you must use your best judgement. I find that asking the cost of "free" things clears the air. Just be straight forward and ask if they expect a tip.
Milk Powder Scam
This is probably the most popular scam in Nepal. Generally, a woman or small child will ask you to buy food for their baby or younger sibling. Most of the time, they ask for milk powder. It's the most expensive item in the store that can be returned for cash after you leave. I met a girl who spent $70 on her first day because she didn't know this was a scam.
Dodgy Bars
Before visiting Nepal, I'd read about bars charging insane fees and not letting you leave until you paid. I'd never heard of this happening in real life until a few friends told me about a strip club that did it. If you avoid strip clubs or dodgy places, you'll be totally fine. I've been to normal night clubs and bars in Kathmandu and never had a problem.
Taxi's
Taxi's will try to rip you off so always negotiate before getting in. I don't consider that a scam. The scam is when they tell you that there's a "night charge" or a "morning charge" or my favorite a "middle of the day charge." I discovered this when I had to take a taxi to the same place every morning and night. When someone gave me a crazy high price I would say "I paid 200 rupee yesterday." To that, they would say, "morning price is more." I'd then explain that I went at the same time and they'd cave in realizing that I knew it wasn't a thing.
Helicopter Insurance Scam
This scam is currently under investigation and has been all over the news. I have been offered "helicopter rescues" where you feign altitude sickness and then call the company to get a rescue helicopter back to Kathmandu. Your travel insurance pays the helicopter bill, and you don't have to trek back. I never did it because this is INSURANCE FRAUD. It's very much illegal and if caught, you will go to jail.
Trekking Guides
It turns out the helicopter scam goes even deeper. Some guides have been pushing their trekkers extra hard or slipping something into their food to force them to get sick. When they start exhibiting signs of altitude sickness, they tell them they should get to a hospital immediately. Please do research before trekking to see what the signs are, and how to treat altitude sickness. Most of the time, you just need to walk down in altitude by 500m. In this scenario, the guide gets a handsome cut from the helicopter company, gets to work less days, and usually get a handsome tip for "saving" the trekkers life.
Sick Family Members
I met a waiter at a restaurant I frequented. After talking several times, he started to open up to me about how his mom was sick. One day, he openly asked me for money, and I felt very uncomfortable. Something didn't sit right, so I stopped going to the restaurant. On my second trip to Kathmandu, I went back and he wasn't working there anymore. One of the other waiters told me that he had done that to many people and his mother was never actually ill. He was fired after people began to complain on TripAdvisor.
Holy Men
I arrived in Nepal during a popular festival (Dashain). A couple of holy men came up to me and applied a tikka on my forehead and blessed me. They then asked for a tip. I handed one a small bill, and he told me it was 500 rupee ($5.00)! I told them no and continued walking. Now, I don't let any strangers give me tikka.
---
---
Lost Children
I believe this scam targets local women, but I'd like to include it for local tourists who read this post. A young child may approach you and ask you to help them get back home. You should take the child to the police and not to the house they've given you the address for. A few colleges in the area put out a warning to students last year because this is a way to traffic young women.
It Doesn't Exist or is Closed
If someone tells you something is closed and that they'll take you to another similar place, ignore them. This might happen with your hotel. For instance, "Oh, that hotel is _________ (not good, doesn't exist, is closed, etc), I can take you to blahblahblah hotel instead." Usually, the new hotel belongs to their family or friend, and your hotel would have been better. This might go for tourist attractions too. Someone might convince you a place is closed and tell you to buy a ticket to another place through their tour company.
SIM Cards
I went to twenty different shops in Thamel asking the price of a Ncell SIM card. I was told answers ranging from $3 to $24. A Ncell SIM card should only cost 300 rupee. 16BG of data lasting a month will cost about 900 – 1000 rupees. If you're being charged more than that, you're definitely being ripped off.
Online Hackers
Okay, online hackers exist everywhere, but when you're on the road you'll likely be using public WiFi or data to access your accounts and information online. I had my credit card number stolen two times in Nepal. Trying to get a new credit card shipped to a country where there are no street addresses is not easy. Mine showed up in the mail after 4 months (the first one never showed up at all). Now I have a VPN to avoid the hassle. I recommend ExpressVPN which only costs $12 a month or $8 a month if you sign up for a year. I have a yearly plan with them and really like it. The customer service is good, and it's easy to use.
Not a Scam – the "Nepali Price"
I've heard a ton of people complain about the "Nepali price" saying it's a scam. It certainly sounds like a scam, but it's not. The "Nepali price" and "tourist price" are real things. It can be frustrating, but you can read my in depth post about why it exists: The Nepali Price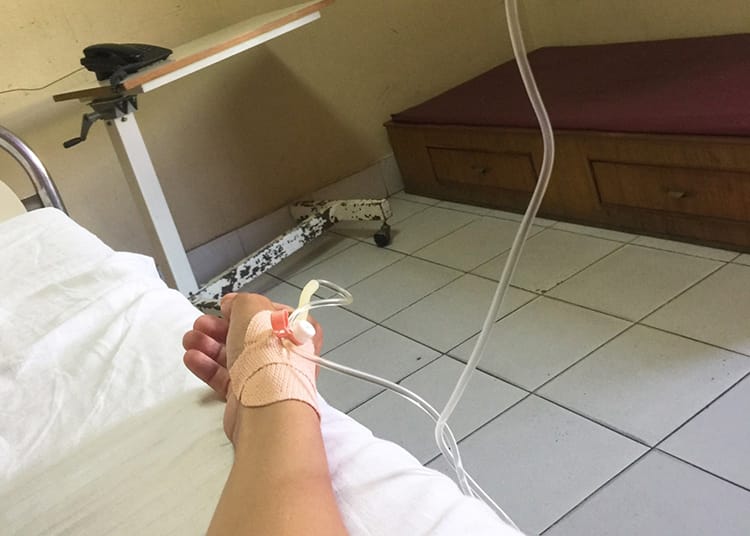 Staying Healthy in Nepal
---
Most posts pertaining to safety don't go into health, so I want to make sure I include it here. I believe that scams are pretty easy to avoid in Nepal if you know what to look out for. Staying healthy can be a little trickier. While trekking, I saw a presentation that said about 70-80% of travelers visiting Nepal will get traveler's diarrhea. I've gotten very sick several times. Twice from food poisoning, once from pneumonia, and one time from unknown causes (possibly contaminated water). Here are some things to keep in mind.
Food Safety
Food is prepared very differently in Nepal than it is in westernized countries. If it's your first two weeks in Nepal, don't go crazy trying to eat all of the local food. You will get sick. It's best to ease into it. Spend your first week eating at westernized restaurants in tourist areas.
If you're trekking, follow the rule of, "If I can see it, I can eat it." I coined this while trekking with newbies. If you see chicken, then order chicken. If you don't see chicken, then you should wonder where it came from, how it was kept refrigerated, and how old it might be? Only order what you can see around you. As you get higher in altitude, don't order meat. If you're a carnivore, consider bringing beef jerky from home.
Water Safety
Water is not potable in Nepal. That means you can't drink it. The good news is, most locals don't drink the water either, so generally, they won't serve it to you. If you're in a westernized restaurant, they usually have filtered water on tap to wash veggies and make tea. I would recommend saying no to raw or uncooked foods in local restaurants. If water is served for you to drink at a restaurant, 98% of the time, it is safe to drink because it's filtered. Same goes for ice cubes.
If you are trekking, you will need to bring a water purifying system. Tea houses do not have filtered water. I bring a water bottle and water purification tablets which you can buy in Pokhara or Kathmandu. It's the cheapest way to purify water.
It is safe to brush your teeth with the water. Just make sure not to swallow the water, and you'll be fine. You don't need bottled water to brush your teeth.
---
---
Air Quality
Air pollution is very bad in Kathmandu. It's also pretty bad in smaller cities like Pokhara, Lumbini, Patan, and Bhaktapur. It's best to invest a few dollars in a face mask. I felt silly wearing it at first, but if I don't, I develop a pretty nasty cough. Better safe than stylish. It's also good to have a buff for trekking (especially on the Annapurna Circuit).
Hospitals
Nepal doesn't really have doctors offices. All of the doctors are at the hospital. I found this confusing when my friends would tell me to go to the hospital to treat a cold. Turns out, it's their way of saying I should go to the doctor. Healthcare is very affordable in Nepal. I stayed in the hospital for 3 days and it only cost $250 (including everything).
If you need to go to a hospital, I recommend Grande International Hospital in Kathmandu. They provided me with a chaperone to make sure I found everything without any problems or language barriers. All of my doctors spoke perfect English, and they provided receipts that are easy to file with an insurance company.
Medicine
You can easily buy every prescription or medication in major cities in Nepal if necessary, but some things I like to have with me when I'm there are diamox (for trekking), cold medicine, pain killers, a high grade antibiotic, zinc, airborne chewables, hydration packets, diarrehea medicine, probiotics, etc. If you are going off-the-beaten path or trekking, make sure to buy everything in Kathmandu before leaving.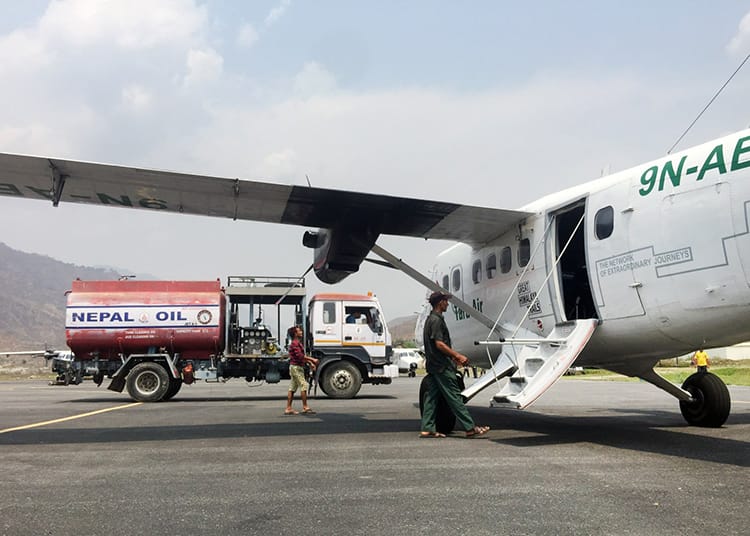 Transportation in Nepal
---
To be honest, the only time I've ever felt in danger in Nepal is when I'm on a bus or plane. Roads barely existed in Nepal prior to the 1980's. Now, you can see roads being built everywhere. The country is trying to catch up with demand, however, they aren't able to maintain old roads while constructing new ones. Not to mention, land slides are fairly common during monsoon season, and the roads that get washed out need to be rebuilt regularly.
Aircraft
Aircraft does not meet western standards. I generally fly into Kathmandu with Qatar Airways or Ethiad Airways. Both are great options. Once inside Nepal, you have to fly with a Nepalese Airline. I've flown with Yeti, Altitude Air, and Sita Air. I've arrived safely every time, but most of the time I was terrified. Plane and helicopter crashes are fairly common due to the difficulty of flying into remote parts of the Himalaya. Lukla Airport is considered the most dangerous airport in the world.
Are Buses Safe?
Buses are an interesting thing in Nepal. They're insanely affordable but generally take twice as long as they say they will. Driving in Nepal feels a bit like an adrenaline ride at a theme park. Drivers use both lanes and pass even when they can't see around blind turns. They tend to use their horns as a warning to let people know they are coming. If it's your first time in Asia, this will be terrifying, but remember that they drive like this every day, and there is a method behind the madness.
Motorbikes
I ride on a lot of my friends motorbikes, but wouldn't recommend getting on with a stranger. Drivers are required to wear helmets, however passengers are not. Motorbike accidents are very common in Nepal and the death toll is bad as well. Nepal is also very strict about foreigners renting bikes. You must have an international motorcycle license, and they have police checkpoints set up regularly to check. If you do choose to drive your own bike, please spend a few days learning the driving style before doing so.
---
---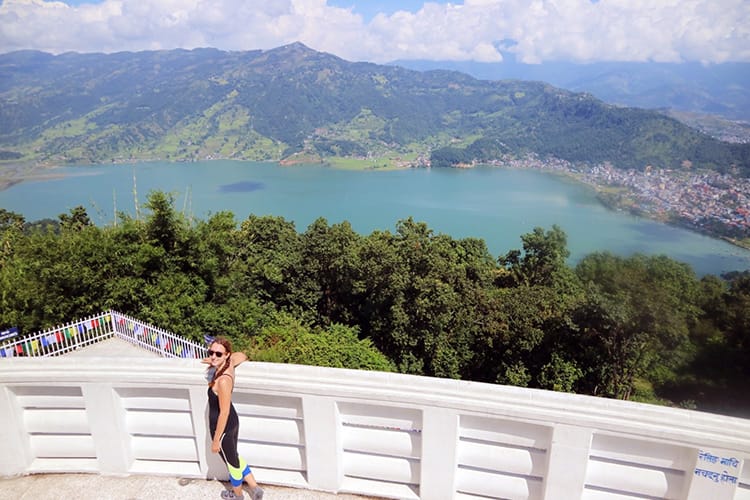 Is it safe if…
---
Nepal is generally a very open and accepting country, but it's important to know a few things before arriving. Here are some specific situations you might encounter. If you're unsure about your own safety for any reason, leave a note in the comments, and I'll try to answer to the best of my ability.
…I'm female
As a female solo traveler, I've never felt in danger. I walk by myself and feel comfortable being out at night. I find that men in Nepal are much more respectful than American men. In Nepal, it's customary to refer to females as big sister, little sister, aunt, mother, or grandma, even if you aren't related. As such, men are taught to respect the women around them. I've even had strangers offer to walk me back home at night because they didn't want me to worry while walking. Chivalry isn't dead here.
On the other hand, I've been hit on by several married men, and when I've confronted them about it, they didn't think it was a big deal. This isn't ALL Nepali men. A lot of my male friends are married and would never cheat on their wives. I only mention this because it has happened to me a few too many times. It's also happened to a few of my friends. Just be aware, and check a guys facebook if you're interested in him.
I asked fellow female travelers if they felt safe in Nepal. Check out my post on Is Nepal Safe for Female Travelers?
…I'm gay
For a country that's so far behind in a lot of areas, they seem to be more open minded to the LGBT community than back home. There's even a small gay pride parade in Kathmandu. The LGBT community is small though. In fact, a few of my friends asked me if I had gay friends because they had never met a gay person and were curious. Despite their open mindedness, I wouldn't recommend making out in public because that's a no no even for married couples in Nepal. Public displays of affection aren't shown often in this country.
What I really love about Nepal is that guys don't have a "you're gay" attitude. Guys hold their friends hands and put their arms around each other. They even kiss each other (the way you would a family member) with affection. They're not afraid it will be taken the wrong way or afraid to look gay. If they care about each other, they show it. This goes for girls as well. They hold hands in the street and are very close.
…I'm black
I think racism exists everywhere, and you might face it in Nepal, but in different ways than you might guess. A lot of my Nepali friends consider themselves "black." Some even use the "N" word.
Common nicknames for kids are "Kalu" and "Kali" which mean "little black boy" and "little black girl." They mean it in an endearing way, whereas, I've been told this is not a kind thing to say in India.
On the other hand, having dark skin in Nepal is associated with being poor. People with darker skin typically work outside in agriculture and make little money. People with paler skin generally have cozy desk jobs. This resulted in people believing that light skin is beautiful. You'll see advertisements everywhere for "skin lightening creams."
I'd recommend checking out my friend Roobens page, Been Around the Globe, which focuses on black travel. He's been to Nepal and could definitely give a better answer on this than I ever could.
…I'm a solo traveler
I honestly think Nepal is one of the best places for solo travelers. It's extremely safe and the people are very friendly. I've gotten lost near a city before and when I trespassed on someones property, they simply offered me tea and directions. I feel much safer in Nepal than in the U.S.
…I'm a different religion
I have not heard of any religious intolerance. Nepal is a very diverse country with many different religions. You shouldn't run into any issues.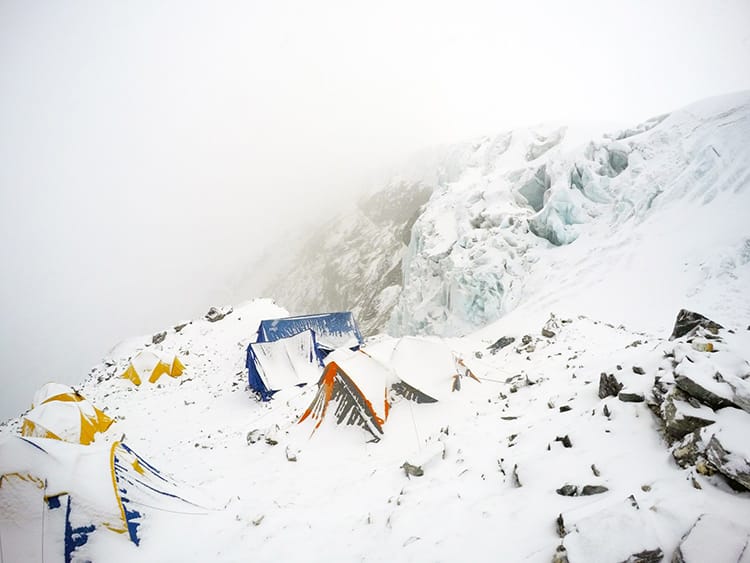 Trekking Safety
---
Trekking has a whole extra list of safety precautions in addition to the regular safe travel rules in Nepal. I'd recommend doing a lot of research on your trek prior to leaving and reading packing lists to make sure you are well prepared. Here are some of the major issues you might face while trekking.
Newbies
If you have never trekked before, please consider getting a guide. Yes, you can probably do the trek by yourself, and everyone online says how easy it is, but that's not always true. I've spoken to tons of trekkers, and when I've admitted that I was scared during a trek, every person I spoke with admitted the same. One friend had never seen snow before and freaked out when the (normally easy to navigate) path disappeared in a blizzard. Another told me she got scared when she found herself alone going over a high pass. I had a meltdown on a landslide prone area, and my trekking buddy had to calm me down.
Please know your limits, and don't be ashamed to have a guide. I had a guide for my first two treks and still prefer to have one now. And if budget is a problem, get a few other trekkers together to chip in. It will only cost about $5 each a day if you have 5 people sharing one guide.
Altitude Sickness
I've met people arriving in Nepal who didn't know what altitude sickness was. It's very important to do research on this prior to leaving for a trek. Symptoms are very easy to spot if you know what to look for. If you start to feel symptoms, it's important to stop and not go any higher. If the symptoms get worse or don't go away, you must descend.
Talk to your doctor or a pharmacist about Diamox, which is a medicine used to help prevent altitude sickness. I always have a prescription in my bag in case of an emergency, but I've never used it. It's a controversial topic among trekkers. I believe you should have it with you in case you need it, but I don't believe in taking it before you have symptoms. Others take it on every trek to prevent altitude sickness before it happens.
Landslides Areas
Landslides are very common on certain treks. On the Everest Base Camp Trek, there were no landslide zones. On the Annapurna Circuit, we chose to do the Tilicho Lake Side Trek, and it was covered in landslide zones. Please read safety tips on this in advance and talk to locals. It's important to trek these areas in the morning when winds aren't strong. It's a bad idea to do treks known for landslides during monsoon season. Also, keep an eye out for blue sheep who tend to run along the mountain and knock rocks down.
Snow Storms
Checking weather regularly is very important while trekking. If you don't have a way to check, ask the locals and teahouse owners. They will advise on the weather. We also asked several guides for help if we were unsure. If you hear about a storm coming, it's best to stay put and wait it out in a teahouse rather than try to push forward. While trails are easy to navigate, snow covered trails can cause you to get lost very easily.
Yaks
Yak are kind of like a cow / American buffalo hybrid. They're large animals that live above 3,000m. Locals use them to bring supplies up the mountain. I barely saw any on the Annapurna Circuit, but they were a dime a dozen in the Everest Region. It's very important not to pet yaks and to stay clear of them on trekking trails. They tend to run downhill without much regard for where they are going. They wear bells to warn you of their approach, so always step to the safe side of the pathway (usually the side not on a cliff). While moving out of the way, warn people behind you of a yak coming.
---
Travel Insurance for Trekking
---
It's important to consider getting travel insurance. If you're going trekking, you might be required to have travel insurance with your trekking agency. Even someone in the best shape with tons of experience could find themselves in a bad situation, so it's worth taking a look at and seeing if it's right for you.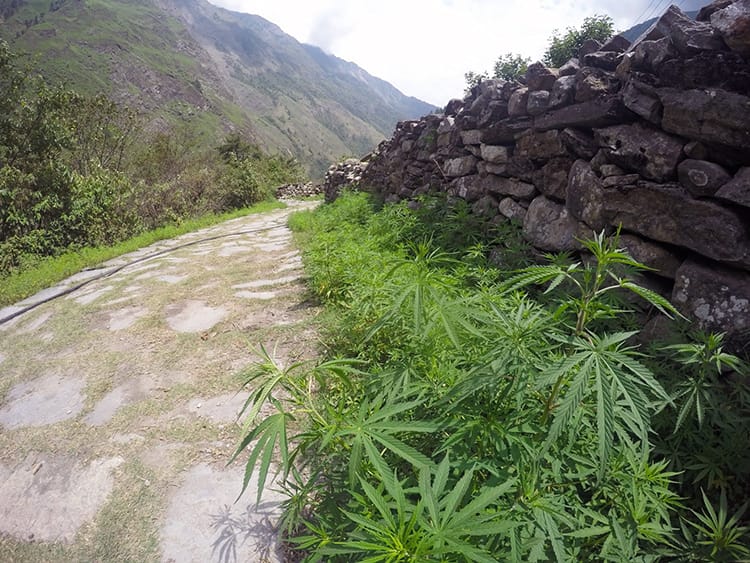 Other Safety Issues
---
Illegal Drugs
Drugs are available almost everywhere in Nepal. You'll notice weed growing along the trekking paths in certain regions. Sketchy men in Thamel will sneak up behind you and whisper "hashish?" in your ear to see if you want to buy some. Pot is illegal in Nepal even though it is widely used. My advice here is not to buy any from the sketchy guys in Thamel. If you do choose to smoke, do it somewhere private.
Prostitution
There are certain areas in Nepal where prostitution is very noticeable. At night, near the Garden of Dreams in Kathmandu, you'll see women and transvestites on the street. It is illegal here despite the very obvious nature of the women standing on some corners. Although this sounds sketchy, the women were really nice and offered me directions when I couldn't find the club I was meeting a friend at.
Children
Child trafficking is still a problem in Nepal. Children are taken from small villages and brought to Kathmandu. Here they are put in "orphanages" that try to "raise money for the kids." If you are volunteering, it's very important to check out how legit the orphanage is since you don't want to support traffickers. You can read the book Little Princes by Connor Grennan if you want to learn more. It's one of my favorite books about Nepal.
It's also important not to support children who are begging. If a child is earning money as a beggar, their parents might not see the need to educate them. Children belong in school and supporting begging will encourage parents to take their kids out of school to earn money on the streets.
Earthquakes
Earthquakes are common in Nepal, but rarely are they as devastating as the one that took place a few years ago. Usually, it's just a light rumble which you can barely feel. I've slept through most of them to be honest. I wouldn't let this fact deter you from visiting since natural disasters can happen anywhere in the world.
Political Climate
If you're reading about strikes on a lot of blogs, they are probably outdated. I've spent 3 years in Nepal and only witnessed about three car strike. Even then, tourist buses and taxis ran regularly. You may experience some power outages known as "load shedding," however, these are also a lot less common than they used to be. The power sometimes goes out for an hour or two a couples of times a month.
Protests
Foreigners are not allowed to participate in protests. If you see a protest, simply keep walking. Do not engage in it or take photos. Participating can result in arrest and deportation. This happened to a friend of mine and it's no joke.
Emergency Phone Numbers
Police – 100
Traffic Control – 103
---
You might also like…