Everyone who knows me knows I am obsessed with Nepal's history, its royal family, and the Ranas. When my husband told me about Erika and King Tribhuvan, which is a book written by a British woman who spent time in the royal palace when King Tribhuvan was held prisoner by the Ranas, I couldn't wait to read it!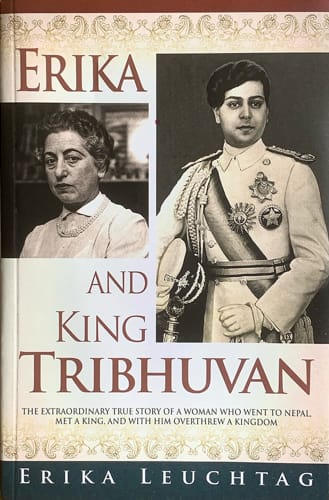 Erika and King Tribhuvan is the true story of Erika Leuchtag who was hired to give massages to the queen (King Tribhuvan's wife) in 1949 when the royal family was confined to their palace. For those who don't know about Nepal's history, the Rana family acted as the Prime Minister for over 100 years. During that time, they imprisoned the Kings and their families and ruled the country with debauchery, collecting riches for themselves, and leaving the Nepali people with little. They lived in European style palaces while their country was poor.
Sometimes he would begin to speak to me of the Nepal outside Naran Hity (palace) and then abruptly break off the conversation, as if he had remembered that the soldiers at the gates were there to keep him in, not others out.
The Ranas convinced everyone the kings were not fit to rule and on some occasions this was true. The kings of Nepal often ascended the throne at a very young age and the Ranas made sure to keep them drunk, surrounded by women, and uneducated so that they wouldn't be able to rule. But King Tribhuvan was different. He snuck books into the palace and educated himself and by the time Erika Leuchtag arrived, he was eager to get his right to rule back.
I had come to a land where the Prime Minister's gold crown was worth two hundred thousand pounds and a laborer's daily wage was only twopence-ha' penny; where I could walk up from the funeral ghats on the riverbank and narrowly avoid being run over by a Cadillac; where an imprisoned god-king read mail-order catalogues and dreamed of a constitutional monarchy. And I knew that I could not leave Nepal without helping him.
This book chronicles the fascinating time that Ms. Leuchtag spent in the royal family's presence. She arrived not knowing anything about Nepal or the royal family. She never for a second thought that they would be prisoners. Over time, they began to trust her and become friends. It's this friendship that resulted in the overthrow of the Rana regime and the return of the royal family to the throne.
He seemed to like me, but it was obvious that politically, he considered me a naïve and innocent child. When men underestimate a woman's intelligence they promptly make fools of themselves…

(speaking of the Prime Ministers staff)
I loved this book because it's so rare to know what goes on behind the closed doors of a royal palace and this is the ultimate inside look. She describes everything in great detail and paints an incredible picture of Nepal in the 50's which was a time when very few foreigners were allowed to enter the country. Her story is so fascinating that you almost can't believe it's true. I highly recommend Erika and King Tribhuvan to anyone interested in royal families, history, or biographical stories.
---
Don't have time to sit down and read a book? Check out audible! You can sign up for a 30-day free trial and get two books free by clicking the banner below! If it's not for you, you can cancel any time. This is a great option if you're on the road or commuting and want to listen as you go.
---
You might also like…