The book Shantaram by Gregory David Roberts was recommended to me when I traveled through India. It's remained on my list of books to read for years, mostly because when I looked it up, I spelt the title wrong and couldn't find it. A month ago, my husband told me it was one of his favorite books. He's read it twice and decided to buy it for me as a gift. The book is long at almost 1,000 pages so it took me some time to complete it, but I really enjoyed this book.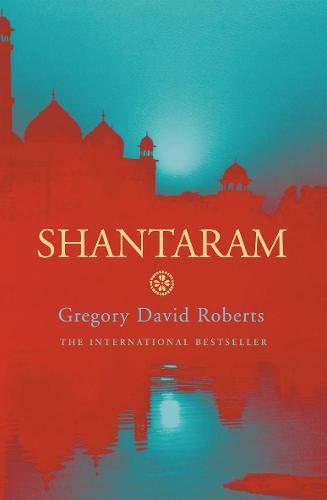 I was a revolutionary who lost his ideals in heroin, a philosopher who lost his integrity in crime, and a poet who lost his soul in a maximum-security prison.
Shantaram is based on the life of the author after he escapes prison in Australia and moves to Bombay to hide from authorities. While in India, he meets a myriad of interesting characters from a local guide who wins everyone over with his smile, a complex woman who doesn't believe in love, a mafia boss who takes him under his wing like a son, and a slum full of people who have hearts of gold. My favorite part of this book is the characters and their conversations that shed light on the ways of life in India.
'Driving is not so good,' Prabaker replied, bracing himself with both arms against the back of the driver's seat. 'But I have to say, the spitting and insulting is a first-class job.'
I have to admit that I enjoyed the first half of the book more than the second half simply because the first half is lighter. The author is discovering India for the first time and he learns some really interesting lessons as he does. From learning how to get a seat on a train, how to bobble your head at someone in the right moments, and how to live in a slum with thousands of people peacefully, the author has a range of crazy experiences. But what really makes the first half great is the author's interactions with Prabaker, his guide and friend who is absolutely hilarious and impossible not to love.
If fate doesn't make you laugh, Karla said in one of my first conversations with her, then you just don't get the joke.
Shantaram is the perfect mix of funny encounters and serious philosophical debates supported by real life experiences that few people in the world ever have. The author goes from having a normal life in Australia to doing heroin and robbing people. Then, he's living in India under false identities and even going to war with mafia bosses while committing daily crimes in Bombay. Besides the story being fascinating, it's the way the author writes it that really makes the story come to life. There are few books I've read that read as poetically as Shantaram.
But the soul has no culture. The soul has no nation. The soul has no colour or accent or way of life.
I highly recommend this book not just to people visiting India or those who have had culture shock, but really to anyone who enjoys a great story full of lively characters. Shantaram has a way of making you see past initial judgements whether about a place or a person. He shows you the stereotype of everything and then peels it back like the petals of a lotus flower until you see the full picture and beauty within.
---
Don't have time to sit down and read a book? Check out audible! You can sign up for a 30-day free trial and get two books free by clicking the banner below! If it's not for you, you can cancel any time. This is a great option if you're on the road or commuting and want to listen as you go.
---
You might also like…