Every year for my birthday, my husband buys me a book. This year, we somehow found ourselves adopted by a sweet little street cat. Yes, you read that right. She adopted us. She decided our home was her home, and we never had the heart to tell her it wasn't. That's how we got Dani, our little kitty cat. So, it only seemed appropriate that for my birthday this year, he bought me the book The Dalai Lama's Cat by David Michie which chronicles the life of a cat living with the Dalai Lama.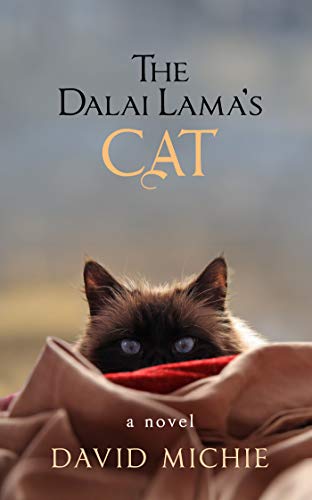 ---
I'm not sure what I expected this book to be, but I can tell you that I did not expect it to be told from the point of view of the cat. But that is the reason I love this book the most. The story tells of a kitten that is kidnapped by children who try to sell her and her siblings on the streets in India. But sadly, being the runt of the group, no one wants her and she is almost tossed in the trash and left to die. At that exact moment, the Dalai Lama sees from his car and sends someone to fetch the cat which he takes home and nurses back to health.
The rest of the book tells the trials and tribulations the cat goes through while adjusting to life as HHC (His Holinesses Cat). There are hilarious moments, like the time she brings a dead mouse into the office as a gift. You can imagine how poorly the gift is received. And the time she accidentally poops in front of a crowd of cameras at a special ceremony.
The book is filled with relatable characters like the fiery chef who loses her temper and a restaurant owner who boasts about being a Buddhist to every customer without ever actually practicing Buddhism. There are celebrities like the self-help guru who can't find his own happiness. There are novice monks who make mistakes and try to right their wrongs. There are even street cat romances outside the main gates.
All of these little pieces come together to explain Buddhism in its simplest form. HHC learns many life lessons while being surrounded by monks and the Dalai Lama himself. She evaluates herself as she hears the advice of others and works to change her mindset to be able to become the happiest version of herself.
The Dalai Lama's Cat is great for those who want to learn about Buddhist philosophy in a simple and fun way, or those who love cats! Even if you're not into Buddhism, it's a fantastic read that will make you laugh out loud and make you take a look at yourself and your own mindset.
Want to read more of my favorite books? Check out more Travel Book Reviews on my site!
Don't have time to sit down and read a book? Check out audible! You can sign up for a 30-day free trial and get two books free by clicking the banner below! If it's not for you, you can cancel any time. This is a great option if you're on the road or commuting and want to listen as you go.
---
You might also like…