Chandanbari (Sing Gompa) is a scenic village on the way to Gosaikunda Lake. The village is located inside Langtang National Park, and it is famous for its monastery and yak cheese factory. This small town is bright and full of life. It's the perfect place to rest after a long climb uphill from Dhunche. It was my favorite town we stayed in along the trekking route.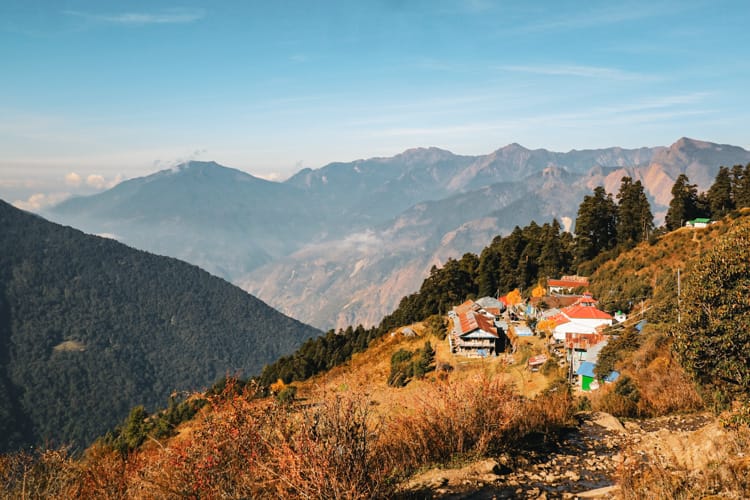 ---
Brief History of Chandanbari, Nepal
---
Village History
The gentleman working at the yak cheese factory said the factory was first formed around 1968. Many of the trekking routes in Nepal started as areas where shepherds would bring their sheep and yak to graze. Often those areas had a small shed where the shepherds would sleep, and later, trekkers followed their trails into the mountains.
These routes often contained small temples or monasteries like the one found in Chandanbari. I asked the age of Sing Gompa and was told it has been there for at least a few hundred years, however, no one knows the original date it was built. It was recently rebuilt because of damages.
We had the pleasure of speaking with the teahouse owner from Red Panda Lodge which is the oldest lodge in the village. The lodge was built in 1980 after the trekking route became popular. Prior to the lodge, the area was used as a campground. Seeing the amount of people who wanted to stay there, Mr. Subbha Lama opened a teahouse to cater to them. More teahouses were built in 1985 and soon a small village was formed.
Village Mythology
There's a fun story about the area which is a little hard to translate, but I'll give it my best shot. It's believed that Lord Shiva walked through the area and had a throat problem, so he used sandalwood to rub on his throat and it felt better. The word Chandanbari means sandalwood. However, there is no sandalwood in the area. (Please note, sandalwood might not be an exact translation. They were referring to a specific wood and thought the English meaning was sandalwood).
Tales of Gosaikunda
We also heard two more interesting stories about Gosaikunda during our visit, however no one at Gosaikunda could confirm them. The first story was about the Kings from Bhaktapur/Thimi during the Malla Period. The Malla period was when the wood carved temples in Bhaktapur, Patan, and Kathmandu were built and a large emphasis was put on art and craftsmanship. These Kings, who ruled between 1200 and 1700 knew about Gosaikunda and it was a popular pilgrimage site at the time. The pilgrims would bring chiura (beaten rice) during the Janai Purnima Festival as an offering from the Kings. It's said that the King had presented a plaque for Gosaikunda, however it's been lost.
The second story was about Amar Singh Thapa who was a warrior. After losing the East India War, he was frustrated and went to Gosaikunda to abandon all of his weapons. It's rumored that people find his swords in the lake from time to time. It's also believed that he passed away in Gosaikunda.
---
Chandanbari Village Guide
---
Major Ethnicity:
Tamang
Major Religion:
Buddhism
Language:
Tamang, Nepali, and Sherpa
Chandanbari Altitude:
3,330 m (10,925 feet)
Oxygen Concentration:
68% compared to 100% at sea level
Chandanbari Village Population:
The village of Chandanbari (Sing Gompa) is only inhabited during tourist season with people who work in the teahouses.
Best Time of Year to Visit:
It's best to visit in the peak season around October or November as the skies are clear offering great views. It's also a popular destination during the Janai Purnima Festival when pilgrims trek to Gosaikunda around August.
Wild Animals in the Region:
Animals in the Langtang National Park region include musk deer, Himalayan tahr (looks like a large mountain goat), red pandas, Himalayan black bears, snow leopards, ghoral (looks like a small goat/deer), mountain mice, gray langur monkeys, and over 250 different bird species.
Chandanbari is known for red panda sightings nearby. In fact, Dr. Praladh Yonjon, a leader in red panda research, spent two years studying red pandas in the wild here. The owner of Red Panda Lodge assisted him in his research. If you are looking to see a red panda in the wild, I would recommend adding several days to your trip to stay in the forest nearby. You'll need a special guide who knows where they live, plus you might need a special permit (check with the Nepal Tourism board in advance).
Location:
Chandanbari (Sing Gompa) is located northeast of Kathmandu inside Langtang National Park. It's a 5 hour walk from the closest road which stops at Dhunche.
Entry Permit:
Chandanbari (Sing Gompa) requires a Langtang National Park Permit which costs 3,000 rupees (about $26). This permit can be purchased on the way at the park entrance or in advance at the Nepal Tourism Board office in Kathmandu.
NTC or Ncell service:
There is no NTC or NCell service in Chandanbari.
---
What to Eat in Chandanbari
---
Most villages in Nepal recommend you try the local dal bhat (rice, dal, and curries) which varies from region to region. The villagers here also recommend trying yak cheese which can be purchased at the yak cheese factory and sea buckthorn juice which is high in vitamins.
---
Things to do in Chandanbari
---
This little town has a few cool things to check out. First, I recommend a visit to the yak cheese factory which was founded in the late 1960's. You can buy fresh yak cheese to take along on your journey. Next, take a trip to Sing Gompa (the monastery) which was originally built a few hundred years ago. It had to be rebuilt recently because of damage. Other than that, this is a great place to sit by the fire and read a book or play cards.
I also recommend a trip to Red Panda Lodge (if you're not already staying there) which is the first lodge in the area. The owner (Mr. Subba Lama) helped with the first major studies of red pandas in the wild. If you speak Nepali, he's an incredibly interesting person to chat with. I'd also like to thank him for all of the info he provided for this blog and for the hospitality.
---
Chandanbari Lodges & Teahouses
---
Types of accommodation:
Teahouses
Number of accommodations:
There are 5 big teahouses and 3 small teahouses in town.
Our choice:
Buddha Guest House or Red Panda Lodge – We stayed at Buddha Guest House because it was new and not many other guests were there. The rooms were clean and had attached bathrooms that were newly renovated. Later, we had tea at Red Panda Lodge to get information on the town and the owner talked to us about his life. He was the first person to have a teahouse in the area and he helped with red panda research. His teahouse was fully booked with a tour group when we went. The prices below are for Buddha Guest House.
Price of a Room:
1000 rupees (about $10.00 USD) for a double room.
Price of Veg Dal Bhat:
700 rupees (about $7.00 USD)
Electricity:
There are outlets in the rooms and it's free to charge devices.
Toilet Situation:
The bathrooms are attached with western toilets.
Shower:
Hot showers (hot bucket of water) are available for 200 rupees (about $2.00 USD).
Wifi:
Wifi is available for 300 rupees (about $3.00 USD) for one day.
---
Chandanbari, Nepal Photography
---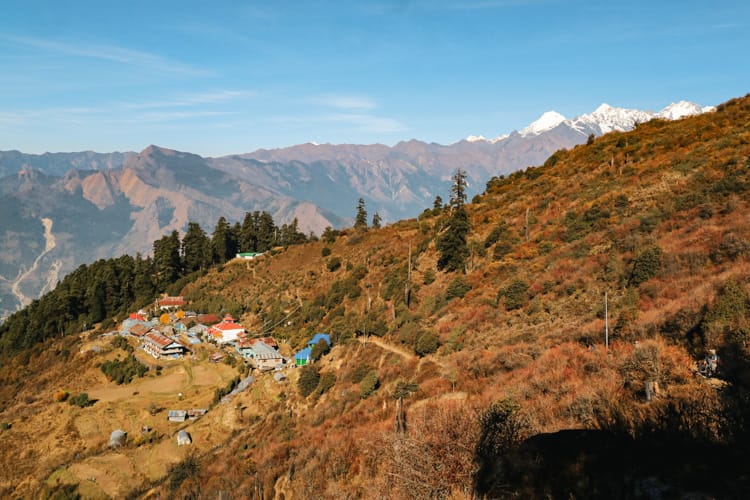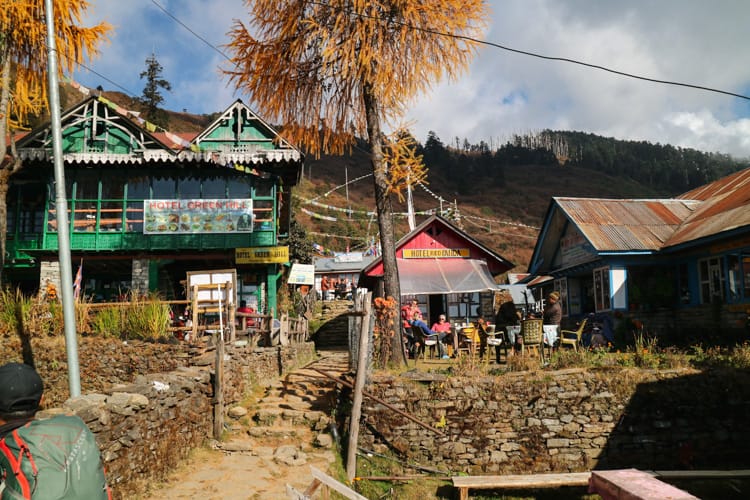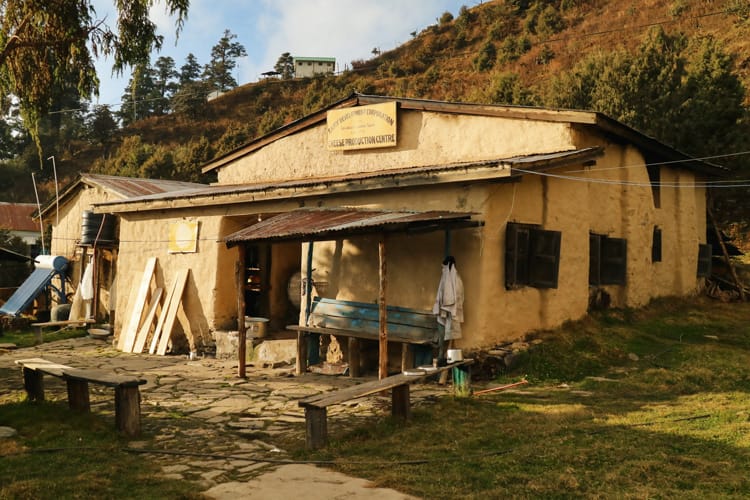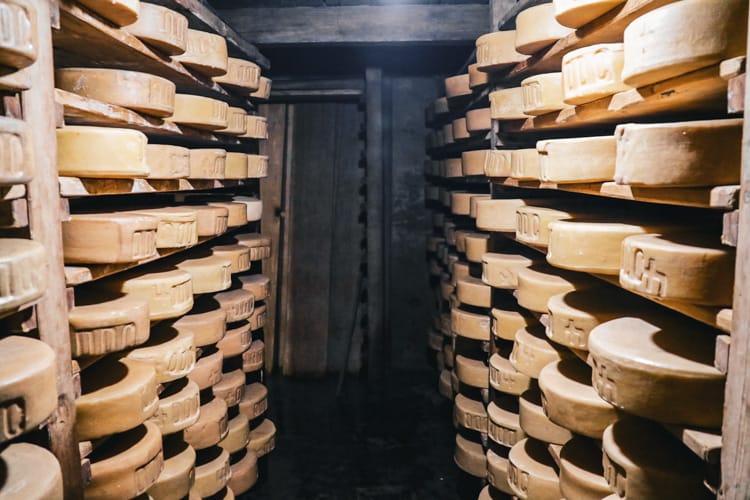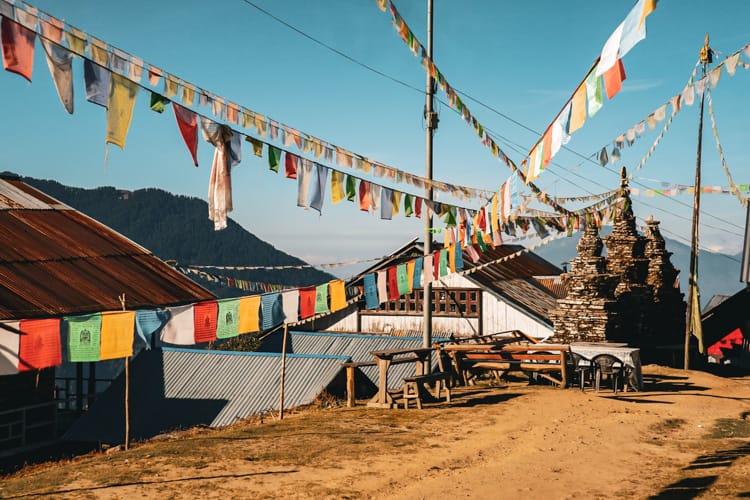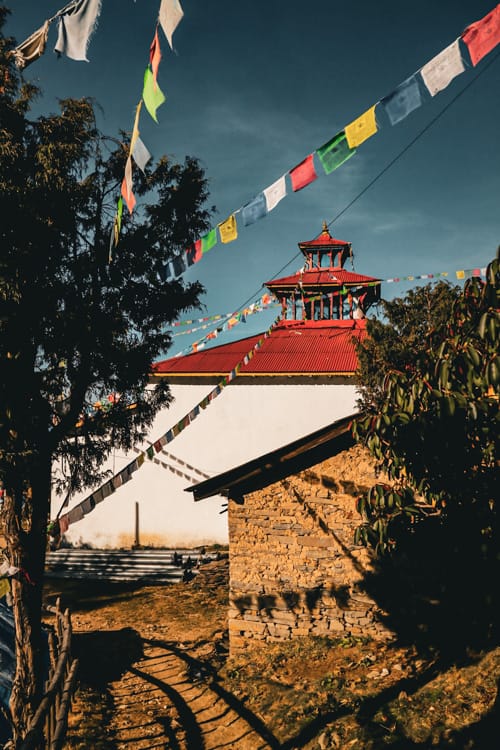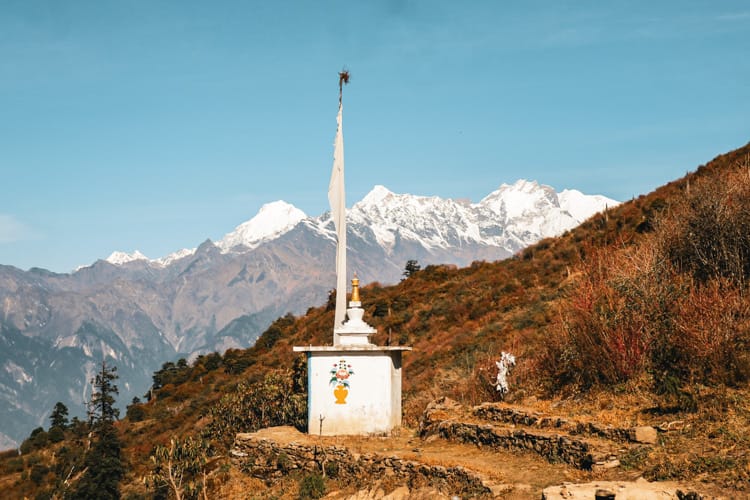 You might also like…