Most people consider October to be the best month to visit Nepal, but I feel that Nepal in November has some advantages. November is one of the best months for wildlife in the country, and it is festival season. November is the month of the Tihar festival which is my favorite festival in Nepal! Not to mention, it's still a great time to go trekking in the mountains. There's almost nothing to hate about November.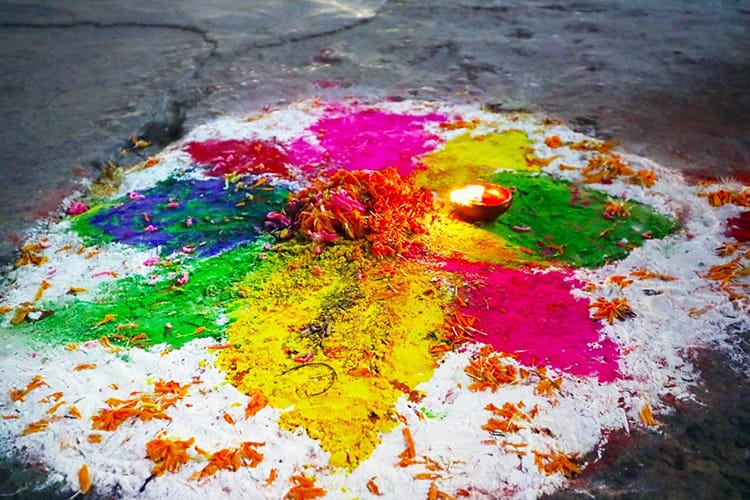 Nepal's Weather in November
---
Season:
Fall / Peak Season
Average Temperature:
44-73 F (7-23 C)
Average Days of Rain:
1
What to expect:
The average temperature during the day in Kathmandu is 59 F (15 C). In Pokhara, it's typically in the 70's in November (20-25 C). In areas in the Terai (like Chitwan and Lumbini), it's in the low 80's (around 27 C). If you are trekking in November, expect the mountains to be very cold at night with temperature below 20 F (-7 C).
---
Trekking in Nepal in November
---
High Altitude Trekking:
November is considered one of the four best months to go trekking in Nepal. Weather conditions are fairly stable with only a little snow fall. Temperatures are cold and those trekking should be prepared for freezing temperatures in the evenings. Most tea houses do not have heat in the bedrooms, so having warm layers is a must. November is known for having clear skies with great visibility. I did the Everest Base Camp Trek in the first week of November and conditions were perfect with epic views every morning.
Low Altitude Trekking:
Low altitude trekking is wonderful in November. With clear skies and good visibility, you can see the Himalaya from far away. The moderate temperatures also help to ensure you aren't too hot while walking during the day.
---
Tourism in Nepal in November
---
Crowds:
November is typically the third or fourth busiest month of the year just behind October and March. According to stats from the Nepal Tourism Board, November receives only 10k less visitors than the two most popular months. 10% of people visiting Nepal come in the month of November. As peak trekking season, areas like Everest Base Camp and the Annapurna Circuit will be crowded.
Budget:
November is one of the most expensive months to travel in Nepal. Although it's one of the most expensive months, it's still very reasonably priced compared to most countries. Many people survive on less than $30 USD a day while traveling in the country. Those who want more comfort should budget for $50-$100 a day. If you like to travel in luxury, $300-$600 a day would be best.
Wildlife:
November in Nepal is a prime time to see wildlife. Birdwatchers can enjoy the 886 known bird species. It's also the perfect time to see some of the rare animals in the national parks including the Bengal tiger, the greater one-horned rhino, and gharial crocodiles. Since there is little rain in November, the animals are known to come to the local drinking holes in the morning making it easier to spot them.
Safety:
November doesn't present many large safety risks as avalanches and landslides are less common this time of year. Even though these are not major issues for November, weather in the mountains is temperamental and can change in a second. Always check with locals about the weather conditions along trekking routes.
Best areas to visit:
November is a bit of a free for all. There aren't many places with bad weather in November. The mountains will get cold as the month goes on, so it's better to trek in the beginning of the month if possible.
Best areas to avoid:
Altitudes above 5,000m towards the end of the month because it gets very cold. I don't mean you shouldn't walk up to 5,200m for a day and turn back. That's fine. But mountaineering at the end of November may add some extra obstacles.
---
Festivals in November
(dates listed are for 2023)
---
Nov 11th Kaag Tihar
Tihar is a festival that lasts 5 days in Nepal. The first day is Kaag Tihar which celebrates crows. Crows are considered messengers in Nepal and are fed rice or special treats on this day.
Nov 12th Kukur Tihar
Kukur Tihar is a day that most westerners find adorable. It's even made world news. This is the "day of the dogs" where dogs are worshipped as bodyguards and protectors. You'll see dogs running around with flower garland around their necks, and red tika dots on their foreheads. They also get special treats.
Nov 13th Gai Tihar & Laxmi Puja
Laxmi Puja is the third day of Tihar. It's a day where locals celebrate cows (gai). Cows are a god in Nepal and are worshipped for giving milk. Today, you can put a flower garland around a cow's neck, tika on their forehead, and feed them special treats. At night, locals perform a special puja (ceremonial worship) for the goddess Laxmi.
Nov 13th Govardhan Puja
Govardhan Puja is a ritual to worship Shri Krishna. Locals make him vegetarian food as offerings. These rituals are often performed at home with family.
Nov 14th Mha Puja
Mha Puja is a festival celebrated specifically by the Newari caste during the five day Tihar Festival. Mha Puja takes place on the fourth day of the festival, and it is also considered Newari New Year. Mha Puja is the celebration of oneself and is also called "self-worship day." There are a few different meanings behind the day. Some believe it is a day of cleansing and purifying the soul. Others feel it celebrates one's spirit. Overall, it's meant to start the New Year with a blessing of happiness, wealth, and good health.
Nov 15th Bhai Tika
Bhai Tika is the last day of Tihar and is celebrated by having sisters apply tika to brothers' foreheads. They also exchange gifts. Something that confused me at first was what people did if they didn't have sisters or brothers. A "sister"/ "brother" does not need to be a blood relative in Nepal. It's is a close family friend who is like a sister or brother to you. I've heard recently that women sometimes perform this ceremony on each other even though it was traditionally for men.
Nov 19th Chhath Puja
Chhath Puja is a Hindu festival that celebrates the sun and his wife. Most of the rituals are performed with family.
Nov 27th Guru Nanak Jayanti
Guru Nanak Jayanti is celebrated in Sikhism. It is their most sacred festival of the year since it celebrated the birth of the first Sikh Guru.
---
Pros & Cons
---
Pros
Nice Weather
Almost No Rain
Bird Watching
Wildlife Spotting
Trekking Season
Festival Season
Cons
---
Packing Essentials for Nepal in November
---
If you'll be trekking at high altitudes, warm clothes and a sleeping bag are a must. I also recommend having a hoodie or fleece jacket for evenings in Kathmandu or surrounding areas since it can be cold at night.
Check out my packing list for Nepal for everything you need year round!
---
More Monthly Guides for Nepal…
---
---
You might also like…