Dhunche, Nepal is a small city along the major highway running from Kathmandu to Langtang National Park. It's most commonly known as the starting point for the Gosaikunda Trek which is a two to three day walk from Dhunche. Many people spend a night at the beginning and end of their trek because of the long ride from Kathmandu.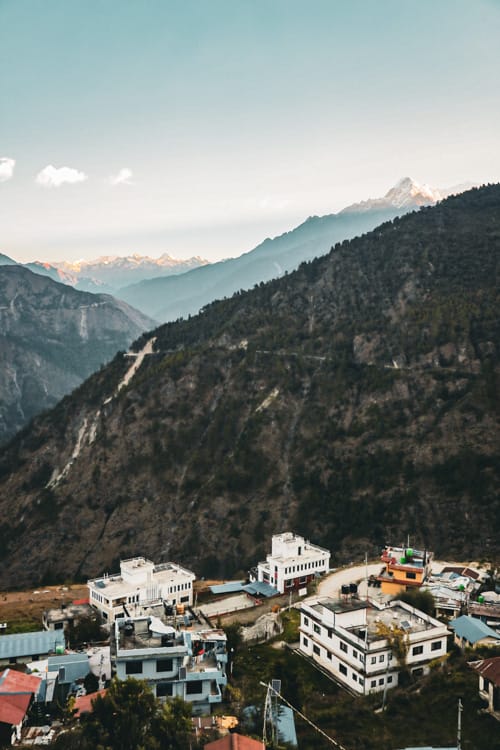 ---
Brief History of Dhunche, Nepal
---
Sadly, I couldn't find out much about Dhunche. None of the people we met were from Dhunche and there's little to no information online. All of the locals we met had moved there for business opportunities like running a hotel, and they didn't know how the small city had originally formed.
Most of the towns in this region started out as small villages along trade routes. The villages along the popular trade routes grew larger and larger over time as people passed through. Eventually, teahouses formed as a place for the tradesman to rest or spend a night. When tourists began to use those same routes, the teahouses turned into lodges to meet western requirements. Over time, these small villages became cities. I can't say for sure that this is what happened in Dhunche, but it does sit right along the old trade route to China. Now that a paved highway runs through town, the small city is growing bigger every year.
---
Dhunche Village Guide
---
Major Ethnicity:
Tamang
Major Religion:
Buddhism
Language:
Tamang & Nepali
Dhunche Altitude:
1,960 m (6,430 feet)
Oxygen Concentration:
80% compared to 100% at sea level
Dhunche Village Population:
There are around 3,000 to 3,500 people in Dhunche according to its residents.
Best Time of Year to Visit:
It's best to visit Dhunche in peak season around October or November as the skies are clear offering great views.
Wild Animals in the Region:
Animals in the Langtang National Park region include musk deer, Himalayan tahr (looks like a large mountain goat), red pandas, Himalayan black bears, snow leopards, ghoral (looks like a small goat/deer), mountain mice, gray langur monkeys, and over 250 different bird species.
Location:
Dhunche is located about 100km north of Kathmandu. It's a five hour drive by jeep or bus. I recommend taking a private jeep as they usually drive safer than the bus and you can stop and stretch or eat along the way.
Dhunche to Gosaikunda Distance
The distance from Dhunche to Gosaikunda is about 12km (7.5 miles). It takes most people two to three days to walk there.
Entry Permit:
Dhunche requires a Langtang National Park Permit which costs 3,000 rupees (about $26). This permit can be purchased on the way at the park entrance or in advance at the Nepal Tourism Board office in Kathmandu.
NTC or Ncell service:
NTC gets four bars of 4G.
NCell gets four bars of 4G.
---
What to Eat in Dhunche
Most locals recommend you try the dal bhat (rice, lentil soup, and curries) which varies from region to region. I'd recommend eating something different here if you plan on trekking, as you'll have limited options on the trekking route. There is an Indian restaurant in town which makes great naan and curries. I'd also recommend taking advantage of the cafes that offer real coffee as there will be instant coffee from here on out along the trekking route.
---
Things to do in Dhunche
---
Most people pass through Dhunche on the way to Gosaikunda as it's the closest major point along the highway. Therefore, there is not a ton of stuff to do. You can do some last minute shopping, enjoy some good coffee, and take a hot shower before you spend the next few days roughing it. If you feel like walking around and exploring, there is a large Guru Rinpoche statue, a monastery, Red Panda Park, and views of the mountains in China.
---
Dhunche Hotels & Lodges
---
Types of accommodation:
Hotels & lodges
Number of accommodations:
I don't know exactly how many lodges are here, but there are a lot of choices. I'd guess there are around 50 hotels/lodges in the area.
Our choice:
Namaste Gosaikunda Hotel & Lodge – I'd recommend this hotel because it has clean beds/sheets, nice views, updated bathrooms, and wonderful hot showers. They even give a towel and toilet paper in the bathroom which many places don't provide. There's a cafe downstairs as well making it a nice place to enjoy coffee.
Price of a Room:
1500 rupees (about $15.00 USD) for a double room.
Price of Veg Dal Bhat:
600 rupees (about $6.00 USD)
Electricity:
There is electricity in the rooms, and it is free to charge devices.
Toilet Situation:
Each room has an attached bathroom with a western toilet, and they were clean when we went.
Shower:
Hot showers are available for free and they have very hot water.
Wifi:
Wifi is available for free.
---
Dhunche, Nepal Photography
---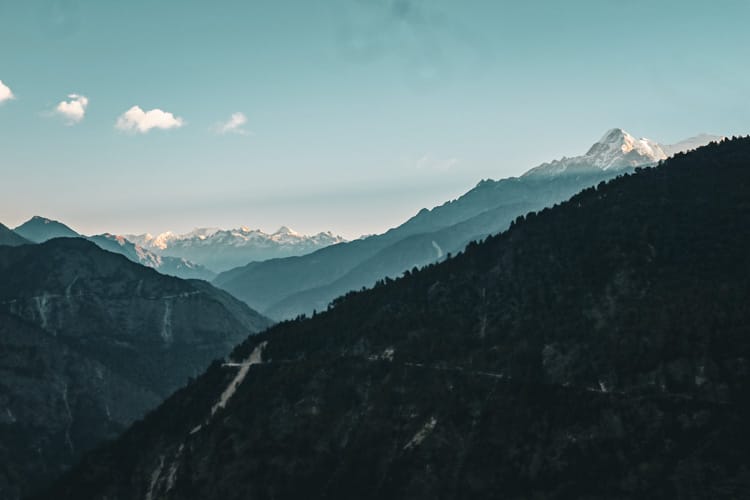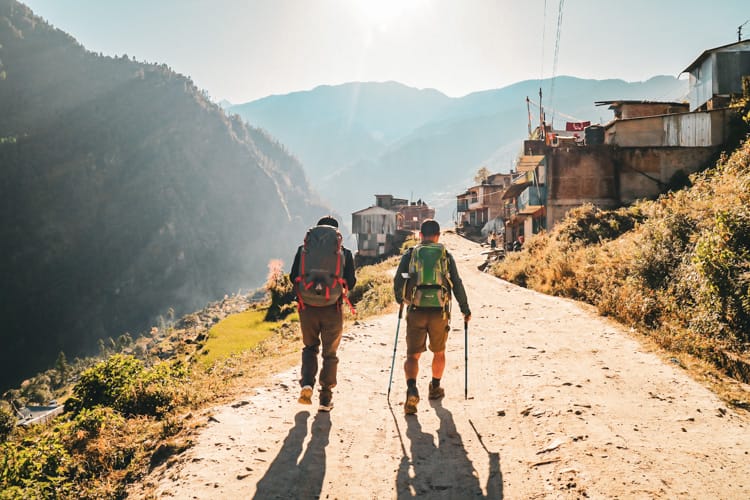 You might also like…