This year, my fiancé and I decided to discover his roots in Nepal. We previously visited Tansen, Palpa where his father was from and where he was born and raised. But he'd always been curious about his mother's side. She's from an area called Chilingkha, and he'd never visited before. Originally, we had planned to do the Manaslu Circuit, but one set back after another told us we shouldn't force it to happen. Instead we opted to do the Tsho Rolpa Trek and Chilingkha just happened to be on the way!
The only problem with visiting Chilingkha is that it's a little off the beaten path to say the least. There's no information online, and we honestly didn't know where we would sleep or eat. We tried to gather some information in advance, so Suraj asked the family priest (who happens to be from Chilingkha) if he knew any locals who could show us around. He did in fact know of one man who would be willing to show us the way. Him. And so, we set off into the unknown with the priest (who will marry us next March) as our guide.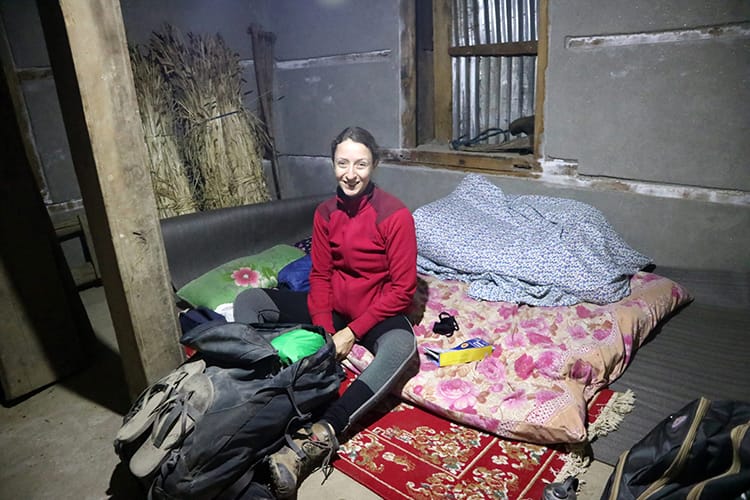 Bigu Gompa
---
The journey started out with an eventful trip to Bigu Gompa. It was the only night we were guaranteed a roof over our heads. The other nights we would be counting on the generosity of Suraj's long lost uncles. We hoped they'd take pity on us and give us a room. Luckily, Bigu Gompa has a few hotels nearby for those who visit the monastery. Not so luckily, our bus decided to drop us off two hours away just as the sun was about to set….and it was raining.
Baje (a respectful term meaning Grandpa which is what we call our priest) knew of an uncle nearby. So, we changed plans and walked about an hour to find his home. I can't understand Nepali yet, but the conversation seemed to go a little like this. "Hey! This is your long-lost nephew. You know, so and so's brother's daughter's kid. We were supposed to go to Bigu Gompa, but the bus dropped us off here. Can we spend the night?" This was followed by a rightfully awkward pause and then a bunch of chitter-chatter. The only words I heard were "hotel" and "uphill."
Our search for a hotel commenced as we left the long-lost uncle's house. About 15 minutes later, we arrived at a tea shop which was willing to let us sleep in the storage room. They made us a simple bed next to the drying millet and cooked us rice and dal for dinner. In the morning, I could see eyes peeking into the window of our room which lacked any curtains. It seemed we were a bit of a spectacle and word had traveled that a foreigner was sleeping in the storage area. I began to feel like a zoo animal until the door opened, and I was delivered coffee in bed.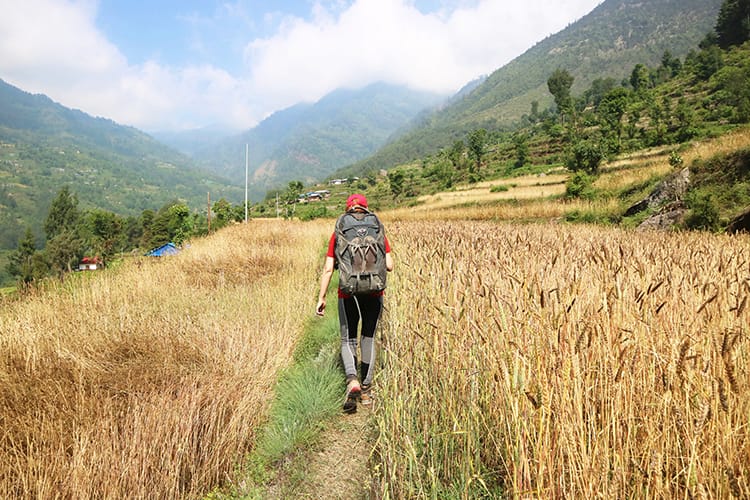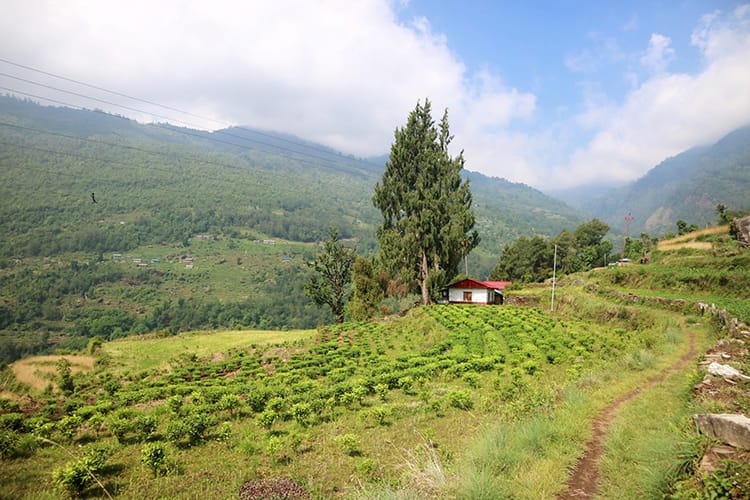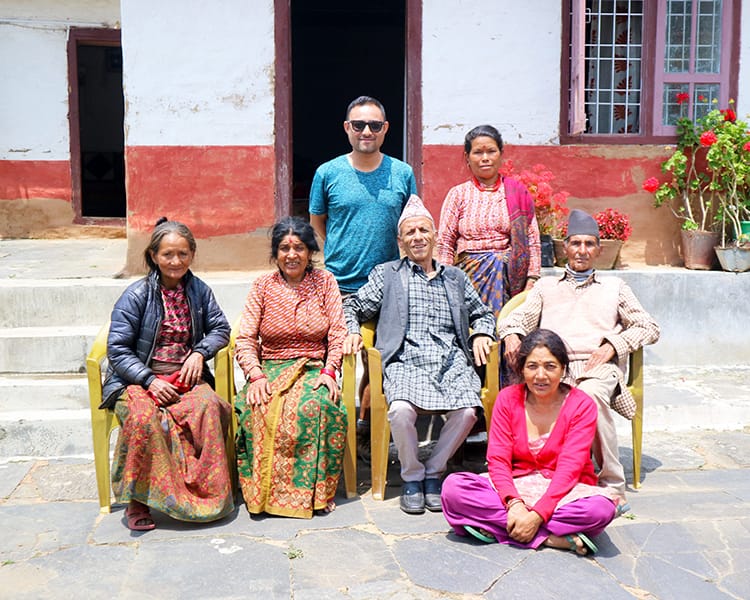 Gyalpasen
---
In the morning, we took off to the neighboring village of Gyalpasen. The villages are so spread out that it's hard to tell where one ends and another begins. We were told Suraj had another uncle in this area. After the previous night's debacle, I was afraid we wouldn't be as welcomed as we hoped. We worked our way to the beautiful farmhouse that sat on the side of a hill with an organic tea farm and fields of golden millet surrounding it. We saw an old man and woman who welcomed us in warmly with cups of organic green tea which they grew themselves.
Baje laughed with the man who was an old friend and explained how Suraj is related to them. They yelled at us for not staying with them the night before. They gladly would have set up some beds. In fact, they've turned the house into a homestay a few times when foreigners have passed through. After talking for a while and eating lunch, we headed out to our next stop. This time Baje assured us that this uncle knew we were coming and was excited for our arrival.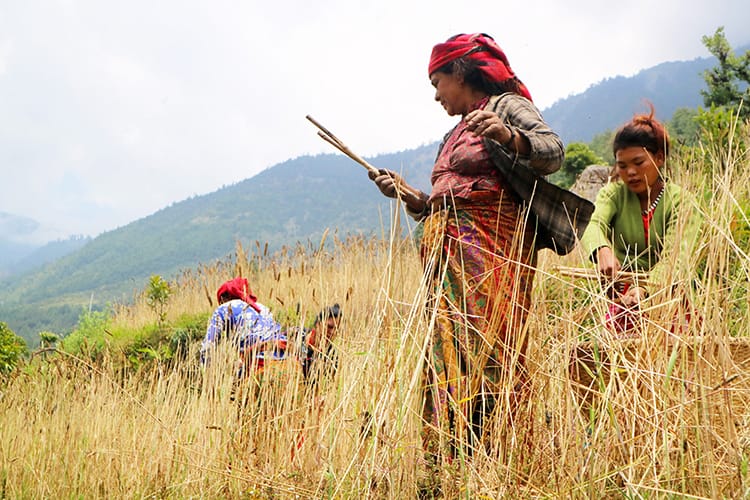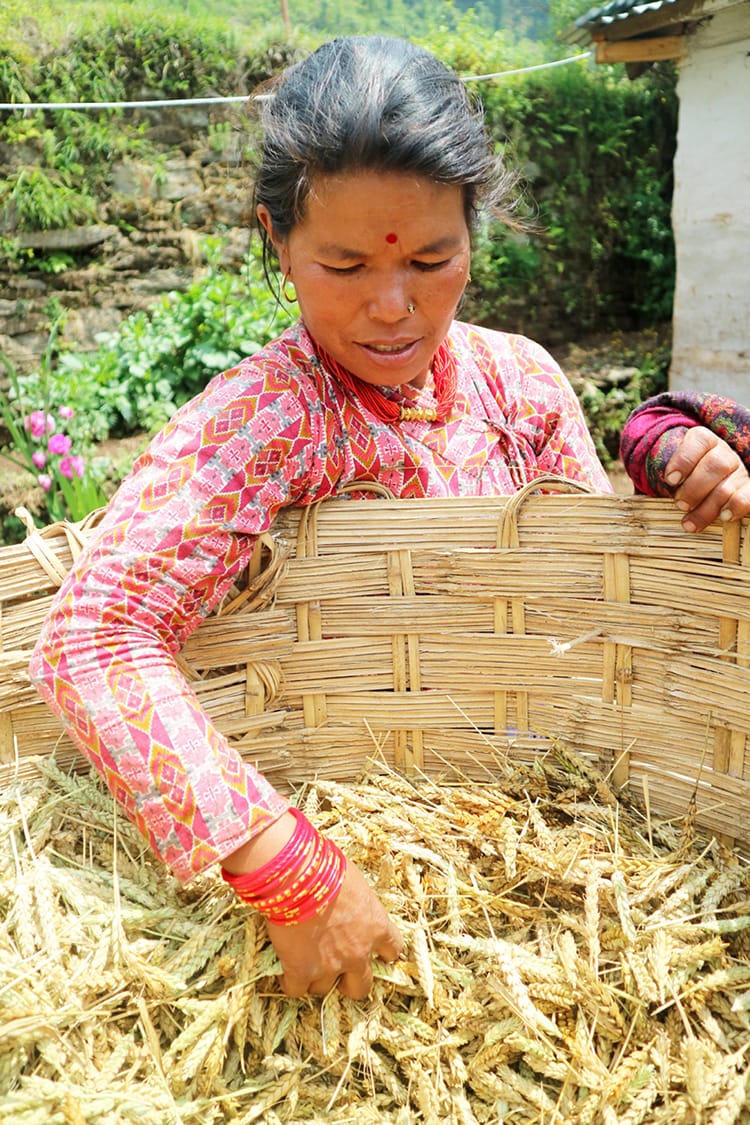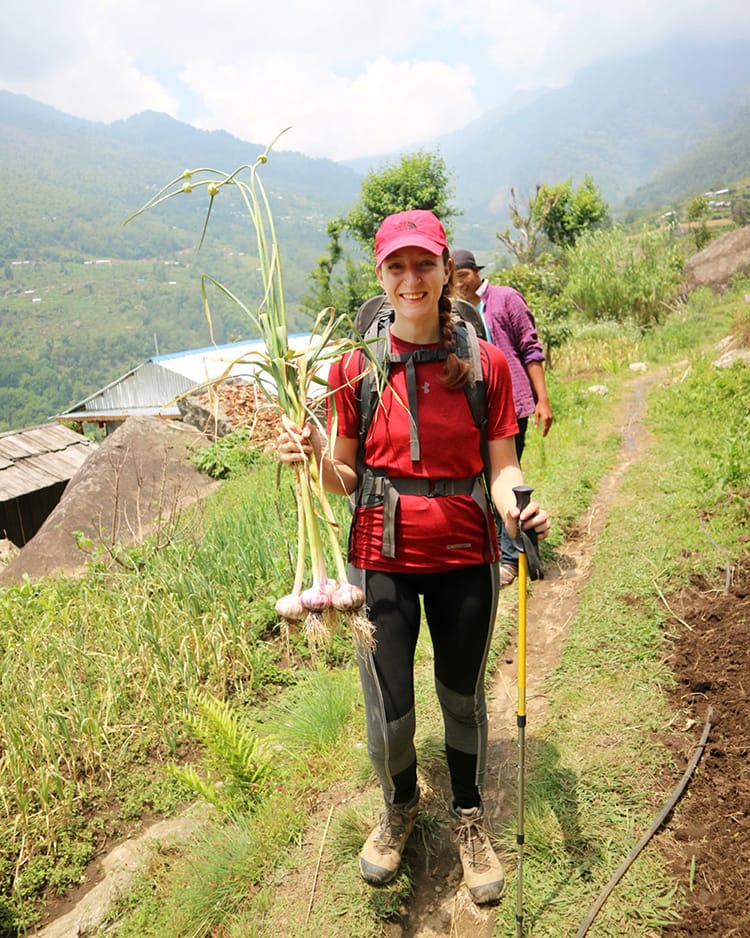 Learning About Agriculture
---
On the way there we walked through many different fields. It always amazes me how I don't know what food looks like when it grows. I passed by pointing to almost everything we saw and asked what each item was. We passed women who were stripping the millet seeds off plants by using two bamboo sticks. They showed me how it's done and even posed for a few pictures.
As we walked a little further, we saw something else I didn't recognize. We asked the woman what it is and she said "Garlic." I was shocked because it looked so strange, so she pulled one straight out of the ground to show me. Her son grabbed four more and handed them to us as a gift. Garlic might be one of my favorite foods, and I was truly touched by their generosity. We ended up taking it on our trek and eating it in each of the teahouses we visited. Villagers believe that local garlic can be used to treat altitude sickness. Considering how insanely strong and spicy it is, I'd bet it could cure a lot of things.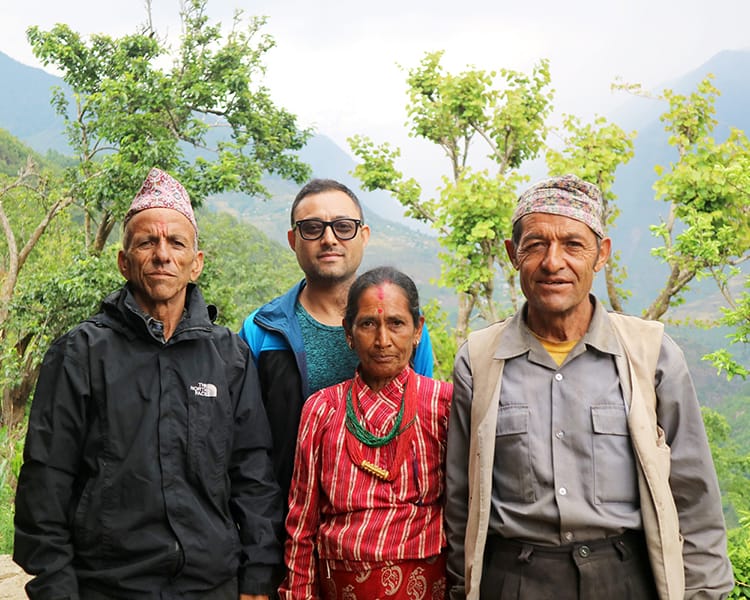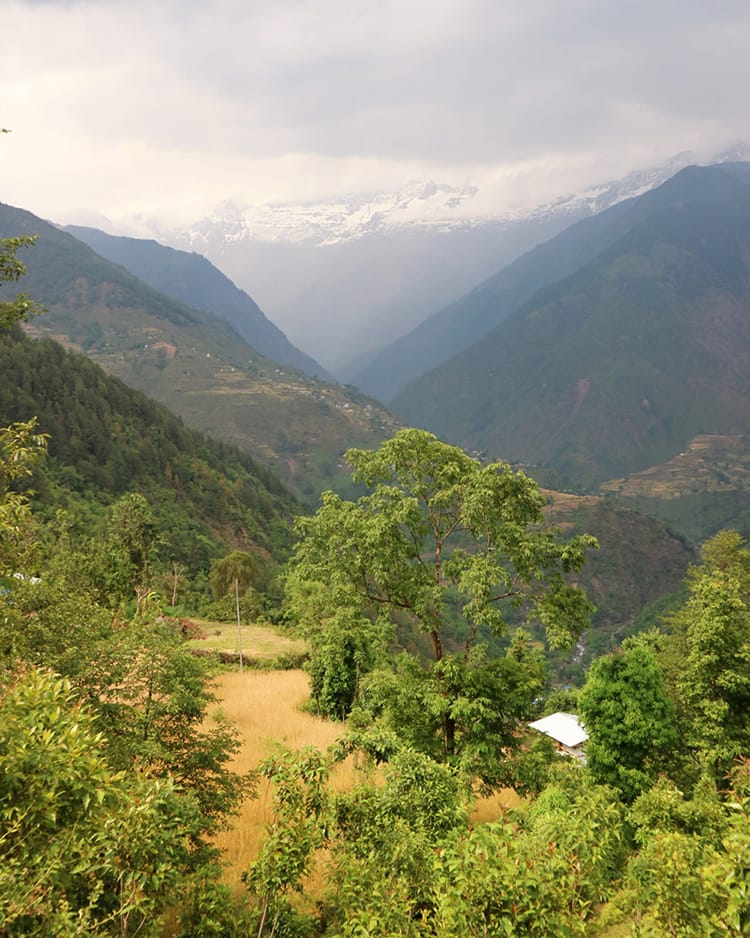 Sangba
---
On the way to the next uncle's house, we stopped at another uncles. I began to wonder just how many uncles Suraj has. Again, we were greeted kindly and were given a place to sit with cover from the rain. Fresh potatoes were baked and served as a snack, and we were given a local treat called mohi. It's kind of like a halfway point between milk and yogurt. The milk hasn't turned to curd yet, but it's a little sour. It's oddly refreshing, so we each relished a few glasses after walking in the heat.
The uncle at this house insisted we spend the night, but the uncle we were on the way to see had already begun to prepare us a special meal. It's funny how the night before we had nowhere to sleep, and now, Suraj's family was fighting over who got to have us as guests. It's amazing to me how kind people are in this part of the world. I imagine showing up at a long-lost uncle's house in the U.S. and asking to spend the night. I'm pretty sure I'd be asked for proof that we were related.
After snacks, we ended up passing yet another uncle's house and were again offered potatoes. It's rude to decline, so we ate one more potato each even though we had about 5 small ones at the last house. After a quick chat, we moved on to the house we'd be sleeping at that evening.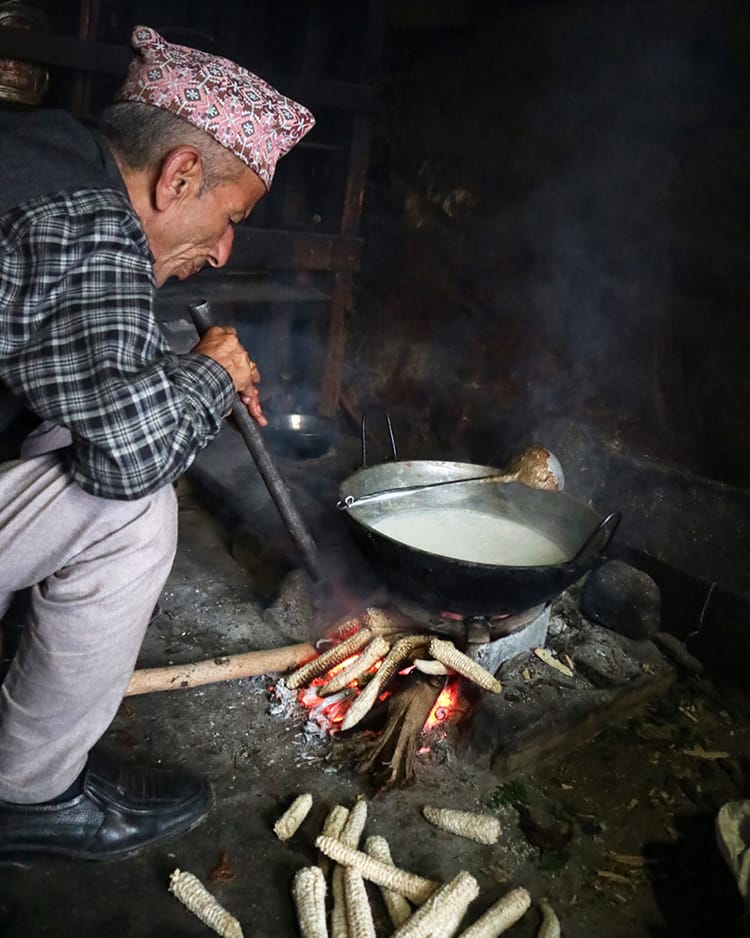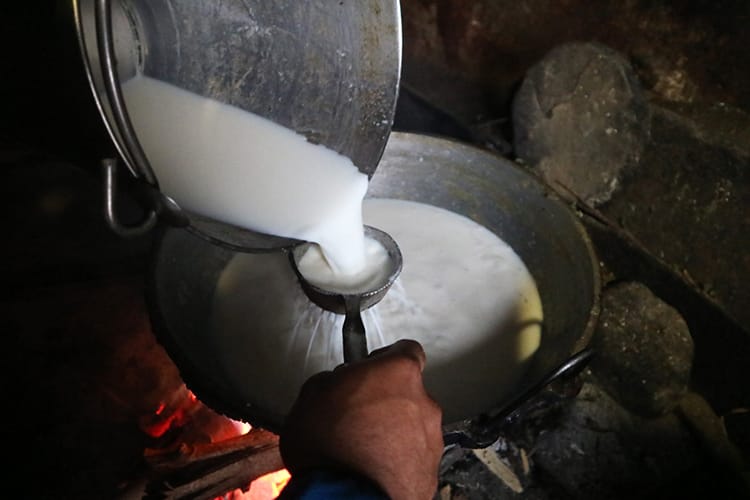 Seeing Village Life
---
We ended up in a cute little town with a view of mountains. I'm told the mountains are in China. I had no idea we were so close. In the evening, we were treated to a feast of pumpkin leaves and mutton. Mutton is the traditional meal for celebration or receiving guests in Nepal. Unfortunately, I don't eat mutton, and I always feel super rude when people prepare it for me.
We were given another kind of milk to try. Suraj's uncle went and milked the cow, and then Baje boiled the milk over a fire fueled by corn husks. Once it was ready, they served it hot with sugar. I swear it was the best milk I've ever tasted. Like a creamy hot chocolate minus the chocolate.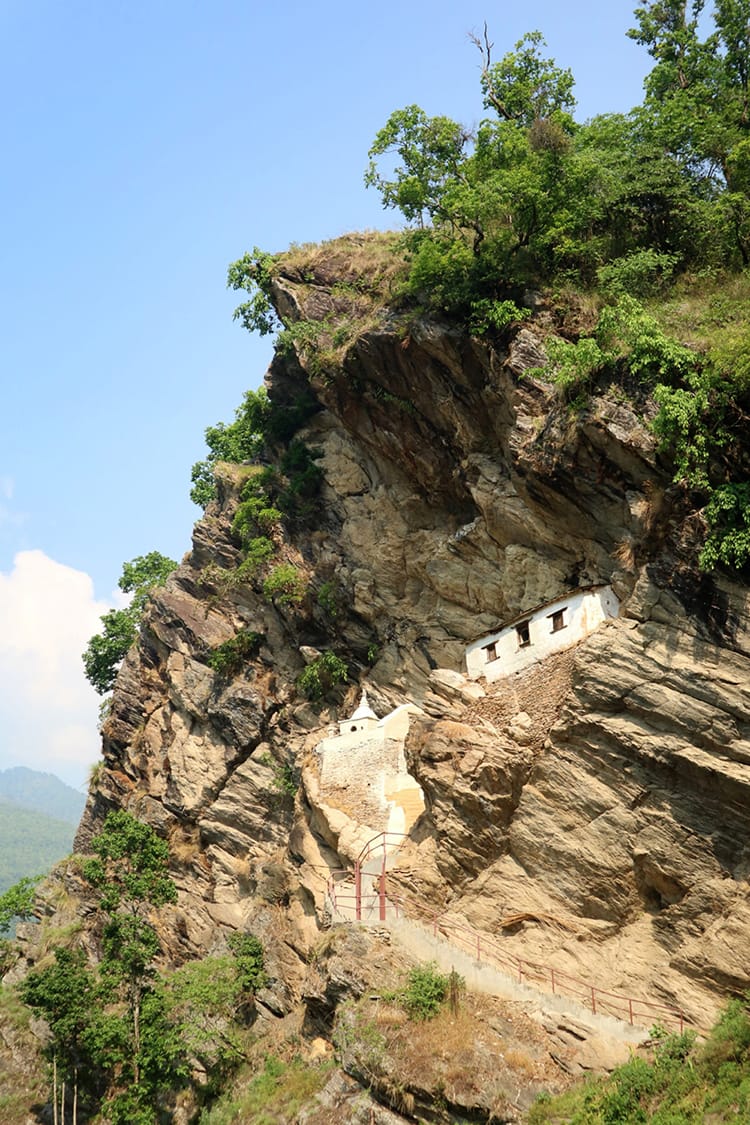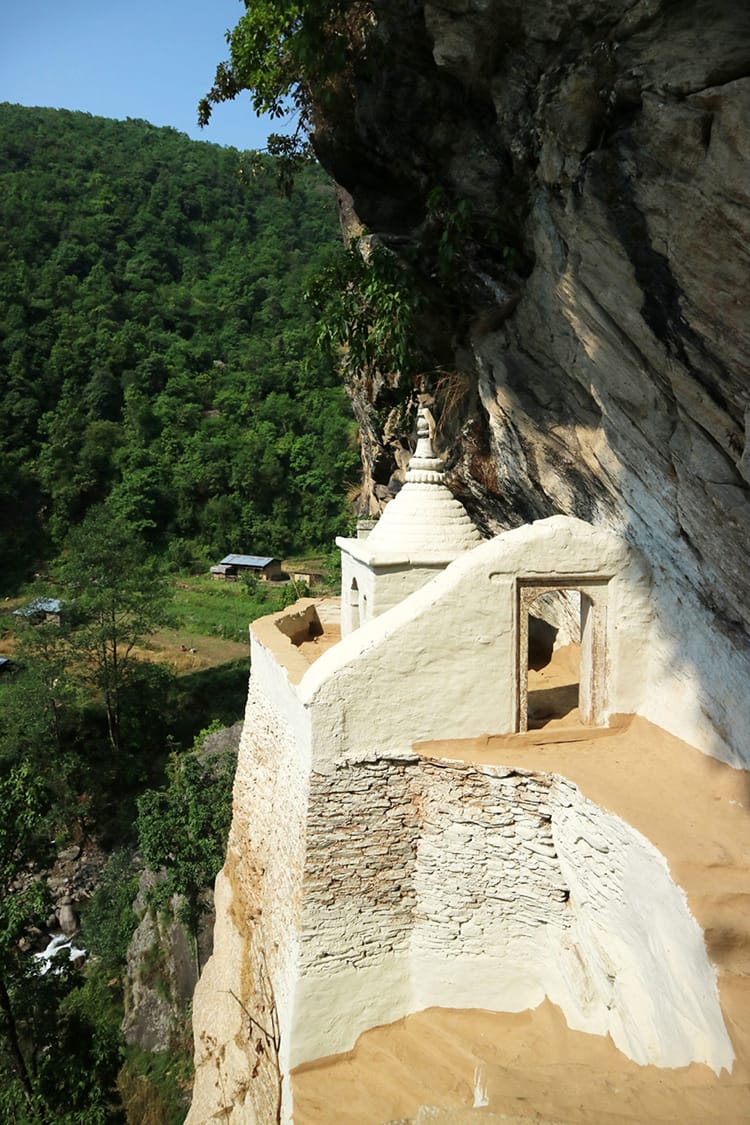 Swallow Cave
---
In the morning, we went for a walk to a nearby temple. It was built by Suraj's great-grandfather. I imagined it would be a small temple, maybe a few feet tall with a statue in it and a place to put offerings. What I didn't expect was a temple built into the side of a mountain. We turned the corner, and I'm pretty sure my jaw dropped a little. Swallow Cave is beautiful. I can't believe his great-grandfather built it. Seeing it was the perfect way to end our trip. The following morning we set out for the Tsho Rolpa Trek, happy to have seen where Suraj comes from and having met so many of his family members along the way.
The Chilingkha District is a beautiful place to go hiking, see nature, and understand village life. It's very hard to navigate and even harder to find homestays and teahouses. If you want to explore the area, I highly recommend booking it through a guide.
---
You might also like…