For some reason, southern Cambodia just wasn't calling my name. Koh Rong, Kampot, and Sihanoukville were seeing monsoon season full force. I had no intention of venturing away from Phnom Penh until I met an awesome girl from Denmark who happened to be interning at the Mondulkiri Elephant Sanctuary. I know what you're thinking…dream job. Yup, let's all be jealous for a second.
Eva, my new Danish friend, as well as two gentlemen who had just come back from jungle trekking had convinced me to visit. There was a story about a bridge dispute and having to machete their way through the jungle that really sold it. I was laughing hysterically at their description of this unknown place and couldn't wait to see it for myself.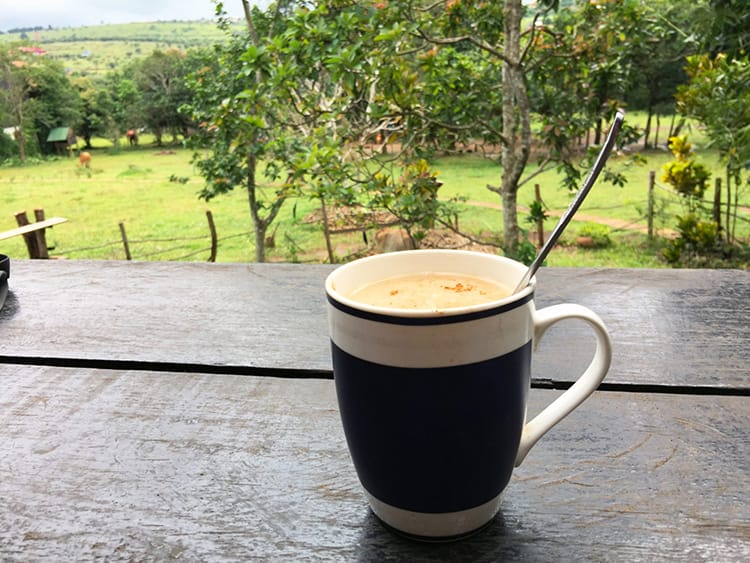 Nature Lodge
---
I arrived at Nature Lodge around 1pm the day before my trek. This place is like a little haven after leaving Phnom Penh. It was a breath of fresh air, literally. The restaurant and reception area is completely open to nature and looks out over a beautiful vista. Cows and horses roam free on the property. The bungalow I rented had an outdoor bathroom that felt like the most luxurious jungle shower ever in existence.
After settling in and taking some photos, I headed to the restaurant where one of the women mentioned a tuk-tuk tour of a coffee plantation, a pagoda, and a tree ocean. I had no idea what a "tree ocean" was, but for $9 I was willing to find out.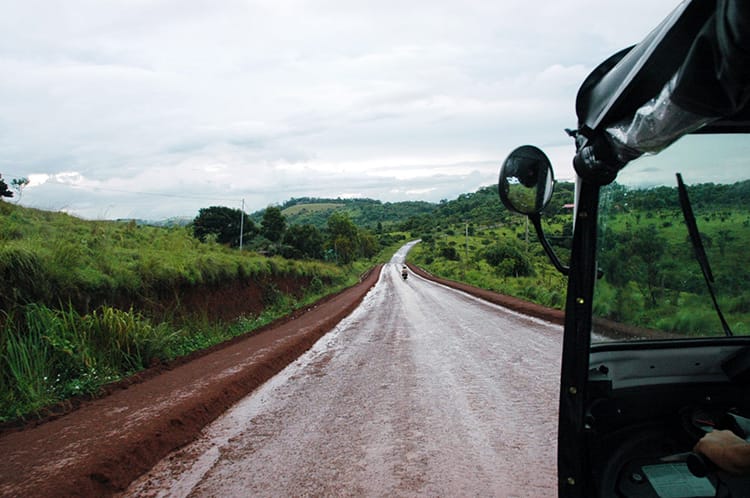 Tuk-Tuk Tour
---
Now, I've taken my fair share of tuk-tuks, and I've had a lot of tuk-tuk drivers. None, and I mean none, will ever come close to being as crazy or hysterical as this one. I'm positive I'm spelling this wrong, but I'm gonna say his name was Door. Door was a short man in his, let's say, 40's. He had a giggle like a cartoon and an adrenaline addiction that could top the charts. He was constantly moving at a speed of 100mph and, therefore, reminded me of a Cambodian Speedy Gonzales.
We began by driving down a clay road in the rain at full speed which resulted in our little tuk-tuk fishtailing all over the place. His reaction was to giggle which in turn made me burst out laughing. It was actually a ton of fun, and my smile only got bigger and bigger. The little tuk-tuk barely weighed anything, so I was confident that even if we tipped over, we wouldn't get hurt. .
At one point in this crazy journey, we went off roading. I'm pretty sure Door thought he was driving a jeep with 4 wheel drive. Either that or he thought we were in some kind of monster truck. "Same, same, but different." Ahead of us we saw a giant mud puddle and so we did the only logical thing. We floored it and screamed in the hopes that we'd make it through. Unfortunately, we did not. However, we did manage to get two young local guys to help push us out while the women of the village pointed and laughed. By the end I was covered in mud, thus ruining my 6th (at least) pair of elephant pants.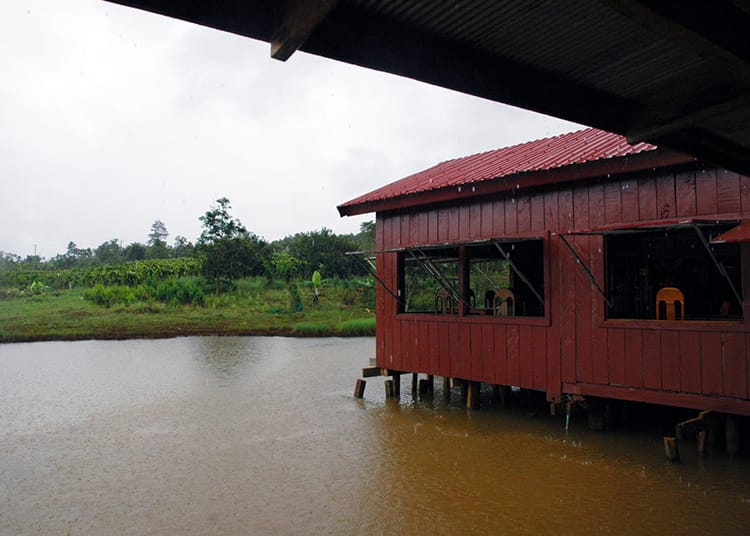 Coffee Plantation
---
It happened to be raining the entirety of this crazy tour, so we only drove around a bit. The plantation was full of different fruit plants and coffee. Door showed me a few and insisted I take a photo of each tree so I'd remember what Durian looked like vs. coffee. Mixing the two up is clearly a common mistake (insert a crazy amount of sarcasm here). We sat in the restaurant and had a fresh cup of coffee which was insanely strong and delicious. I bought a small bag to go which resulted in a rat coming into my room later that evening. It chewed a hole through my bag and then decided it didn't like the coffee and left. Therefore, I wouldn't recommend buying anything unless you are on your way out of town.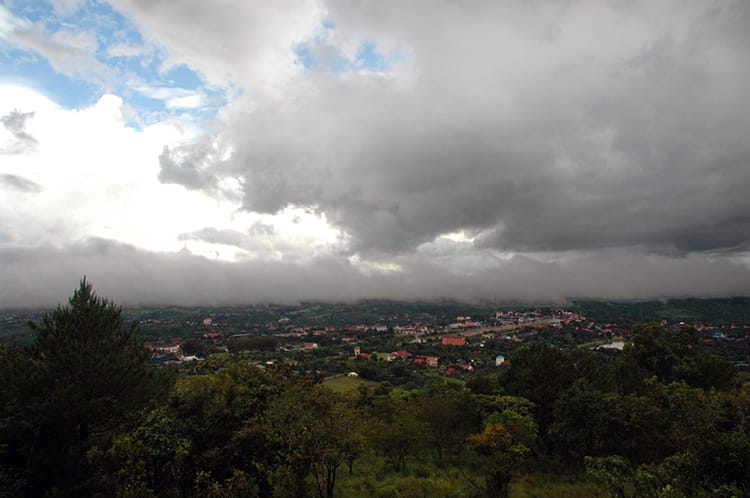 Pagoda
---
I have no idea what this pagoda was called, and the deity in it did not look familiar either. It didn't appear to be Buddhist, Hindu, or Muslim so it's a mystery to me. Again, it was raining so we waited out the storm while watching a woman feed a monkey. Once it cleared up, I went to the lookout point and got to take in the beautiful view as the clouds lifted off the ground! On the way back to the tuk-tuk, Door slipped and fell flat on his back. I was concerned he'd hurt himself, but he just burst out laughing, dusted himself off and started back to the car.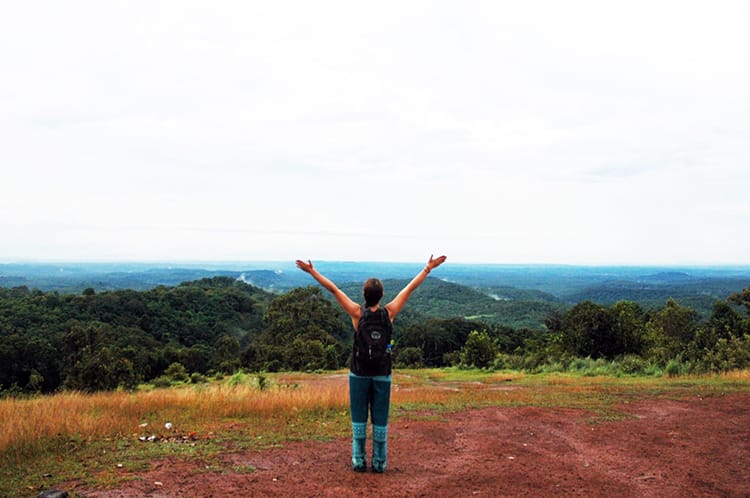 Tree Ocean
---
Okay, have you ever been to a lookout point where you could see so far that everything just blended together? That's what this was, except the sky and trees met in a bright blue color that looked like the ocean. Hence, tree ocean. I've seen this in a few other places, but I love that the locals found this so beautiful, that they gave it a name and put it on their tourist map. This is also where we went off roading in the jeep, I mean…tuk-tuk, so it holds a place near and dear to my heart.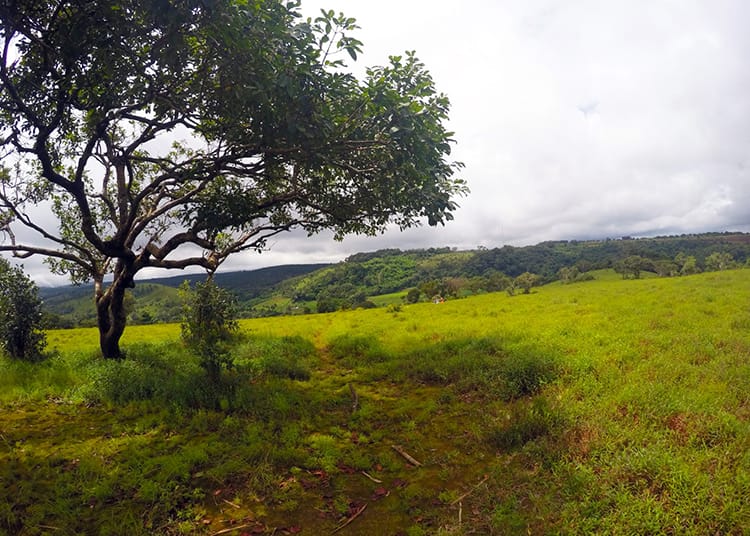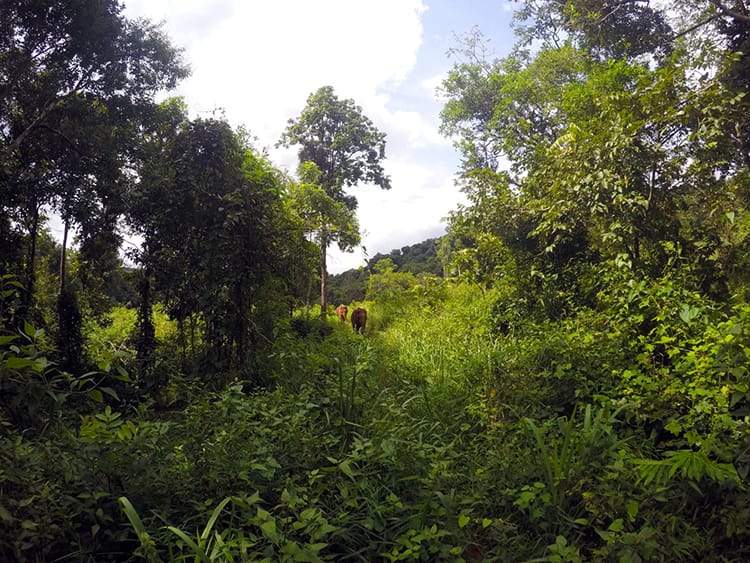 Mondulkiri Elephant Sanctuary
---
The next day I headed out to the Elephant Sanctuary on a day trek. The bus picked us up at the Nature Lodge, and then we made a stop to pick up a few other people and our guide. The door opened, and a short man hopped in the front. He turned around, and I burst out laughing as I realized it was… you guessed it… Door! "Sometimes I do tour when they need someone," he said as we took off.
We started with a beautiful walk through the jungle and then over some rolling hills. Eventually, we found ourselves at the Mondulkiri Elephant Sanctuary where we were given a home cooked meal for lunch. We got a massage in a waterfall and then met our new elephant friends. We hiked with them a short way through the jungle and swam with them in the river. I absolutely loved one of the elephants who just stared at me calmly. I tried to send her loving-kindness like I learned at my meditation retreat, and it gave me an overwhelming sense of joy. The last time I was around elephants, I was a little jumpy, but this time I felt so calm and at ease. Like we'd known each other a lifetime.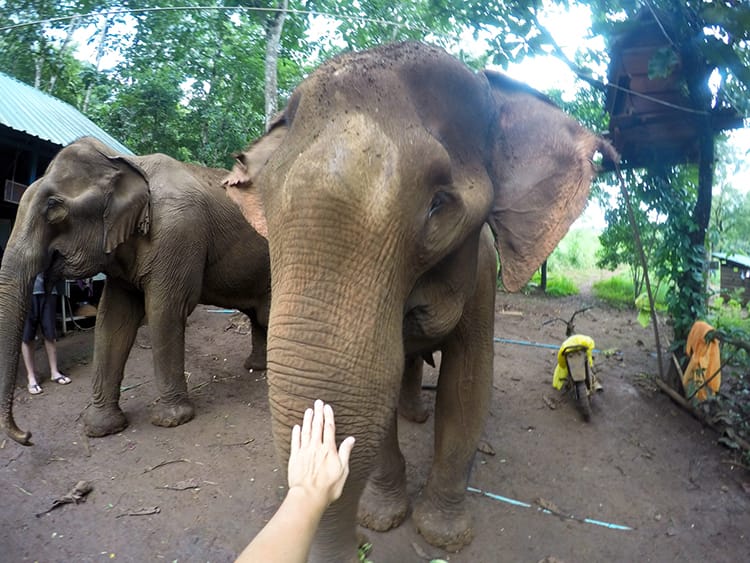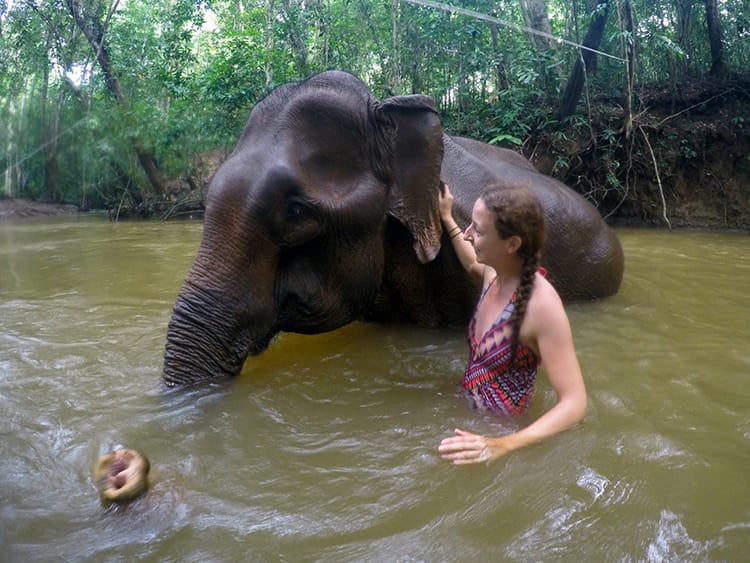 My time in Mondulkiri wasn't exactly perfect. Being back in nature was a bit of a shock. I got bit by a leech on my trek, had a rat eat through my luggage to get food, got a few bites from fire ants, plus a few other mishaps. Despite that, I loved Mondulkiri. It was such a nice break from being in the city, and spending time at the Mondulkiri Elephant Sanctuary made me giddy. The tour with the sanctuary was only $40 which was a lot cheaper than the one I did in Thailand, so I'd highly recommend this option if you're on a budget.
---
Mondulkiri Hotels & Accommodation
---
You might also like…