Here's my list of Cambodia travel tips that I learned while doing research on Cambodia plus my experiences while there for a month. Cambodia is an interesting country with ancient temples, thriving cities, and a dark past. This is everything you should know before arriving.
Cambodia Travel Tips Before You Go…
---
Travel Document Requirements
Passport – required
Visa for Business – required
Visa for Tourism – required
Visa for Transit – not required as long as you do not pass through immigration and remain in the airport
* I got an e-visa in advance, but have heard from several other travelers that getting a visa on arrival in the airport was extremely easy.
Suggested Vaccinations
Hep A
Hep B
Tetanus
Influenza
Pneumococcal
Tuberculosis
Chicken Pox
Rabies
Measles, Mumps, Rubella
Polio
Japanese Encephalitis
Typhoid
Malaria (prescription pills)
Check out this post for more information about vaccines.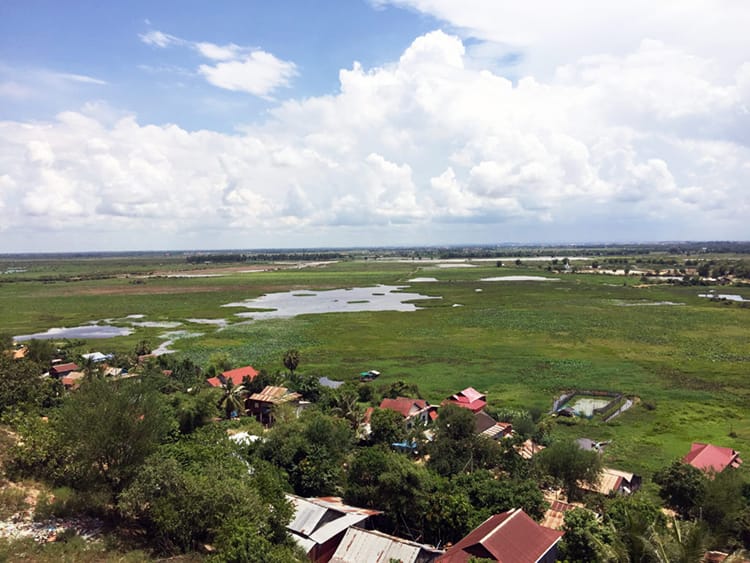 Weather & Climate in Cambodia
---
Flooding can occur between July and November due to the monsoon season.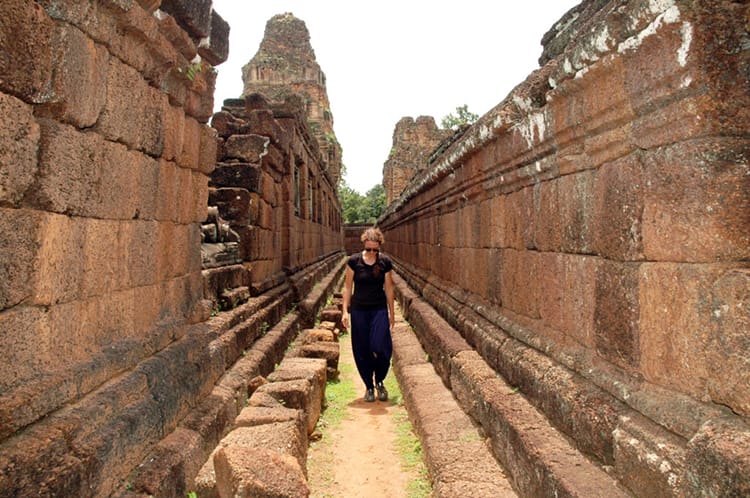 Customs and Culture in Cambodia
---
Religion
Language
Khmer is the official language. I always recommend learning to say "hello" and "thank you". I'd also recommend learning "no" for tuk-tuk drivers. Every single driver on every single street will offer you a tuk-tuk. They are very friendly, but saying "no" in Khmer with a big smile is the best way to get them to leave you alone.They tend to respect you a little more and back off quickly if you speak the language.
Currency
US Dollar & Cambodian Riel – Locals use both currencies. US Dollars must be in perfect condition. They won't accept any that are torn or too old. There are no coins here, so Riel will act as change. You may end up paying $1 and 2000 Riel to make $1.50. It takes some getting used to, but I actually enjoyed paying in two currencies. It made me laugh every time.
Dress Code
Clothing – Cambodia is surprisingly westernized when it comes to dress. It's one of the few countries I've felt comfortable wearing shorts. If you are visiting rural areas or temples (Angkor Wat) make sure to bring long pants or a long skirt as well as t-shirts. You can not show shoulders or knees in temples. A sarong can be helpful if you need to cover up.
Shoes – In some temples you cannot wear shoes, so flip flops are handy. Some shops and hotels may ask you to remove your shoes before entering.
Tipping
Tipping is not traditionally expected, but appreciated. Read here for specifics on when to tip and how much.
---
Cambodia Safety Tips
---
Health
Healthcare – Medical facilities do not meet international standards. Phnom Penh and Siem Reap have some internationally-run clinics that provide limited care. Outside of those cities, medical care is almost non-existent.
Water – The water is not potable, so you should not drink from the tap. Brushing your teeth with the water is okay. Most western restaurants offer drinking water which is filtered. I did not have a problem with ice cubes either although I wouldn't get an iced drink from a local street vendor.
Food – I have not had any problems with the food here. I even ate a burger from a street vendor plus some very questionable soup and lived to tell the tale.
Common Scams
Cambodia has a high crime rate
Snatch and grab (cameras, jewelry, backpacks, purses, etc) – A few people at my hostel in Phnom Penh had stuff stolen. One lost a phone which was taken out of her hands on the street. Another had her bag stolen right in front of our hostel.
Bag Theft – In addition to snatch and grabs on the street, motor bikes will try to grab your bag from tuk-tuks. A common scam, which I experienced myself, is that someone will throw a glass bottle next to your tuk-tuk. It makes a loud crash, so you look to see what happened. When you look behind you, a motor bike will come up on the other side and steal your bag. Lucky for me, I had my bag tucked under my legs where it couldn't be reached.
Milk Powder – Women and children will ask you to buy them milk powder at a local store. Once you leave, they return it for cash.
Kids Begging – It's extremely hard to ignore children begging in the streets, but giving them money teaches them not to go to school or find a job. If you would like to support kids, there are restaurants and organizations that help children train for jobs and obtain schooling. You can check out Tree Alliances restaurants if you want to make a positive impact. You can also read my blog on Sustainable Tourism in Cambodia.
Tuk-tuk – Like everywhere in the world, tuk-tuks will probably try to rip you off. Know how much you want to pay in advance. If you are in Siem Reap, you can go almost anywhere for $1. If you are more than one person, it might be $1.50 (excluding tours to Angkor Wat which are much more). In Phnom Penh, you should not pay more than $3 to go anywhere within the city (except the airport).
Prostitution is prevalent in the cities and can be seen at night. Avoid clubs and bars with a large number of waitresses and very few customers.
I recommend getting a VPN while traveling. This helps protect your personal information if you are using your phone or computer in coffee shops, hotels, and other public networks. After having my credit card number stolen two times on the road (likely from booking hotels, flights, etc online), I ended up getting ExpressVPN which came highly recommended. It's affordable ($8-$12 a month depending on the plan) and it's easy to use.
Although theft and scams are high, I never felt in danger. Just be super aware of your surroundings, and only carry what you need each day. Have your bag secured at all times and don't take your phone out when walking around.
Transportation
Driving – Many people ignore traffic laws. There is no emergency service for crashes.
Trains – There is a low safety standard and high risk of banditry.
Tuk-tuks – Probably the easiest way to get around the cities.
Buses – Buses are one of the cheapest ways to travel long distances. You can usually book these through your hostel or hotel. I always ask for AC and a window seat if possible. You can save a few dollars by booking directly through the bus station.
Walking – There are few stop signs or lights, so crossing the street can be tricky. Walk slowly and hold your hand up to stop oncoming traffic. People will slow down for you or go around you as you cross.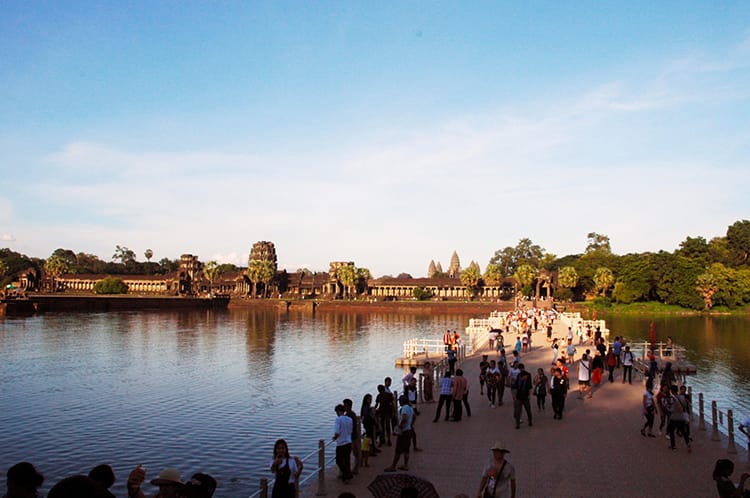 Other Travel Tips
---
Photography – You should not take photos of anything military related or security related. This includes government buildings, military installments, airfields, bridges, etc.
Cell Phone Service – Sim cards are very cheap here. You can get a week for $3 and two weeks for $6. I've heard a month of unlimited is around $15.
ATMs – ATMs are pretty easy to find. They disperse US Dollars. I'd recommend taking out $80 at a time to avoid getting a $100 bill, which most people can't break. If the ATM is attached to a bank, you can change the $100 for smaller denominations.
Related Books – First They Killed My Father by Loung Ung
---
Embassies and Consulates
---
U.S. Embassy Phnom Penh
No. 1, Street 96 (entrance on St. 51 between St. 96 and 102)
Phnom Penh, Cambodia
Tele: +(855) (23) 728-000
Fax: +(855) (23) 728-700
Email: [email protected]
---
Have any questions about my Cambodia travel tips? Did I miss anything? Ask in the comments.
---
You might also like…