Please note that this post may contain disturbing images and stories. I'd like to mention that I felt very conflicted about taking these photos. Often times I took a photo while tears welled up in my eyes. The people of Cambodia have chosen to display these images and remains so that people can learn their history, and so that history never repeats itself. It's with that that I've decided to post the photos I took during the Phnom Penh killing fields tour. Hearing stories is one thing, but being faced with the images allows you to feel the weight and gravity of Cambodia's dark past.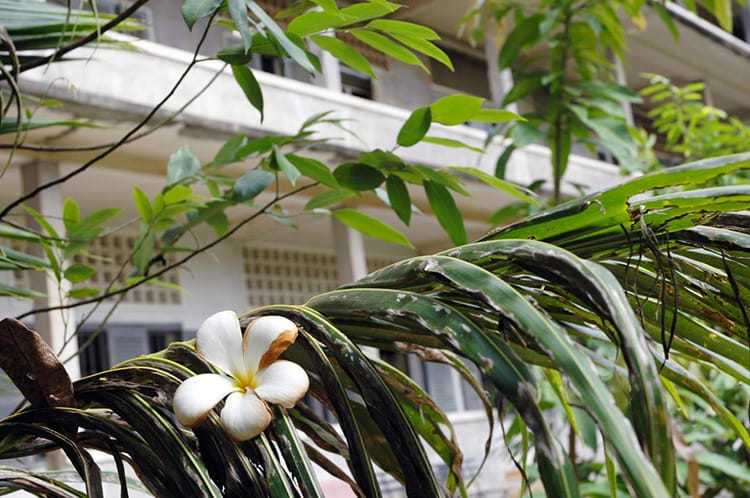 I'm not sure about the rest of the world, but in the U.S. we barely learn about the genocide in Cambodia. To give you a little background information, the Khmer Rouge, which was headed by Pol Pot, ruled Cambodia from 1975 to 1978. During those three years, they murdered a quarter of Cambodia's population. Think about that for a second. One in four people were murdered in cold blood. You might be wondering why. Why were these people selected? What did they do wrong? The answer is simple. The Khmer Rouge murdered anyone who might be smart enough to question Pol Pots plans. People were targeted for wearing glasses, having smooth hands, or anything that signified they had a desk job, could read, or were intelligent enough to question his vision. Pol Pot believed that it was better to kill innocents than to miss an enemy.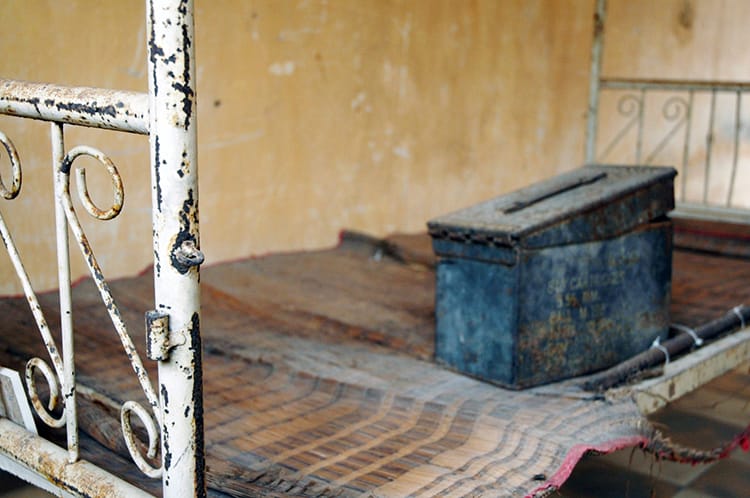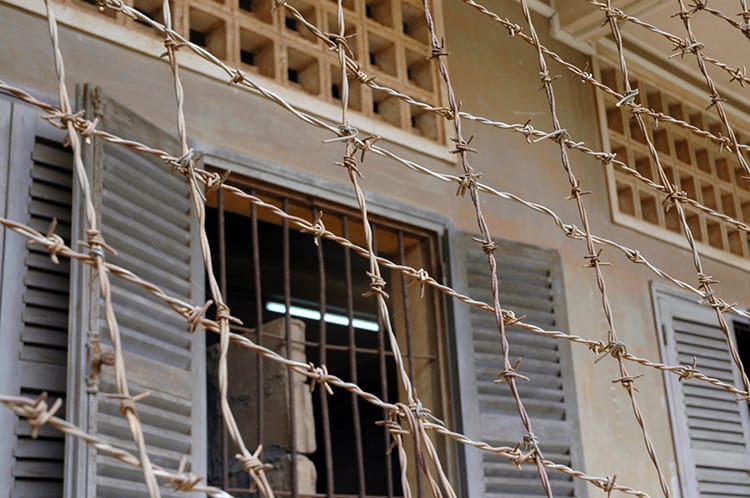 S21 Prison in Phnom Penh
---
We started our tour at S21 prison in Phnom Penh which is now a genocide museum. I paid extra for the audio guide which was well worth the money, and I highly suggest anyone visiting to do the same. I was immediately struck by how graphic the exhibit is. In the first building you see the cells that people were kept in. Each room contains a photo which was taken the day the prison was discovered after the Khmer Rouge fell. In each room was a prisoner who had been murdered and left behind when the officials fled the building. The photography is brutally clear. It was hard to look at, but I forced myself to see each image and take in the impact of each life lost in those rooms.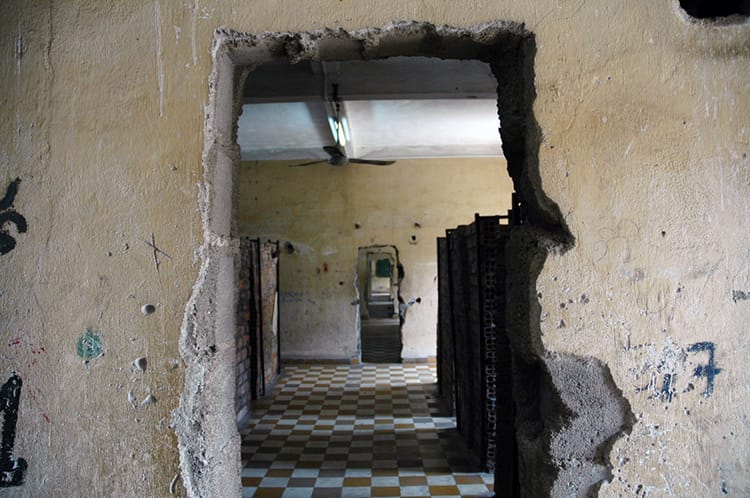 A large portion of the exhibit features photos of the people held at the prison. Some look calm while others have a look of absolute terror. Some are just children who look confused, not knowing what awaits them. A few images pulled me in, and I couldn't stop staring at their hauntingly beautiful faces that pleaded for help. It felt as if they were still there begging me to save them through the lens of another time. I wished I could reach into the photo and tell them it would be ok. It was hard to imagine that each person in the hundreds of thousands of photos had been tortured and ultimately killed. Out of the 14,000 people who passed through S21 prison, only seven survived.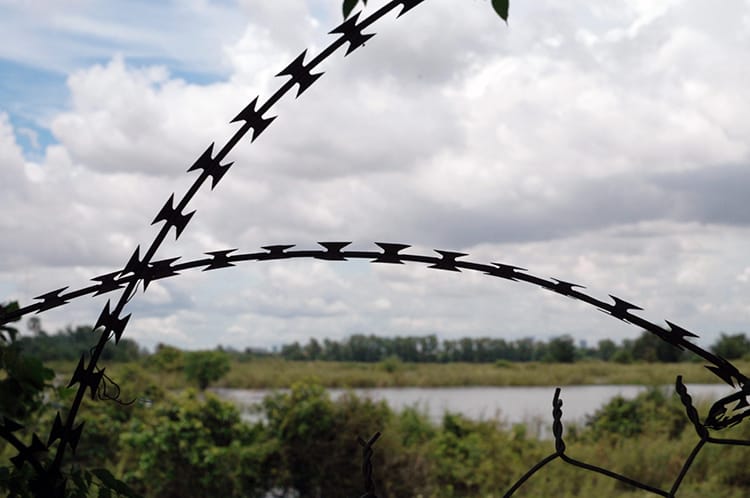 The Killing Fields in Phnom Penh
---
After the museum we went to the Killing Fields. This is one of those places that you can walk through and not even know anything ever happened. The property is beautiful with flowers blooming and a serene pond. But, if you stop and look, you'll see bones emerging from the ground and scraps of fabric tangled in the roots of trees. Most of the bodies were excavated in 1980 but still the bones keep rising to the surface as if those who suffered here will never rest.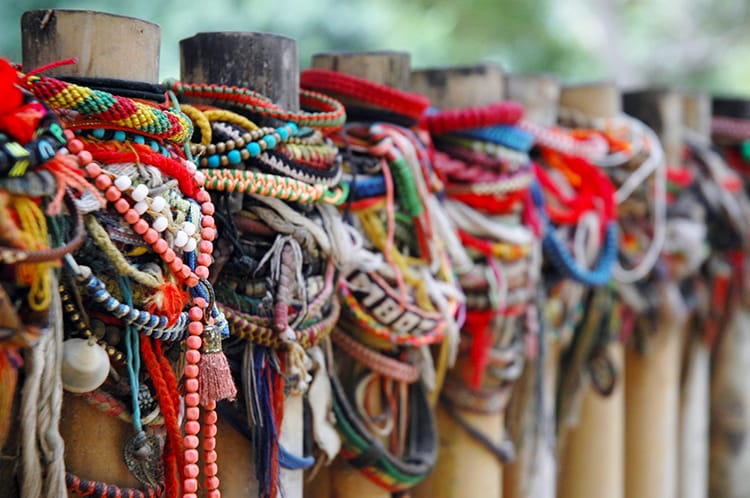 One of the most beautiful places on the property is also the darkest. A large tree, decorated with handmade bracelets in an assortment of brilliant colors looks peaceful among the large holes where mass graves once stood. The bracelets catch in the breeze like silent wind chimes, yet the beauty feels out of place. You can feel the gravity of this place like a weight pulling you down.
This is where children were killed. They were held by their feet and their heads were smashed into the trunk of the tree. Music blasted from speakers nearby to stifle the sound of the screams. I sit under its branches, and my eyes fill with tears. A stark white hand knitted babies cap sits on the roots next to me. It's a sight that leaves you speechless, and I'm overwhelmed with a feeling I can't describe. As I look around, I can tell everyone else has that same pit in their stomach. That same indescribable feeling.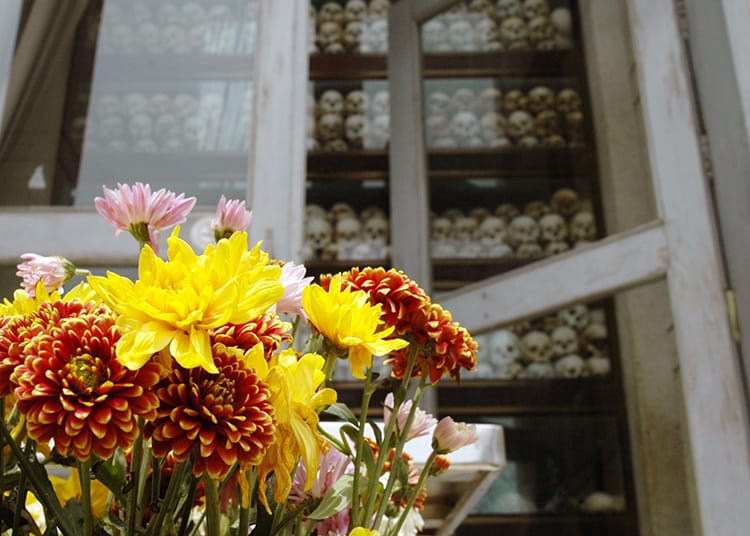 Last, but not least, is the stupa which acts as a memorial holding the remains of those who were murdered on the premise. The building is beautiful and the bones are stacked meticulously. Each one placed with care. It's hard to imagine that each skull represents a person. A life. A flame that once shown brightly and is now extinguished.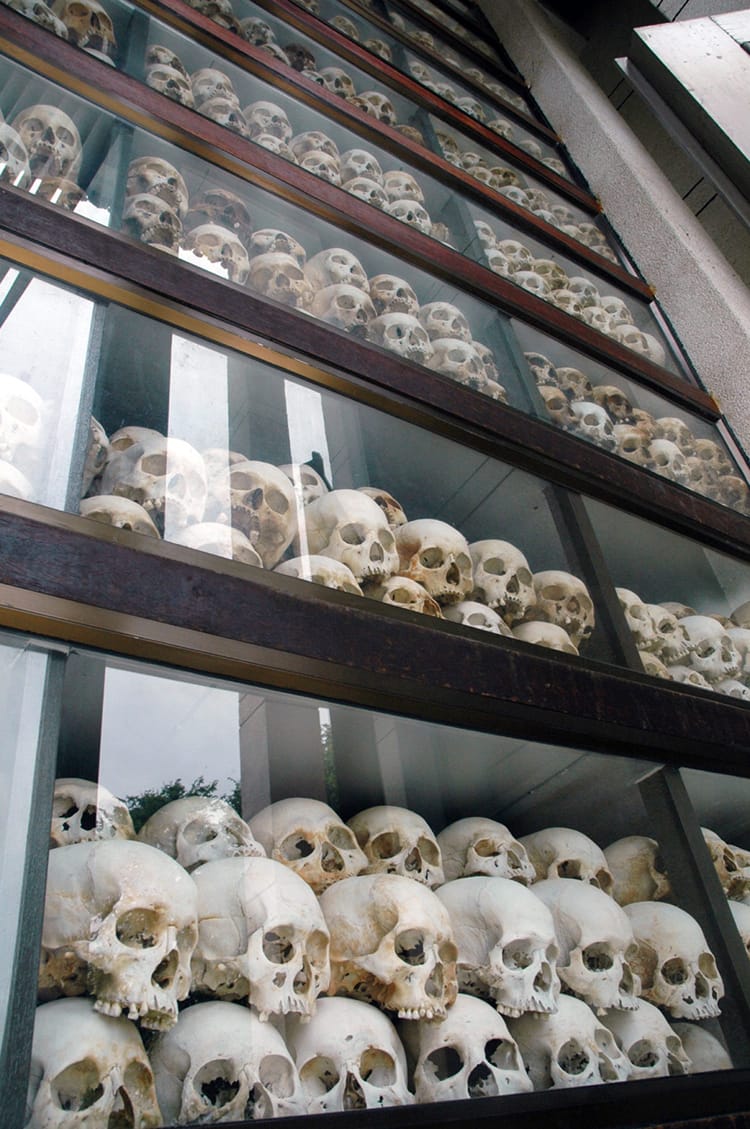 If you're not able to visit Cambodia, I'd recommend reading First They Killed My Father by Loung Ung, which is a first hand account of life in Cambodia under Pol Pots rule. If you are able to visit Cambodia, going on a Phnom Penh killing fields tour is a must. It's a chilling experience, but it's something everyone should see if they are traveling through the country.
---
You might also like…