Ghandruk, Nepal is a gorgeous village set in the mountains just south of the famous Annapurna Range within the Annapurna Conservation Area. It's most common to go through this village as part of the famous Poon Hill Trek, but many people visit it even if they don't plan to trek because it's one of the most beautiful villages in Nepal. It's often seen on postcards with its striking traditional mountain homes and the Annapurna Range towering over them in the distance.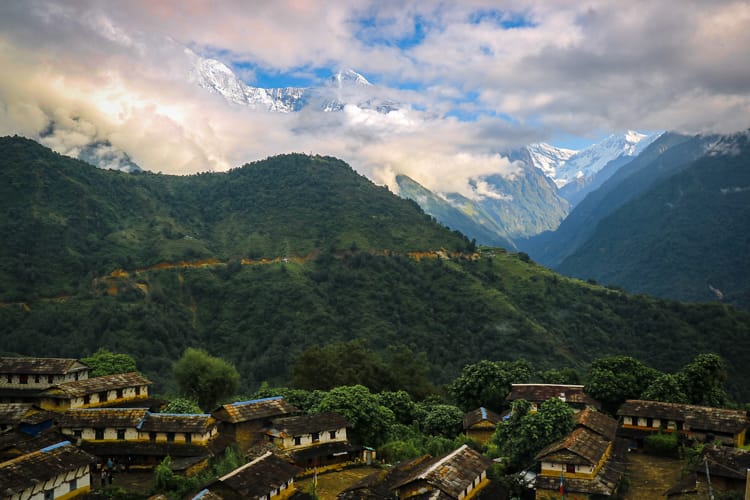 Brief History of Ghandruk, Nepal
---
When I asked locals how old the village was, none of them knew exactly. However one of the women we met said that her family has lived in Ghandruk for 15 to 20 generations and that their house was over 200 years old. We were later told that several of the buildings were over 200 years old.
The town was started by two families. One family had twelve brothers who settled in what is now known as Purano Ghandruk (translated it means old Ghandruk), and eight brothers settled in New Ghandruk. The funny thing is, they settled there around the same time. Only recently have they been renamed old and new. Old Ghandruk received its name because the small area is mostly the original buildings. New Ghandruk has seen a burst of modern buildings set in around the old ones.
What's cool is that if you look at Old Ghandruk from the pathway on the hill above it, you can see how perfectly the little village was laid out. Each brother's house receives sunlight, has a yard, and doesn't block another house. The village was planned well and it immediately caught my eye when we arrived. Many villages are laid out in random ways, but you can tell that the original buildings in Old Ghandruk were built at the same time with a lot of thought and planning.
We asked about the old homes and if they were ever for sale. It turns out, most of the owners live overseas, but you can't buy a house or land in the village unless you are from the area. This even applies to Nepalese people. This is how it's remained true to its roots. But with everyone living overseas, we wondered who took care of the houses. Could they be rented? A fun fact is that villagers from nearby live in the houses rent free. However, the homes need a lot of upkeep. They are made from mud which needs to be taken care of. Not to mention, a fire needs to be lit every single day to dry the mud and wood. Otherwise, the homes deteriorate. So, the tenants must keep the house standing in exchange for living there.
---
---
Ghandruk Village Guide
---
Major ethnicity:
Major Religion:
Buddhism
Language:
Gurung / Nepali
Ghandruk Altitude:
1,940 m (6,365 feet)
Oxygen Concentration:
80% oxygen when compared to sea level
Location:
Ghandruk is located about 61 km (31 miles) northwest of Pokhara inside the Annapurna Conservation Area.
How to get to Ghandruk:
You can reach Ghandruk by jeep. It's a two to three hour ride depending on traffic and road conditions. You can also walk to Ghandruk from major villages like Dhampus, Ghorepani, and Birethanti.
Entry Permit:
An entry permit is required for foreigners. The ACAP permit cost 3,000 rupees (about $26.00 USD).
Cell Service:
NTC service: E – 5 bars
Ncell Service: 3G – 1 bar
---
---
Best Time of Year to Visit
---
According to locals, the best time of year to visit is during the holidays of Dashain and Tihar which happen in the peak trekking months of October and November. They also agree that the second best time to visit is March and April when the rhododendron trees are in bloom. The rhododendron is Nepal's national flower, and it's beautiful when the blooms take over the mountain trails.
---
What to Eat in Ghandruk
---
There's a Nepali food called gundruk which I thought might have been started in Ghandruk, but when I asked, locals kind of laughed at me and said they didn't know. We were served some gundruk in Ghandruk, which is a typical mountain food. It's a fermented spinach which is an acquired taste, but worth trying once.
The foods that are most commonly grown in the area include corn and a local shoot (like bamboo) called karelo. The most popular dish in Ghandruk, like most places in Nepal, is dal baht. Dal baht is rice served with lentil soup, a vegetable curry, a meat curry, and spinach.
---
---
Things to do in Ghandruk
---
Old Gurung Museum: This is the original museum in Ghandruk, and it is located in New Ghandruk. The house is over 200 years old, however the museum was started in 1992. The items inside walk you through the story of daily life in the village before it became modernized. There is a 75 rupee entrance fee (less than $1.00 USD). The woman whose family owns the museum was friendly and answered a lot of my questions about the area and Gurung culture. I highly recommend stopping in for a visit.
Ghandruk Cultural Museum: The Ghandruk Cultural Museum is a new museum located in Old Ghandruk. Unfortunately, they were renovating when we went. We were able to pop our heads inside, but they were planning on painting the whole place so everything was a bit of a mess and hard to see. It looked like a cool exhibit about the area which would be worth checking out. The entry fee is 100 rupees (about $1.00 USD)
Exploring the Village: The best part about visiting Ghandruk is just walking up and down the winding alleyways and enjoying the beautiful old mountain architecture. Since Ghandruk is often the starting point or ending point of treks, it's a great place to relax and take it easy.
---
---
Treks that go through Ghandruk
---
Poon Hill: The Poon Hill Trek is a 3 to 5 day trek in the Annapurna Region which often ends in Ghandruk.
Annapurna Base Camp: There is a long and short version of the Annapurna Base Camp trek and the shorter one starts in Ghandruk as a way to save time. This trek takes between 8 and 10 days.
Annapurna Circuit (Full Version): If you plan to do the entire Annapurna Circuit (over 16 days long) you can walk all the way to Ghandruk. Most people take a jeep well before then and do it in a shorter time frame.
---
Ghandruk Hotels & Accommodations
---
Types of accommodation: Ghandruk has a wide variety of places to stay from traditional teahouses in beautiful old mountain homes to brand new hotels with amenities. This small city has it all. We opted to go for one of the nicer hotels since we were returning from 10 days of roughing it on off the beaten path routes.
Number of accommodations: In Old Ghandruk there are about 5 places to stay, however in New Ghandruk there are over 150! So there are plenty of choices to choose from.
Our choice: We decided to stay at Danda Gaun Hotel and Restaurant which is one of the newer hotels in Old Ghandruk. It's located at the top of a hill which gives it a wonderful view of the mountains behind the old city. The rooms have attached bathrooms with hot water, giant windows for views, balconies, and wifi.
Price of a Room: 500 – 1500 rupees ($5.00 to $15.00 USD)
Price of Veg Dal Baht: 450 rupees ($4.50)
Electricity: Yes
Toilet Situation: Attached bathrooms with western toilets
Shower: Hot water in the rooms at no extra charge
Wifi: Yes and it's free
---
Ghandruk, Nepal Photography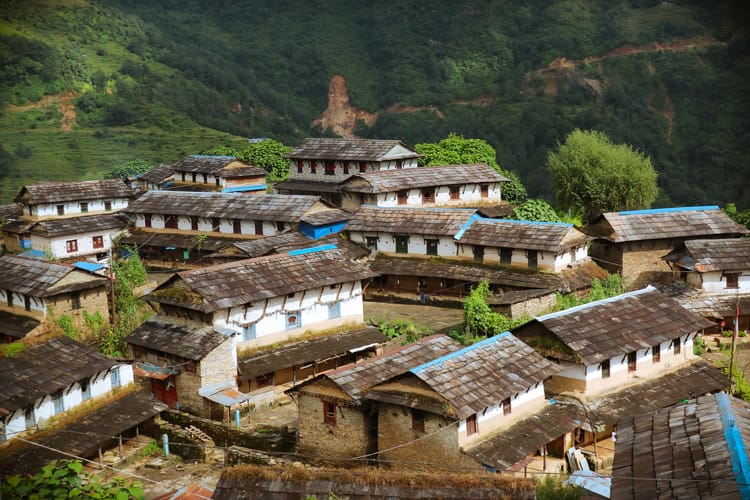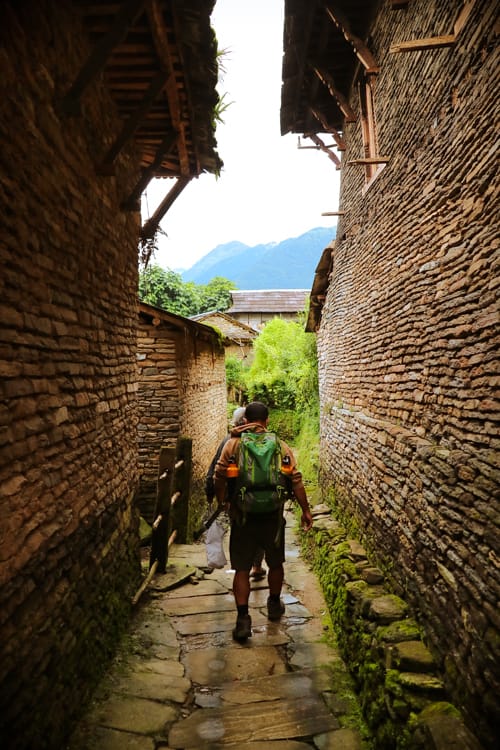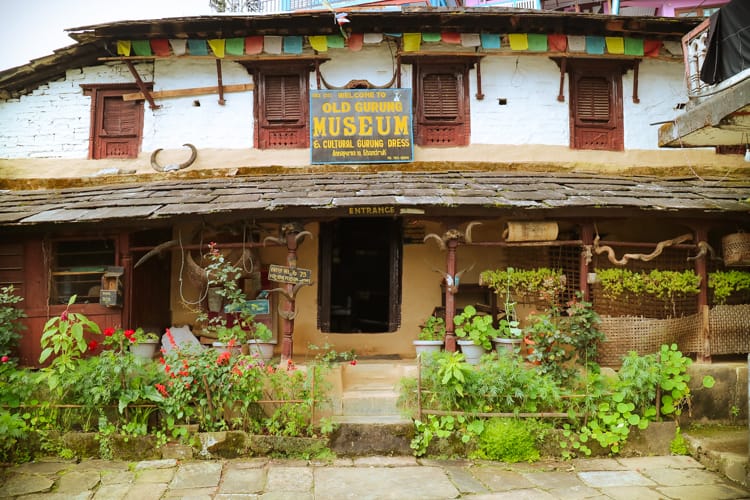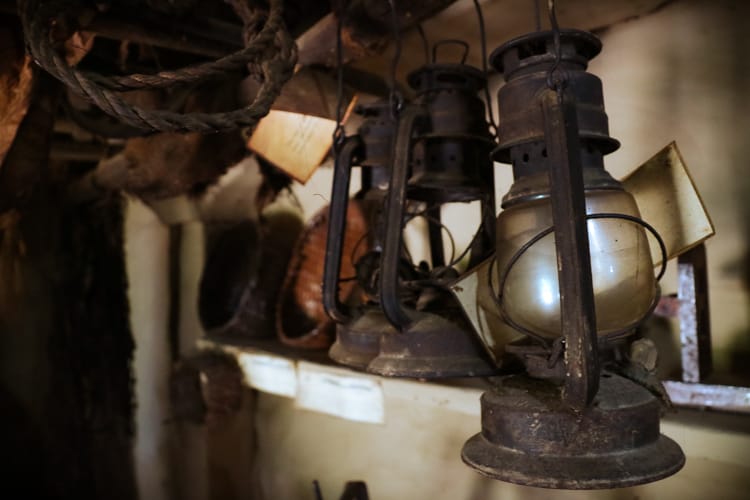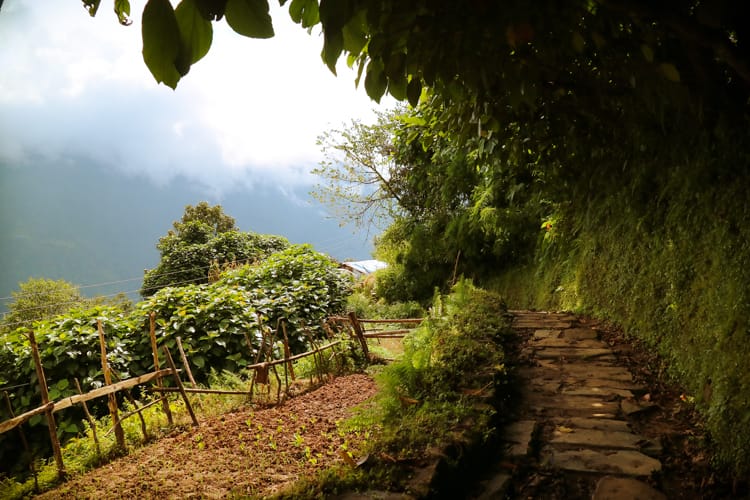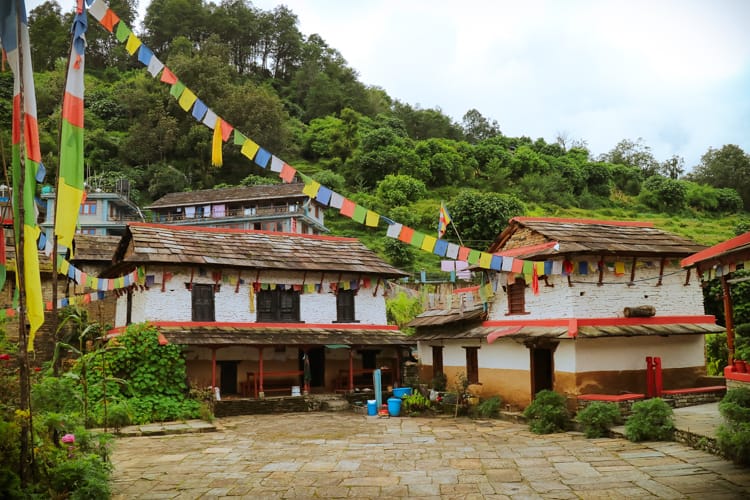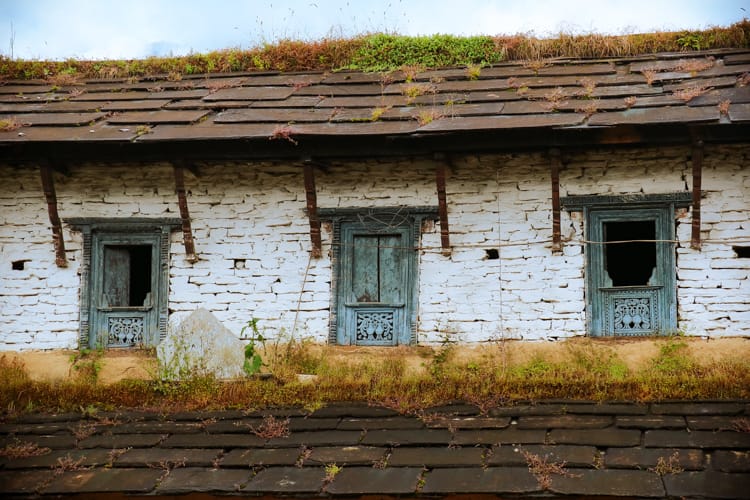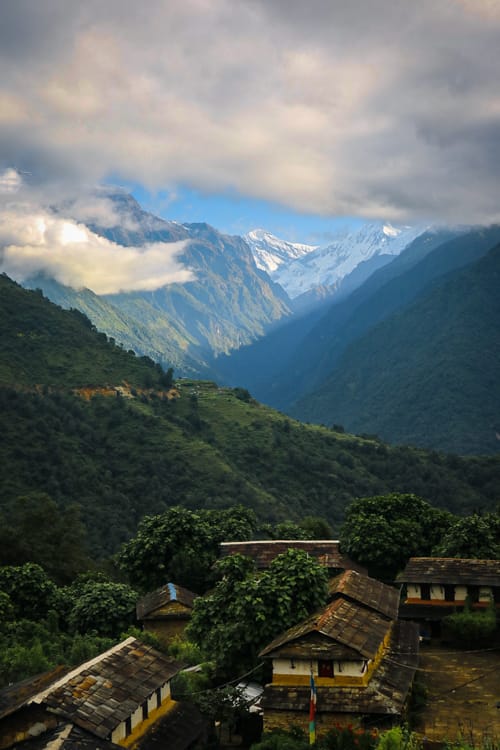 ---
You might also like…