The Poon Hill Trekking route is a short trek that goes through the lower altitude regions of the Annapurna Conservation Area south of the Annapurna Range. It's often misinterpreted as an easy trek because it's only a few days long, however, this trek is difficult due to it being straight uphill. It is a cheaper trek since you can see the mountains in just a few days! My husband and I did the trek together. Here is what it costs for two people to do the trek if they share a room.
Note: There are no ATMs along the trekking route. Be sure to bring at least $200 more than you think you will spend in case of an emergency. I've trekked with several people who ran out of money along trekking routes in Nepal, and it's not fun trying to figure out how to get home without enough money.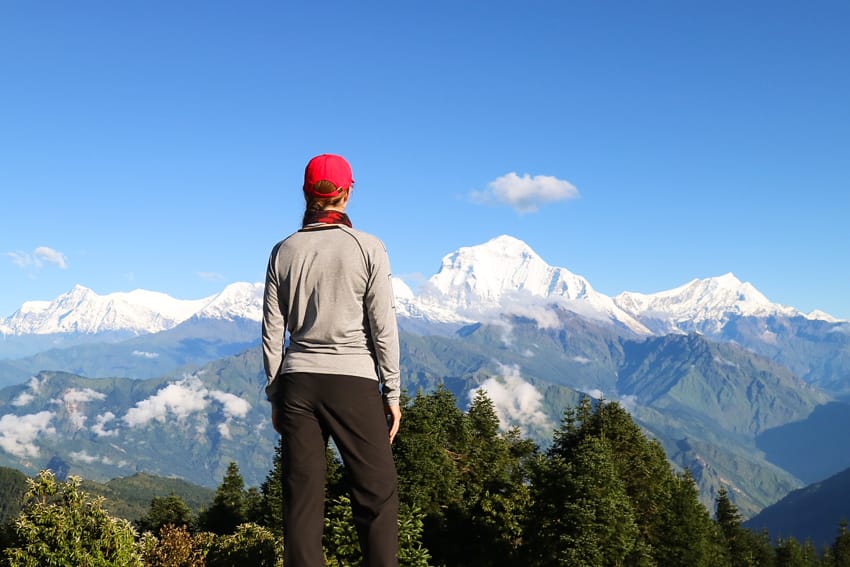 4 Day Itinerary
---
Let's start by talking about our itinerary. If you choose a shorter or longer itinerary that will change how much you should budget for this trip. We went with a short but difficult itinerary. I'd honestly recommend the 5 day itinerary to most people to make it less brutal.
Day 1 – Pokhara to Tikhedhunga by Jeep. Then, walk to Banthanti
Day 2 – Banthanti to Ghorepani
Day 3 – Sunrise hike to Poon Hill. Then, Ghorepani to Ghandruk
Day 4 – Explore Ghandruk. Ghandruk to Pokhara via Jeep
For a detailed itinerary, check out my Poon Hill Trek Itinerary.
---
Poon Hill Trekking Costs Per Day
---
Breakfast $9.00 – The first day of the trek, we ate in Pokhara and our meal was included in our hotel room price, so we only paid for 3 breakfasts along the route. For two of us to have a filling breakfast with coffee it cost about $9.00 USD a day.
Lunch $8.25 – We usually eat dal baht for lunch and drink water with it. For two people to have dal baht for lunch, it comes to a little over $8.00 USD a day. Dal baht is filling and healthy. Plus, it's great for giving you enough energy to walk long distances.
Dinner $10.50 – For dinner, we typically had dal baht but sometimes we got tea to go with it. The last night, we ate back in Pokhara and that is not included in this post since the food in Pokhara varies a lot in price.
Snacks $2.50 – Snacks often included tea at tea breaks and sometimes ramen noodles if we were hungry before dinner. We try not to spend too much on snacks so if you plan to eat more, you may want to add to this budget.
Accommodations $4.50 – $13.00 – Rooms in teahouses cost 500 rupees a night, however, we splurged in Ghandruk where there are hotels. We got a room with an attached bath and a hot shower. That room cost 1500 rupees. In some of the towns on this route, there are fancier hotels. Therefore, if you are on a budget, you can get rooms for $5.00 a night, and if you want comfort you should budget for $13.00 a night.
Transportation $14.00 – Transportation ended up breaking down to $14 a day. This will depend on how you get to the start and finish of the trek. We took a private jeep there and shared a jeep on the way home. It was off season and hard to find people to split the price. In peak season, you can split a jeep with others for much cheaper. You can also take a bus, however the bus is more dangerous.
Permit $13.00 – The permit ends up breaking down to $13.00 USD a day (for 2 people) if you do the 4-day trek. This permit is required for all foreigners, and they do check it. It costs $26 USD per person for a single entry into the conservation area.
Optional Poon Hill Trekking Costs
Porter $19.00 – Porters charge about 2,000 rupees per day and it's customary to tip 10% therefore you will spend about $19.00 a day (including tip) if you'd like someone to carry your bag.
Guide $38.00 – Guides charge about 4,000 rupees a day and it's customary to tip 10% therefore you will spend about $38.00 a day if you would like a guide. This is the price per group, so if you are a group of five people, you would split this price 5 ways making it less than $8.00 per person.
---
Poon Hill Trekking Costs Over 4 Days
---
Breakfast $27.00 – Over the course of four days, my husband and I spent $27 for both of us eating breakfast. We usually order a set breakfast which includes coffee, bread, eggs, and potatoes.
Lunch $33.00 – Over the course of four days, my husband and I spent $33 for both of us to eat lunch. This was typically vegetable dal baht.
Dinner $32.00 – We spent $32 over four days for both of us to have dinner. This was usually dal baht, but we did order some western food in Ghorepani.
Snacks $8.00 – This amount was mostly spent on tea breaks.
Accommodations $22.00 – We spent less than $5 all of the nights except in Ghandruk where we spent $13 to upgrade hotel rooms.
Transportation $57.00 – We went in off season and could not find people to share the jeep both ways. We also encountered a landslide before Tirkhedhunga where we had to walk for a while and hire a second jeep on the other side of the landslide. On the way home, we found another couple to split the jeep with, but it was still expensive. If you want a private vehicle, you should plan to spend $50 – $60 each way. If you want to share, it's usually $10 per person if the jeep is at full capacity.
Permit $52.00 – An ACAP permit is required for this trek. It costs $26.00 USD per person. This budget is based on two people trekking together, so it's $52.
Optional Poon Hill Trekking Costs
Porter $77.00 – It will cost about $77 to have a porter carry your bag for 4 days. If you pack light, you can usually share a porter with two people and split the cost.
Guide $153 – A guide will cost about $153 for 4 days. This price can be split between the group. The more people you have, the cheaper it is per person.
---
Total Poon Hill Trekking Cost
---
Suraj and I decided to hire a porter for this trek, so we spent about $310 for the two of us over a four-day period. As a couple, we spent $77 USD a day. That comes to $39 per day per person. We could have spent less, but I've been having some knee issues and Suraj has back issues, so for us the extra money for a porter was worth it. Depending on your comfort level, you could do this trek for $230 or go above $500 so prepare your budget according to your needs.
Solo – $230 for two people sharing a room (with no porter or guide).
With Porter – $310 for two people sharing a room and a porter.
With Guide – $385 for two people sharing a room and a guide.
With Porter and Guide – $460 for two people sharing a room, porter, and guide.
---
How much money should you carry on the Poon Hill Trek?
---
How much you carry will depend entirely on how you book your trip and whether you choose to have a guide and/or porter. We hired a local porter and paid him each day, however, many companies will require you to pay this in advance. Regardless, you should carry about $150 – $200 extra with you. If you plan on spending $230, then carry $380. There are no ATMs along the route and there is no way to easily get money. I've had to lend money to other travelers who did not bring enough with them. The last thing you want is to be stressed out and walking back to Pokhara with an empty wallet and stomach.
Have any questions? Ask me in the comments!
---
You might also like…