Ghopte, Nepal is a small village located inside Langtang National Park. This tiny town was created solely for tourism as it is a major point connecting the Gosaikunda Trek to the Helambu Trek. Although the town doesn't offer much of its own history, it sits surrounded by other villages with major religious significance to both Hindus and Tibetan Buddhists.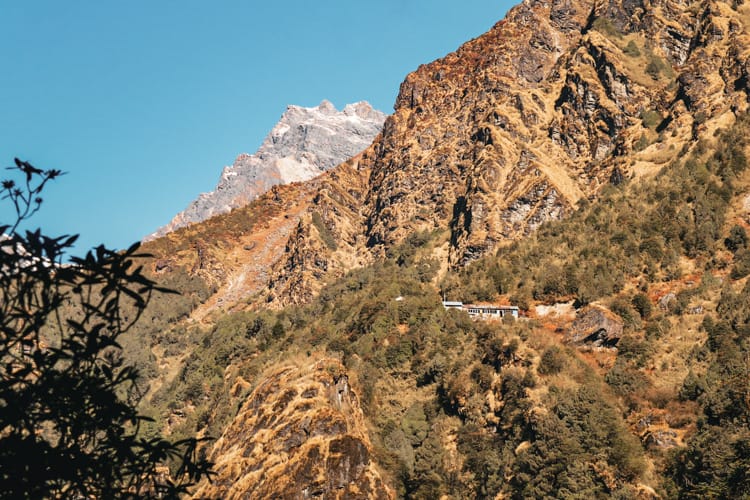 ---
Brief History of Ghopte, Nepal
---
Ghopte, Nepal was created solely for tourism and is made up of three teahouses, therefore it doesn't hold a lot of its own history. However, the areas surrounding it are some of the most religious destinations in Nepal. The Helambu region located to the south is a cultural mecca for the Yolmo/Hyolmo people. It holds several highly sacred sites which were visited by Guru Rinpoche (the founder of Tibetan Buddhism) around 600 years ago.
North of Ghopte, higher in the mountains, lies Gosaikunda Lake which is considered extremely holy to both Hindus and Buddhists. It's a major pilgrimage site in the country which is most famous in August during the Janai Purnima Festival.
A lesser known destination nearby is Dupcheswar Mandir (Shiva temple) which people visit during the full moon of Mangsir (on the Nepali calendar). There's a large festival that day and thousands of devout Hindus come to pray to have children and some even get married there.
It's believed that a man in the village had a cow, but it stopped giving milk. He followed the cow to see why, and it turned out she was feeding her milk to Lord Shiva. Dupcheswar Mandir (temple) was built in that spot and those who come to pray to Shiva bring milk as an offering.
---
Ghopte Village Guide
---
Major Ethnicity:
Sherpa
Major Religion:
Buddhism
Language:
Sherpa & Nepali
Ghopte, Nepal Altitude:
3,430 m (11,253 feet)
Oxygen Concentration:
67% compared to 100% at sea level
Ghopte Village Population:
There are only three buildings in Ghopte village and six people take care of the teahouses. In off-season, only one teahouse remains open and the other villagers go back to their home villages nearby.
Best Time of Year to Visit:
It's best to visit in the peak season around October or November as the skies are clear offering great views. It's also a popular destination during the Janai Purnima Festival when pilgrims trek to Gosaikunda around August.
Wild Animals in the Region:
Animals in the Langtang National Park region include musk deer, Himalayan tahr (looks like a large mountain goat), red pandas, Himalayan black bears, snow leopards, ghoral (looks like a small goat/deer), mountain mice, gray langur monkeys, and over 250 different bird species.
Location:
Ghopte is located inside Langtang National Park. It's a 7 hour walk from Gosaikunda and a few days walk from any road. It's located northeast of Kathmandu.
Entry Permit:
Ghopte requires a Langtang National Park Permit which costs 3,000 rupees (about $26). This permit can be purchased on the way at the park entrance or in advance at the Nepal Tourism Board office in Kathmandu.
NTC or Ncell service:
There is no NTC or NCell service in Ghopte.
---
What to Eat in Ghopte
---
Most villages in Nepal recommend you try the local dal bhat (rice, dal, and curries) which varies from region to region. The villagers here also recommend trying Tibetan tea (butter tea) and shyakpa (Sherpa stew).
---
Things to do in Ghopte, Nepal
---
Ghopte is a small village with only a few teahouses and no other buildings. Therefore, there isn't much to do except to sit back and relax. Watch the sunset, read a book by the fire, play cards, and enjoy a nice meal. Most people come here to trek to Gosaikunda.
---
Ghopte Lodges & Teahouses
---
Types of accommodation:
Teahouses
Number of accommodations:
Two in lower Ghopte and one in Upper Ghopte.
Our choice:
Namaste Guest House – There were only two teahouses in the main area of Ghopte. A large tour group was in the other one, so we never checked it out. However, I enjoyed hanging out with and talking to the teahouse owner in Namaste Guest House. The food was great and they were kind hosts.
Price of a Room:
1500 rupees (about $15.00 USD) for a double room.
Price of Veg Dal Bhat:
700 rupees (about $7.00 USD)
Electricity:
There is solar power and charging a device costs 200 rupees (about $2.00 USD)
Toilet Situation:
There is only one shared squat toilet for all the rooms. It was very clean and located inside. We were the only two people staying there, so it wasn't an issue, but it may be a problem if the teahouse is crowded and a lot of people need to share it at the same time.
Shower:
Hot showers are not available.
Wifi:
Wifi is available for 200 rupees (about $2.00 USD) a day.
---
Ghopte, Nepal Photography
---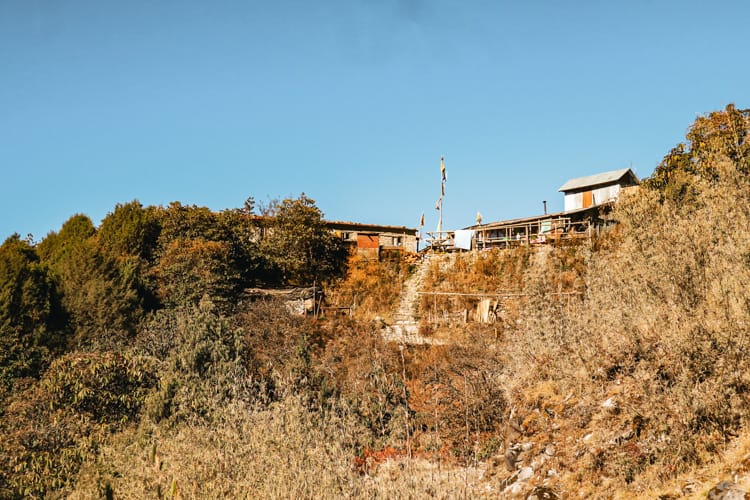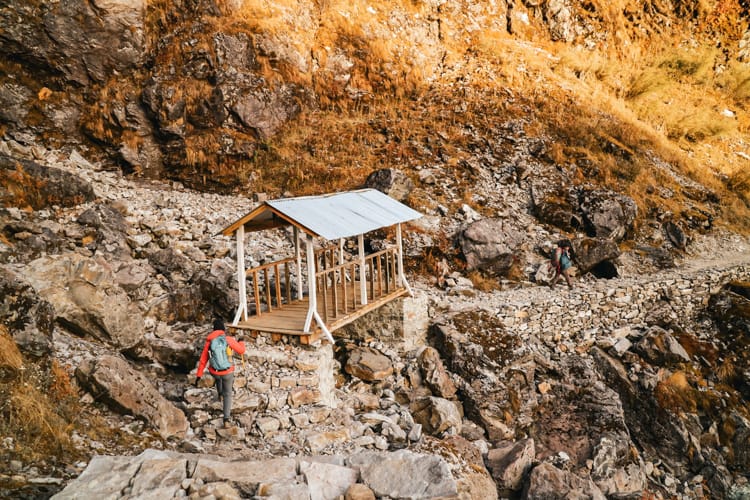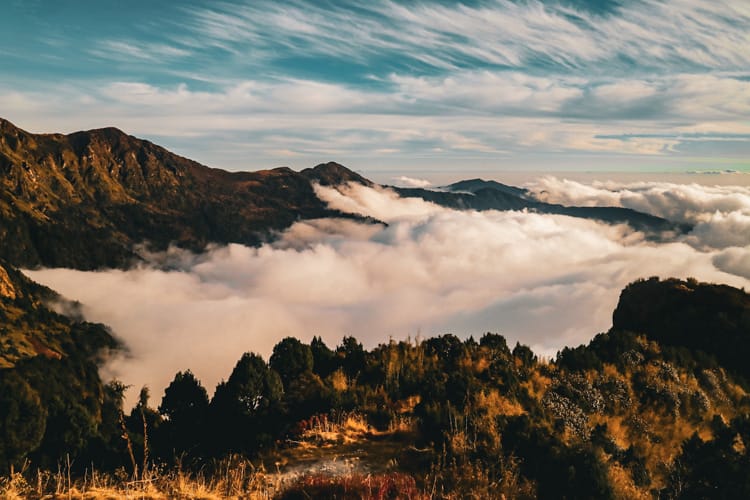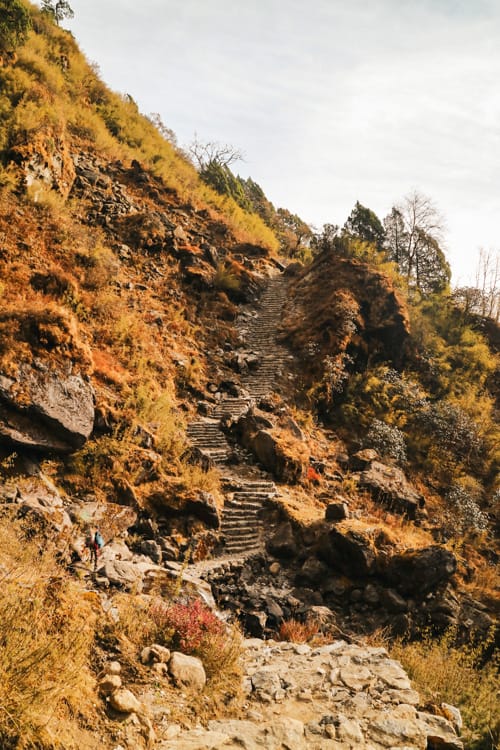 You might also like…