One of the very first questions I had about trekking was about tea houses in Nepal. What is a tea house? What do I need to bring with me? Where do you eat? How expensive is it? So many questions went through my mind. For my first trek, I booked with an agency because it felt like too much to figure out. Tea houses in Nepal are not complicated, but there's also a lot of information that will make your first trek a lot easier. Here's a list of the things I wish I'd known before my first tea house trek…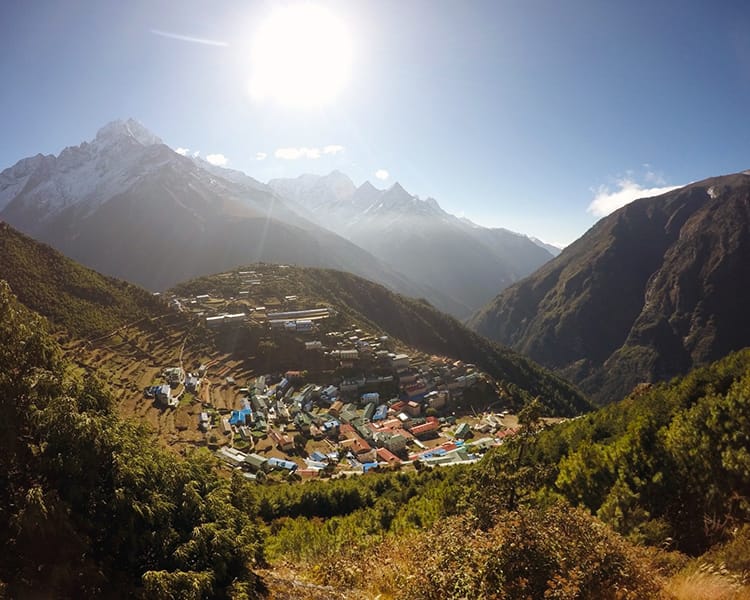 What are tea houses?
---
Tea houses are very basic hotels that are located along trekking routes. The word "basic" can mean a lot of things, and I had the worst case scenario in mind. I pictured dilapidated shacks and porta potties. While that's not completely inaccurate as far as toilets, I was actually surprised at how nice tea houses were considering how someone literally had to carry all of the building materials up a mountain.
---
Why are they called tea houses?
---
While I can't say for sure why they are called tea houses, I believe it's because people would serve tea along trading routes in the area prior to trekking routes being established. Once there was a demand for housing along these routes, the tea houses opened their doors to tourists and created simple hotels. From there, they evolved in order to please tourists.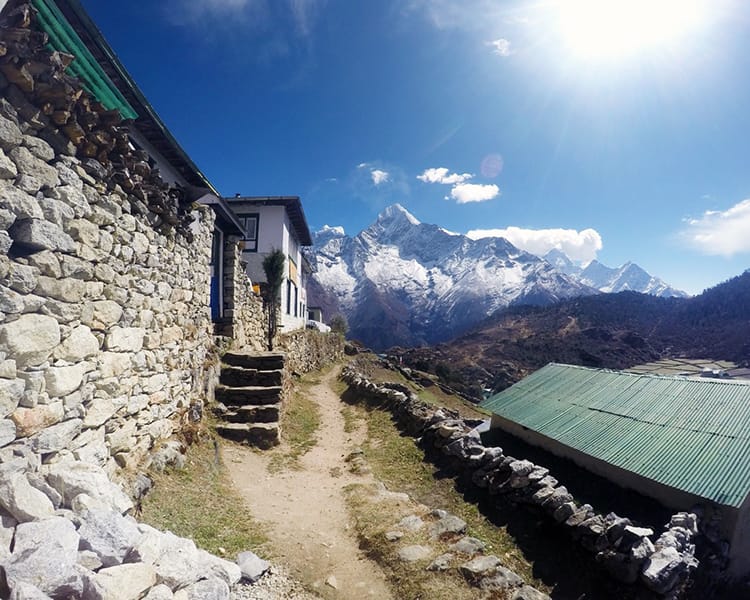 What does a night cost?
---
The price of tea houses varies greatly depending on how nice it is, what area it's in, and what time of year you are trekking. For instance, along the Annapurna Circuit you can stay for free as long as you eat all your meals at the tea house. In the Everest Region during peak season, you may need to pay $5 a night. I saw a few luxury tea houses popping up, and they were charging $50 in the off season!
---
How do you make reservations?
---
This confused me prior to trekking. You can't find any information online and the tea houses don't have websites. So how do you book one? Simple. You don't. It's first come first serve. Some guides send their porters ahead to reserve rooms at their favorite places. If you go without a guide, it's best to wake up early in order to beat the crowds. In off season, we were able to arrive any time and still choose which tea house we wanted to stay in. If the tea houses fill up, you can ask to sleep in the dining room or kitchen. You won't be left outside in the cold.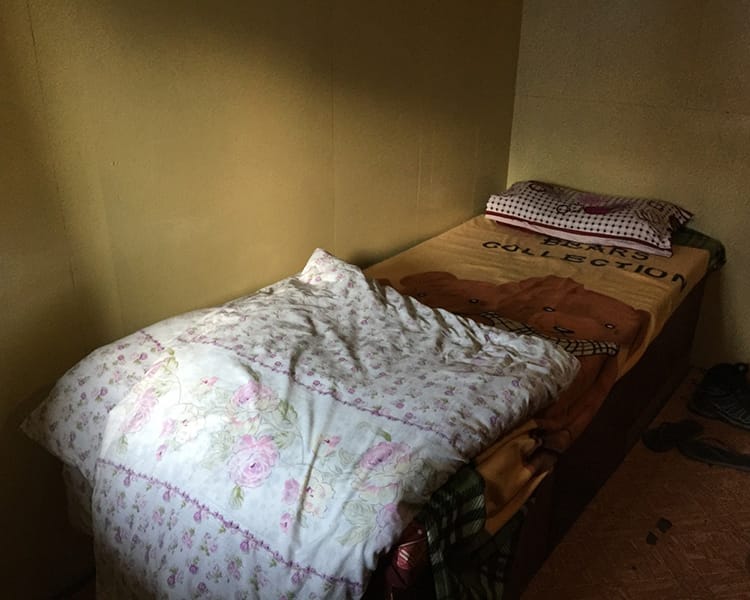 Tea house bedrooms
---
Tea house bedrooms are super basic. It's like living in a ply wood box. There's no insulation, the windows are often plastic, and you'll be given a simple mattress on top of a ply wood bed frame. You'll get a pillow and a blanket, but I recommend having a sleeping bag. Most rooms have a light that works up until a certain time, but it doesn't always work all night.
---
Bathrooms & Toilets
---
The bathroom situation in tea houses is probably the most basic part. Generally, tea houses will have a shared bathroom which contains a squat toilet. In some areas, you may get a western toilet. If you're really lucky, you might get a private squat or western toilet. It's important to bring your own toilet paper, Purell, and a head lamp in case you need to go at night. Some toilets are located outside, so you'll want to keep your coat and shoes near your bed when you go to sleep.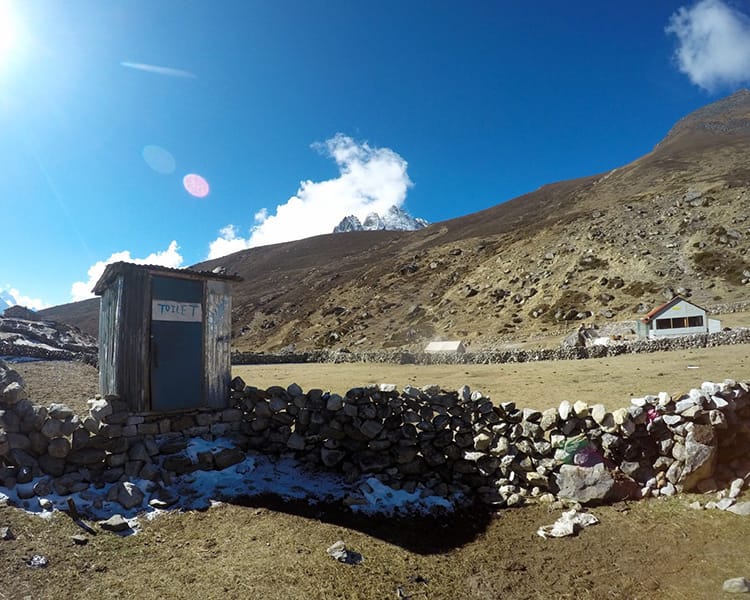 Do tea houses in Nepal have showers?
---
I was surprised to find that showers do exist in tea houses. At lower altitudes they are actually pretty decent. Up high, they aren't that great. When choosing a tea house, I recommend always picking one with gas showers over one with solar showers. Solar power depends on the amount of sun and how much electricity is being used by others. Gas is much more reliable for showers. I recommend bringing a quick dry towel if you plan to shower during your trek. And, don't underestimate the awesomeness of a bucket shower.
---
Can you do laundry?
---
In main villages along the route, you can actually get your laundry done. Places like Namche Bazaar on the Everest Trek or Manang on the Annapurna Trek might even have actual washer machines. In smaller areas, you can borrow a tub from the tea house and buy hot water. It's smart to bring your own laundry detergent and two of each clothing item so that one can dry while you wear the other. I recommend washing clothes as soon as you arrive so that they can have time to dry before it gets dark. Make sure to take clothes down and put them by the fire at night or at least inside so they don't freeze.
---
Are tea houses in Nepal heated?
---
Unfortunately, tea houses are not heated. In cold weather, the restaurant/common area will have a fireplace lit up. You may have read that the fire is fueled by yak dung. Yes, it is filled with yak poop. No, you can't smell it. I swear. I know it sounds weird. Trekking will give you a whole new respect for sh*t and how innovative people are in the mountains.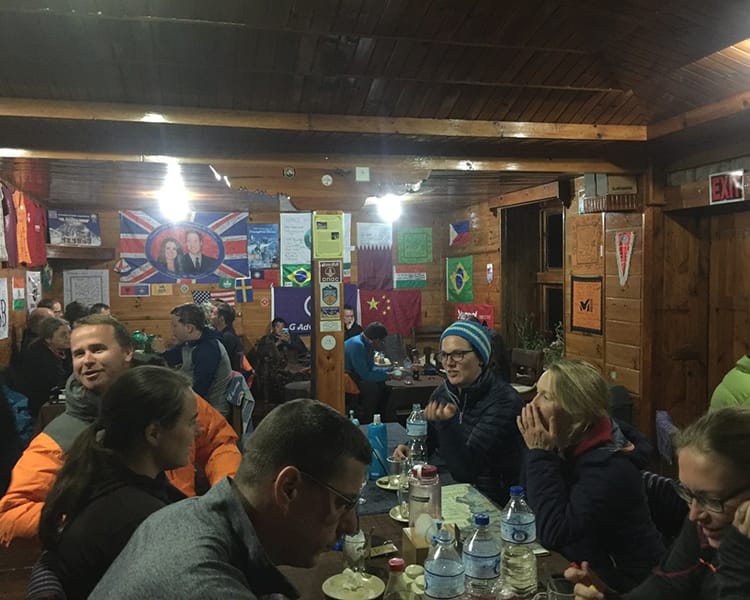 Restaurants & Common Areas
---
Most tea houses have a restaurant with a common area in it for people to hang out. Since the bedrooms are small and unheated, almost everyone hangs out in the restaurant until bedtime. As mentioned above, this is where you can warm up by the fire. It's smart to bring a book or cards. I learned at least 20 different card games while trekking in Nepal.
I recommend ordering your food in advance. This allows the kitchen to prepare everything for everyone at once and will save time. If you order right before you want to eat, you may have to wait a couple of hours. For breakfast, always order the night before.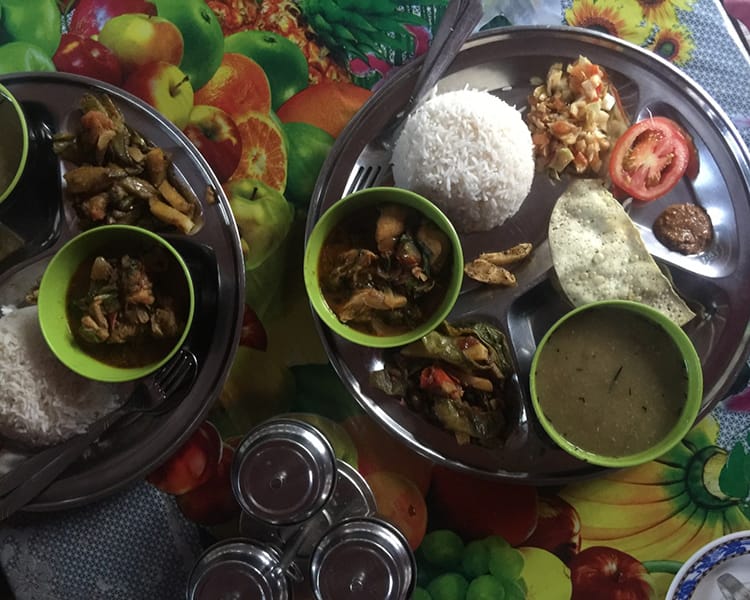 Tea House Food
---
I think it's important to note that it's tea house etiquette to eat where you stay. Most tea houses do not make much money on the rooms and rely on trekkers eating at the restaurant. If you stay somewhere and eat somewhere else, it's likely the owners won't make a profit. You can read this post about what foods are available during treks.
Breakfast
If there is an option for a full breakfast, I would opt for that because it includes everything. I generally spend around $6 a day on breakfast because I know we will be trekking for hours and breakfast keeps me fueled.
Lunch
I usually pay an average of $7 a day for lunch while trekking. This includes tea breaks which I love. On hard days, I'll take two tea breaks if I need to, so this price is probably a lot higher than what most people spend. Things like noodles cost $2 while dal baht costs $5. Tea costs about $1 per cup.
Dinner
I almost always get dal baht for dinner while trekking because it's so filling, and it's delicious. You get free refills as well. It usually costs between $3 and $8 depending on the elevation you're at. The higher up, the more expensive the food.
Water
Water is not potable in Nepal. That means you can't drink from the tap. If you are doing a tea house trek, it's smart to bring a water purifier with you. You can use a pen or water purification tablets. You can purchase bottles of water, however, this creates a problem for trash removal in an area where it's very hard to dispose of garbage.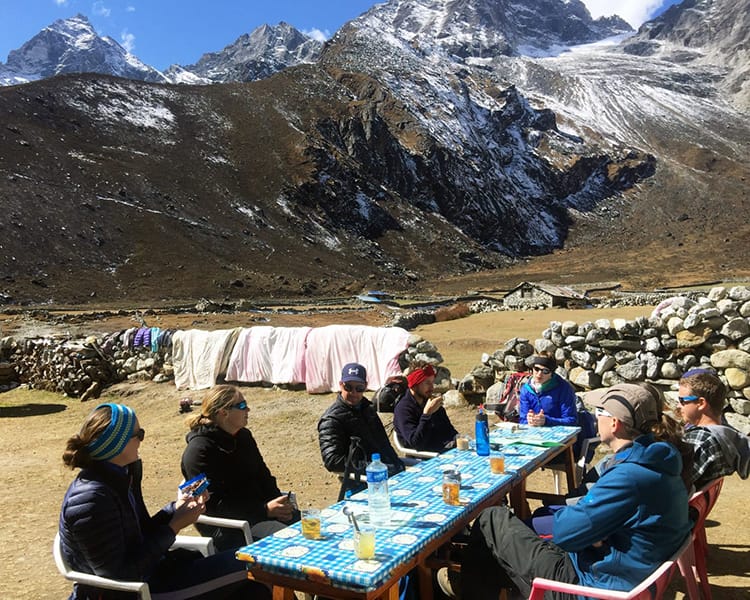 Trash Removal
---
As mentioned above, there aren't great trash removal methods in the mountains. Even though you may see a trash bin in a tea house, it's possible that trash is just being dumped somewhere out of sight where it will sit for ages. It's easy to blame tea house owners, but prior to trekking there wasn't much trash in the region. These areas bring plastics and non-biodegradable packaging onto the trails to please tourists. Prior to tourism, they lived off the land and used reusable packaging for items. Please try your best to remove any garbage you bring with you.
Some easy ways to make a difference is to bring a water purification option instead of buying bottled water. Avoid canned products like soda or beer. Bring biodegradable wet wipes instead of toilet paper or burn your toilet paper with a lighter.
---
Do tea houses in Nepal have electricity?
---
Most tea houses have electricity or solar power. Depending on what trek you do, it may be free or you may have to pay to charge your phone. In the Everest Region, I recommend bringing a solar power panel or a battery pack because you will need to pay a few dollars every time you want to charge a phone or camera. In the Annapurna Region, most places let me charge for free.
---
WiFi & SIM Cards
---
Wifi is actually available in a lot of places while trekking. In the Everest Region you'll be able to use Everest Link which cost $5 per day. In the Annapurna Region, you can negotiate it into the cost of your room and ask for free WiFi. On lesser known trekking trails, it's a little harder to get WiFi or a phone signal. You can read my blog on SIM cards if you're interested in getting a SIM that works in the mountains.
---
Questions to ask when you arrive at tea houses in Nepal…
---
Here are a few questions I recommend asking the tea houses in Nepal when you first arrive. I like to look at a few places before deciding where to stay each night. This will help to ensure you get a place you like.
How much is the room?
Ask to see the food menu (Sometimes cheap rooms have expensive food)
Is there hot water? Is it working?
Does the WiFi work?
Is there electricity? Can I charge electronics?
Can I see a room?
---
You might also like…