Gosaikunda, Nepal is a small village with a sacred lake located in Langtang National Park which holds religious significance for both Buddhists and Hindus. It's a popular pilgrimage site year round, especially during the Janai Purnima festival which usually falls in August.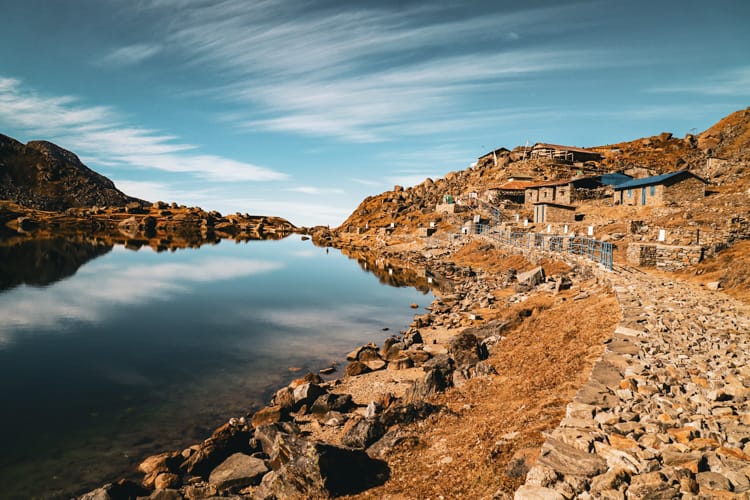 ---
Brief History of Gosaikunda, Nepal
---
Although no teahouses or homes existed in Gosaikunda until 1985, the area has an ancient history. Depending on if someone is Buddhist or Hindu, the stories will differ.
Significance for Buddhists:
Buddhist believe that the lake is famous because Guru Rinpoche (the founder of Tibetan Buddhism) meditated here around 600 years ago. Many followers come to walk in his path as a pilgrimage. It's believed by some that meditating where Guru Rinpoche meditated enhances the experience and may lead them to enlightenment.
I tried to gather more information on Buddhist beliefs from the teahouse owners, but sadly they didn't know any of the history. They did mention the Palace of the Goddess Remati or the Palace of Chakrasamvara, however, they couldn't explain why the area was referred to as that, and I wasn't able to find any further information explaining those names. If you know more, please leave a comment so I can update this to be more accurate.
Significance for Hindus:
The significance according to Hindus is very clear. I'll try to explain it in the simplest terms for those not familiar with Hindu mythology. It's believed that demons tried to poison the world with a churning ocean. The only way to save heaven, hell, earth, and all life was for Lord Shiva to drink the poison. After drinking it, he used his trident to create three lakes. He drank from Gosaikunda to quench his thirst. For this reason, the water is believed to have healing properties. Many come to collect the water to use in puja (religious ceremonies) while others swim in the water to heal their bodies.
---
Gosaikunda Village Guide
---
Major Ethnicity:
Tamang
Major Religion:
Buddhism
Language:
Tamang & Nepali
Gosaikunda Altitude:
4,380 m (14,370 feet)
Oxygen Concentration:
60% compared to 100% at sea level
Gosaikunda Village Population:
Around 50 – 60 people live in Gosaikunda most of whom stay there to work at the teahouses or in tourism.
Best Time of Year to Visit:
It's best to visit in the peak season around October or November as the skies are clear offering great views. It's also a popular destination during the Janai Purnima Festival when pilgrims trek to Gosaikunda around August.
Wild Animals in the Region:
Animals in the Langtang National Park region include musk deer, Himalayan tahr (looks like a large mountain goat), red pandas, Himalayan black bears, snow leopards, ghoral (looks like a small goat/deer), mountain mice, gray langur monkeys, and over 250 different bird species.
Location:
Gosaikunda Lake is a two day walk from the nearest road that stops at Dhunche. It's located inside Langtang National Park, northeast of Kathmandu.
Entry Permit:
Gosaikunda requires a Langtang National Park Permit which costs 3,000 rupees (about $26). This permit can be purchased on the way at the park entrance or in advance at the Nepal Tourism Board office in Kathmandu.
NTC or Ncell service:
There is no NTC or Ncell service in Gosaikunda, Nepal.
---
What to Eat in Gosaikunda
---
Most villages in Nepal recommend you try the local dal bhat (rice, dal, and curries) which varies from region to region. The villagers here also recommend trying the local raksi (alcohol).
---
Things to do in Gosaikunda, Nepal
---
Most people come to Gosaikunda as part of a pilgrimage, so the main things to do in the area include visiting the temple, swimming in the sacred waters, and visiting the nearby lakes which also hold religious significance.
The temple by Gosaikunda sits right at the edge of the lake. Many people come here to do puja (a religious ceremony). Many come to swim in the healing waters hoping it will cure their ailments. This high altitude lake is often freezing cold so people tend to come in the summer. During the Janai Purnima festival, this is a popular destination.
There are a few side treks from here including walking around the two lakes (Gosaikunda and Bhairab Kund) located in the village. There are also two viewpoints. One is located behind the village (I recommend doing this as an altitude acclimation high to prevent altitude sickness). The other is located behind Gosaikunda. This trail leads to the Helambu Trek, but there is also a third sacred lake there called Surya Kund. There are over ten small lakes in the area.
---
Gosaikunda Temple (Shiva Mandir)
---
Gosaikunda Temple (Shiva Mandir) is located at the edge of Gosaikunda Lake. Mythology says that Lord Shiva drank a poison that threatened all life in heaven, hell and earth. After drinking the poison he used his trident to create three lakes to quench his thirst. He then drank the water which healed him. People come to Gosaikunda Temple to pray and to swim in the healing waters as part of a pilgrimage.
---
Gosaikunda Heli Tours
---
Because Gosaikunda has such a big spiritual significance to Hindus and Buddhists for being a place of healing, it is also a popular destination for helicopter tours. The walk to get to Gosaikunda is extremely difficult even as a 33 year old trekker. The elderly, who would like to visit are able to via helicopter tour. It's also a popular place for helicopter tours because it's so close to Kathmandu. The price varies a lot based on the time of year you go and whether or not you want to land in Gosaikunda.
---
Gosaikunda Lodges & Teahouses
---
Types of accommodation:
Basic teahouses
Number of accommodations:
There are four teahouses in the village.
Our choice:
We stayed at Hotel Peaceful but Namaste Guest House looked better. It was fully booked with a large tour group by the time we arrived so we weren't able to stay there.
Price of a Room:
1600 rupees (about $16.00 USD) for a double room.
Price of Veg Dal Bhat:
730 rupees (about $7.30 USD)
Electricity:
There is solar power, however, you need to pay 300 rupees to charge a device.
Toilet Situation:
There is one shared squat toilet located inside.
Shower:
Hot showers are available for 350 rupees (about $3.50 USD). A hot shower is a bucket of hot water.
Wifi:
Wifi is available for 350 rupees (about $3.50 USD) per night.
---
Gosaikunda, Nepal Photography
---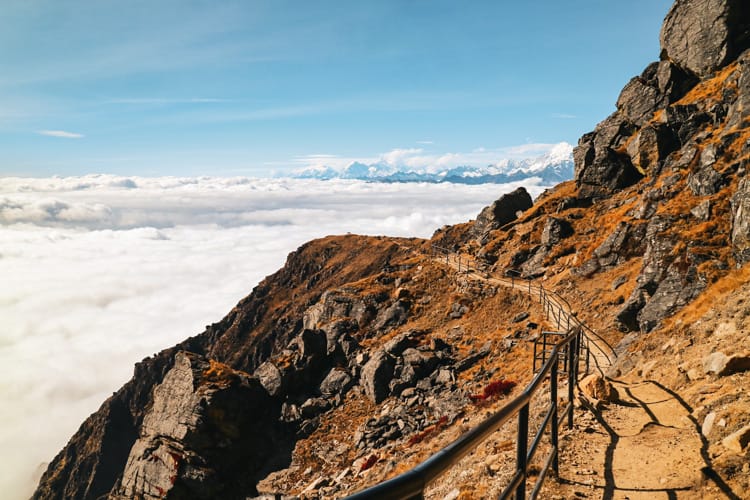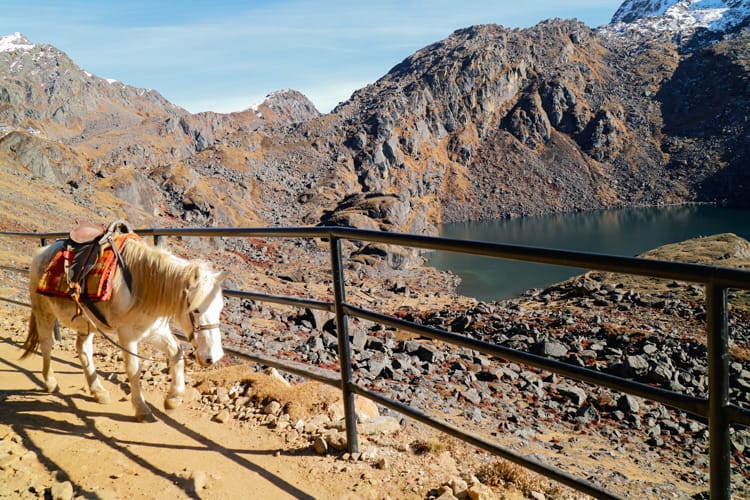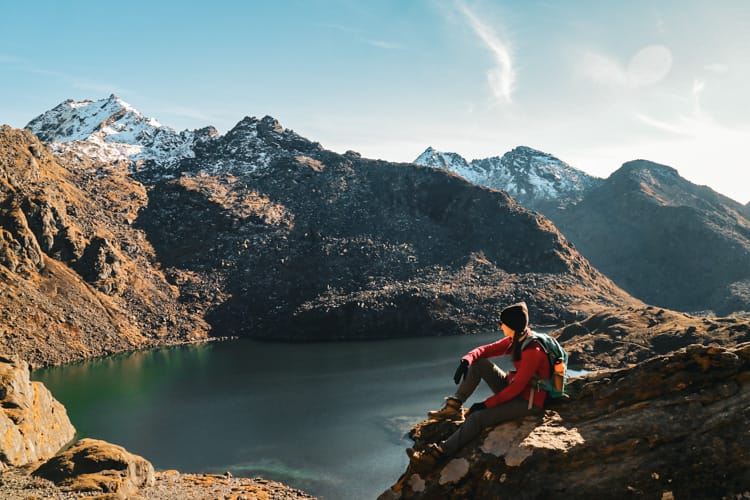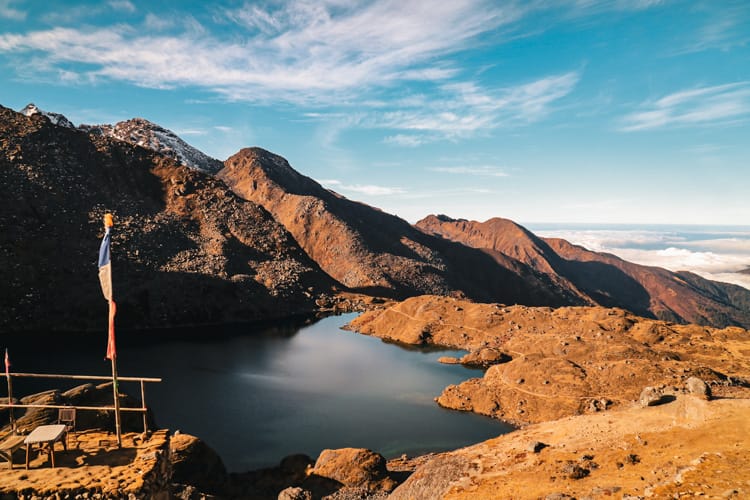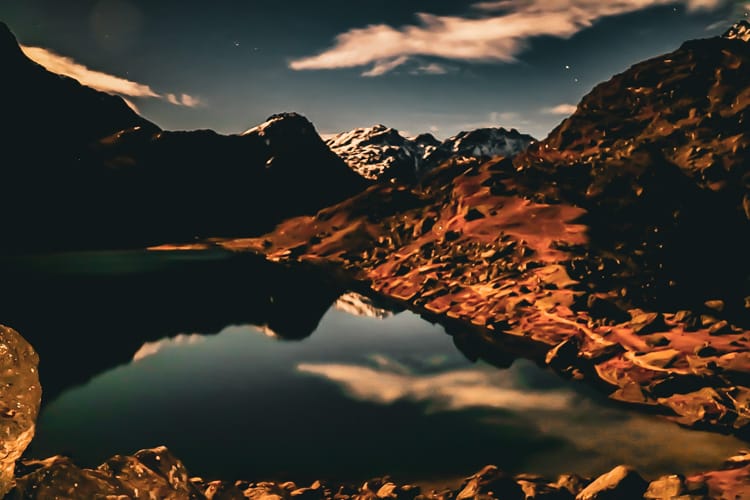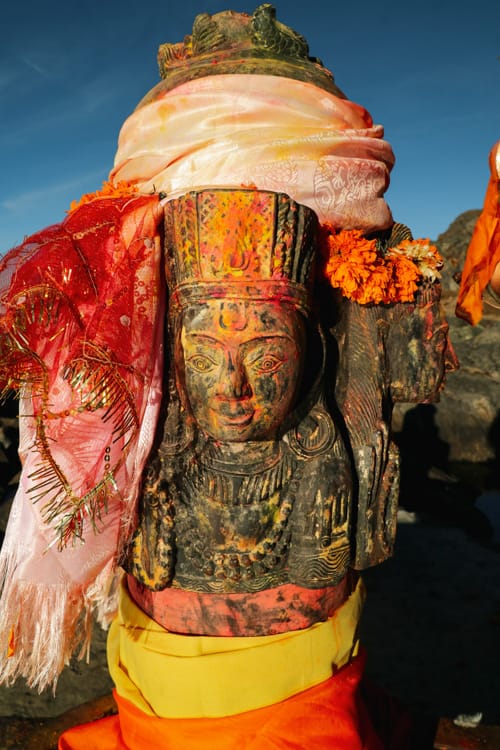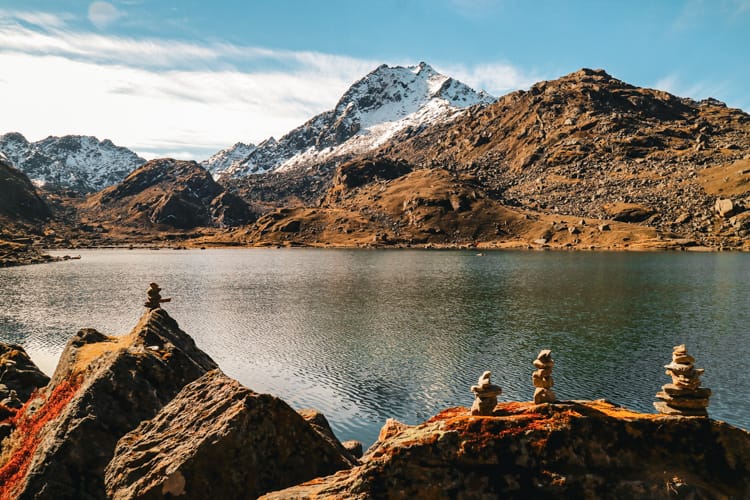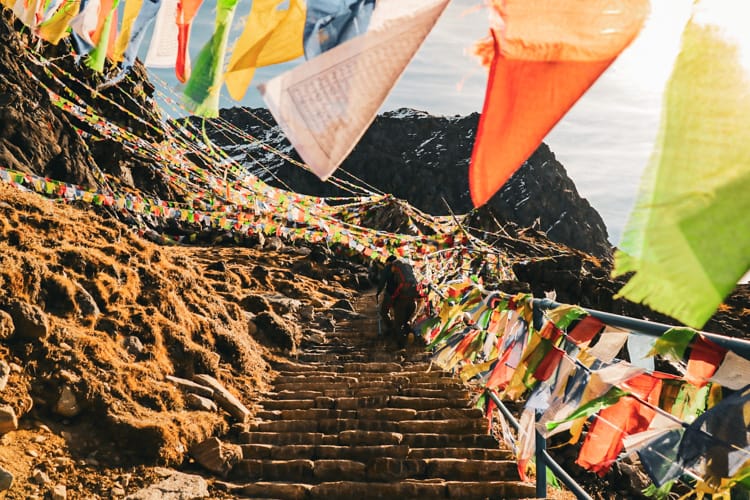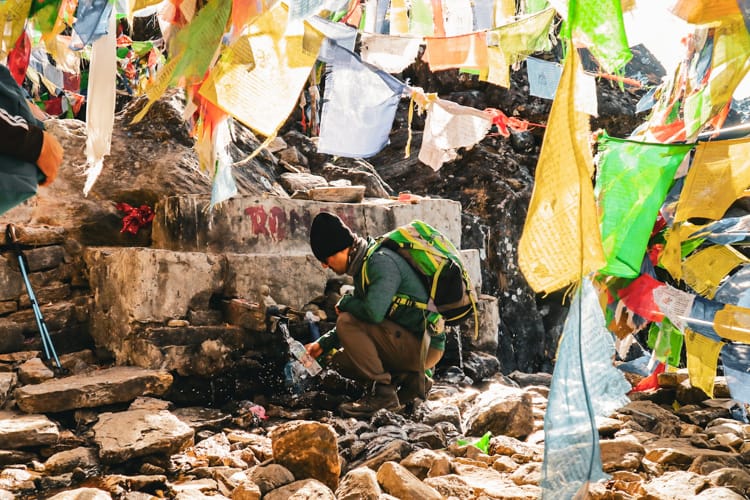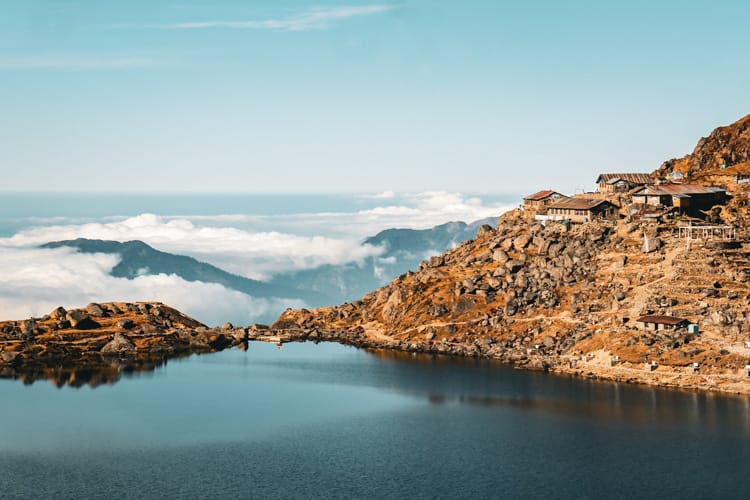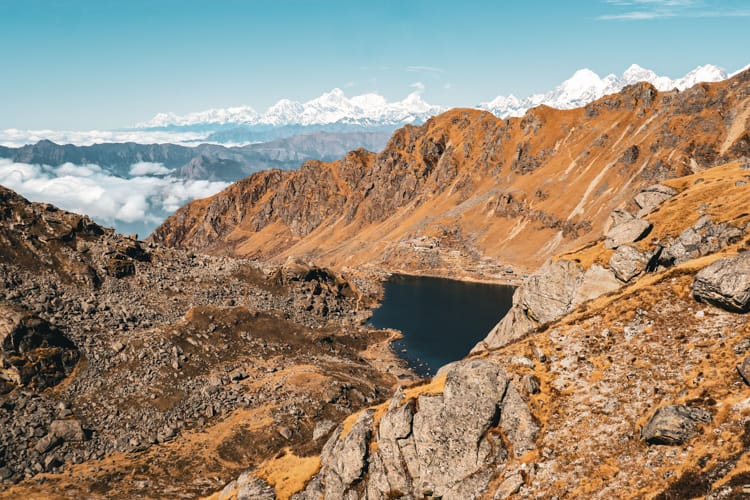 You might also like…