As much as I love trekking, it can get expensive and time consuming. Lately, I've been looking for different ways to experience nature in Nepal without having to commit to weeks in the mountains. Nepal has so many wonderful day hikes and short treks to offer and the hike from Nagarkot to Dhulikhel might be one of my favorites. We decided to trek in January when most of the high altitude treks are closed for the winter. Because of our timing, I've deemed this trek the "Mustard Trek." The hills between Nagarkot and Dhulikhel are filled with terrace style farmland and in January they are filled with beautiful yellow flowers which happen to be mustard plants!
While most of my directions for the Kathmandu Valley Trek are easy to follow, or can be represented well in the map, hiking from Nagarkot to Dhulikhel was surprisingly difficult to navigate. The map provided should only be used to give you an idea of the hiking route because new trails and roads are developing every day, and some of the paths we took don't appear on the map shown below. It's best to have an offline map like maps.me downloaded prior to leaving or take a local guide. We spoke Nepali to locals and they were able to help us find the way, but there was one section that was hard to navigate even with the locals help.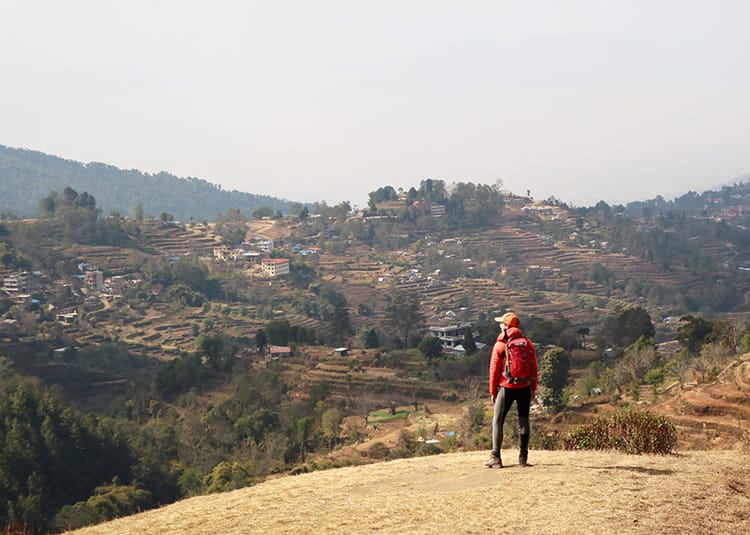 Nagarkot to Dhulikhel Overview
---
Walking Time: 6 hours
Total Time: 7 hours with a lunch break, tea breaks, and lots of time to take photos
Difficulty Level: Moderate – This trip is difficult to navigate without an offline map. Google does not have a lot of the routes listed. If you have an offline map, it should be easy to navigate. Physically, this is not a very difficult day. You will go down some steep descents, so trekking poles are recommended to take pressure off your knees. This is a good trek for beginners and should be easy as long as you are in decent shape.
Before You Go: Download an offline map like maps.me and have your phone fully charged. Pack snacks and bring trekking poles.
---
---
Hotels in Nagarkot
---
Best Budget Hotel: Everest Manla Resort ($31 USD per couple). I normally wouldn't consider $31 to be a budget room, but the $31 got us a large comfortable room with a private bathroom, hot water, limited WiFi, and breakfast included. You can find a $20 room in town, but you won't be able to open your door to a picture perfect view like you can at Everest Manla Resort.
Book on BOOKING.COM | AGODA
Best Mid-Range Hotel: Peaceful Cottage ($50 USD per couple). We went in January, and it was freezing cold. The room had HEAT (a rare thing in Nepal). We had it blasting, and it was totally worth the money. What won me over was the incredible view from the three different balconies. We were able to wake up, walk upstairs, and have one of the best views in Nagarkot proper. It also included free breakfast, had hot showers, and a comfy bead.
Book on BOOKING.COM | AGODA
Best High-End Hotel: Hotel Country Villa ($70 USD – $350 per couple). We stayed here for Valentine's Day one year. The hotel has a lodge like feel and sits at the edge of a steep hill with epic mountain views. Their basic rooms are small and a little dark with wood paneling, but every room here has a beautiful view unlike other hotels in the area. The food at the buffet style dinner was delicious and the bathroom had a wonderfully hot shower.
Book on BOOKING.COM | AGODA
Best Luxury Hotel: Hotel Mystic Mountain ($130 USD – $500 per couple). We stopped here for lunch and asked for a tour. This place is like a mirage in a desert. The staff was insanely friendly. We walked in looking like hell, wearing trekking gear, sweating, and our boots were covered in mud. But, we were welcomed in as if we were dressed to the nines. I love that this place was so beautiful and not at all pretentious. The rooms are luxurious. There's an in ground pool. The views look like they go on forever. And, the restaurant offered delicious food.
Book on BOOKING.COM | AGODA
---
---
Hotels in Dhulikhel
---
Budget Hotel in Dhulikhel: Tashidelek Guest Lodge & House ($16 USD per couple)
Book on BOOKING.COM
Comfort Hotel in Dhulikhel: Gaia Holiday Home ($45 USD per couple) Gaia Holiday Home is probably one of my favorite places I've stayed in Nepal. The rooms are extremely clean and have incredible views of the mountains. It's like a painting is hanging on the wall, but it's real. Our room had a balcony and private bathroom. The shower had very hot water which made it feel like a sauna in winter time. The food here is also great (especially the chicken curry).
Book on BOOKING.COM | AGODA
Luxury Hotel in Dhulikhel: The Dwarika's Resort ($485 per couple) If you're looking for the ultimate in luxury, then The Dwarika's Resort is it. Suraj and I were given a night at the resort as a wedding gift, and it was literally the nicest place I've ever stayed. The resort is focused on wellness and some of the activities included in your stay are a meditation room, yoga classes, a Himalayan salt room, a crystal room, an Ayurvedic consultation, and more. I left the resort feeling so relaxed and calm after just one night. The food there is also phenomenal. If you want to splurge, this is the place to do it.
Book on BOOKING.COM | AGODA
---
Nagarkot to Dhulikhel Directions
When you leave Nagarkot, you'll want to take a left out of town and follow the main road for a bit. We actually spent a night at Everest Manla Resort , so we walked the first 45 minutes of the hike the day before. Since we went the day prior, we decided to walk in the afternoon and take our time getting there. On the way we decided to make a little stop at the famous Hotel Mystic Mountain which is known as one of the best hotels in Nepal. Sadly, our budget couldn't afford a night at the hotel, but we could afford lunch there. If you are coming from the center of Nagarkot, I recommend getting breakfast there or at least stopping in for tea. It was such a nice luxurious escape from our normal hiking routine.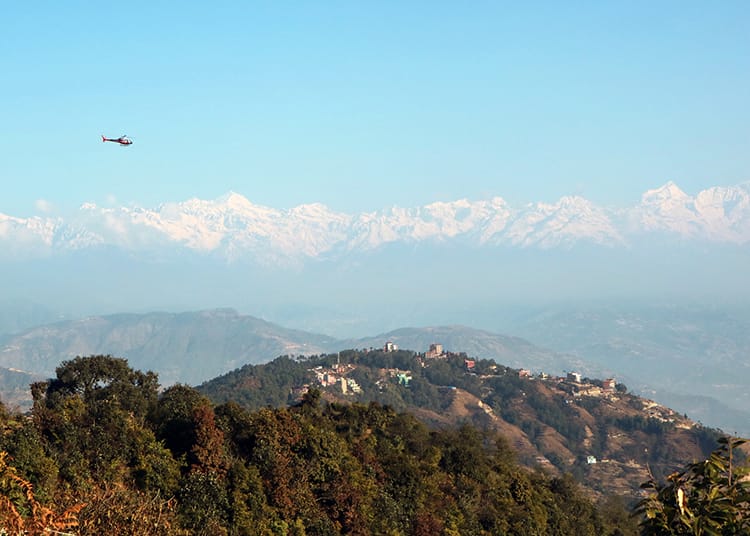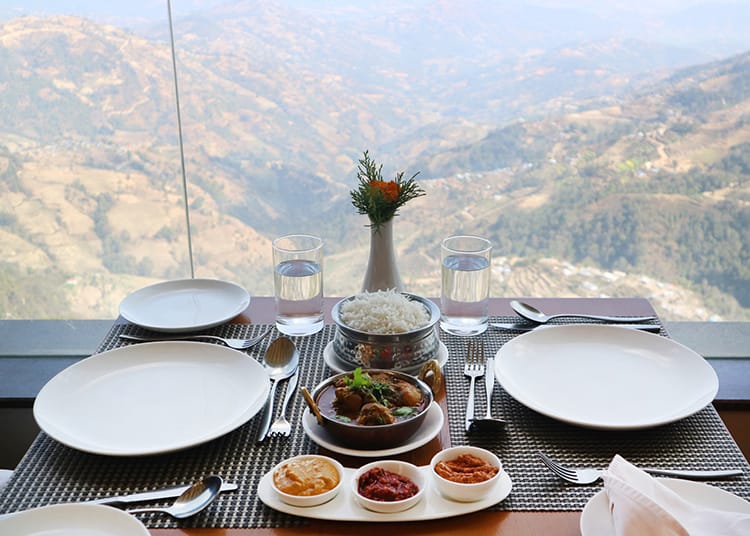 We left Everest Manla Resort at 9:00am. (If you're coming from Nagarkot proper, I'd recommend leaving at 8:00am.) If you don't stay at the resort, there's a small tea shop/ picnic spot right before the hotel where you can get a really nice view. About 200m after the tea shop/resort you'll want to take the first left to take a shortcut. Currently, it's a dirt and gravel road without much traffic.
Next, you'll make a sharp left turn which will look like you're almost going backwards. If you reach a fancy resort, then you've gone too far. At the second fork stay to the left. This will turn into more of a trail than a road, but will turn back into a dirt road later on. From here you go straight on this road until you reach almost the top of the hill you've been climbing all morning. This road is currently under construction and it looked like a really large dirt highway when we visited.
Once you are almost at the top you'll see a small yellow sign advising hiker to go to the right. Since none of this appears on Google Maps, there was some debate about which way to go from here. There were several smaller paths all going different ways, but you'll want to stay on the main path going right. We ran into three beautiful local women who not only pointed us in the right direction, but told us they would walk us to the next turn.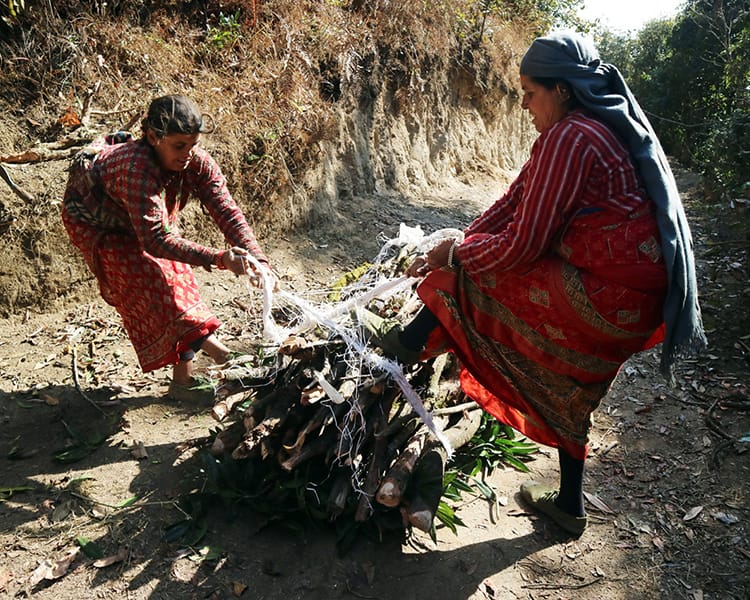 These women come into the hills once a week to gather a special kind of plant to feed their livestock down in the valley near Nala. Each woman gathered the greens along with wood and carried it by themselves. They told me each one carried about 30 kgs (66 lbs)!!! As we walked, I asked if they were tired and one said, "We aren't allowed to feel tired until we're home." They were probably the most mentally strong (and physically strong) women I'd ever met. Suddenly, my 10 lbs backpack felt like it weighed nothing.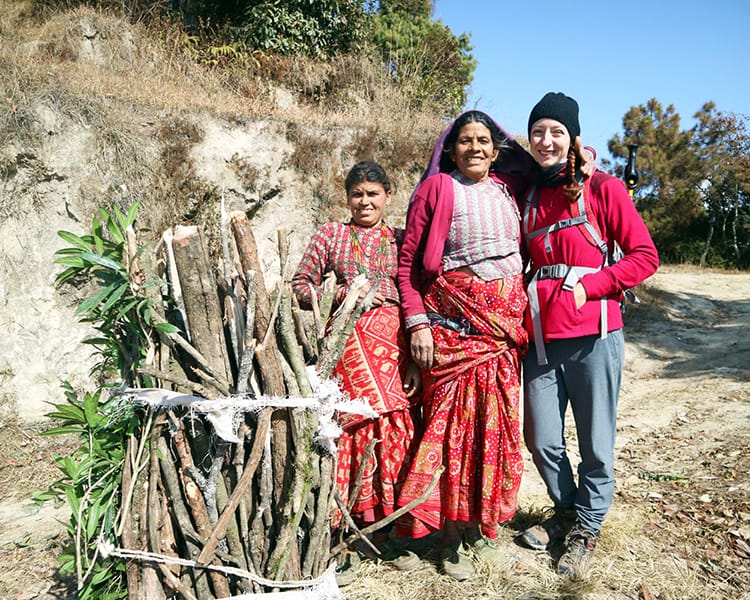 The path we walked on with the women is a lovely path that winds around the hill. You can follow it until you see a lookout point. It's a small cement pad with a tin roof over it. Instead of following the trail to the right, you'll go to the left of it and follow the "thousand steps" down. It's fairly steep here, and I needed to use my trekking poles.
After the stairs, follow the main road downhill. On the right is a small restaurant and hotel. This is a great place to have lunch since there are not a lot of restaurants on the route from Nagarkot to Dhulikhel. We arrived there (Kashi Bhanjyang) for lunch around 12:00pm.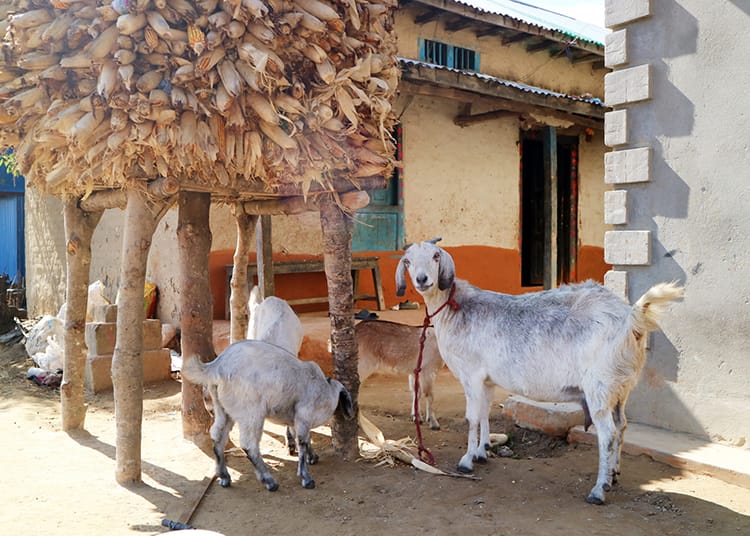 After eating, follow the road toward the cliff side of the hill and turn right. Follow this path all the way around the mountain. Here you'll see tons of farms growing yellow flowers. These are actually mustard plants. Mustard seeds grow in the pods. When they are harvested, they are left to dry in the sun. Then, they are either ground into powder, sold as seed, or turned into oil.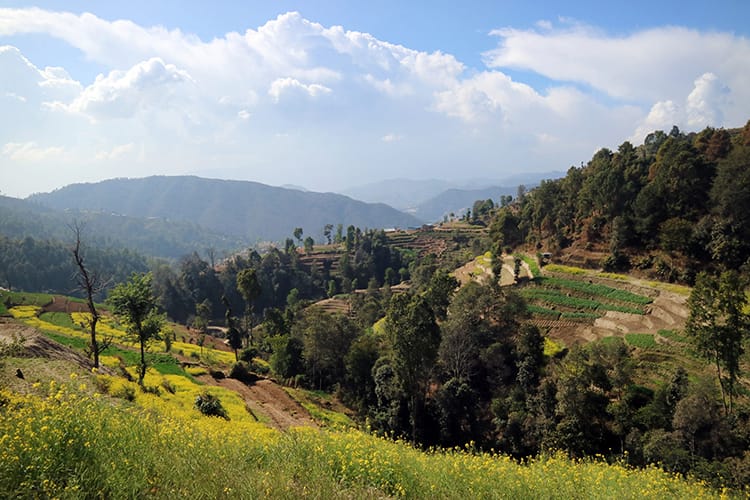 You'll see a small trail to the left towards the top of the hill, you can follow this straight along the edge and back down the other side. It'll wrap slowly around farm terraces on the other side. This is the part of the route we found really confusing. There were a lot of turns and options and not enough people to ask for directions. Even a couple of girls ahead of us who had maps.me seemed confused at this section. You can follow the main road from here, but there's a shortcut in the village where you turn left at a hot pink house and then make another left and head downhill and pick up the road later on.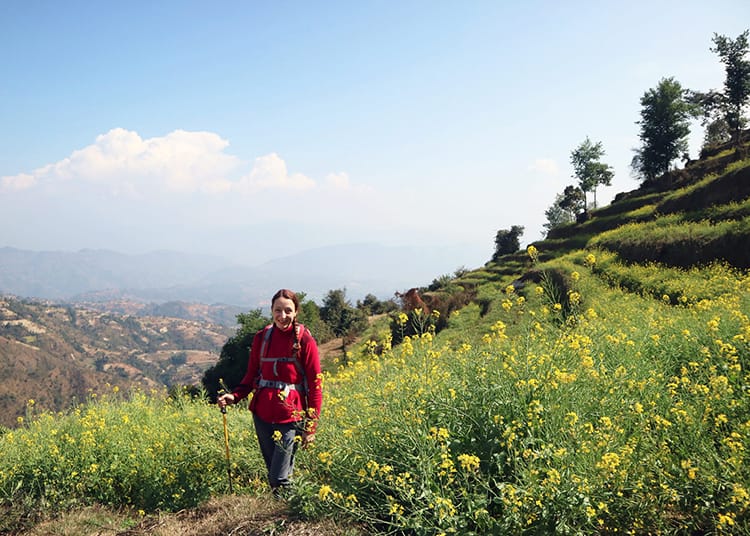 Follow this road downhill until you hit the main village of Rabi Bhanjyang. Turn right onto the main road and then a quick left at the temple. There's a small sign directing you to Dhulikhel. Here you'll head uphill and onto a road that goes through the woods. On the other side, you'll follow the road downhill and turn left at the tiny shop to continue down towards the city. We arrived to Dhulikhel city center at 3:45pm, however we stopped to talk to people and take photos. We also took an hour for lunch so this was a really leisurely pace.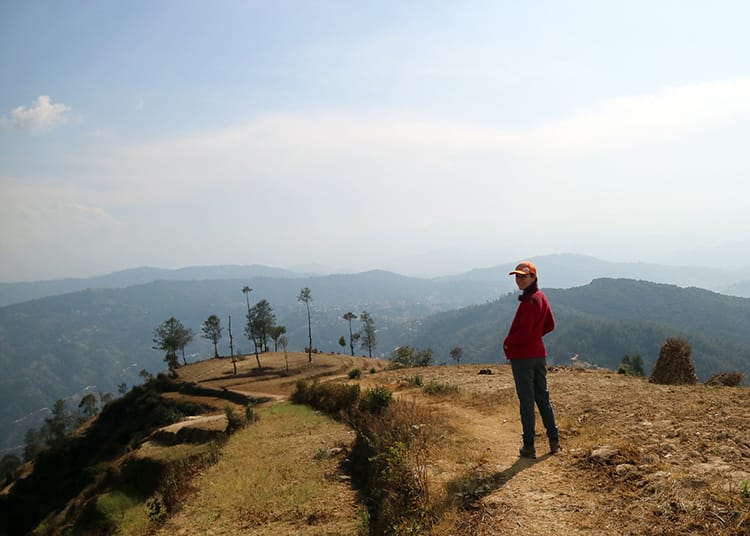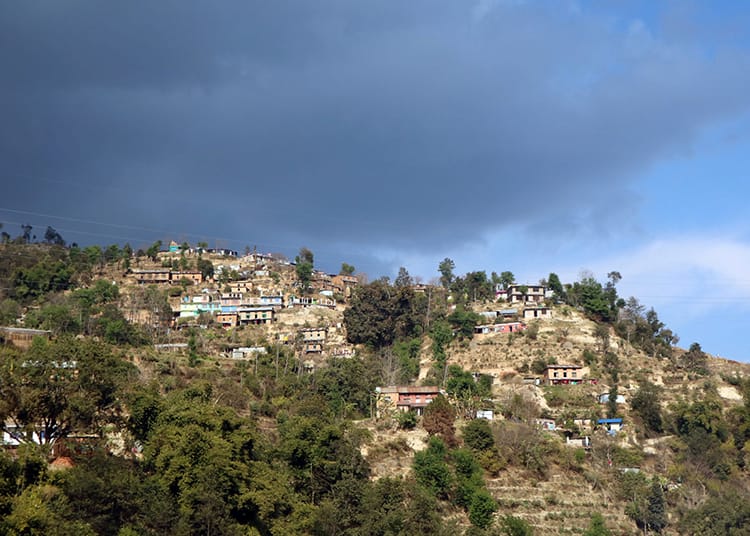 ---
You might also like…