Hiking from Namo Buddha to Balthali looks like a small distance on the map, but it feels like a proper trekking route as it goes over hills and down into river valleys. It was one of the more difficult days on our Kathmandu Valley Trek however, it also felt like the most rewarding. The views are really lovely, the routes are remote, and there's a plethora of small villages that specialize in orange farming.
Due to cloudy weather and a New Year festival, we were unable to stay in Namo Buddha Monastery the evening before the hike. So we walked to Namo Buddha from our hotel in the morning, explored the monastery and started the hike to Balthali around 11:00am. I'd recommend leaving earlier in the day since it got pretty hot on some of the hills later on. We went without an offline map since we planned to discover the "local route." It was pretty difficult, so I'd recommend having the offline map (maps.me) to follow even though we went a different less touristy direction. Most of the trails are on maps.me. The map shown in this blog should be used as a loose guideline as the map is missing a lot of side trails and towns.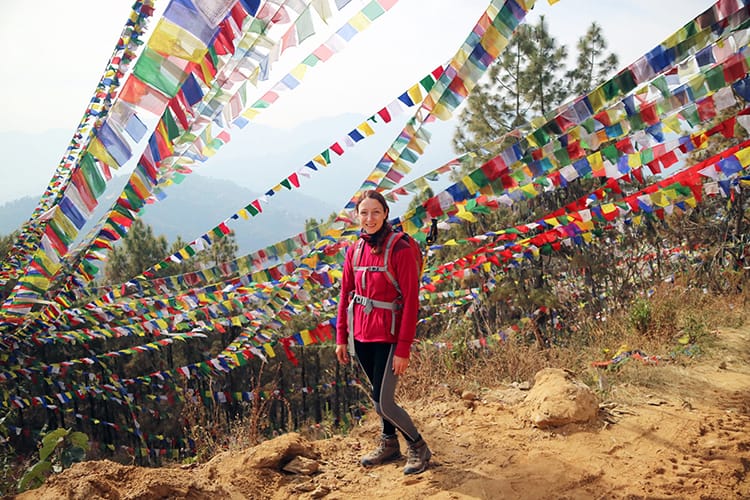 Hiking to Balthali Overview
---
Walking Time: 3.5 hours
Total Time: 4.5 hours
Difficulty Level: Moderate – We chose to stay at the Balthali Eco Resort. Due to our hotel being located out of the main village, we took a different route than most maps advised. The route mentioned below is more difficult than routes shown on maps.me or google, but it's also a proper hiking route with beautiful small trails that cross through valleys. Although a little difficult for beginners, it was my favorite day of our trek.
Before You Go: Download an offline map like maps.me and have your phone fully charged.
How to get to Namo Buddha: You can take a local bus to Namo Buddha, or you can hike to Namo Buddha from Dhulikhel as part of the Kathmandu Valley Trek.
---
Hotels in Namo Buddha
---
Budget Hotel in Namo Buddha: Namo Buddha Old Guesthouse ($15 USD per person including breakfast and dinner). These are the older accommodations attached to the monastery, so you are able to sleep nearby, meditate with the monks, and eat at the monastery.
Email [email protected] for bookings
Comfort Hotel in Namo Buddha: Namo Buddha New Guesthouse ($30 USD per person including breakfast and dinner). This is the newer accommodations available at Namo Buddha Monastery which allows you to immerse yourself in the daily rituals of monastery life.
Email [email protected] for bookings
Luxury Hotel in Namo Buddha: Namo Buddha Resort ($113 USD per couple) Namo Buddha Resort is not part of the monastery, however it's located nearby and is perfect for those who want more comfort. Something everyone raves about is how amazing the vegetarian food is.
Book on BOOKING.COM | AGODA
---
Hotels in Balthali
---
Budget Hotel in Balthali: Balthali Homestay ($25 USD per couple)
Book on BOOKING.COM
Comfort Hotel in Balthali: Balthali Eco Hill Resort ($40 USD per couple). We stayed at the Balthali Eco Hill Resort and it was really nice. We were served a giant feast for dinner, and a large breakfast which was included in the price. The rooms are made in traditional mud homes which I thought was really cool. They had hot showers, wifi, and a helicopter landing pad.
Book on BOOKING.COM | AGODA
Luxury Hotel in Balthali: Balthali Village Resort ($68 USD per couple) We stayed at the Balthali Village Resort on our one year anniversary. They had a special rate of $60 per couple including breakfast and dinner, however their rate is usually higher in peak season. The hotel was really nice and had hot water, comfy beds, heat and A/C, and good food. The staff was really awesome as well. If you're looking for something a little more luxurious in the area then this is a great choice.
Book on BOOKING.COM | AGODA
Namo Buddha to Balthali Directions
---
Leave the monastery near the Namo Buddha View Point. At the bottom of the view point, you'll see a dirt road going downhill. There are millions of prayer flags tied to the trees, making this my favorite part of the day. Walk through the tunnel of prayer flags and follow the small scenic path to the right. This cuts off the main road. Once you reach the main road, you'll make a right and a quick left where there's a fork. From here, you can see orange farms and a beautiful view to your left. We spoke to a villager who told us that the oranges used to be much larger, but ever since the earthquake they have been very small. Despite the tiny size, they're still nice and sweet.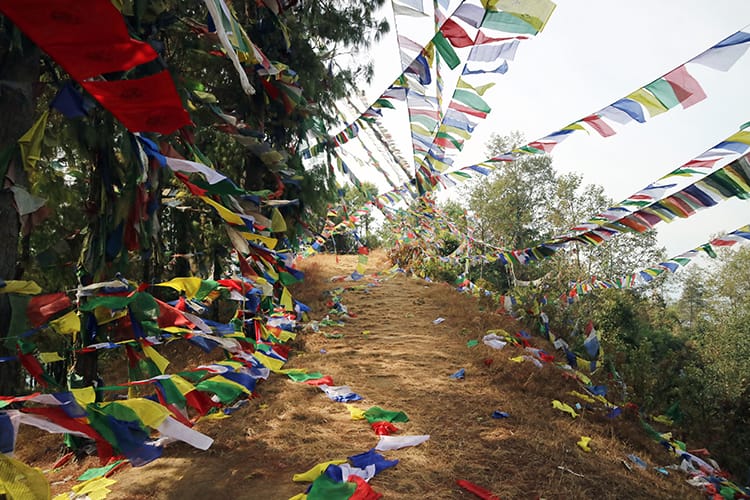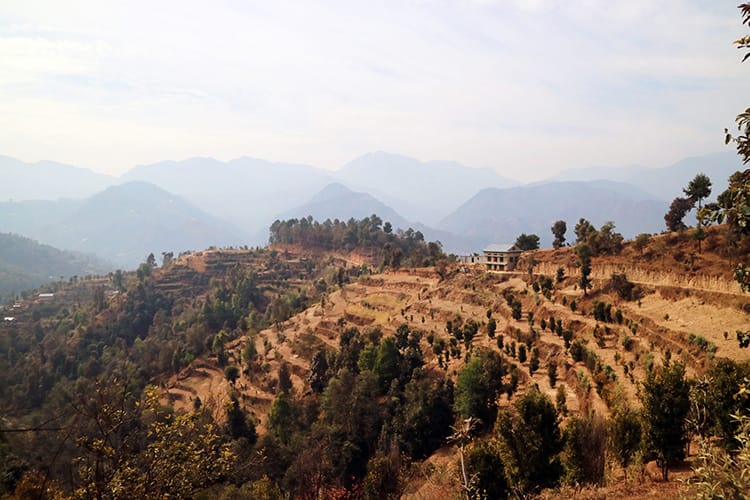 From here, you should follow the road which wraps around the hills and through small villages. It's a dirt road which only gets local traffic, so it feels like a hiking route despite being large enough to fit a car. You'll reach a small town (Danda Kotari) and the road will split several different directions. You want to take the second path from the right which is a dirt road going downhill. The road turns into a small path which continues downhill and rejoins the main road below. At the fork, you'll turn right to cross a small stream and head up the dirt path on the opposite side. This is a shortcut which cuts off two large sections of road that loop around the hills.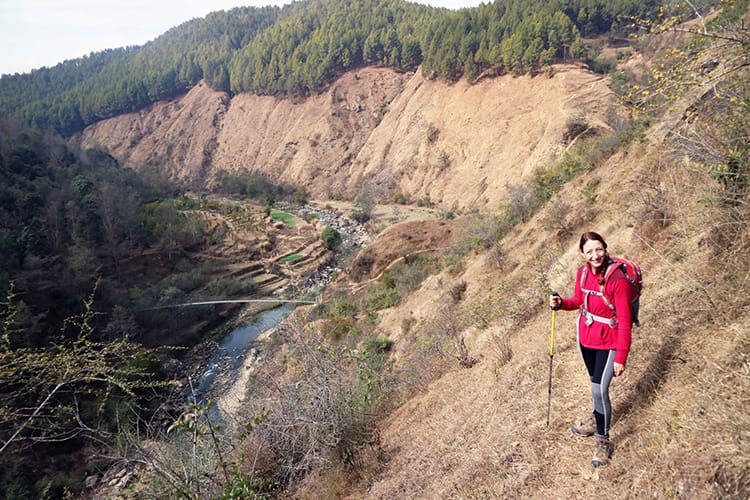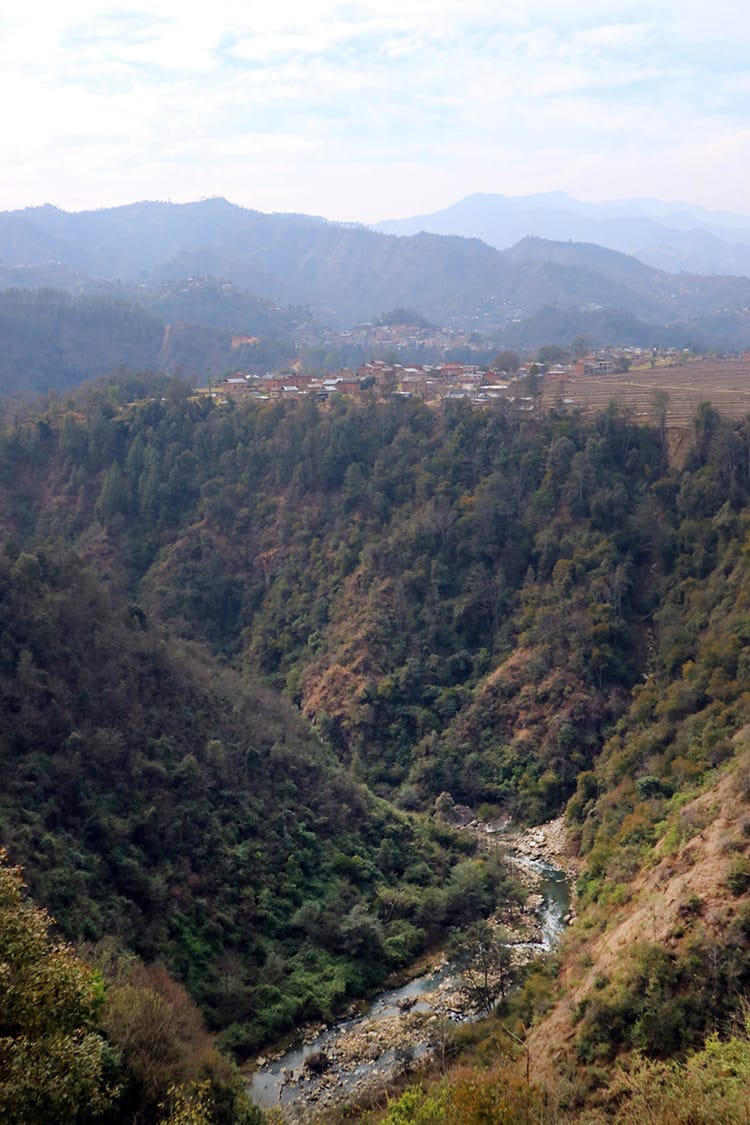 Once you rejoin the main road, you'll see there's a valley and a river to your left. You'll want to keep an eye out for a small path that heads downhill. There's a sign on the right side of the road, but we found it a tad confusing. You'll take this trail straight downhill to the Roshi Khola River, cross the suspension bridge, and head up the other side. At the small intersection at the top of the hill, you'll turn right and follow the road going through a giant field.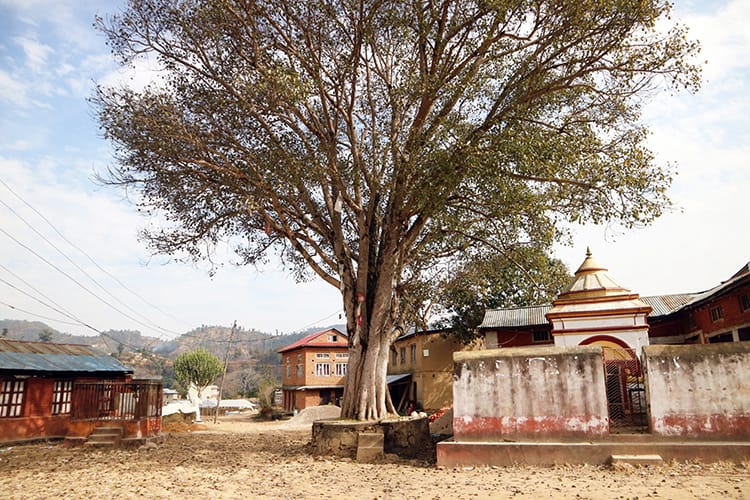 When we arrived, they were planting potatoes, so everything was brown. I'm told it's breathtakingly beautiful when it's lush and green. This little agricultural town is called Lapsibot. I absolutely loved this little town and it's giant community field. It felt a little like we'd stepped back in time after leaving the surprisingly modern monastery. We explored the area a bit and stopped to have lunch at a local tea shop in town.
After the fields, turn right in town (the tea shop is on the right side of the main street). When you reach a small temple and a very large tree, you'll make a sharp left hand turn to go downhill. At the bottom, follow the road to the right and then to the left to cross the bridge going over the river. You'll follow the main road back uphill until you see the first building on the right. We chose to stay at the Balthali Eco Resort which is located just up the hill from this building.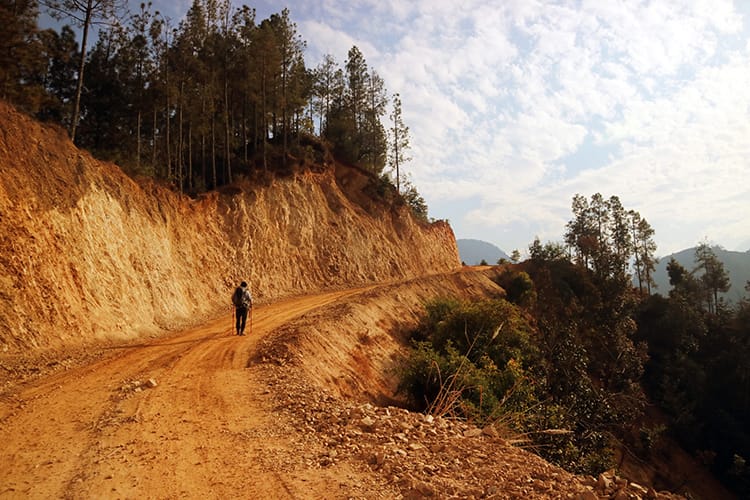 ---
You might also like…