I'm going to be honest and say that I'm not really big on going out late at night. I'm more of a snuggle up in bed and read a book kind of girl. However, I've been in Kathmandu long enough that I've frequented a few cool lounges (totally my scene) as well as a few clubs (my scene 5 years ago). A hand full of my Nepali friends love to go out and party, and some of them are DJs, so I tagged along a few nights while they showed me the best of Kathmandu night life.
It seems that in Kathmandu, the pre-party starts at 9:00pm or 10:00pm while the real parties don't get going till 11:00pm or midnight. So, if you're planning to go out, make sure to hit a lounge or bar first and a club later in the evening because if you show up at the club at 10:00pm, you'll be the only one on the dance floor.
---
Best Lounges in Kathmandu
---
BARC
BARC is located in an odd place due to its theme. It's a speakeasy which means it's supposed to be a secret bar. It's located near the river between Kathmandu and Lalitpur in Tripureshwor. The building has a bunch of offices and you have to navigate your way to the top floor and pass through a door disguised as a mirror. Honestly, I didn't have high hopes as I've been to some of the best speakeasies in NYC, but BARC exceeded my expectations.
It is on the expensive side, but you get what you pay for. The drinks here are true artisanal cocktails that are unlike any I've had in Kathmandu. If you're a drink snob, this is definitely the place for you. My drink came with a smoke filled bubble on top that when popped let out an aroma of berries. I was super impressed. The ambiance of the place is very swanky and feels like you've stumbled into someone's private library of booze. Overall, this might be one of my favorite places to grab a drink in the entire city. I highly recommend trying their one-of-a-kind Nepali cocktails which are based on famous Nepali sweets like the Bloody Nepali or Khattu.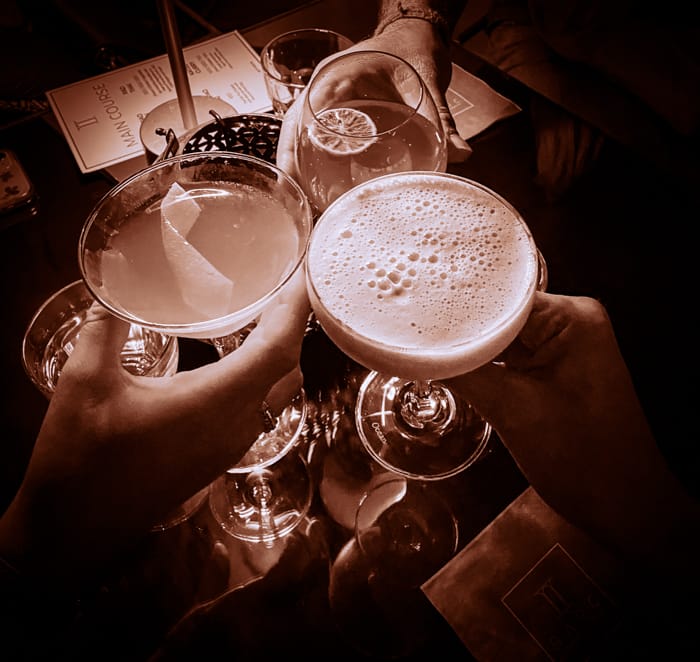 ---
Bitters & Co.
These days, lounges are more my scene so I prefer a place where you can sit, talk with friends, and enjoy a good quality drink. If that's your thing, the Bitters & Co. is great. This bar has a cool relaxed setting with a loft like feel and a tree in the center to give it warmth. The perfect lounge music plays which is upbeat and on trend but not so loud that you have to raise your voice. The only downfall here is the prices. Bitters & Co. is definitely one of the most expensive bars I've been to in Kathmandu with drinks starting at $10.
Suraj ordered the Godfather with bourbon. I don't drink bourbon, but I preferred his drink over mine as it had amaretto in it which I love. It came served with a large single ice cube (so it wouldn't water down the drink) which I've rarely seen in Kathmandu. I ordered a Bellini, but it tasted more like a mimosa to be honest. Overall, we enjoyed feeling super bougie for a night, and I'd recommend this if you're feeling fancy.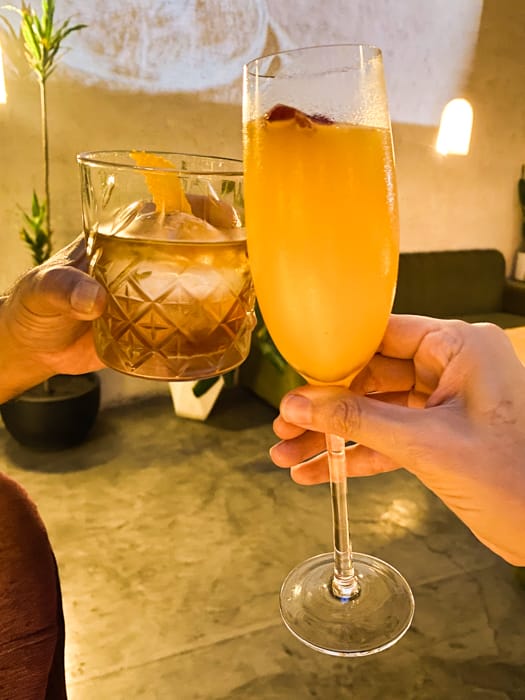 ---
Best Bars in Kathmandu
---
Evoke Cafe and Bistro
I was invited to Evoke to listen to my friend DJ. It's a 20-minute cab ride from Thamel, but it's super close to Patan. Evoke is a large restaurant/bar which had a beer pong tournament, live music, and the World Cup playing on a projector screen when I was there. There's indoor and outdoor seating and the vibe of the place is really great. What sold me though was the insanely good food. After having a couple of beers, I decided to get a ham and cheese sandwich. I didn't really expect anything special, but it was one of the best I've ever had. I'd definitely recommend this place for food or to just chill at night with friends for a drink.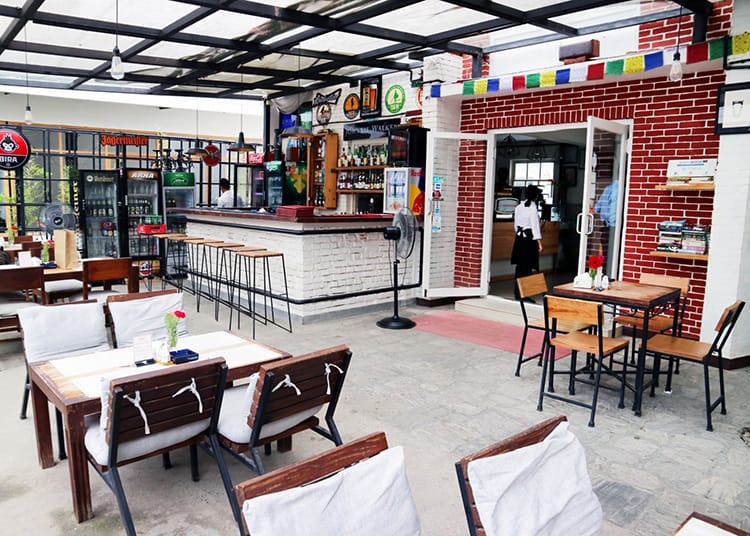 Buddha Bar
Buddha Bar is located right in the heart of Thamel, making it a popular destination for both tourists and locals. A few of my Nepali friends had mentioned the place to me, but every time I went, it was too crowded to get a seat. I'd recommend going around 6:00pm or 7:00pm and grabbing dinner, drinks, and hookah. That way you don't have to wait for a table and can spend a few hours chilling. Early in the evening, the music started with a house vibe, and later on it changed to rap and hip hop. The ambience is great with seating on the floor, dim lighting, and hookah smoke billowing through the air.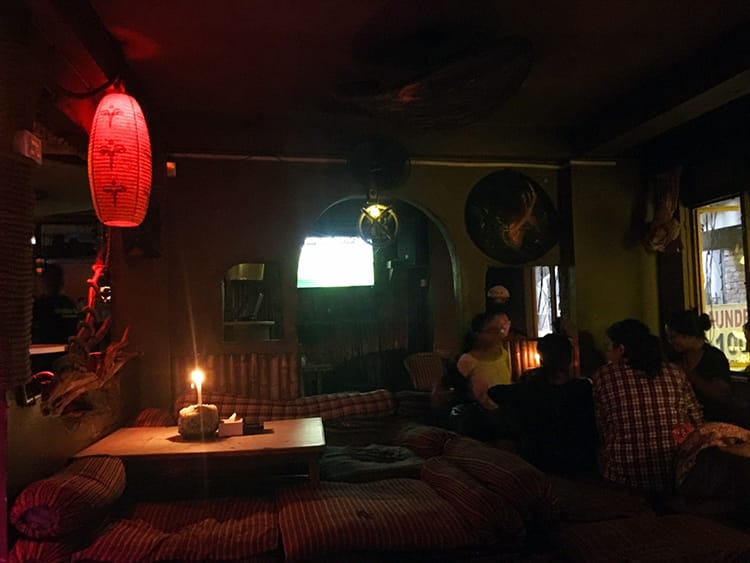 ---
Best Night Life Restaurants
---
Kyampa The Social Hub
Kyampa is located in Sanepa, Lalitpur on the south side of Kathmandu. The restaurant is also a beer garden with small shops by the entrance. It has an eclectic vibe with art for sale in the main dining and picnic style tables outside. They have a wide range of beers including craft beers and local brews that you'll only find in Nepal. We went for lunch and tried a few cocktails which were perfect for a hot afternoon. This is a great casual hangout for drinks with friends. Most drinks range from 400 – 900 rupees and the bar is open until 10pm.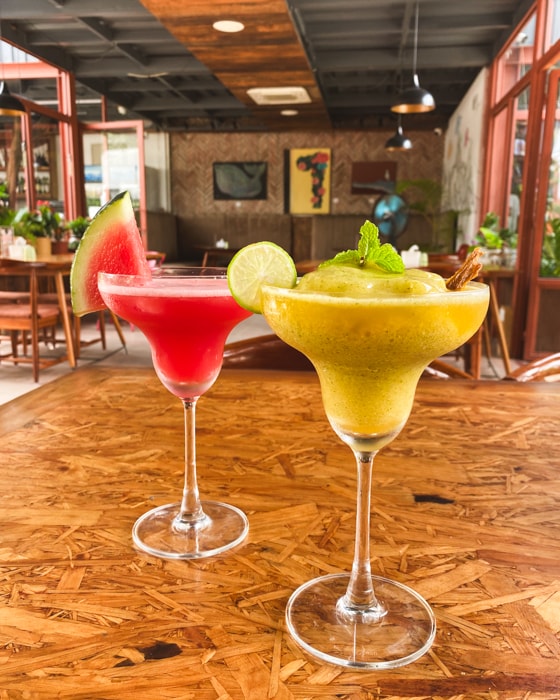 ---
Calm Restro & Bar
A quick 10 minute cab ride from Thamel is Calm Restro & Bar. I was invited by a friend and thought we'd be going to a proper club. When I got there, I was surprised that it had more of a lounge/ restaurant feel. There's a large outdoor seating area which was amazing at night-time. Hookah, drinks, and food are all available. We shared chicken momo, and I had fresh watermelon juice. Overall, it was a great atmosphere to chat with friends and just chill on a Saturday night.
---
Trisara
Trisara has a few locations in Kathmandu, but we chose to go to the one located on Kings Highway near the Palace. The restaurant is large and decorated perfectly from top to bottom with a bit of a high-end jungle vibe. The walls and ceiling are wrapped in bamboo with chic chandeliers hanging from above. Lounge chairs fill the space with tables that are perfect for grabbing a drink or sharing a hookah. On Friday nights, they have a live band, and it's a popular choice for people hanging out before hitting the clubs.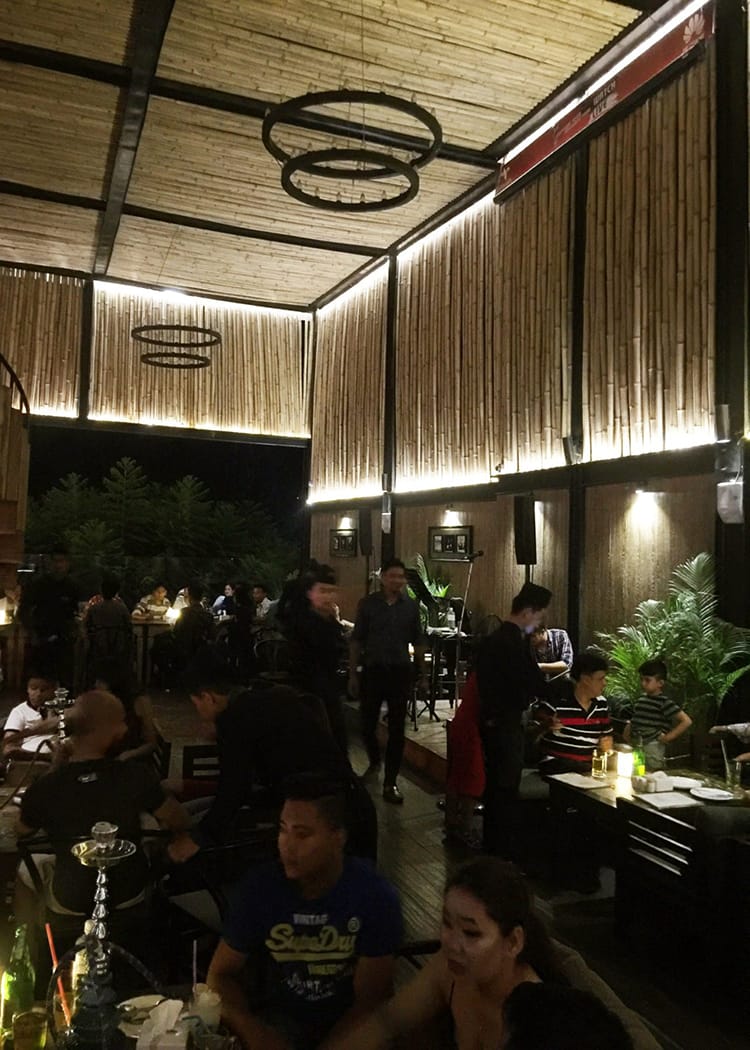 ---
Food Truck Park
On week nights, the Food Truck Park looks like any regular restaurant, but on Friday nights it's the place to be. This is a cool spot to hang out and grab food from a variety of food trucks (the only ones in Kathmandu right now). I'd recommend stopping at Food Truck Park to eat before going out. It has such a good vibe, good food, and it's a great place to meet up before a party. It's outdoors so you get fresh air and music before diving into the club scene. Some nights they have live music. There's a fully stocked bar, so this is also a nice place to just have a drink with friends during the day.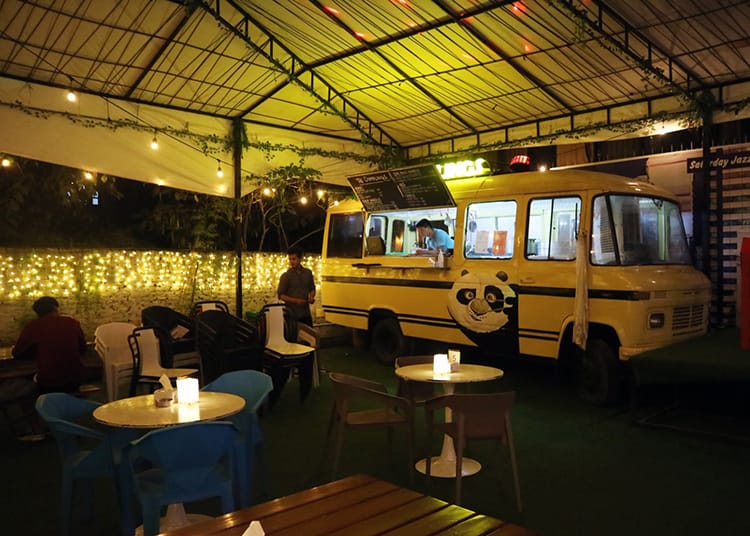 ---
Best Night Clubs in Kathmandu
---
Karma
Karma was my very first night club experience. The main floor allows entry to everyone (with an entry fee), and there is a VIP area above which overlooks the main floor. It's the rooftop deck that reminded me of exclusive clubs in NYC and made me feel (oddly) at home. The roof has cabanas spread across it and highly overpriced bottle service giving it the pretentious vibe everyone wants for their Instagram photos. The view from the roof is beautiful and makes Kathmandu seem almost peaceful.
While the roof was cool, the best place to party was downstairs in the main club where the DJ was really on point. The only thing that reminded me that I was in Nepal was the majority of the people dancing were guys, unlike back home where it's mostly girls on the dance floor. I actually had plans to visit a few other clubs that evening, but we ended up having so much fun that we never left Karma.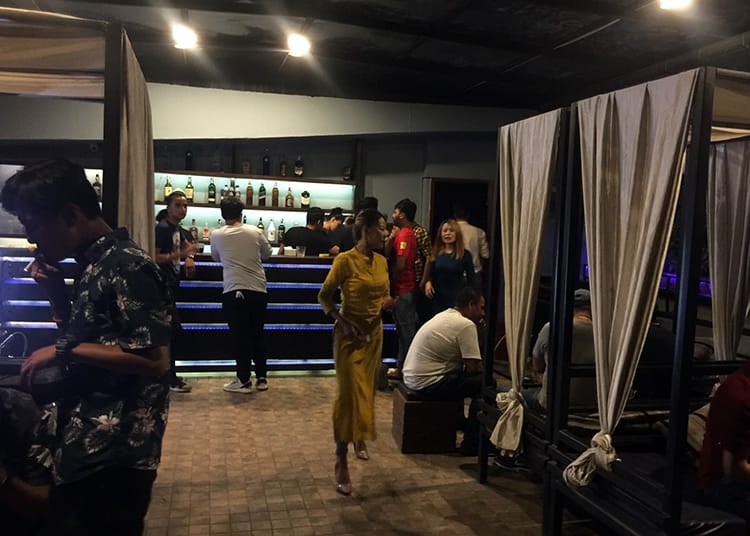 ---
Fahrenheit
I liked this place right away simply because it wasn't called Celsius. I still haven't figured out how to convert F to C, but I digress. Fahrenheit felt a lot more high-end than Karma (mentioned above). We were there before 11:00pm, so it had more of a lounge vibe as everyone seemed to be waiting for someone to make a move towards the dance floor. What I liked about this place was the ambience. The lighting was really cool along with a fog machine and a stage for the live DJ. It also had two floors which were accessible to everyone, giving it a "lounge" area and a "club" area. The place was really large and spacious and didn't feel claustrophobic like some clubs which are dark and dingy.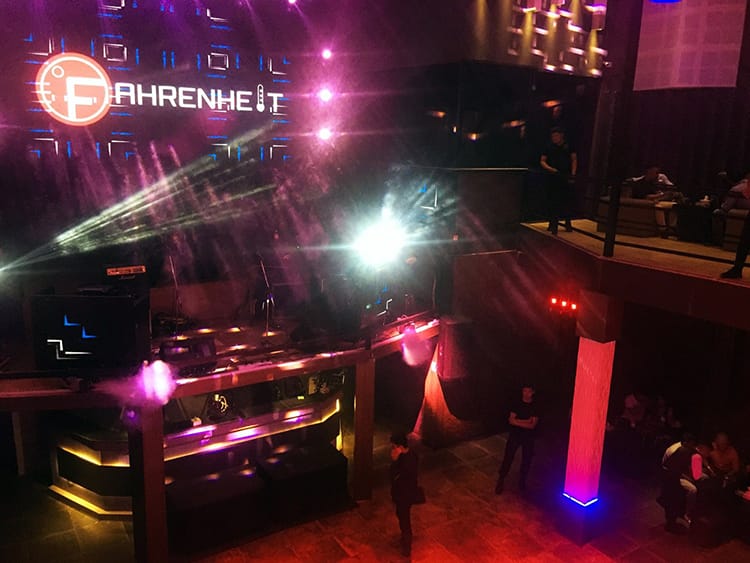 ---
Club Deja Vu
Deja Vu is a quick five-minute walk outside of Thamel (near Kings Highway). This club is by far my favorite, but that might be biased based on the night I went. A friend and I decided to crash a party going on at Deja Vu when a famous German DJ was in town. Entry required tickets that cost at least $50. Somehow, we walked past the crowd of people waiting to get in and convinced one bouncer we belonged there despite our lack of tickets. Then, we were accidentally mistaken for having wrist bands even though they were the wrong color and belonged to the previous club we visited.
We were a few drinks in at this point, and must have been feeling bold because we walked straight up to the VVIP section and the bouncer there let us in without question. I'm still not sure how we managed to get past four bouncers without a ticket. The music was amazing, the people we met were a ton of fun, and I honestly had way more fun than I've had at a club probably ever.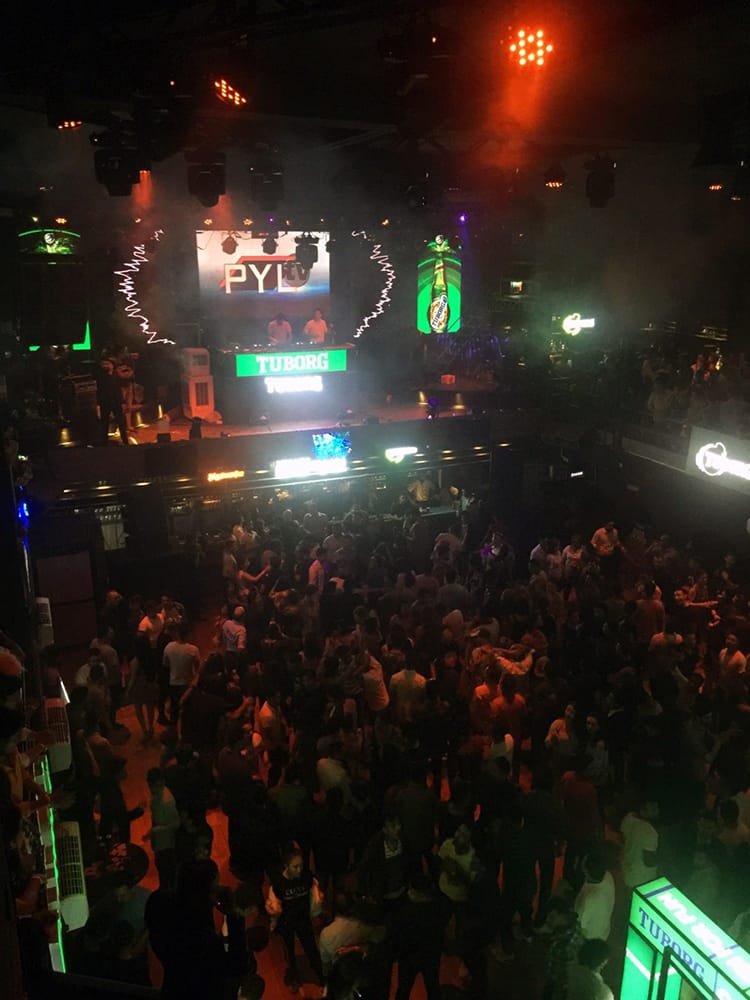 ---
Purple Haze
Purple Haze is famous for its live rock music. The bands that play on Friday and Saturday night are really great, while the weekday bands are more so-so. Downstairs you can sit at large tables and meet strangers or get up and dance. This is where the main concert takes place. In the back, there's pool tables and more of a bar vibe. Upstairs you'll find a balcony and outdoor space. I prefer the upstairs section as it's usually much cooler (downstairs gets pretty hot when it's crowded).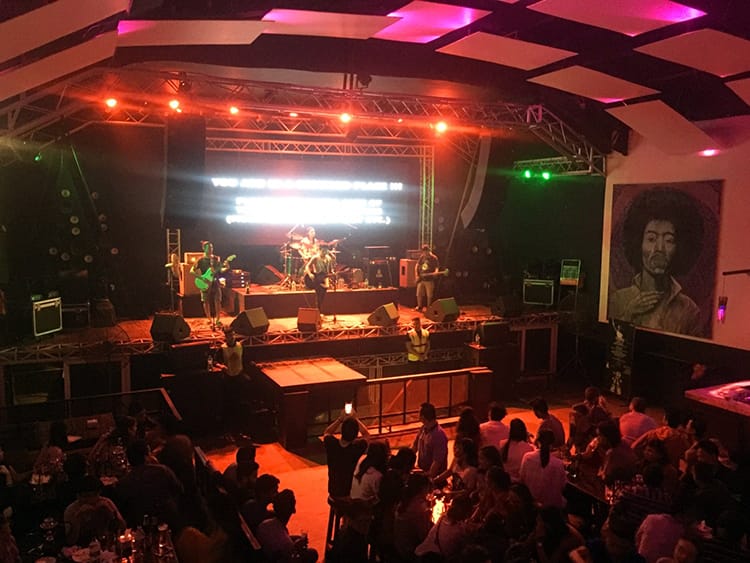 ---
---
More Choices
I didn't get a chance to visit a few places that kept being mentioned by multiple friends. If you're in town, you can also check out LOD or SupperClub which are a club located in Thamel. Some popular bars/lounges in Thamel are Dancing Yak and Sam's.
---
You might also like…