When people think of Southern Thailand, their first thought seems to be the beautiful islands, scuba diving, and the nightlife scene. It's exactly what I thought of Southern Thailand too. It seems to be the hottest new tourist destination, and there aren't a lot of unspoiled spots left. Unless you head to Khao Sok National Park.
Khao Sok National Park isn't totally off the grid. In fact, it's an incredibly cute little tourist destination. The main street, which is one of the only streets, is lined with restaurants, hostels, and tourist information, but it's not overrun. There are so few tourists in the area, that you can actually recognize most of them after spending a day there. On top of that, most people come to do an overnight tour of the lake, so very few people sleep in town for more than a night.
Khoa Sok Village Information
---
Khao Sok Hostel
The fact that it isn't crowded is amazing, but the real gift is that if you spend more than a day here, you become part of the family. It's something I love about Thai culture. They welcome you in as if you've been there all along. Upon my arrival in Khao Sok, the owners of my hostel, and their adorable daughter who can't be more than two years old greeted me. She stole my passport and began reading it like a book, which was pretty adorable. After that she decided to put on my obscenely big hiking boots and walk around in them.
If you want to make friends with the locals, play with their kids. Babies in Thailand are a huge deal, and they adore them so much. Just by smiling and waving at them, the locals automatically like you. It's really sweet. The next day I booked all of my tours through my hostel. They helped me plan every activity I wanted to do, plus my bus ride to my next destination. Now every time I pass the front desk, they wave and ask me how my day is going and what I'm up to today. The best part, it's completely genuine. They really care.
At night, you might even find the whole family gathered; playing badminton, doing yoga, and letting the little kids run around. I sat and watched with them and was automatically handed fruit and snacks while I joined in the fun. Like I said, it's as if you've been part of the family all along.
How to get to Khao Sok National Park
You can easily book a bus and ferry to get to Khao Sok online. You can also arrange this with your hotel/hostel upon arrival.
Khao Sok Secret Restaurant
But it's not just my hostel that makes the place feel at home. There are a few westernized restaurants in town offering burgers and pizza, but I was lucky enough to find a small restaurant attached to a mini mart that only served authentic Thai food. It looked more like someone's home kitchen than a restaurant. The Khao Sok Secret Mini Mart / Restaurant has some of the best food I've had in Thailand.
One woman is the chef, and she makes each dish when ordered. Patience is a virtue here as your order might take an hour to come out, but you can hear her grinding herbs by hand and making every tiny bit from scratch. I decided it was my go to place to eat, and every time I go back she smiles and asks what I'll be having today. It feels like my very own Thai grandma welcoming me in for a meal, and the food never disappoints.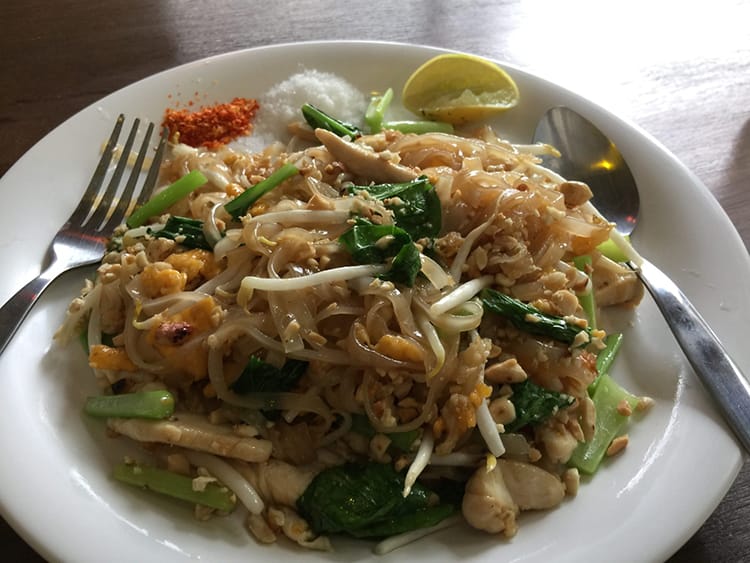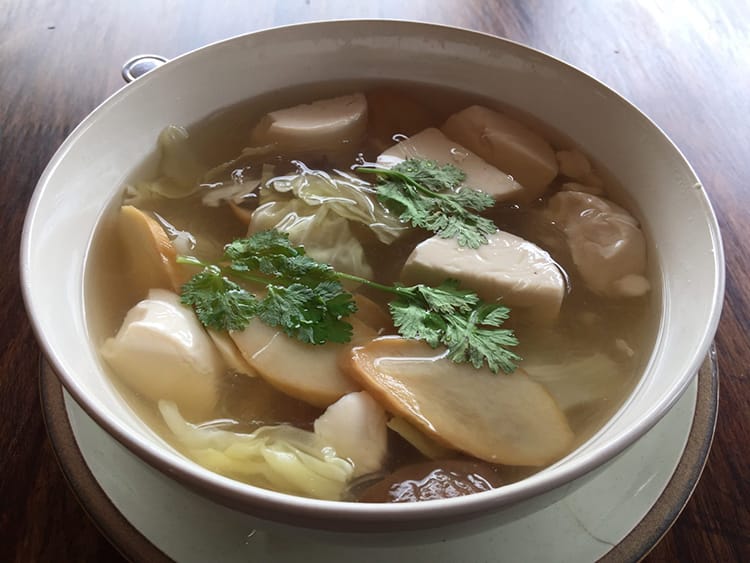 Tubing Down the Sok River
Being as I decided to stay for a few days, I figured I'd book a few small activities. The cheapest was to go tubing. I went to sign up and realized you need at least two people to go. No one else had signed up so I was told to "come back with friends." I told this story to two hilarious Slovenian girls who ended up sharing a room with me that night, and it became the running joke of the evening. If I didn't find someone to tube with, I'd start acting like a tuk-tuk driver yelling at everyone who passed, "Tubing? Tubing? Tubing?"
The next day I was able to join another group who had signed up. Tubing through a jungle might be the most relaxing tourist attraction I've ever taken part in. Each group has a guide who holds onto their tube, so you don't have to worry about steering. The jungle is quiet except for the noises from the animals. We saw monkeys and snakes in the trees, neither of which I'm fond of. Luckily they were pretty far away.
We went through small rapids and even stopped to swing from a rope swing. I read on the tour description that the hostel "does not recommend" using it since it "may not be kept up and the water levels vary". I watched the two guides and one of the men in the group go first. After seeing that it was safe and the water levels were high, (due to monsoon season) I took a swing. It was pretty fun, but I didn't realize how hard I would hit the water so my mouth opened, and I got a mouth full of river water. Yum.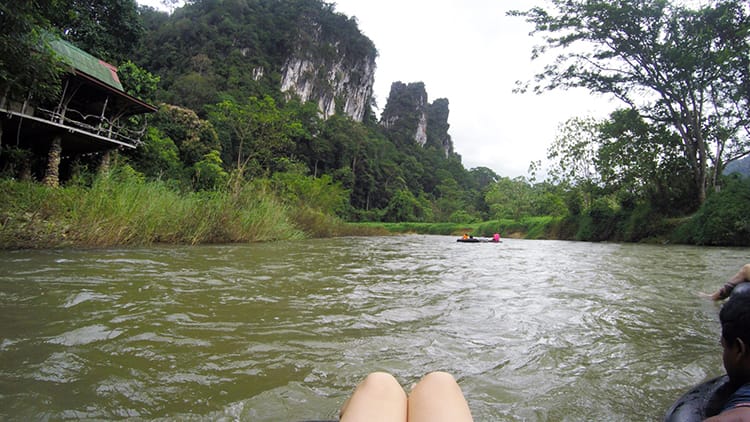 Thai Massage
So, I know Thai massages are available every ten feet in Thailand, but it may come as a surprise that this is where I got my very first Thai massage… and it was AMAZING. Why does any other kind of massage exist? I ended up going right next door to my hostel (Aunchalee Thai Massage Khao Sok) where a lovely lady twisted, pulled, and massaged my limbs into oblivion. It was pure bliss.
She began to massage my head and hit a spot that felt tender. I didn't flinch but she immediately said, "you have headache?" I tend to have mild headaches most of the time, so I told her yes. She massaged the spot on my forehead for a good five minutes and the headache was completely relieved. She did the same thing to several spots on my legs, hips, and arms. She concentrated on places I didn't even know were muscles, nonetheless sore. I left feeling completely revitalized. Now when I pass her store front she waves and asks how I'm doing, making sure my headache has not returned.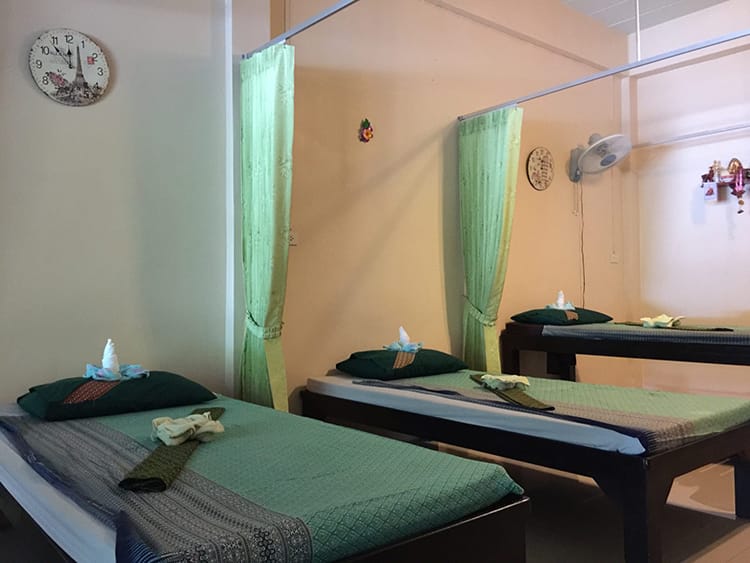 Khao Sok National Park
---
My favorite experiences always seem to be the ones that I don't know that much about. I research everywhere I go, but sometimes you see too many photos and reality doesn't live up to it. Other times, you only get to see a few photos, and you end up being totally blown away in person. That's how my trip to Khao Sok National Park ended up.
I decided to do a two day one night tour of the lake and surrounding areas based on a few tour packages I had seen available. The lake is man-made from a dam and has only been there for 36 years. Meaning this lake is only eight years older than I am! It's kind of crazy to think that underneath the lake lies an entire underwater jungle. Seeing as the lake is fairly new, it's pretty uncrowded and hasn't been overtaken by tourism. There are a few places that have floating bungalows, but otherwise it's miles of nature in every direction.
Long Boat Ride
The tour starts with a one hour long boat ride out to the bungalows. We were extremely lucky to have incredible weather on our first day. It's currently monsoon season in Thailand and this lake is situated right in the middle of a jungle. Translation: it rains a lot. Our first day, we didn't see a drop. The sky was blue, the sun was out, and the turquoise water radiated. Once we were on the boat for a half hour, we got to see the incredible limestone mountains that the area is known for. It was hard to put my camera down because every direction was breathtakingly beautiful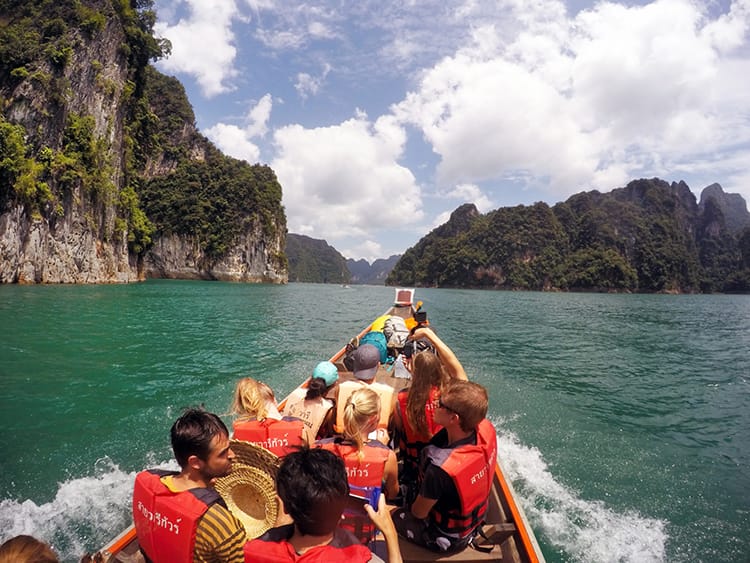 Water Bungalows in Khao Sok National Park
When you sign up for a tour in Thailand, you're never really sure what you're going to get. The water bungalows blew my expectations out of the water. I expected some kind of shack on stilts with no electricity or plumbing. In reality, we each got our own little bungalow with a private bathroom. It was nothing fancy, but it was much more than I anticipated. The bungalows were attached to a giant dock with ladders to swim and free kayaks to take out any time you wanted. Did I mention, we also got four delicious meals?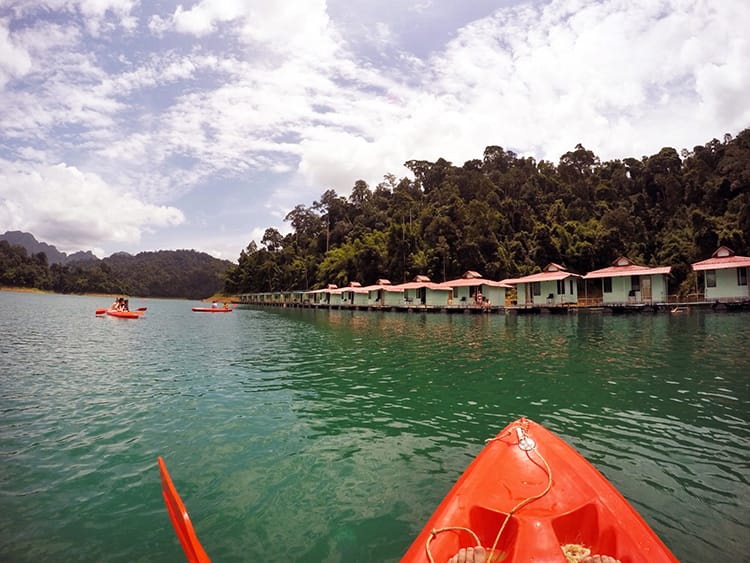 Kayaking
I love kayaking, but I always have a hard time convincing myself to rent one. I don't kayak often enough to go on a long trip and renting one for an hour seems like a waste. Having a free kayak at my disposal might have been the best part of this whole excursion. I did at least three trips over two days, staying close to the camp but still venturing off far enough to have some nice alone time. Bobbing up and down in the middle of the lake and listening to all the noises of the jungle was a highlight.
Jungle Trekking
Trekking isn't exactly my cup of tea. Everything in the jungle looked like a snake to me. Roots of trees, vines hanging down, and even the trees themselves all twisted and turned in weird snake like ways. In a place where king cobras are a risk, I wasn't too fond of wandering around the forest. That being said, I actually enjoyed the hike. It was muddy and wet, but overall a cool experience. We saw a small waterfall and climbed across it. Our guide showed me how to lay on it for a massage which I attempted. I was less successful than he was. The trekking lasted a few hours and made me feel like I was in The Jungle Book.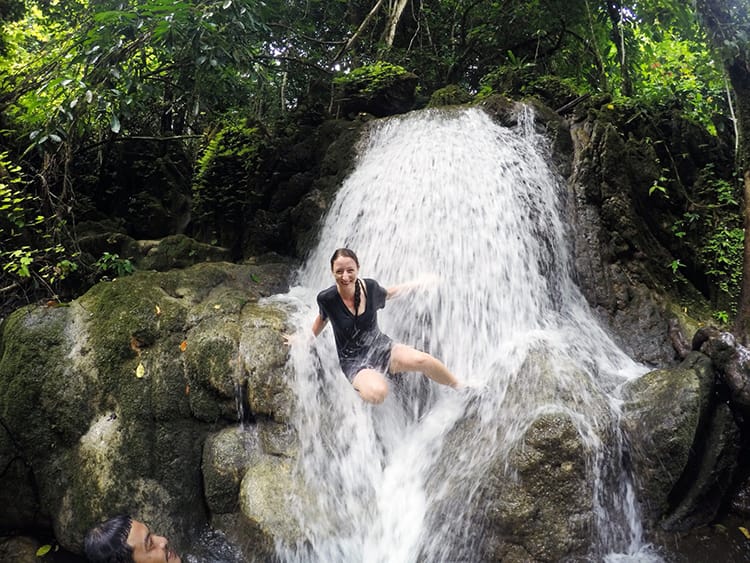 Cave Trekking
Remember that time I said I'd never do a cave trek again? You don't? Well you can read about that here. When I saw the word "cave" on the agenda I had a touch of PTSD, but then I read that it was only a half a mile. We ended up seeing two different caves. One was part of the jungle trek, which involved swimming in the cave. It was extremely easy compared to my last experience. The second cave was called the bat cave and for a good reason. If you looked up, you'd see a few dozen bats flying around the ceiling. I was happy that a very tall Australian guy was in front of me. I figured if a bat was going to fly into anyone, it would probably hit whoever was the tallest. We all came back unscathed, and again, it ended up being a cool experience.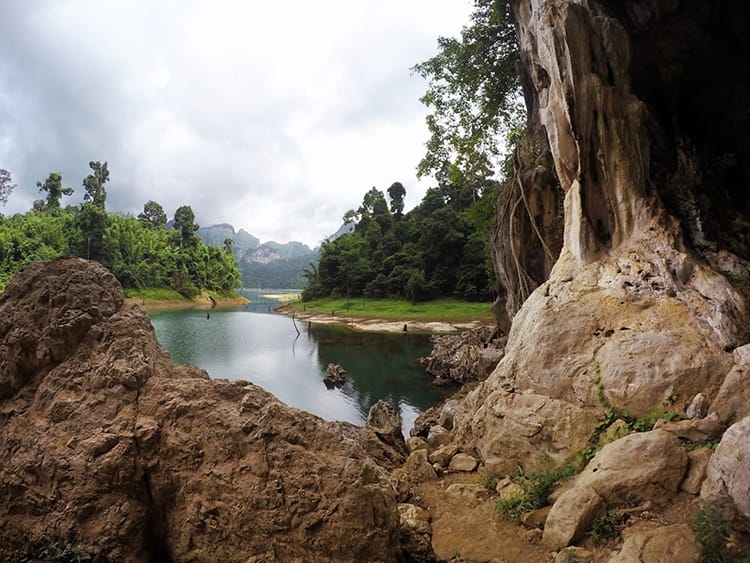 Night & Sunrise Boat Safari
I would go into this experience expecting a quiet and relaxing boat ride. The night safari amounted to little more than a very odd flashlight show on the trees and bushes. We sat silently in the dark trying to see if any animals were in the trees. They weren't. It was nice to listen to all the noises coming from the jungle, but I wouldn't really call it a safari. The sunrise safari was a little more eventful. We saw a family of monkeys and a toucan. They were pretty far away, but it was still interesting.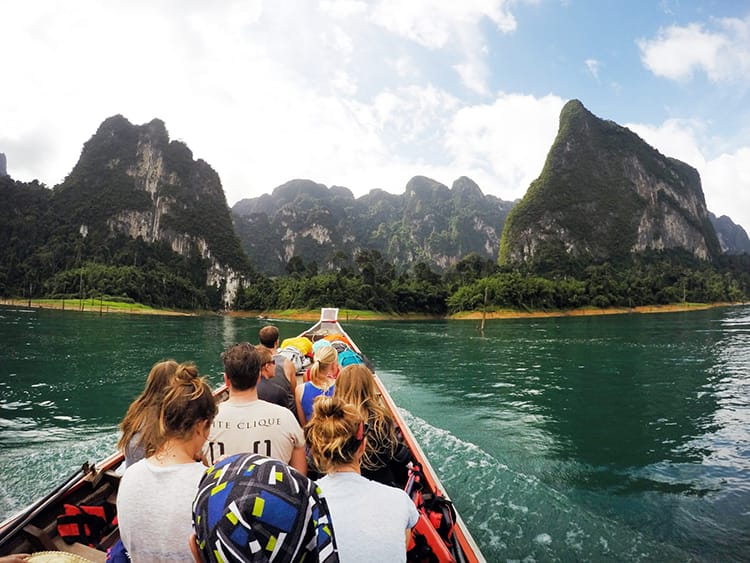 Symbol of the Lake
The symbol of the lake was one of my favorite parts. Three large limestone rocks are where the original village once stood. If you scuba dive underneath, you can actually see the old buildings. The three rocks make you feel like you're on Avatar's planet Pandora. As we floated through, it felt like we were in another world. I half expected a giant blue alien to fly by. It was truly beautiful.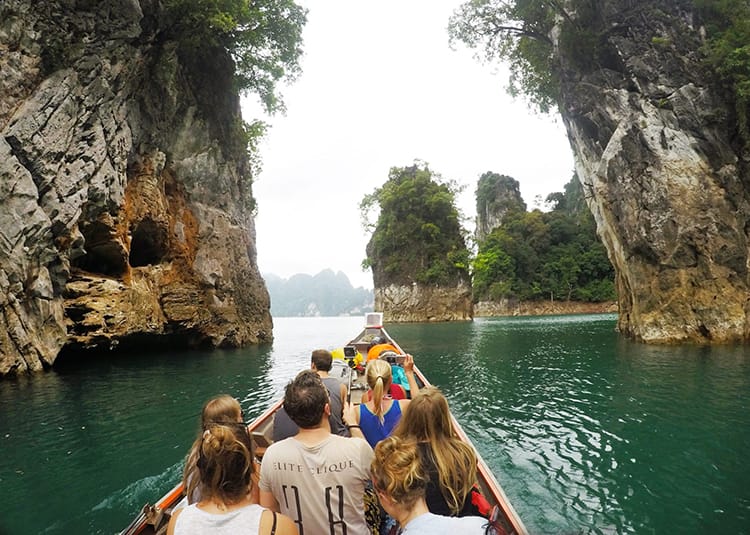 I'd recommend this trip to anyone in Southern Thailand. It was so much more than I expected and I feel like I got a truly unique Thai experience. It was unlike anything I'd done in Southeast Asia before!
---
You might also like…