If you know me, you're probably already laughing at the title of this post. Let's get this part out of the way first… No, I didn't burn anything, and yes, it was edible (mostly). Before setting out on my trip, I decided it would be fun to try to take a cooking class in each country I visit, so taking a cooking class in Chiang Mai, Thailand was high on my list of things to do. Learning about other cultures is a privilege, and I think the number one thing people think of with other cultures is food. It's something easy for us to experience and accessible in other parts of the world. And so, learning to cook the local cuisine seemed like a great way to get a feel for the local life.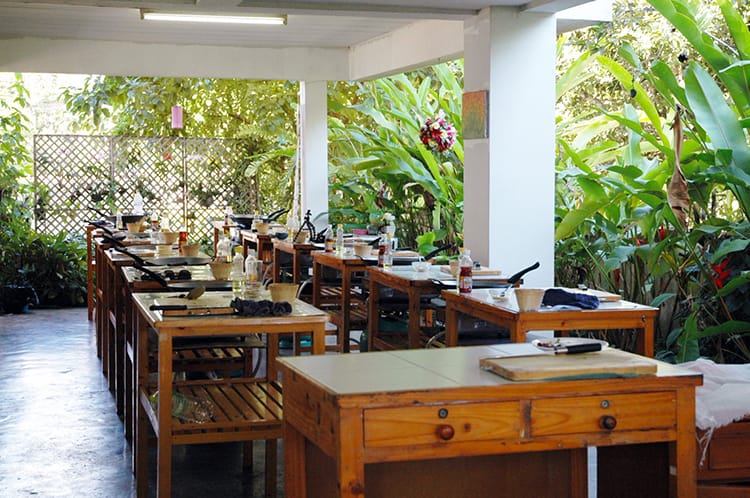 Thai Cooking Class in Chiang Mai
---
My class consisted of about 10 people. There was a young man from Germany, a couple from France and Australia, another couple from the UK and New York, and a group from Idaho and Colorado. I was actually surprised by how loud I'd found the Americans of the group. It felt like reverse culture shock to be around them. I'd only been in Asia for two weeks and already Americans seemed too rambunctious. They were extremely nice, but it took a while for me to adjust to their personalities, and I realized how other cultures must see us.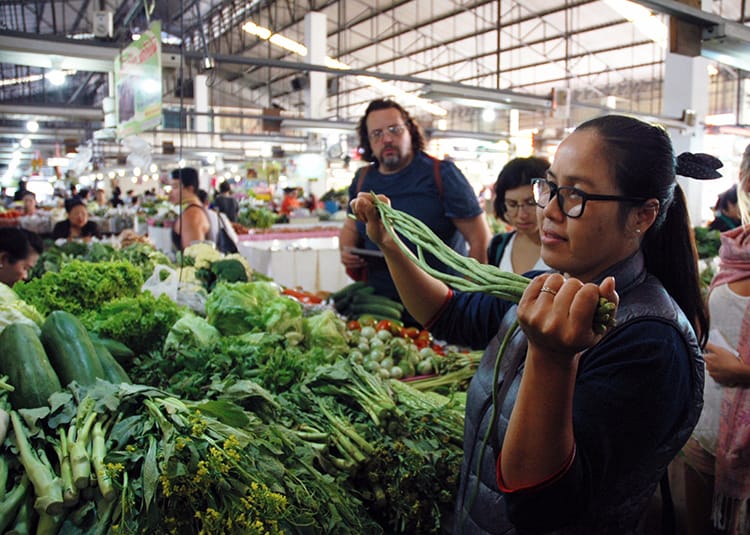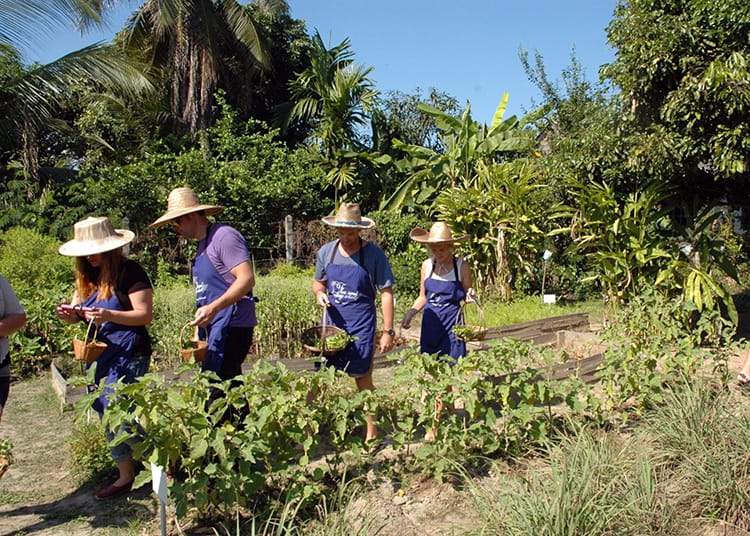 Taking a Market Tour in Chiang Mai
---
We started off at a local market to pick out the items we would be cooking with. We learned about the difference between Thai ingredients and ingredients we would find in our country like Thai ginger vs. regular ginger, and Thai eggplant vs. Italian eggplant. "Everything smaller except the green beans. Green beans bigger here." our instructor said.
---
Picking vegetables from the garden
---
After the market tour, we went to the Thai Secret Cooking School which doubled as the instructor's home. We went to the garden and picked fresh organic produce which we needed for our recipes. The entire experience from start to finish was incredible. Did I mention this only cost $26 (900 baht)! After gathering all of our ingredients, we took a group photo and headed to the work stations. We chopped garlic and scallions. "No need to be perfect. Just chop fast." were the instructions since we were 20 minutes behind schedule.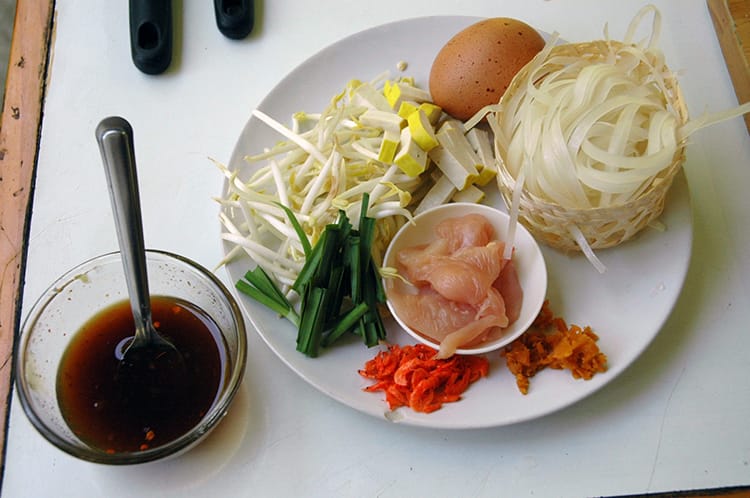 Making coconut chicken soup
---
Next, we received a demo of how to prepare each of the items we'd be making. We each got to choose from a few different dishes and my menu for the day included spring rolls, coconut chicken soup, pad thai, green curry paste, and green curry with chicken. First up was the soup and pad thai. We were handed a plate of ingredients to make one portion and instructed to chop them up specific ways. My plate had two chili peppers and I wasn't sure if I could add less. So, I chopped up both and added them which resulted in delicious but inedible soup for me. "Mild" in Thailand is equal to the hottest you can get in the U.S. So imagine what "Normal" taste like here.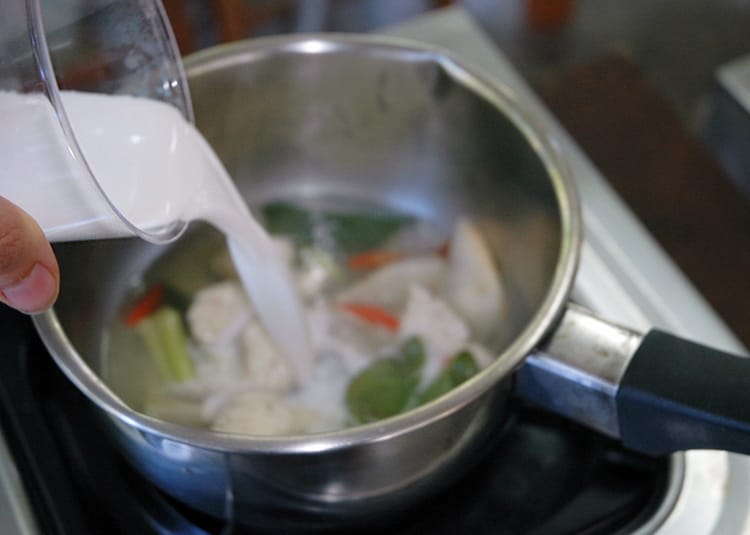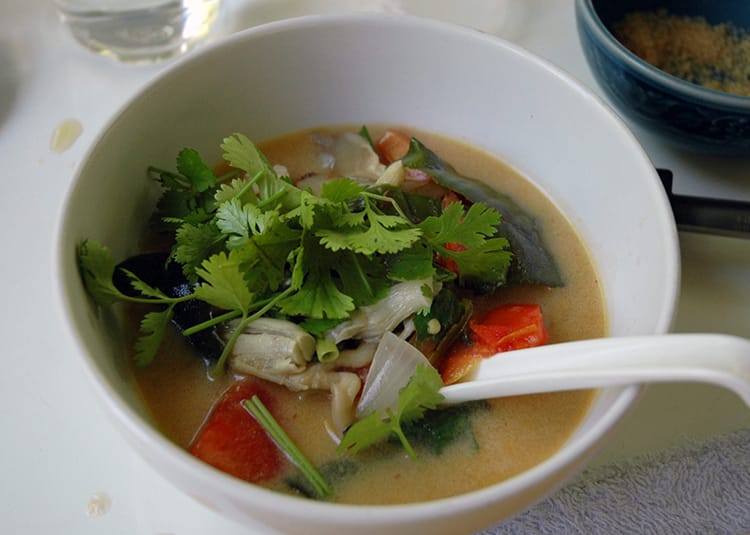 Making Pad Thai
---
I learned my lesson after the soup and added 1/4 of what she told us to for the rest of the day. "No, not hot. This will be too sweet. Use more. It will be good. You like it." she informed me. I hid the rest of my pepper under my garbage when she wasn't looking. Thanks mom and dad for teaching me to say no to peer pressure. With the adjustment to the spices, my pad thai came out AMAZING, better than restaurants in New York. It was some of the best pad thai I'd ever had. Not too fishy. Not too hot. But also not bland. It was perfect, and I was thrilled that I cooked it. Go me!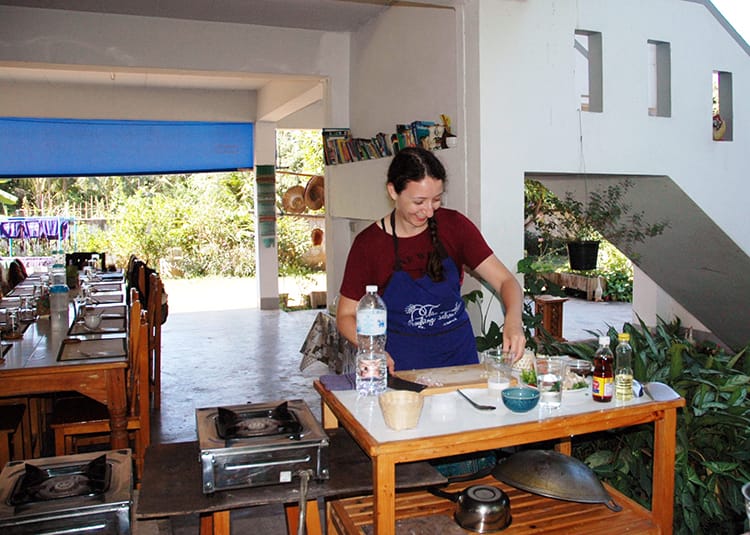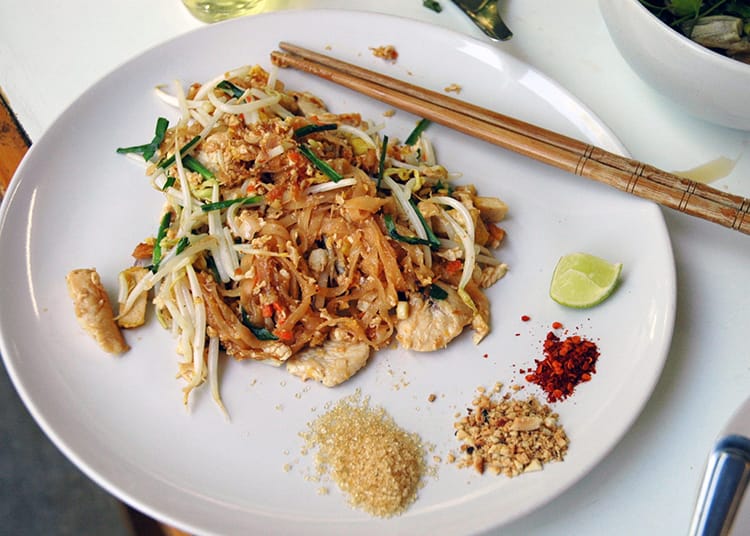 Cooking spring rolls
---
Next up was spring rolls which was a little bit of a team effort. We mixed the filling together and then we each rolled and fried our own. I had a little trouble with the oil which got too hot by the time it was my turn, but other than that they came out amazing. And they were surprisingly easy to make.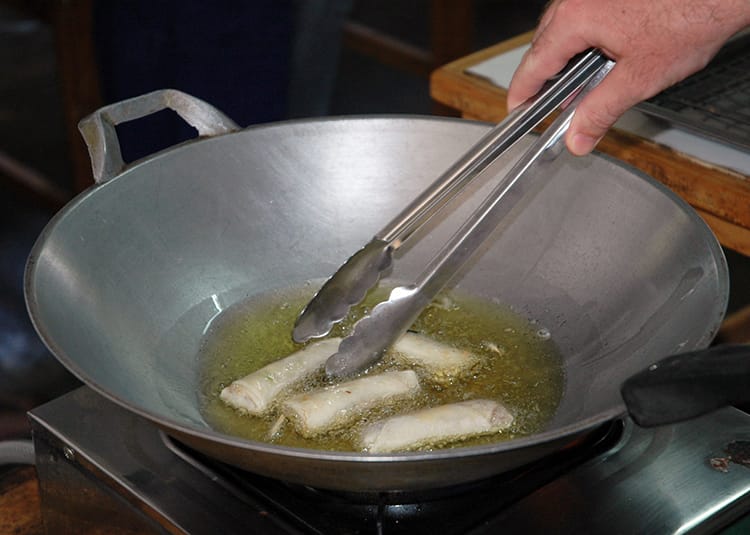 Making curry paste by hand!
---
Last, it was time to make the curry. We teamed up again to make the curry paste. I had opted for the green curry but there were actually three curries being made in the class. Ours took the longest and was a lot of hard work. Five of us took turns grinding the ingredients into the bowl and when we were all exhausted the instructor came by and said, "Very good, halfway there!" We all laughed thinking we were almost done. Making curry is hard work, but it's good for arm definition. We finally got it to the right consistency, which meant it was time to cook again.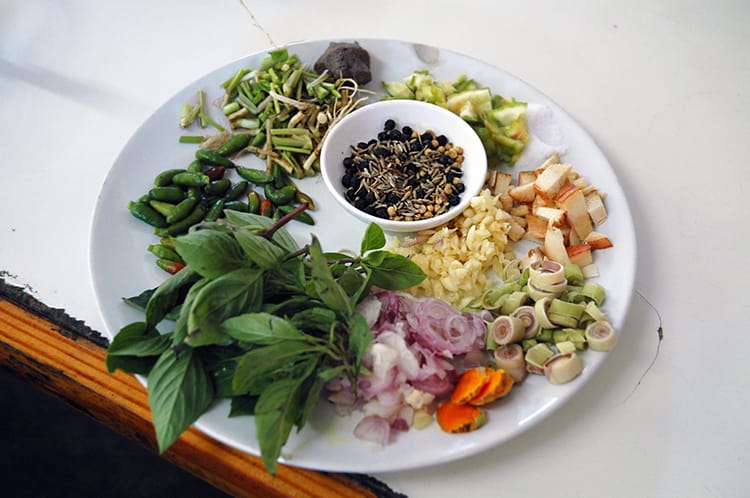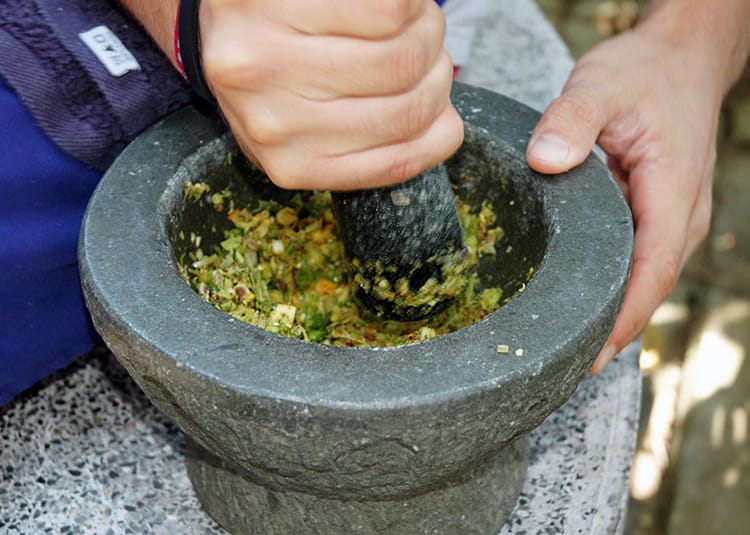 Making green curry with chicken
---
Making curry turned out to be more challenging than pad thai. My heat was on a little too high, so it cooked off too much of the liquid. Again, I cut the amount of spices I put into mine. I put half of the wimpy amount of curry paste and only a tiny sliver of the chili (minus the seeds), and it was still too hot for me. Despite my lips literally turning red and tingly and my mouth being on fire, the food tasted incredible. All of the fresh ingredients made such a difference.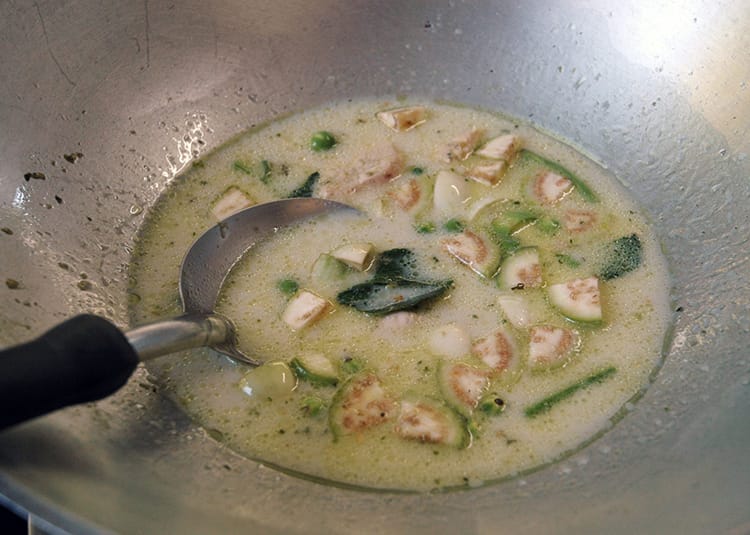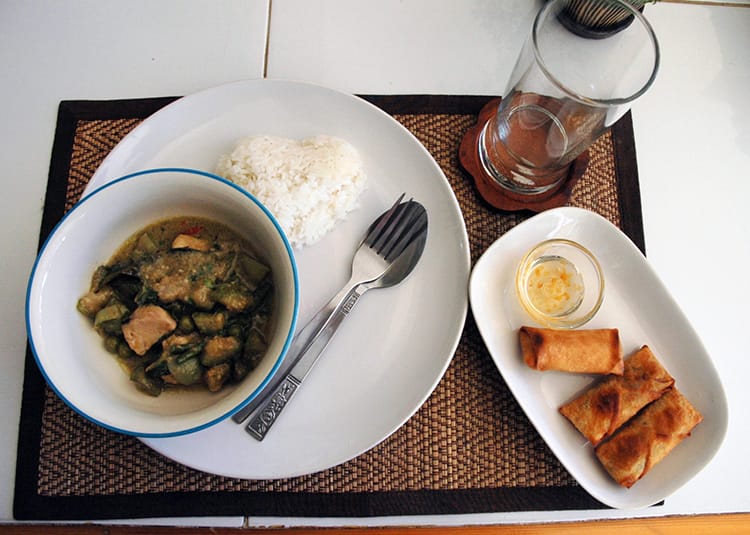 I had signed up for the half day course, but wished I'd done the full day instead. The full day class got to see the rice paddy, make fresh coconut milk, and a dessert of their choice. I would definitely recommend a cooking class in Chiang Mai for anyone visiting Thailand. I had a great experience with Thai Secret Cooking School and would highly recommend them.
Thinking of taking a cooking class in Chiang Mai? Ask any questions in the comments!
---
You might also like…