The Khopra Danda Trek is growing in popularity each year, but it's still one of the least traveled routes in the Annapurna Conservation Area. This is the cost of the trek for two people sharing a room with a seven day itinerary. We tried to stay on a budget, but we also weren't too stingy. If we wanted something, we ordered it. Therefore, it's possible to do this trek for less, however, you would need to choose the cheapest thing on the menu rather than ordering what you want. Here is a breakdown of the Khopra Danda Trek cost.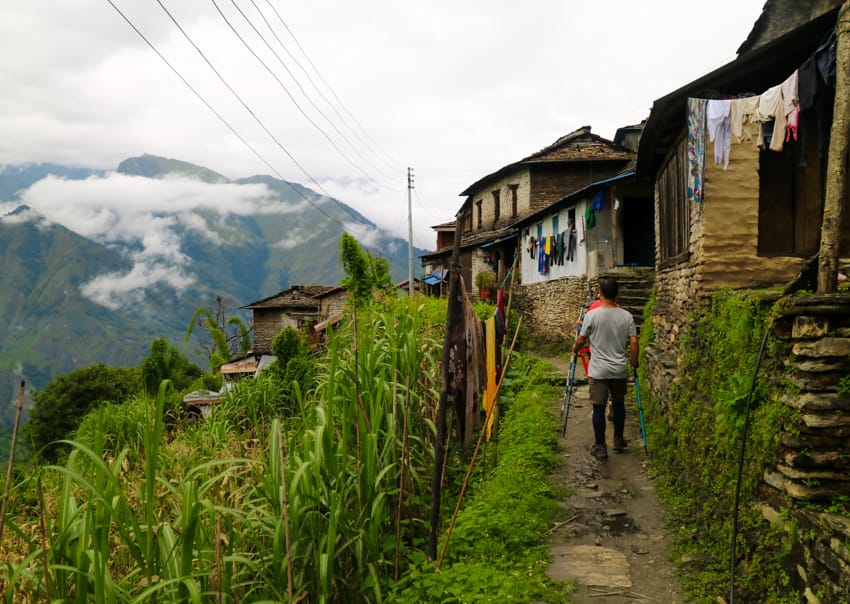 7 Day Itinerary
---
We found the six day itinerary to be difficult and not as enjoyable, so we ended up breaking it down into a seven day itinerary. This broke up the first two days as well as the day from Ghorepani to Upper Chistibang. Most people go directly there, but we also wanted to see Poon Hill at sunrise, so we added that in and split the days to make it an easier walk. You can complete this trek in as little as 5 days or as many as 8 days. Therefore, you can budget according to how many days you plan to walk.
Day 1 – Pokhara to Tikhedhunga by jeep, Tikhedunga to Banthanti
Day 2 – Bathanti to Ghorepani
Day 3 – Sunrise hike to Poon Hill, Ghorepani to Swanta
Day 4 – Swanta to Upper Chistibang (Dhan Kharka)
Day 5 – Upper Chistibang (Dhan Kharka) to Khopra Danda
Day 6 – Khopra Danda to Khayer Lake to Khopra Danda
Day 7 – Khopra Danda to Gharkholagaon, Gharkholagaon to Pokhara by jeep
Check out this post for my full Khopra Danda Trekking Itinerary.
---
Daily Khopra Danda Trek Costs
---
Breakfast $8.00 – We typically order the set breakfast which comes with coffee, eggs, bread, and potatoes. It's filling and gives you energy for the trek ahead. This trek has some long days, so breakfast is important. We spent an average of $8 USD for both of us to have breakfast each day.
Lunch $9.50 – For lunch, we usually ordered vegetable dal bhat. This is extremely filling and gives you lots of energy. It also comes with free refills which makes it an economical choice. For both of us to have lunch, it costs about $9.50 USD a day.
Dinner $10.00 – At dinner time, we ordered dal bhat. A few times we had chicken dal bhat. We also ordered tea with dinner some nights, so dinner cost a little more than lunch.
Snacks $2.50 – Snacks typically consisted of tea breaks during the walk. For two cups of tea, it costs less than $3 USD a day.
Accommodations $5.00 – We stayed at local teahouses. In some villages, there was only one option. Teahouses range from 500 to 600 rupees on this route, so we spent about $5 USD a night for two people to share a room.
Transportation $10.00 – We went in the off season, and it was hard to find people to share a jeep with so we ended up hiring a private vehicle which is more expensive. If you broke the cost down into 7 days, it equaled $10 USD a day, however you could easily save money here by sharing a jeep with a group.
Permit $7.50 – The ACAP permit costs $26 USD per person for a single entry into the park. For two permits over the course of seven days, it breaks down to $7.50 per day.
Optional Costs
Porter $19.00 – Porters typically charge 2000 rupees a day and a 10% tip is expected. Therefore, it costs about $19 USD per day for a porter. If you pack lightly, a porter can typically carry stuff for two trekkers.
Guide $38.00 – A guide typically charges 4000 rupees a day and a 10% tip is expected. Therefore, it costs about $38 USD a day for a guide. However, this is the price whether you have one person in the group or five. So you can split this cost among your group members.
---
Khopra Danda Trek Costs Over 7 Days
---
Breakfast $48.00 – Breakfast was included with our hotel in Pokhara the first day, so that is not included in the budget.
Lunch $66.00
Dinner $55.00 – We ate dinner in Pokhara the last night, so that's not included.
Snacks $17.00 – This is mostly the cost of tea. We brought trail mix and snacks with us and that isn't included in the budget.
Accommodations $28.00 – This is for the 6 nights of the trek. It does not include the cost for a hotel in Pokhara on the seventh night.
Transportation $70.00 – You can save money by taking the bus or sharing a vehicle with other travelers rather than a private jeep.
Permit $52.00 – Each permit costs about $26 USD.
Optional Costs
Porter $135
Guide $270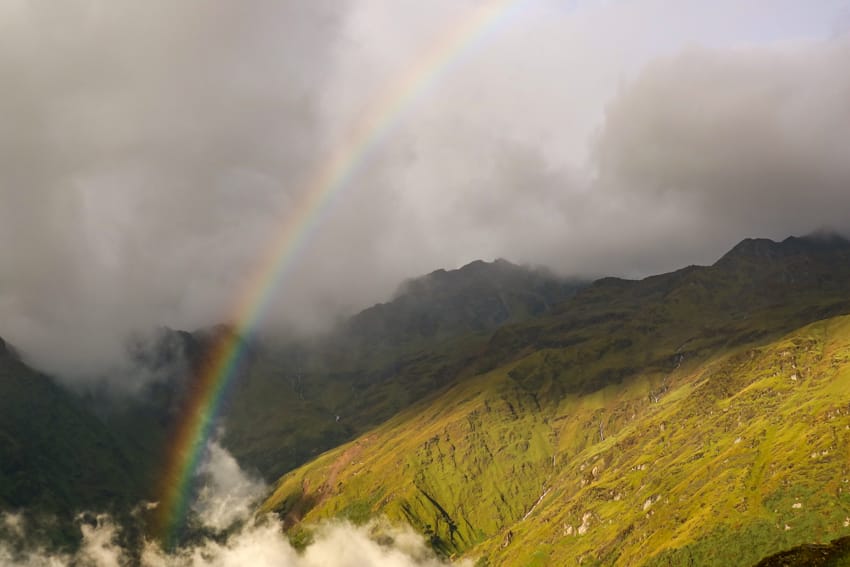 ---
Total Cost for the Khopra Danda Trek
---
(For two people sharing a room)
We hired a porter since I have a bad knee and Suraj has a bad back. Therefore, we spent about $470 for two people over the course of seven days. That ended up costing about $67 a day for both of us or $33.50 per person per day. We usually try to stick to a $30 a day budget, so we only went a little over that. This trek is difficult to navigate, so I highly recommend taking a local porter or a guide so that you don't get lost. I wouldn't recommend doing this trek by yourself. Since it is less traveled, there are more wild animal sightings including bears. We also heard stories of a few travelers going missing and never being found. It's best to have a local with you and to spend a little more money.
Solo – $340
With a porter – $470
With a guide – $605
With a porter and guide – $740
---
How much money to take on the Khopra Danda Trek
---
The trekking routes in Nepal do not have ATMs or banks. Therefore, you should bring at least $150 – $200 extra in case of an emergency. It's also a good idea to have smaller bills. I recommend carrying a variety of bills including 1,000, 500, 100, and 50. Since some of the teahouses don't get that many tourists, we found it difficult to get change. ATMs in Kathmandu only give 1,000 rupees notes so we made the mistake of not bringing change with us. Bringing small notes makes it easier for the locals especially on tea breaks where you might only spend 100 rupees.
Don't see the information you're looking for regarding the Khopra Danda Trek cost? Ask me in the comments
---
You might also like…