Packing for a trek can feel overwhelming. Especially if it's in a country you've never been to before. I've done a lot of trekking in Nepal and have got my packing list down to the perfect weight while keeping everything I need in it. The Khopra Danda trek doesn't go too high in altitude, but it does get cold at night. Packing the right amount of warm weather and cold weather clothes is the key to a successful trip.Here's what I packed for the Khopra Danda trek.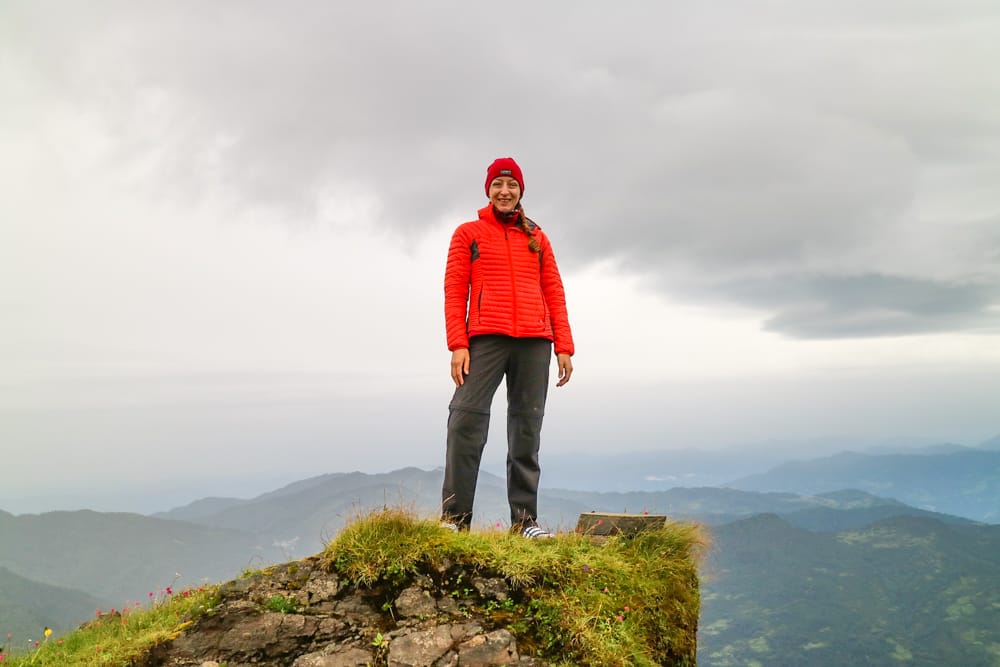 Khopra Danda Trek – Backpack & Storage
---
Pro Tip: Take everything out one week in advance. Each day before the trek, go over what you packed and see if you really need it. If you pack at the last minute, you'll likely add impulse items that are heavy and unnecessary.
---
---
---
---
Plastic Bag for Laundry
I bring a simple grocery store plastic bag for laundry to keep it separate from my other clothes. I only put dirty underwear in it as the larger items like pants and shirts will be worn more than once. A plastic bag adds no weight and doesn't take up any room.
---
Khopra Danda Trek – Clothing & Accessories
---
---
---
---
---
---
---
---
---
---
---
---
---
---
---
---
Underwear
I hate doing laundry when I trek, so I pack a pair for each day. Doing laundry isn't so difficult, but if they don't dry by the time you leave in the morning, you have to hang them on the outside of your bag which isn't ideal.
---
Sports Bras
I have one bra to wear during the day, and one to change into once we arrive so that I'm not wearing a sweaty one as it gets cold at night.
---
Flip Flops
I have a pair of very lightweight flip flops. These aren't necessary; however they make life a lot easier. When you get to a teahouse, it feels so good to kick off your hiking boots. Also, it's much easier to pee at night because you don't have to lace up your boots. You can also wear them in the shower.
---
Khopra Danda Trek – Toiletries
---
Pro Tip: Think about the weight of every item when you choose it. On my first trek I packed a full sized toothpaste, a heavy hairbrush, and so many excessive items. Find the lightest and smallest version of everything.
---
---
---
---
---
Hand Sanitizer
There isn't always soap available by bathrooms, so be sure to have hand sanitizer.
---
Deodorant
Pack a small travel sized deodorant.
---
Roll of Toilet Paper
You will not be provided with toilet paper so bring your own. One roll per person is enough for this trek. You can buy toilet paper in the mountains but it's more expensive.
---
Feminine Hygiene
It's hard to find pads in the mountain and impossible to find tampons in Nepal, so bring what you need with you.
---
Hair Care
Bring hair ties and a lightweight travel hairbrush (or comb). Don't make the mistake of packing a heavy brush.
---
Shower Supplies
Bring a small travel sized bottle of shampoo, conditioner, and shower gel. If you bring soap, make sure to have a plastic zip lock bag to store it in after using it.
---
Khopra Danda Trek – Medication & First Aid
---
---
---
---
---
---
---
---
---
---
---
---
Khopra Danda Trek – Electronics
---
---
---
Travel Adapter
You'll likely need an adapter to charge things. This one is lightweight compared to chunkier options.
---
---
---
---
---
---
Khopra Danda Trek – Snacks
---
---
---
Other Items Needed for Khopra Danda
---
---
---
---
---
---
Are you headed out on the Khopra Danda Trek? Let me know if you have any questions in the comments.
---
You might also like…