Paudwar village was an unexpected stop for us along the Khopra Danda Trek. While in Khopra Danda, we talked to the owners of the teahouse and many of them came from the village of Paudwar. They spoke about the village so lovingly that we knew we had to visit and have lunch there the next day. When we arrived, I could understand exactly why they loved their hometown so much. It has that old mountain village beauty that only exists in the Himalaya. Winding alleys formed by stone buildings. Kids running through the narrow lanes and laughing. Women wearing bright colors and men chatting on verandas. This is Nepal.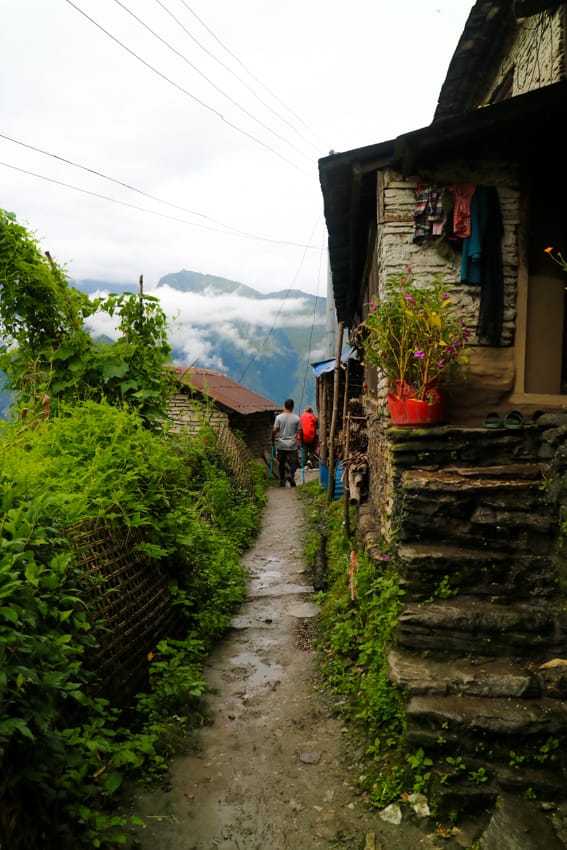 Brief History of Paudwar, Nepal
---
Paudwar village is believed to be at least 300 years old. The area is inhabited primarily by the Magar people who have recently opened a small Magar Museum to share their heritage with others. In the late 1990's, tourists began to travel though the area. Back then, there were no teahouses for them to stay in, so they often camped out. Today, the village receives about 20-30 visitors a day during the peak season making this an off-the beaten-path destination for tourists if you compare it to Ghorepani which receives about 700 visitors a day.
The village of Paudwar has retained its original look and feel with gorgeous stone buildings and winding alleyways. The villagers are kind with glowing smiles. This is a fantastic place to spend a night. If you want to experience Magar culture, I'd recommend visiting during the months of October and November so you can witness it during festival season.
---
Paudwar, Nepal City Guide
---
Major ethnicity:
Major Religion:
Hindu and Buddhist
Language:
Nepali and Magar
Paudwar Altitude:
2,000 m (6,561 feet)
Oxygen Concentration:
80% when compared to 100% at sea level
Best Time of Year to Visit Paudwar:
Locals say it's best to visit during peak trekking season including October, November, March and April. This time of year has the easiest trekking conditions and the best views.
Location:
Paudwar village is located northwest of Pokhara and to the southeast of the Annapurna mountain range. It's located within the Annapurna Conservation Area. Paudwar is located just west of Khopra Danda and is a popular stop on the Khopra Danda Trekking route.
How to get there:
To get there quickly, you can take a jeep to Gharkholagaon (just south of Tatopani) and walk for one day. Most people go there as part of the Khopra Danda Trek and stop in Paudwar for lunch or for an overnight stay on their way back to Tatopani on the 6th or 7th day of the trek.
Entry Permit:
Paudwar does require an entry permit as it is located within the Annapurna Conservation Area. The ACAP permit is 3,000 rupees (less than $30 USD) and is good for a single entry into the conservation area. Permits can be purchased at the Nepal Tourism Board offices in Kathmandu or Pokhara.
NTC service:
4G with 2-3 bars
Ncell Service:
No service
What to Eat
Locals recommend trying some of the local dishes such as dhido which is used in lieu of rice and is served with dal baht (lentil soup), spinach, and vegetable curry. Items that are grown locally include barley, millet, and corn.
---
Things to do in Paudwar
---
Magar Museum – Just across from the school is a museum dedicated to Magar culture. Something I really enjoyed about the Khopra Danda trip is that we went to several small museums along the way. I love seeing people preserve their culture and having it on display for those passing through to learn about. I hope this is becoming a trend in villages because these small museums are unique and interesting.
Mountain Views – Paudwar has views of Dhaulagiri and Tukuche Peak. On a clear day you can sit back and enjoy the great views.
Khopra Danda Trek – This area is becoming famous for the Khopra Danda Trek which offers epic views from 3,660 m. It's a long one day walk almost entirely uphill from Paudwar. Most people go in the opposite direction and head back to Pokhara by going from Khopra Danda to Paudwar and either spending a night or eating lunch there.
2,000 Year Old Tree – There's a tree just outside the village that is believed to be 2,000 years old. Underneath the tree are temples and this is where special puja's (religious ceremonies) are done. Festivals are also celebrated here.
---
Paudwar Teahouses
---
Types of accommodation:
Teahouses
Number of accommodations:
There are currently 3 teahouses in Paudwar
Our choice:
Dhauligiri Hotel
Price of a Room:
500 rupees ($5.00 USD)
Price of Veg Dal Baht:
500 rupees ($5.00 USD)
Electricity:
There is electricity and it's free to charge electronics.
Toilet Situation:
There is a squat toilet which is located outside the main building.
Shower:
Showers are available for 100 rupees ($1.00 USD)
Wifi:
There is no wifi available at this time.
---
Paudwar, Nepal Photography
---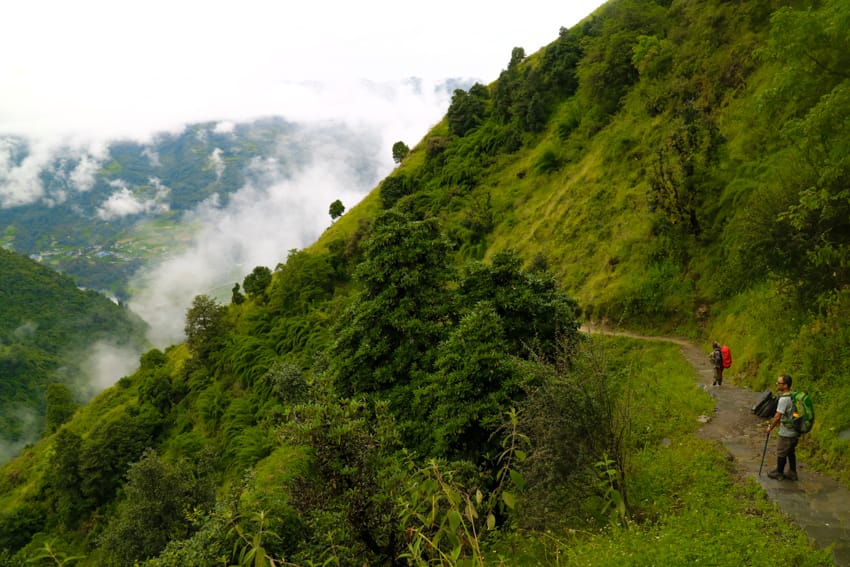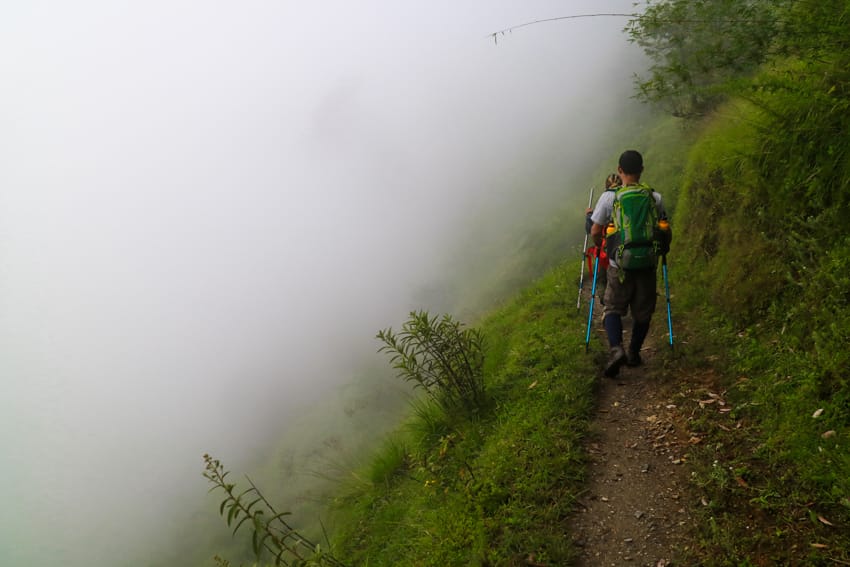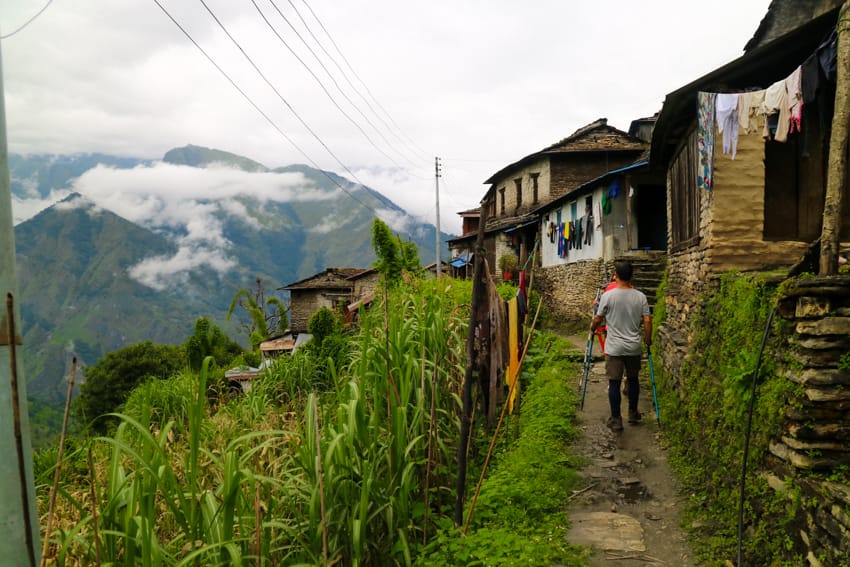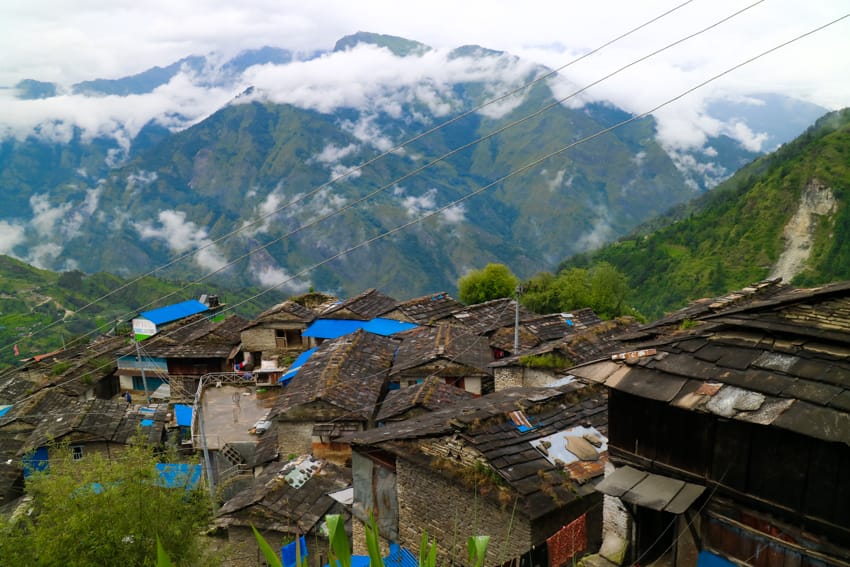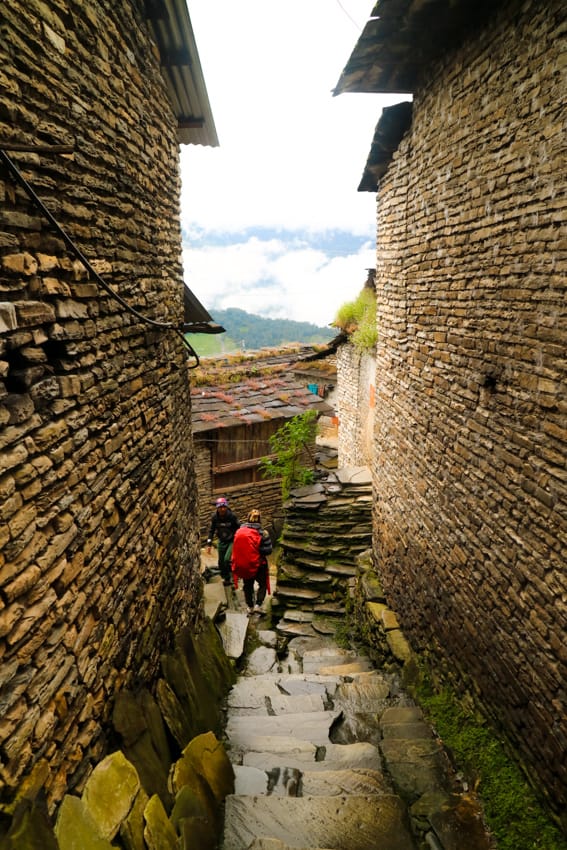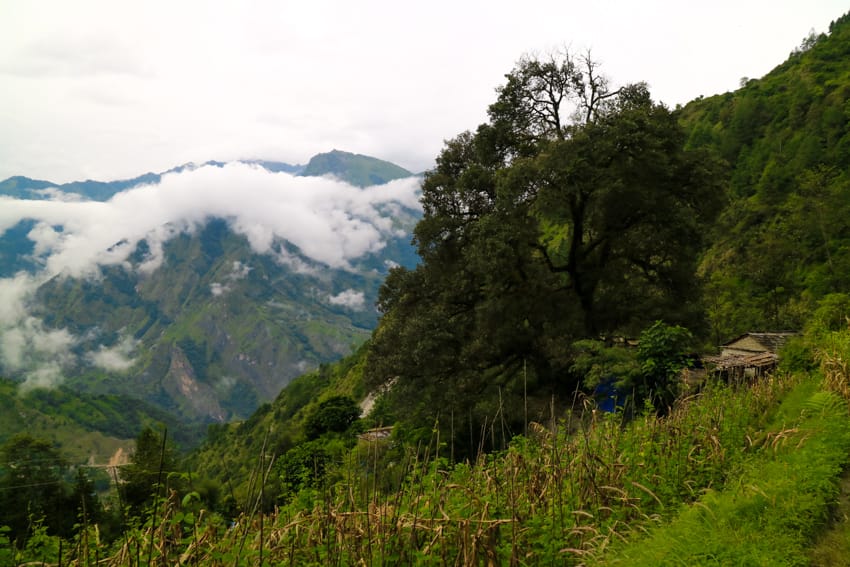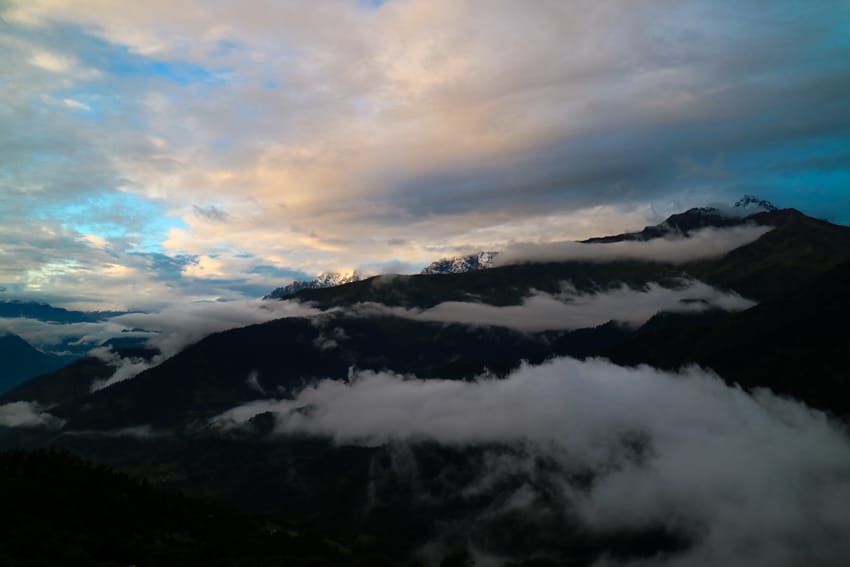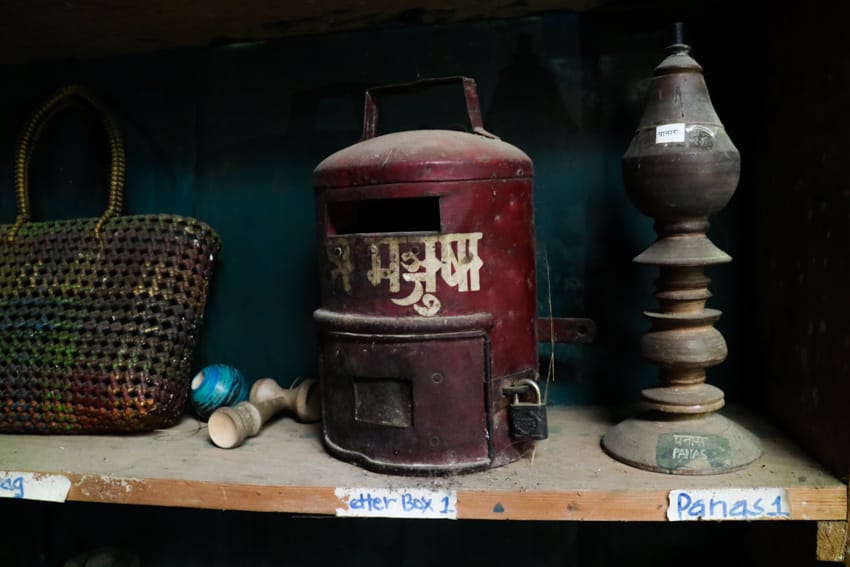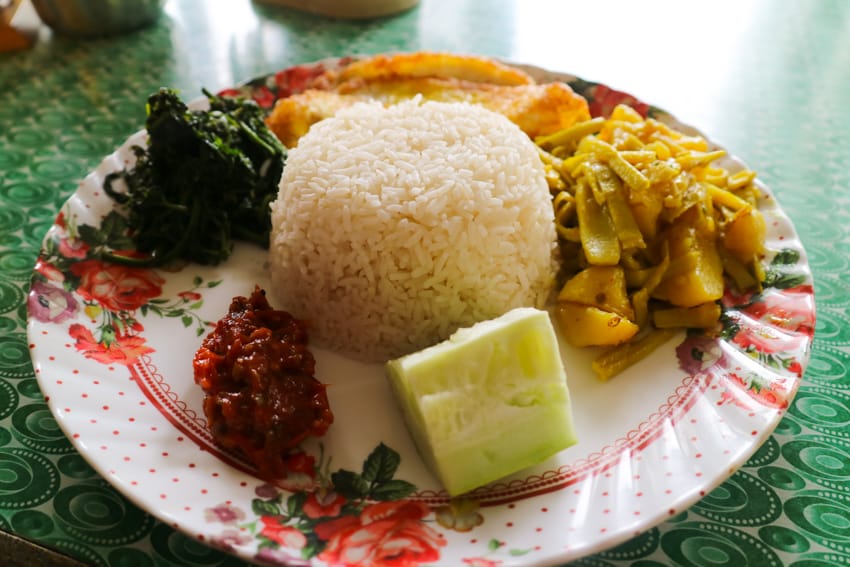 ---
You might also like…