Lama Hotel is a major stopping point along the Langtang Valley trekking route. Some confusion follows this village because the name implies it's a single hotel, but the village of Lama Hotel is actually more than one building. It's conveniently located between Syabrubesi and Langtang Village making it the perfect place to spend the first and last night of the trek. Here's everything you need to know about Lama Hotel.
Brief History of Lama Hotel, Nepal
---
Lama Hotel doesn't have a very long history. The town was created almost entirely for tourism about 30-35 years ago (in the 1980's). Most of the people who have hotels in the village are from Langtang Village which is one stop further on the trekking trail. The locals come here for peak travel seasons to open the teahouses and return to Langtang village in the off season. Since this area is in Langtang National Park, they technically don't own the buildings which belong to the government.
---
---
Lama Hotel Village Guide
---
Major ethnicity:
Lama Tamang
Major Religion:
Buddhism
Language:
Tibetan, Nepali, Tamang
Population:
About 15-20 people
Lama Hotel Altitude:
2480 m (8,136 feet)
Oxygen Concentration:
75% compared to 100% at sea level.
Best Time of Year to Visit Lama Hotel:
As far as weather and clear skies, the locals say it's best to come in October and November although it is a little colder. The second best option is March and April when you get good views and the beautiful flowers are in bloom including the national flower, the rhododendron.
Location:
Lama Hotel is located within Langtang National Park. It's north of Kathmandu and south of the Langtang mountain range and Tibet. The small village sits along the Langtang River.
How to get to Lama Hotel:
Lama Hotel is a one day walk from the closest major highway which leaves you in Syabrubesi. This village can only be reached by foot. There is no road that reaches here.
Entry Permit:
Foreigners are required to have a 3,000 rupee ($26 USD) entry permit for Langtang National Park. You can buy the permit in the Nepal Tourism Board office in Kathmandu.
NTC or Ncell service:
There is no cell service in the area.
Things to do in Lama Hotel:
There aren't many things to do in Lama Hotel since the area was built specifically to give tourists a place to sleep. The walk to get here is long and tiring, so most people just sit by the river to relax, read a book, or play cards by the fire in the evenings.
---
---
What to Eat in Lama Hotel
---
Yak Milk Products – There is a yak cheese factory in Kyanjin and the cheese there is very famous. With all the yaks in the area, you can try Kyanjin yak cheese, yak milk, and yak curd (yogurt).
Interesting Drinks – Sea buckthorn juice is made from a local berry like fruit and is packed with vitamin C. Himalayan flower tea is available in some places and is made from local dried flowers. Butter tea is a Tibetan drink which is salty in taste and good for warming you up in the cold.
Local Dishes – Tingmo is a dough tied into a knot and steamed. It reminds me a little of Italian garlic knots. They are served with a local curry. Many people like to dip them into the curry so that they absorb the flavor.
---
---
Lama Hotel Teahouses
---
Types of accommodation:
Teahouses which are basic accommodations.
Number of accommodations:
There are seven teahouses in the village.
Our choice:
Hotel Jungle View
Price of a Room:
500 rupees (about $5 USD)
Price of Veg Dal Bhat:
600 rupees (about $6 USD)
Electricity:
There is electricity and if there is enough solar power, you can charge a phone or device for free.
Toilet Situation:
On the top floor of the building there was a shared western toilet inside. On the ground floor, there was a squat toilet available, but you had to walk outside for a few moments to get to it.
Shower:
It costs 250 rupees (about $2.50 USD) to take a hot gas shower.
Wifi:
There is currently no wifi in the area.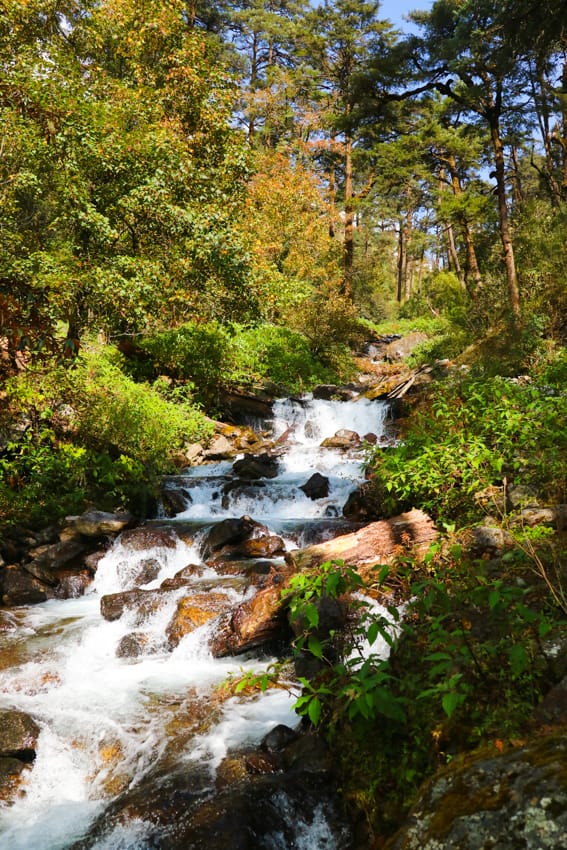 ---
You might also like…