Packing for a trek can be difficult. You want to make sure you have everything you need, but you don't want to over pack and be stuck carrying a heavy bag for days. This Langtang Valley trekking gear list includes everything you'll need including the basics and some emergency items.
We intended to have a porter carry our bag, but by day two we realized it wasn't a good fit. We hired three men for our group and two of them were wonderful guys who we enjoyed walking with and getting to know. Unfortunately, the third was rude to one of the women in our group, so we sent him home. Suraj and I ended up carrying our own bag since we were the most experienced trekkers in the group. Luckily, we have our packing list down to the essentials and our bag wasn't too heavy.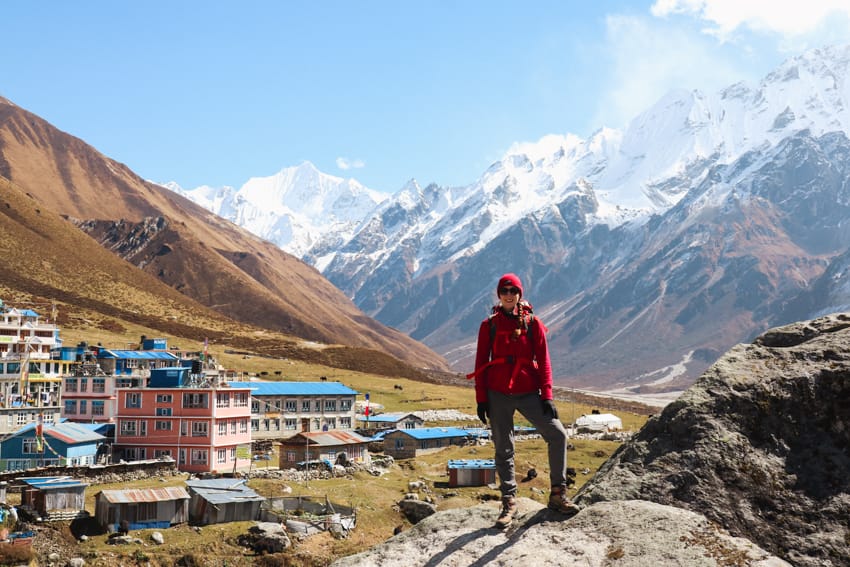 Langtang Valley Trekking Backpack & Storage
---
Pro Tip: Take everything you want to pack out one week in advance. Lay it all out somewhere easy to see. Each day before the trek, go over what you packed and see if you really need it. If you pack at the last minute, you'll likely add impulse items that are heavy and unnecessary.
---
---
---
---
Plastic Bag for Laundry
I bring a simple grocery store plastic bag for laundry to keep it separate from my other clothes. I only put dirty underwear in it as the larger items like pants and shirts will be worn more than once. A plastic bag adds no weight and doesn't take up any room.
---
Langtang Valley Clothes & Accessories
---
---
---
---
---
---
---
---
---
---
---
---
---
---
---
---
Underwear
I hate doing laundry when I trek, so I pack a pair for each day. Doing laundry isn't so difficult, but if they don't dry by the time you leave in the morning, you have to hang them on the outside of your bag which isn't ideal.
---
Sports Bras (2)
I have one bra to wear during the day, and one to change into once we arrive so that I'm not wearing a sweaty one as it gets cold at night.
---
Flip Flops
I have a pair of very lightweight flip flops. These aren't necessary; however they make life a lot easier. When you get to a teahouse, it feels so good to kick off your hiking boots. Also, it's much easier to pee at night because you don't have to lace up your boots. You can also wear them in the shower.
---
Gloves
I like thin gloves. I have a pair of silk glove liners that I love. I find thicker gloves are less effective for me, but other people may want something a little thicker.
---
Langtang Valley Trekking Toiletries
---
Pro Tip: Think about the weight of every item when you choose it. On my first trek, I packed a full sized toothpaste, a heavy hairbrush, and so many excessive items. Find the lightest and smallest version of everything.
---
---
---
---
---
Hand Sanitizer
There isn't always soap available by bathrooms, so be sure to have hand sanitizer.
---
Vaseline
We always carry a tiny vaseline with us. Trekking has an interesting way of chapping ones lips and nostrils. On one trek, the combination of the strong sun and freezing cold winds left my nose looking like I had a severe burn for weeks. We apply vaseline multiple times a day to avoid this.
---
Deodorant
Pack a small travel sized deodorant.
---
Roll of Toilet Paper
You will not be provided with toilet paper so bring your own. One roll per person is enough for this trek. You can buy toilet paper in the mountains, but it's more expensive.
---
Feminine Hygiene
It's hard to find pads in the mountain and impossible to find tampons in Nepal, so bring what you need with you.
---
Hair Care
Bring hair ties and a lightweight travel hairbrush (or comb). Don't make the mistake of packing a heavy brush.
---
Shower Supplies
Bring a small travel sized bottle of shampoo, conditioner, and shower gel. If you bring soap, make sure to have a plastic zip lock bag to store it in after using it.
---
Langtang Valley Medication & First Aid
---
---
---
---
---
---
---
---
---
---
---
---
Langtang Valley Trekking Electronics
---
---
---
Travel Adapter
You'll need an adapter to charge things. This one is lightweight compared to other options.
---
---
---
---
---
---
Langtang Valley Trekking Snacks
---
---
---
Other Items Needed for Langtang
---
---
---
---
---
---
Are you headed out on the Langtang Valley trekking route? Let me know if you have any questions in the comments.
---
You might also like…