Langtang is a village inside Langtang National Park along the Langtang Valley trek. Completely destroyed by the earthquake in 2015 and then rebuilt, this village is a sign of resilience in the area. Those looking to do the Langtang Trek will likely spend one night in Langtang village. Here's everything you need to know for your visit.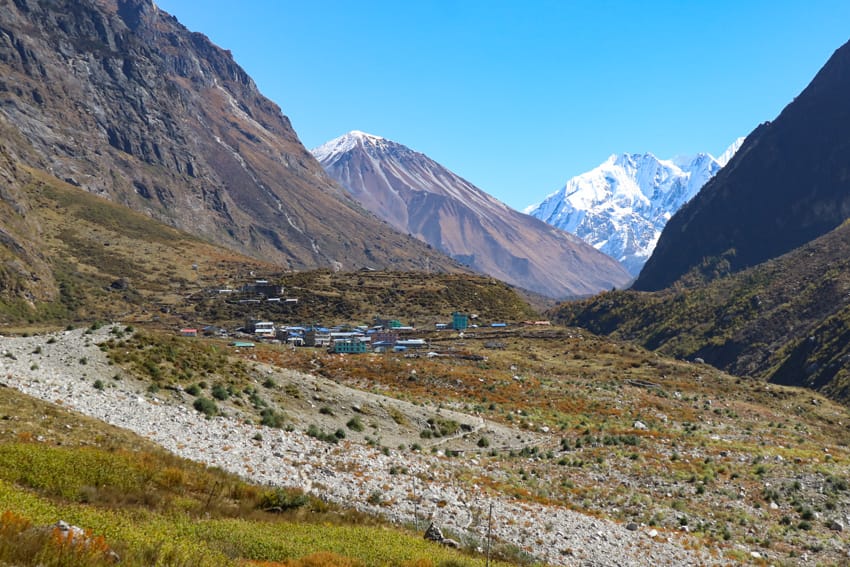 Brief History of Langtang Village, Nepal
---
Langtang village has a long history in Nepal. Some locals claim the village is 700 years old, although others say it's over 300 years old and was first inhabited by people who came over from Tibet. Despite its long history, it's most famous for recent events. In April 2015, a major earthquake hit Nepal and Langtang took one of the hardest hits. The earthquake caused an avalanche that broke the glacier above and sent it flying down towards the village. The entire village with the exception of one building was buried along with all those who lived there. Those who were out of the village and survived have worked hard to rebuild their homes and lives and today a new village stands just east of the old one.
Talking to locals in the area is truly heartbreaking. The people in the region lost most of their family in the earthquake and the stories they told us gave me nightmares. The owner of Hotel Samsara told us his version of events. He said that the earthquake hit and none of the buildings fell, but after two to three minutes, an avalanche sent the glacier (ice, rocks, snow, and mud) flying down the mountain towards the village which was full of people due to it being tourist season. The official number of deaths is 243 people, however locals believe there were far more. Some claim 800 people were in the village that day. He says that only 10% of the people who lived there survived the earthquake mostly because they were out of town.
His take on the events that followed the earthquake had our entire group in tears. Going through the rubble was the thing of nightmares. People looked for their loved ones, finding only pieces of their bodies. A leg was identified as one person based on their shoes. Gas cylinders were found on the opposite side of the valley having exploded and flown. He described the landslide as an atomic bomb hitting. Now the teahouses have photos of all those who were lost, and stone chortens stand as tombs for those never found.
Later in 2016, scientists found craters on Mars and one was named Langtang as a tribute to the village. According to the BBC, the scientist, Tjalling de Haas, chose the name because his colleagues had worked in the Langtang region prior to the earthquake studying glaciers.
Today, locals remember those they lost and are hopeful that tourism will return. I have to say, the resilience of the people in this region is inspiring. They've worked so hard to rebuild and are ready to welcome tourists with open arms and the best of Nepali hospitality.
---
Langtang Village Guide
---
Major ethnicity:
Lama Tamang – the people here are actually Lama which is Tibetan, however they needed to choose an ethnicity when they first came to Nepal many generations ago, hence Lama Tamang.
Major Religion:
Tibetan Buddhism
Language:
Pure Tibetan, Nepali
Population:
About 250 people
Langtang Village Altitude:
3,430 m (11,253 feet)
Oxygen Concentration:
67% oxygen compared to 100% at sea level.
Best Time of Year to Visit:
Locals say the best time to visit is April or May for flowers and October or November for no clouds. Both times are considered peak trekking season in Nepal, however, October and November are known for their clear skies.
Location:
Langtang Village is located north of Kathmandu and south of Tibet. It's south of the Langtang mountain range and lies within Langtang National Park.
How to get to Langtang village:
Langtang village is a two day walk from a major highway. There is no road that goes directly there.
Entry Permit:
Foreigners are required to get a Langtang National Park permit which costs 3,000 rupees ($26 USD). Locals are required a permit as well which costs 100 rupees ($1 USD).
NTC or Ncell service:
NTC sometimes has 4G. There is no Ncell service in the area.
Things to do in Langtang Village:
Langtang village is a major stop along the Langtang Valley Trek. Therefore, the main thing to do in the area is trekking. The village is currently working to rebuild its monastery which can be visited once complete. You can visit the chortens at the top of the village which offer spectacular views. Mostly, people just relax by the fireplace in the evenings and read a good book or play cards with friends.
---
What to Eat in Langtang Village
---
Yak Milk Products – There is a yak cheese factory in Kyanjin and the cheese there is very famous. With all the yaks in the area, you can try Kyanjin yak cheese, yak milk, and yak curd (yogurt).
Interesting Drinks – Sea buckthorn juice is made from a local berry-like fruit and is packed with vitamin C. Himalayan flower tea is available in some places and is made from local dried flowers. Butter tea is a Tibetan drink which is salty in taste, but good for the cold.
Local Dishes – Tingmo is a dough tied into a knot and steamed. It reminds me a little of Italian garlic knots. You then dip it into curry.
---
Langtang Village Teahouses
---
Types of accommodation:
Teahouses and lodges
Number of accommodations:
There are around 30-35 lodges in the area.
Our choice:
Hotel Samsara – the food here was great and the rooms had attached bathrooms. The owners studied and have degrees in hospitality, so they go the extra mile to make sure guests are comfortable.
Price of a Room:
700 rupees (about $7 USD) for a single, 1000 rupees (about $10 USD) for a double, and 1500 rupees (about $15 USD) for an attached bathroom.
Price of Veg Dal Bhat:
650 rupees (about $6.50 USD)
Electricity:
Electricity is available and it's free to charge devices in the rooms.
Toilet Situation:
There were attached and shared toilets available. There was also a choice between western and squat, however the shared toilet was a squat toilet. The shared toilets are located on each floor, inside the building.
Shower:
There is a hot shower available in the shared bathroom which costs 250 rupees ($2.50 USD) per shower.
Wifi:
There is currently no wifi, but the villagers are trying to get wifi soon.
---
Langtang Village, Nepal Photography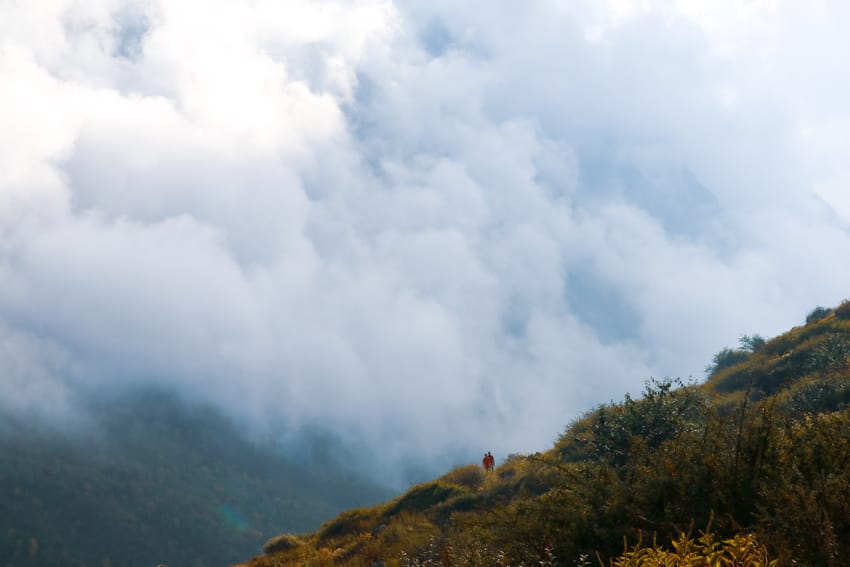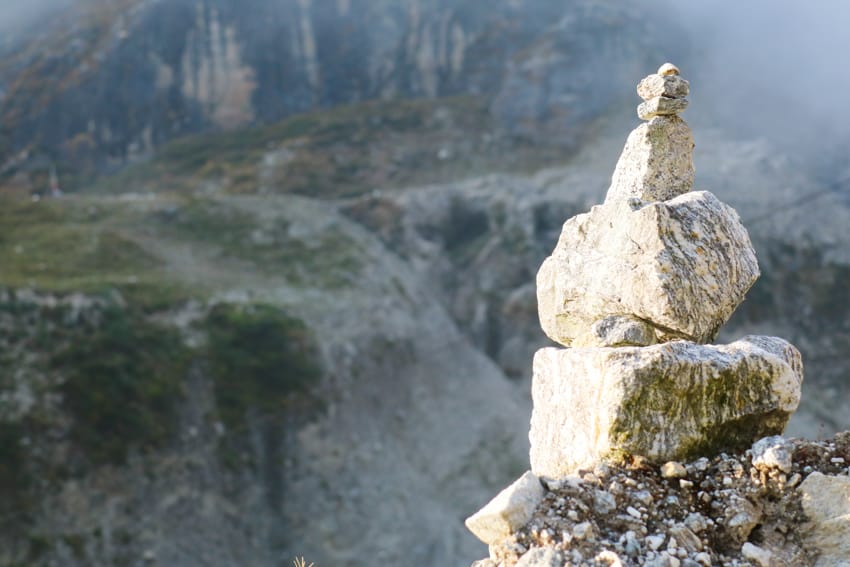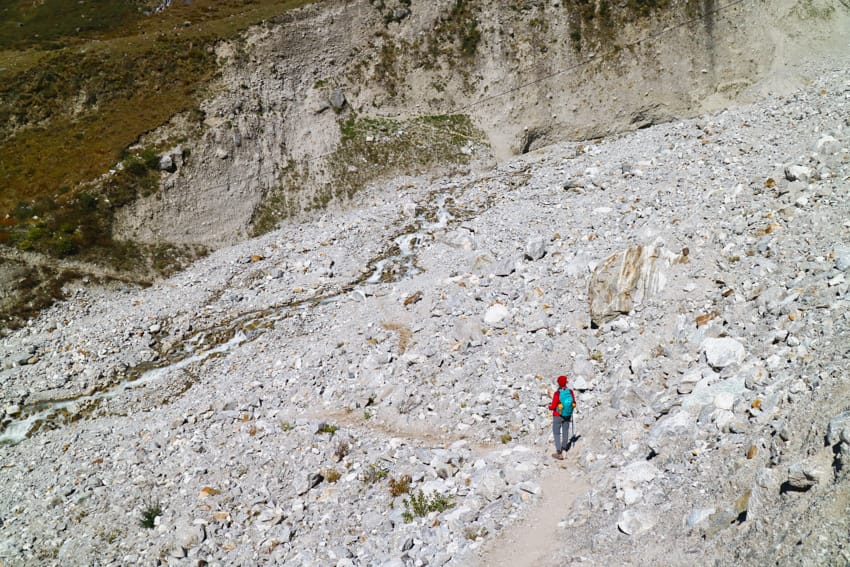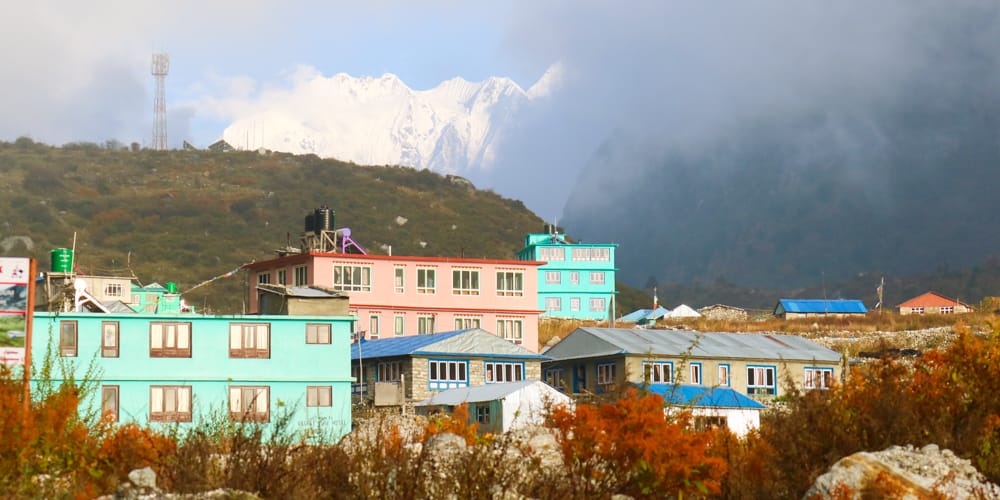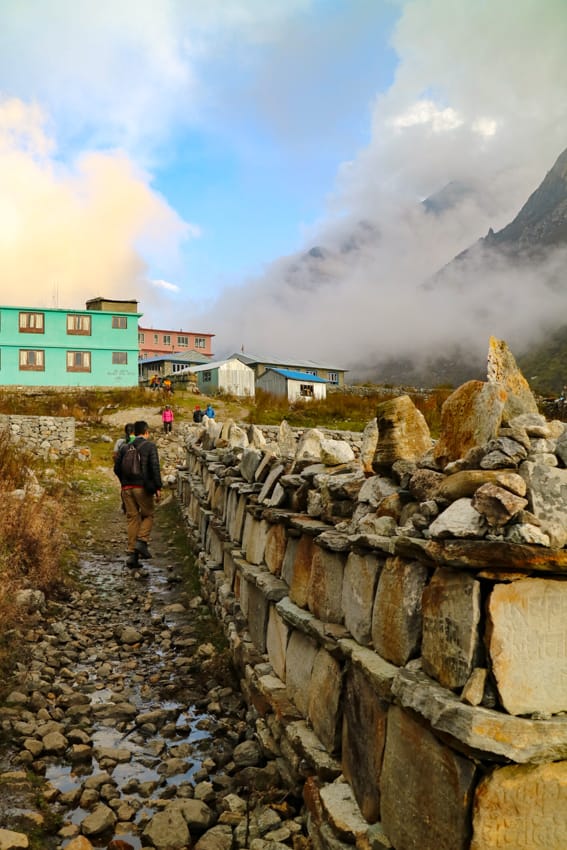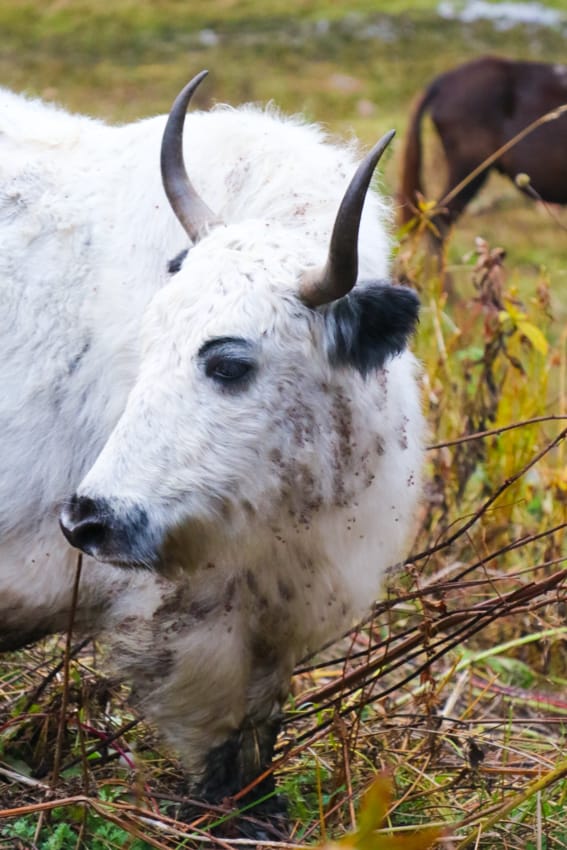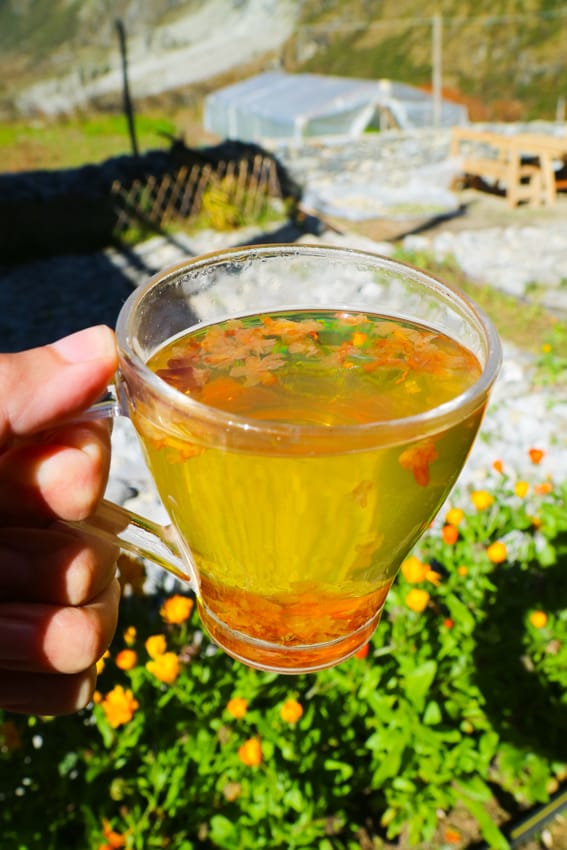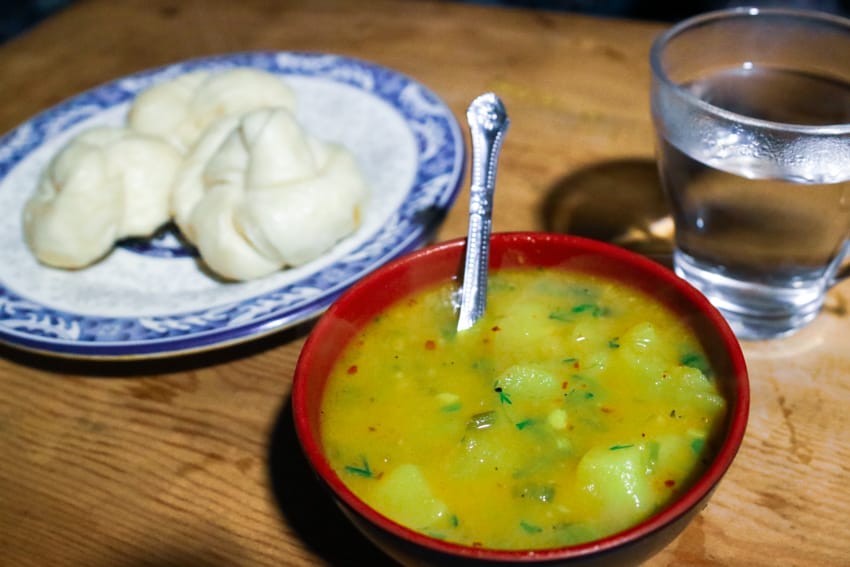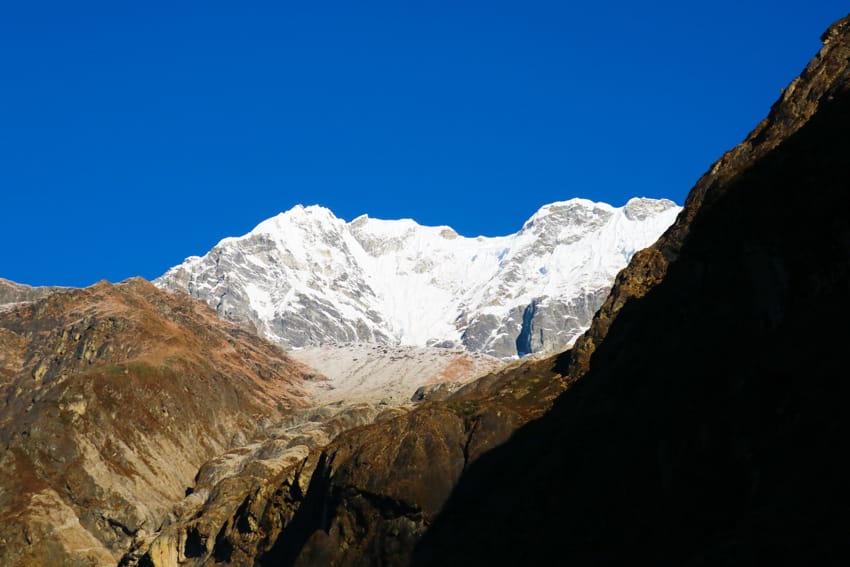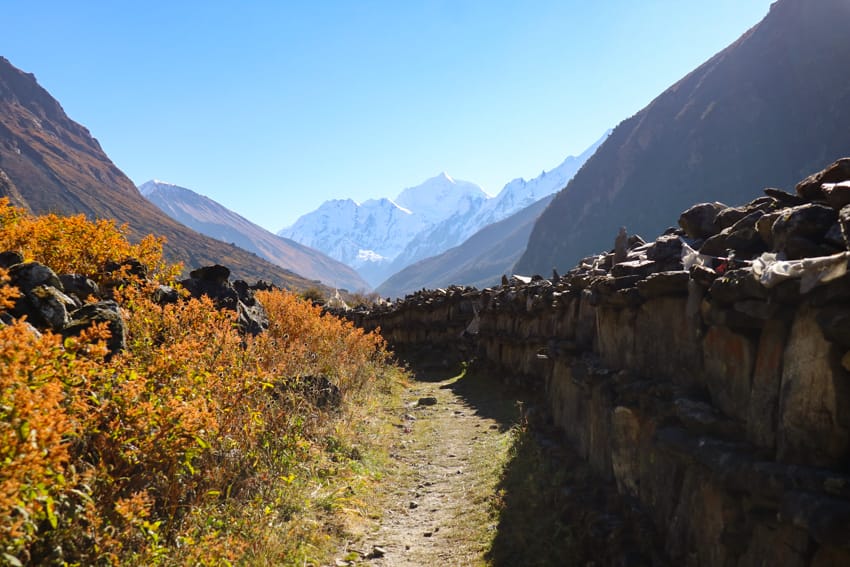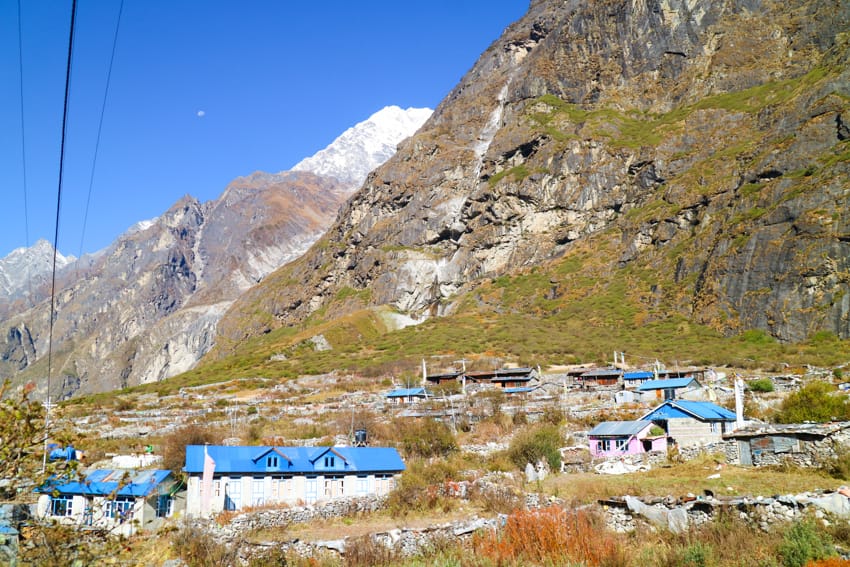 ---
You might also like…