This week's brand highlight is AAMO, a jewelry company that is designed and made in Nepal. I first came across AAMO at a fashion show in Kathmandu that focused on locally made products as well as female entrepreneurs. What caught my eye was how original the designs were. I had never seen anything like them. They were ultra-modern with a splash of traditional Nepali aesthetic. She had an impeccable eye for jewelry design, and I couldn't stop admiring each individual piece! Check out my interview with founder Aayusha Shrestha below…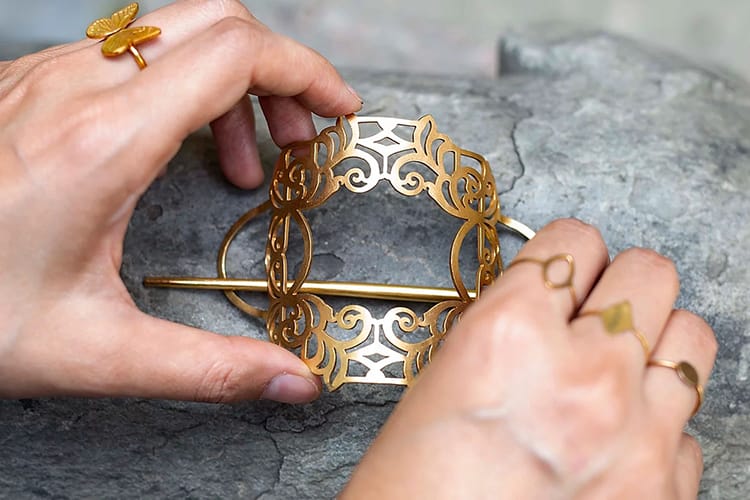 Tell us a little about yourself…
---
Namaste! I am Aayusha Shrestha, founder/ designer at AAMO. Born in Kathmandu, I spent a good half of my life studying in India. I decided to come back home after college to spend time with my grandparents and family before I went to study further. However, as a young adult I felt the immense need to find my ground and understand my roots, so I decided to settle back in Kathmandu. I turned my curiosity and passion for local craft and skills into a career, so I never really need to take a break.
---
What is your brand called and why did you name it that?
---
My brand name is AAMO by Aayusha Shrestha. I've always shared a very close bond with my mother, my aunts and especially with my late grandmother whom we called 'Aama' meaning mom in Nepali. I was sure I wanted the brand to be a reflection of my passion, my morals and values; almost an extension of myself, so 'AAMO' seemed very fitting. Amo means 'mother', and 'te amo' in Spanish means 'I love'. I added another 'A' as an extension of my name.
---
What does AAMO make?
---
We make traditionally handcrafted accessories for men, women and children. I like to create a harmony between traditional and contemporary styles. Our primary base is metal, but we also work with paper, wood and ceramic. We take custom orders too.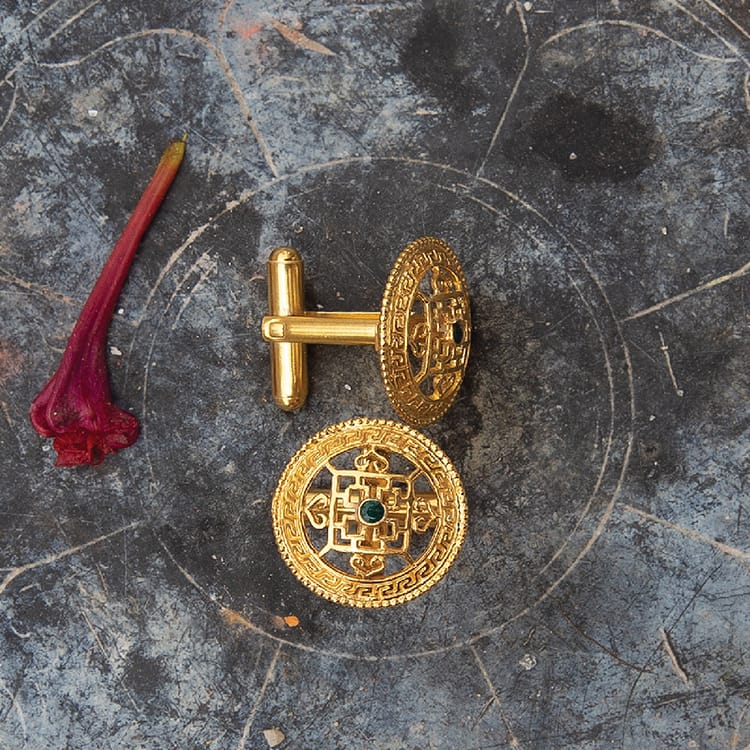 What inspired you to come up with AAMO?
---
One of the primary reasons is the lack of original designs in the market. As a consumer, I wanted to buy locally handmade goods, but I could see only repetitive and competitive designs. That or bulk pieces coming in mostly from India and China at price points which our makers couldn't compete with.
That brings us to the second reason – because our market was overflowing with mass produced goods, it was evident that small scale artisans were getting cut off and having to explore other means of employment. Most were leaving the country to work as laborers. Nepal does not have an institution where generational skills are taught, which means the skills these artisans had would eventually die out if not practiced and passed down.
I honestly felt our artisans were not getting enough credit for their talent. Most were getting exploited into relying only on export orders – pushing on quantity rather than quality. There was also a lack of understanding within the local consumers about handmade Nepali goods and most preferred buying international or foreign brands.
So, as a designer, I wanted to tackle and solve these issues which I personally felt were not being addressed 5 years back when I decided to start AAMO.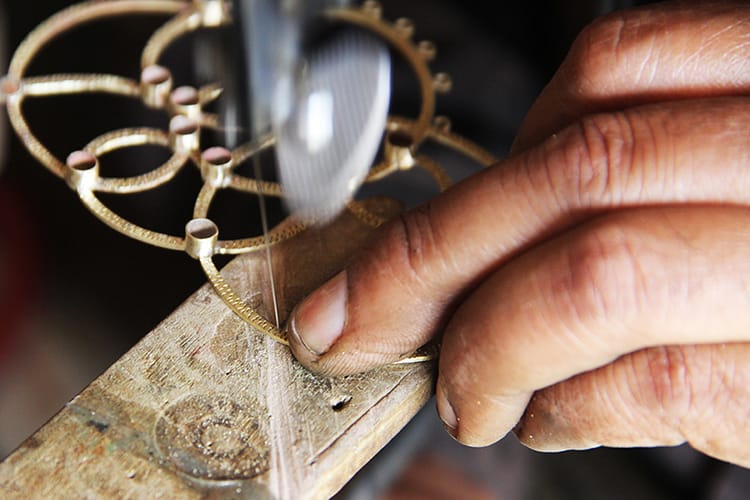 Tell us how the items are produced…
---
I work closely with home based artisans who continue to practice traditional skills which have been passed down generationally. I also collaborate with workshops that are sustainable and ethical in their approach.
I've created a workflow where we focus on generating more employment and utilizing each artisan's skillsets thoroughly. Most of my designs change hands numerous times before they're completed.
Once we recycle or procure our upcycled metal from a few different artisans, it is distributed to others who could process the initial steps of the designs – which can be cutting, engraving, etc.. Then, it is redistributed to another group who work on intricate details or embellishment if any. Stones when used are set by others. Finally, the last phase of buffing, polishing or gold plating is done by another unit. This model has made us minimize waste, while giving the artisans the freedom to choose their workload.
We are very conscious of how we source our materials and its impact environmentally. We use nickel free brass, up-cycle our damaged metal sheets and even recycle our copper and sterling silver. Our packaging boxes are also handmade using partly recycled paper.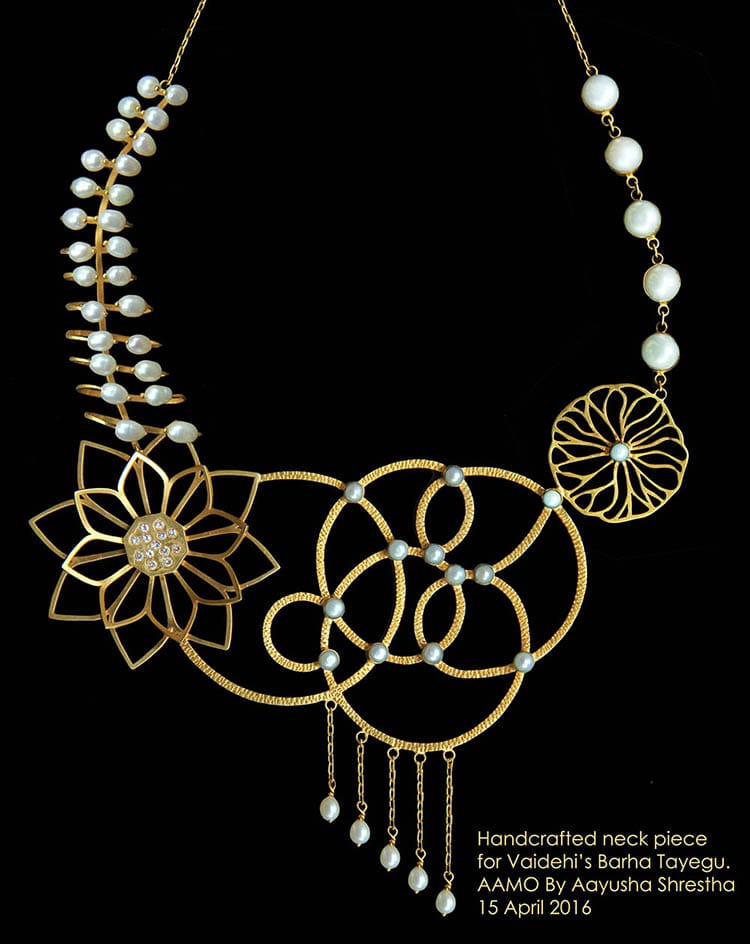 What makes AAMO's products special or unique?
---
Apart from being Nepal's first concept based accessories brand, our primary focus is to understand, document and preserve traditional skill sets of makers and pass it down in a more systematic and sustainable way.
The other difference is except for our 'classic' pieces (5 to 8 designs) that we continuously reproduce, the rest of our designs are all made in limited quantities or on order only. We are very conscious of overproduction and over consumption, so we do not repeat or over produce our designs.
We cater repair and replating services at minimal charges to encourage our clients to continue wearing our pieces. Each design is created to be timeless, irrespective of fashion trends.
I also take custom orders for weddings or any occasion, where the clients are equally involved in creating art pieces that are a reflection of their narratives.
---
What is the price range of your items?
---
Our price range starts from NPR 1,000 ($10 USD). Most pieces fall within NPR 3,000 to 7,500 ($30-$75 USD).
---
How many people do you currently employ in Nepal?
---
We are currently working with 40 to 50 people.
---
Where can people purchase your items?
---
Online: ​www.aamonepal.com
AAMO
Shop no. 358, 2nd Floor, Chhaya Devi Complex, Tridevi Marg, Thamel, Kathmandu, Nepal
The Local Project
Le Sherpa, Maharajgunj, Kathmandu, Nepal +977.9851.138.108
Timro Concept Store
Ga 1/159, Bakhundole, Kathmandu, Nepal +977.9803.584.079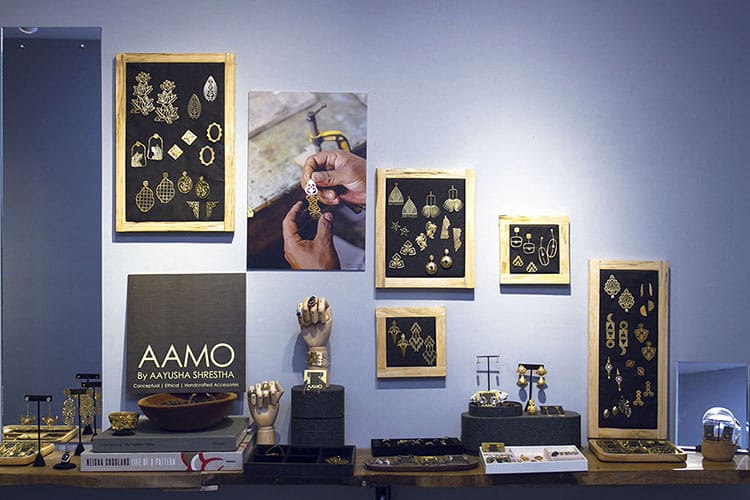 What does the future hold for AAMO?
---
We have been slowly expanding and employing more artisans. We hope to expand further into paper, wood and ceramic. I also hope to work with younger designers, collaborate with artists and conduct a series of interactive workshops. AAMO's vision has always been to show the true potential of our artisans and how we can continue working within Nepal to create sustainable and universally appealing products.
---
What is the best part of owning your company?
---
For me personally, the best part has been getting to know people from various fields who've become family now. The liberty of creating and running a business model based on my moral grounds is definitely a soul satisfying factor. Also, getting to explore the endless possibilities that we have within Nepal, understand the struggles, the small victory, creating and seeing the positive impact we can make has been a growing and learning experience. And last but not the least, getting to be true to myself without fitting into any boxed category.
---
Follow out AAMO on Social Media…
---
Email: [email protected]
---
You might also like…