Before I started traveling, I knew very little about responsible tourism or social enterprises. I stumbled upon a few places here and there, and eventually they started standing out to me more and more. After a while, I started to seek these places out because I'd rather spend my money at a place that is giving back to the community. I try to buy my souvenirs from socially responsible companies and eat at restaurants that train and support minority groups. Social enterprises in Nepal are becoming a trend with one after another popping up. I tried to share as many as I could in this post because I honestly feel that the places below are doing good in the world and adding value to Nepal beyond a typical business. Check them out…
---
The Local Project Nepal
---
Patan, Nepal
This might be one of my favorite places to shop in Nepal. It's a little on the expensive side compared to shops in tourist areas, but the quality of the goods are far superior. You can get a t-shirt in Thamel for $6 easily, but it will probably fall apart after a few wears. The t-shirts here are $12 but are high quality and have unique designs. There's also beautiful handmade jewelry, shoes, purses, backpacks, stationary, games, etc. I ended up buying a few souvenirs for friends back home and each one is unique. I also loved that the sales girl was there to answer any questions I had, but she didn't shove products down my throat, so I could look in peace without any pressure to purchase something.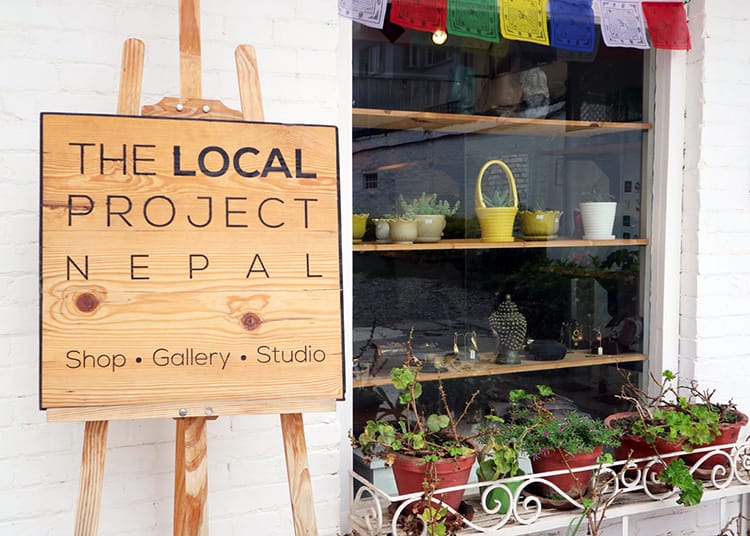 Jawalakhel Handicraft Center
---
Patan, Nepal
The Jawalakhel Handicraft center was established in 1960 and provides employment to more than 1,000 Tibetan refugees. The center specializes in making Tibetan rugs. All of the rugs are handmade with 100% sheeps wool. It is a non-profit and all proceeds go to help the refugees afford food, housing, education for their children, and care for the elderly. If you are looking to purchase a Tibetan rug, this is the place to do it. They will even ship your rug anywhere in the world. If you're like me and you can't make a large purchase, they also have a small handicraft shop and a scarf shop out front where you can buy small items for just a few dollars. What I like about this place, is that you can actually watch the rugs being handmade right before your eyes.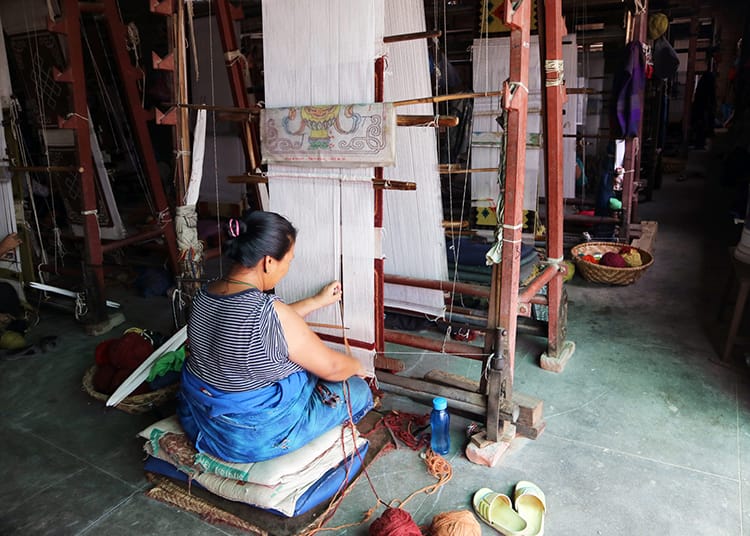 The Village Cafe
---
Patan, Nepal
Established in 2009, The Village Cafe trains female home-based workers who have social or economic disadvantages. Their training varies from agricultural work to being professional cooks. The cafe sources local produce and ingredients from women in Nepal and also trains these women to have a quality product. Women also undergo training to work in the restaurant where these once home cooks become professionals by learning about hygiene and western standards of cooking. What I really like about this place is how amazing the traditional Newari food is. With the exception of being in a locals home, this is the best Nepali food I've had at a restaurant, and the prices are completely affordable.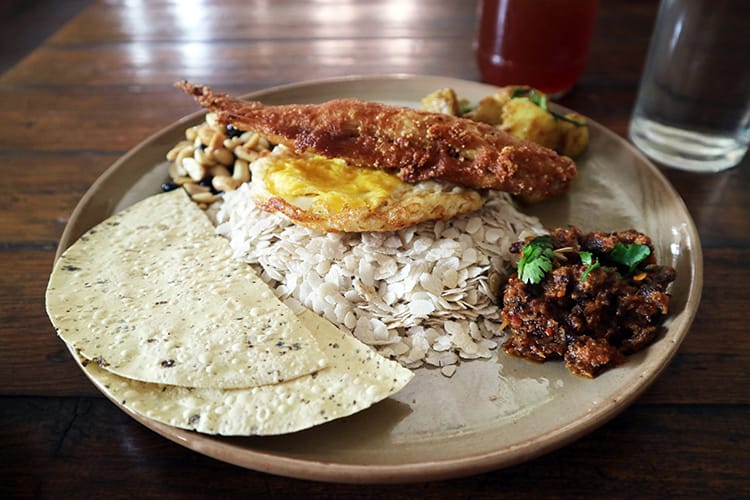 Sabah Nepal
---
Patan, Nepal
Sabah Nepal is associated with The Village Cafe mentioned above, and is located just downstairs. If I had room in my suitcase, I probably would have done some serious damage on my credit card here. They offer beautiful handmade garments among other things like accessories, home decor, and even edibles. The clothes are really what won me over, but sadly I was on a budget and couldn't make a large purchase. They do have some cute little items for those of us with limited luggage space and a tight wallet, so it's still worth checking out. I walked away with a little something special and was glad I could purchase something small from such a unique store.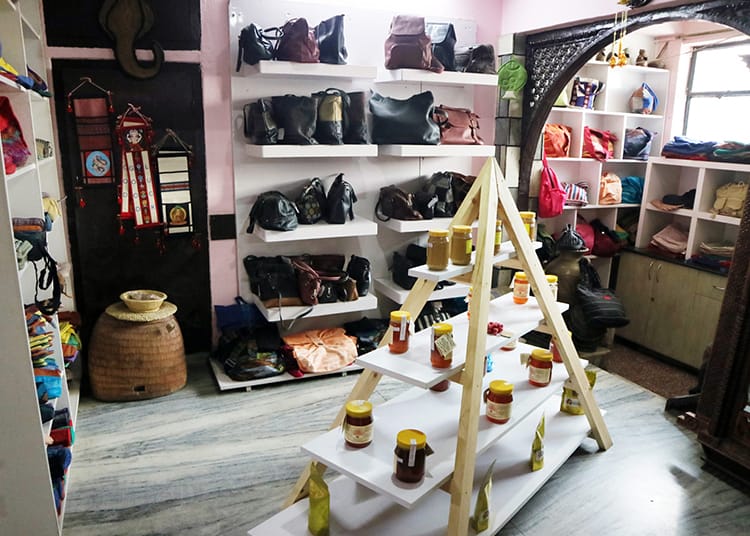 Seeing Hands Clinic
---
Kathmandu, Patan & Pokhara
Seeing Hands Clinic has several locations in Nepal, and is known for employing the blind. The organization trains blind people to become professional masseurs, and it turns out they are especially good at this profession because of their heightened sense of touch. I chose to get a sports massage after training in Muay Thai (kickboxing) for two weeks. My massage therapist, Jima, was insanely good. She could locate every single sore muscle within seconds and massaged each one until it was no longer in a knot. It was one of the best massages I've ever had, so I highly recommend them.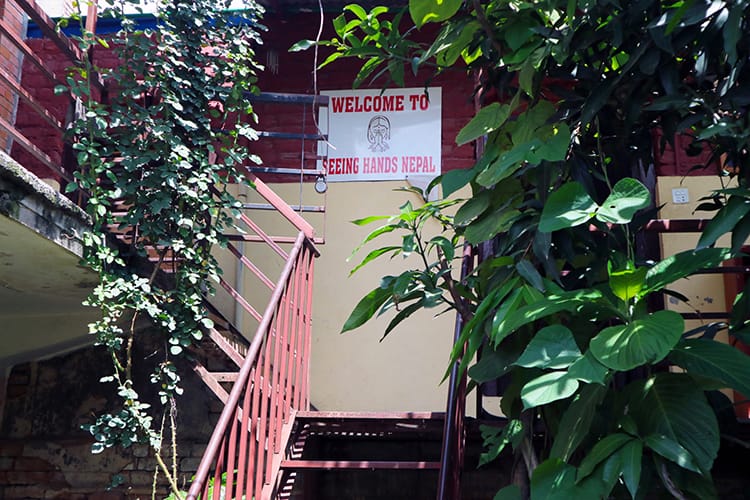 Sarangi
---
Kathmandu, Nepal
Sarangi is actually my favorite restaurant located in Thamel. They serve incredible vegetarian and vegan food, and I've spent so much time there, that I've become friends with most of the staff. The word "sarangi" actually refers to a musical instrument. The restaurant was created as a social enterprise to help a small caste of musicians who used to earn a living by going from village to village playing music and spreading the news. With cell service available almost everywhere, their craft has become a dying art form, and the restaurant aims to keep it intact.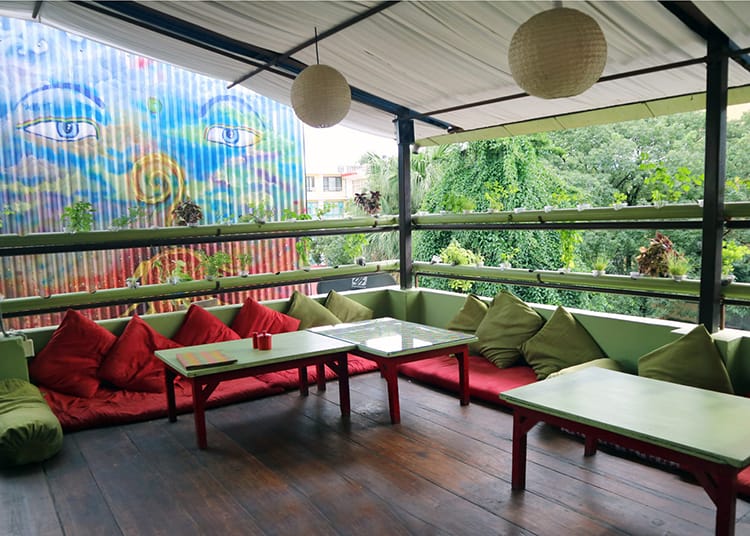 Tibetan Refugee Camps
---
Pokhara, Nepal
There are Tibetan Refugee Camps all over Nepal, and I highly recommend stopping in, learning about the culture, and making a small purchase. I am specifically mentioning the two in Pokhara because they have small restaurants located out front that are run by the refugees. At these two locations, I had the best momos I've ever had in Nepal. They are worth going out of the way for, are affordable, and are so delicious that the restaurant often sells out before lunch time is over. Eating at these restaurants is a great way to help support refugees while enjoying an insanely good meal.
---
Nepal Music Festival
---
Kathmandu, Nepal
Every November, the Nepal Music Festival kicks off with a concert that supports sustainable entrepreneurship. Although I haven't had a chance to attend the festival myself, the idea behind it is what really makes me love this event. For six months, volunteers from all over Nepal come for an internship like experience where they plan the entire event from the ground up. They get to work on project management while focusing on an area that interests them most like marketing, public relations, talent management, event planning, etc. The volunteers leave the experience having gained crucial skills which they can use to get ahead when applying for jobs after college.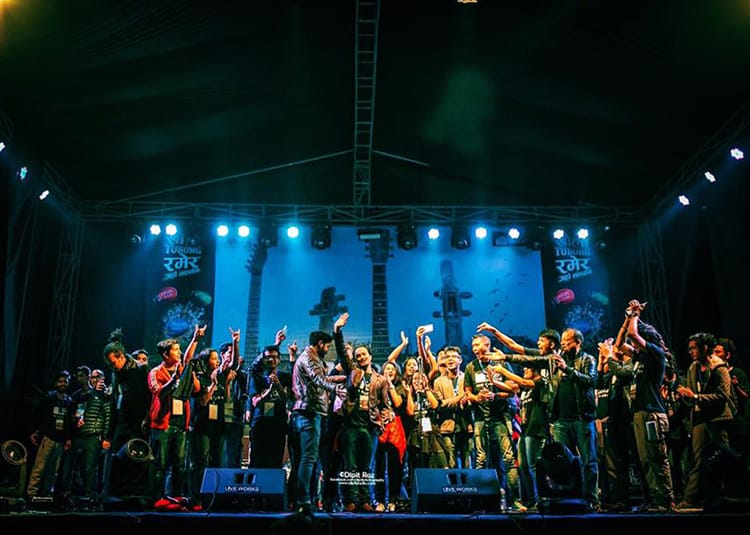 Higher Ground
---
Patan, Nepal
Higher Ground actually consists of two businesses including a cafe and handicraft shop. The organization trains and hires women from poverty stricken areas of Nepal, giving those who might otherwise be unemployed, a chance to have a career. The company also has a Community Development organization, and proceeds from the first two businesses go towards scholarships, educating at risk women and youths, promoting awareness of trafficking, and counseling. If all of that wasn't enough, they make great food in their cafe. I mean, look at that picture of a full English breakfast.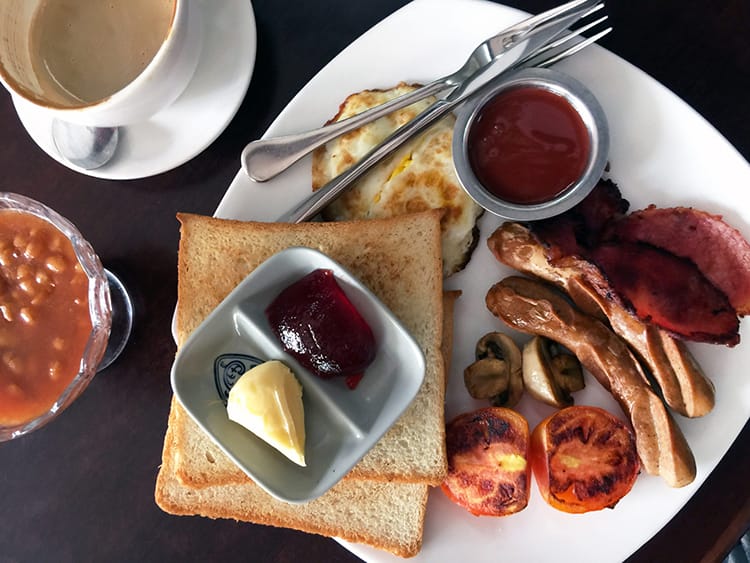 Circus Kathmandu
---
Patan, Nepal
While a lot of social enterprises in Nepal are either restaurants or stores, Circus Kathmandu has something else to offer. The company was founded by 13 Nepalese people who had previously been trafficked and were rescued in 2013. They returned to Nepal and began to use the skills they learned from modern day slavery to create something beautiful. Not only can you hire these performers or see them live, you can also take classes with them. I decided to take an aerial silks class which cost 800 rupees ($8) and lasts about an hour and a half. The class was hard but also fun, and it was nice to do something so different while supporting a really amazing cause.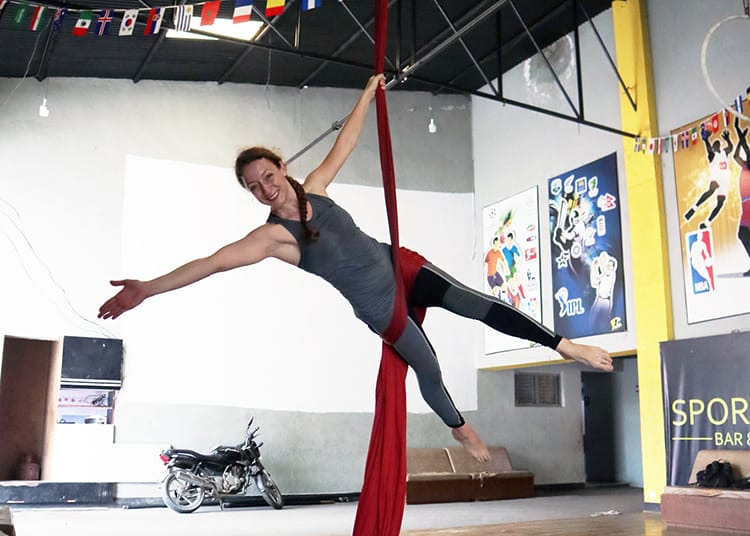 The Cafe With No Name
---
Kathmandu, Nepal
Located right in the heart of Thamel, this little cafe is full of charm. Best of all, it's a nonprofit organization which means that 100% of the proceeds go towards bettering the life of children in Nepal. The Cafe with No Name focuses on returning street children to their families when feasible with the help of the police. They also work to provide counseling, rehabilitation, housing, education, food, and vocational training to the street children in parts of Nepal that don't receive help from other organizations or NGOs.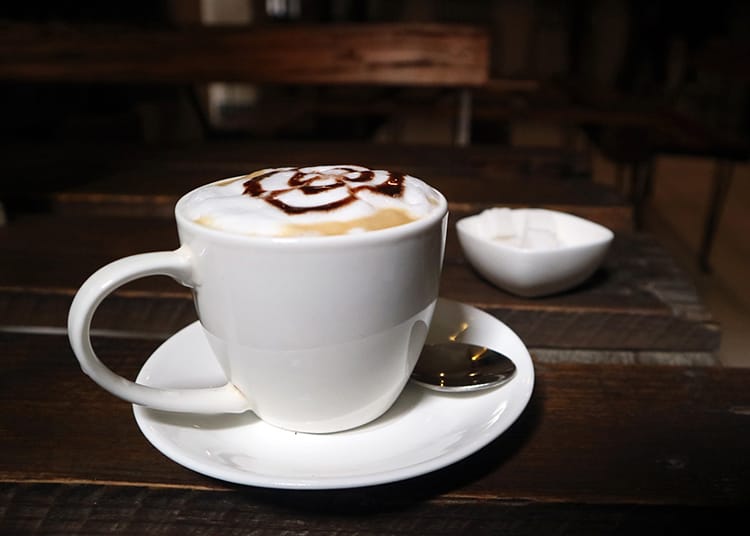 ---
Mahaguthi Craft with Conscience
---
Kathmandu, Nepal
Mahaguthi is a brand that makes everything from home decor to jewelry. They're a fair trade organization that puts a focus on helping widowed or destitute women find financial independence. They provide technical, social, and financial assistance and help to sell these women's handicrafts to a wider audience. 40% of the income generated from the sales goes to an Ashram that provides food, shelter, clothing, healthcare, and education to women and children.
---
Dhukuti
---
Lalitpur, Nepal
Dhukuti is a store set up by the Association of Craft Producers. The ACP is a not for profit, fair trade organization that helps low income craft producers in Nepal. Dhukuti is a shop with four floor and everything sold in the store is fair trade. This makes shopping with a conscious super easy. The items are locally made and the artisans are being paid fairly for their hard work. They sell items including bedding, ceramics, stationary, home decor, jewelry, and more.
---
KTM Haat
---
Lalitpur, Nepal
KTM Haat is a store which sells locally sourced items. This means that everything in the store is made in Nepal. They offer a wide variety of items including home decor, jewelry, and locally grown tea. Purchasing items helps support the local economy by encouraging artists to continue in their craft.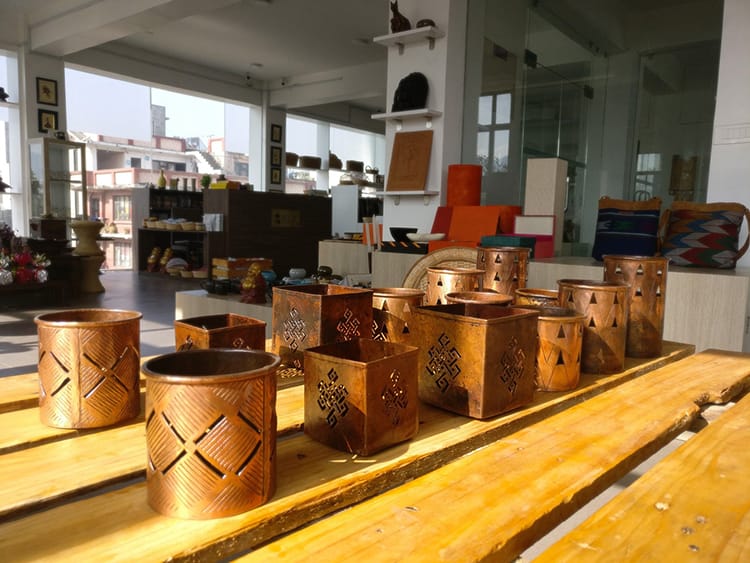 Timro Concept Store
---
Patan, Nepal
Timro Concept Store is a mini warehouse where Nepali brands and designers can sell their creations. The idea behind the store is to help grow the passion of its artists. Their shop sells a variety of handmade items which are all made in Nepal including clothing, jewelry, purses, accessories, and more!
---
You might also like…