One of my passions is locally made products, so I've decided to feature some of the best products that are made in Nepal! When I first arrived in this country, I honestly thought the cheap Chinese and Indian imports sold on the streets were the only option. But, the longer I've lived here the more I've been exposed to locally made sustainable companies. I'm so excited to share these companies with my readers because I think you'll all be really impressed. This week, I spoke with Rewati Gurung from Kokroma! Check out the interview below.
---
Tell me a little about yourself…
---
My name is Rewati Gurung, and I come from Sindhuli, in the inner Terai called Dudhauli, but for the last 15 years I have lived in Kathmandu. My higher education includes a Masters in English Literature and in Development Studies. I have worked in a series of jobs including a trainee waitress at a 5 star hotel to a teacher, in Kantipur newspaper to as assistant director of Film Southasia.
Since 2015, and in response to the devastating earthquakes, I began a series of first-responder relief projects and went on to establish an NGO and a film company focused on documentaries of social and gender based issues here in Nepal.
What I discovered in my early 30's was that I had a natural talent for motivating people and engaging them in projects. Having fun, learning from each other, and working hard toward a common goal creates the most rewarding life experiences. Especially when projects have an impact on everyone in the value chain from team members through to the beneficiaries. My diverse interests, previous work experiences and curiosity drive my projects, but it is the teams and the individuals they are made up of who are encouraged to innovate, try, fail and try again that inspire me to continue.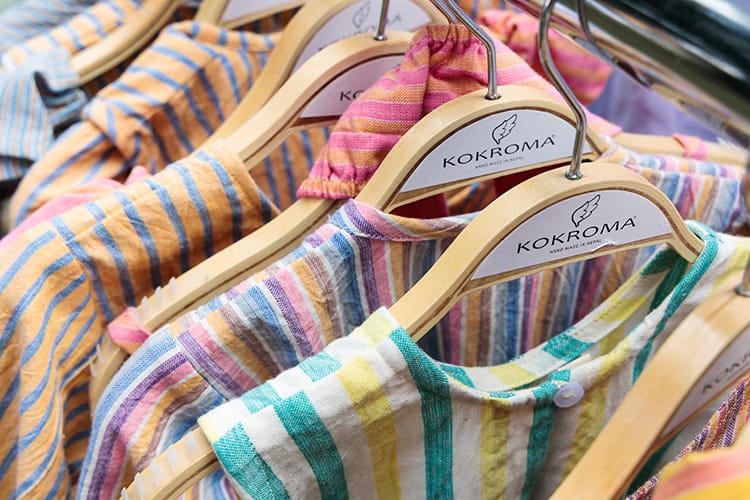 What is your company called, and why did you name it that?
---
Kokroma is the name of my clothing brand. The name originates from the word Kokro which is the traditional bamboo crib that babies in Nepal sleep. 'Ma' means 'in' and so Kokroma means 'in the Kokro'.
---
What do you make?
---
We primarily make infant and children's clothing, bedding and accessories as well as clothing for pregnant mothers. We also make customized and a variety of masks for adults and children
---
What inspired you to start Kokroma?
---
In 2015, I attended a summer school hosted by Helsinki University and learned about the Finnish Maternity Package known as the Finnish Baby Box which every pregnant mother receives from the government before the birth of each child. Infant mortality rates in Finland declined rapidly 80 years ago after the introduction of the Baby Box – a package of bedding, clothing and essentials that enabled even the poorest families in Finland to look after their babies during the critical first months of a child's life. I was inspired by this social welfare package and a government that made a strong commitment to the health and welfare of its citizens.
I began to think about Nepal's gradual reliance on imports of clothing from India and China. The rapid increase of migrant workers locating to the gulf countries and sending remittances home to their families was having a hidden negative impact on Nepal's struggling economy. Money that should stay in Nepal was being spent on imports, effectively eroding the benefits of increased incomes from abroad. Added to that, these imports that included infant clothing were not maintaining the traditional styles that have been part of our culture for hundreds of years, and fewer and fewer garment makers were honoring the tradition.
As in any culture, clothing responds to and addresses the climatic conditions – temperature and humidity and seasonal changes – domestic habits and local resources. My aim with Kokroma was to revive the Nepali tradition of the Bhoto set, Kokro and Khasto blankets that have served Nepali's for generations, and at the same time provide employment for local women in a sustainable, eco-friendly company that celebrates the best of Nepal's infant and young children clothing styles.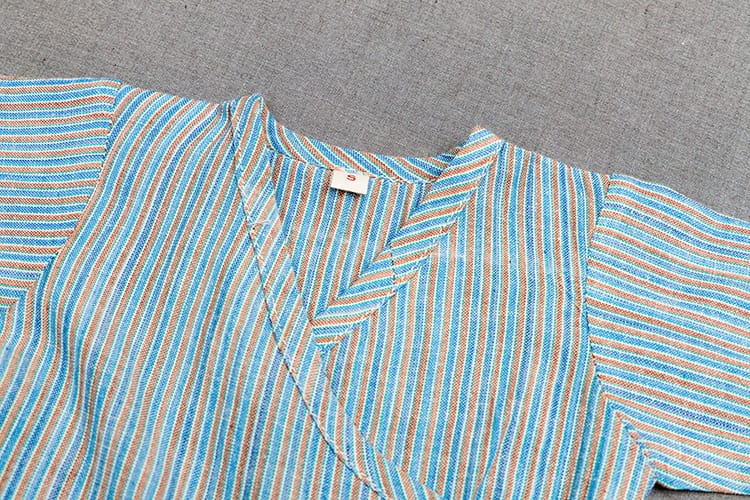 How are your items produced?
---
Our raw materials are sourced as much as possible here in Nepal. Our textiles for the most part are 100% cotton, woven by prisoners here in Kathmandu. Prisoners are trained in the dyeing and weaving processes, gaining skills that they can utilize when they are released. In addition, they get paid for their work and can provide valuable incomes for their families while they are serving their time.
We have a zero-waste policy during manufacture, so all our off-cuts and scrap cotton are saved for recycling. We employ women seamstresses from the local community and provide them with a good monthly income
---
What makes your products special or unique?
---
Kokroma prides itself on reviving the traditions associated with baby care with fabrics that are designed to reflect contemporary tastes. We take the best qualities from these traditions and adapt the look and feel to appeal to the modern Nepali mother. Our primary aim has been to create high quality products at reasonable prices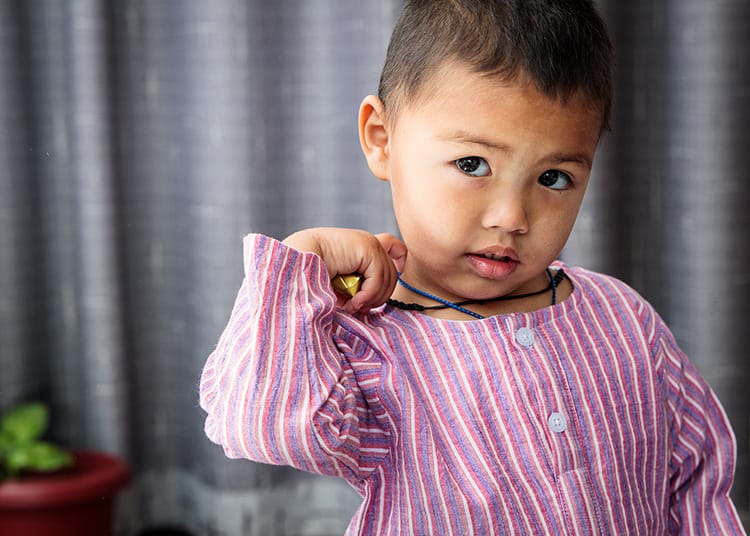 What price range are your items?
---
Our prices range from 75 NPR (less than $1) to around 30,000 NPR ($250) for custom packages
---
How many people do you currently employ in Nepal?
---
At the moment, I employ 10 Nepali women and 1 Nepali master tailor. We have two foreign volunteers who support us in branding and marketing. We also subcontract our Lokta paper bags, envelopes and printing requirements to support local enterprises
---
Where are your items sold?
---
You can find our products at the following locations…
Mediciti Hospital (Kathmandu) – Mother Needs shop – 8am to 5 am (21hrs)
Timro Concept Store (Bhakundol) – and 9am to 5pm
Craftmandu (Jhamsikhel) – and 8 am to 6pm
Koru (Boudha) – 9am to 8pm
WoVen (Pokhara) – Regular shop hours
Online – https://www.kokroma.com/collections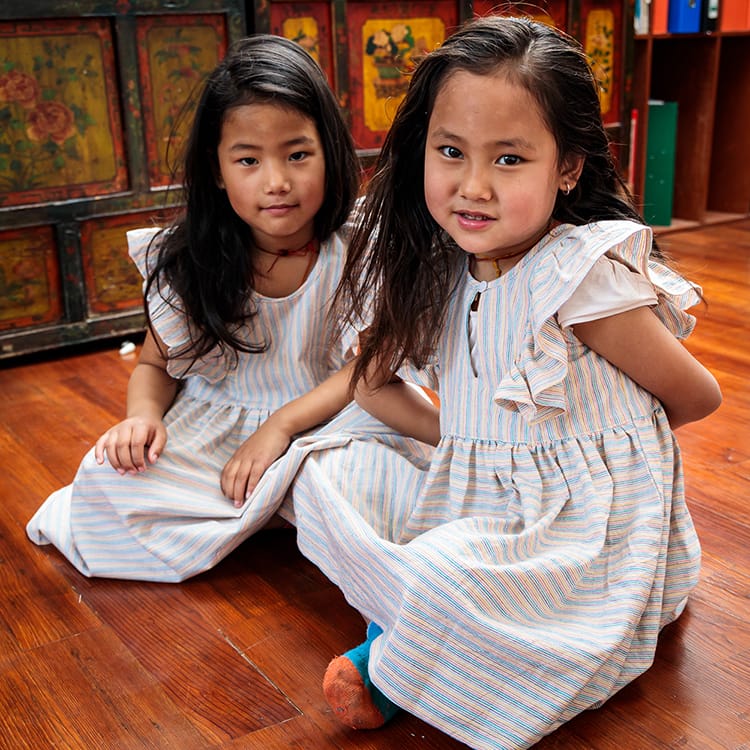 What are your plans for Kokroma in the future?
---
Kokroma plans to expand our product range to include older children from 2-12 years and also make clothing for mothers. We respond to our customers' suggestions and requests and have made specific items that are not part of our regular stock. We constantly strive to make our products meet international standards for quality and comfort. We are a young brand with everyone in the company bringing their own ideas to the table.
---
What is the best part of owning your company?
---
It is very rewarding to work with women from marginalized groups. The meaning of the word "empowerment" varies from person to person and is very subjective. My initial act and understanding of women empowerment was to make women economically independent and provide emotional and mental support, but now when I see how my ladies have transformed from being very shy to confident and skilled professionals and aware about a lot of other issues related to taking initiative and problem solving re-defines for me the term empowerment, and I am proud of my team.
Secondly, being part of an infant and maternity clothing company, you can experience the happiness and excitement of parents and family members to welcome new children into this world. I feel honored to make the clothes that are the first in a baby's life, and it is very special. Not all mothers have a happy experience during pregnancy and childbirth but for all of those who buy gifts and clothes for the newborn, it brings a lot of excitement and happiness into the family.
---
Can you tell me a little about your NGO?
---
Kokroma is committed to improving the lives of Nepali mothers and women facing economic, personal and social challenges and regularly implements social responsibility initiatives in partnership with charitable organizations and our own Moving Mountain Nepal NGO . These include menstruation awareness programs to providing expectant mothers in the slum areas of Kathmandu with essential clothing and health care products for newborn babies.
---
Follow Kokroma on Social Media
---
Instagram – @kokromanepal
---
You might also like…