This week's Made in Nepal brand highlight features Paila! Paila is a shoe company based in Nepal which focuses on locally made items that are also sustainable. Their shoes are insanely cute, and you can feel good about buying them. I got to chat with Mingma Sherpa who is the founder of Paila. Check it out…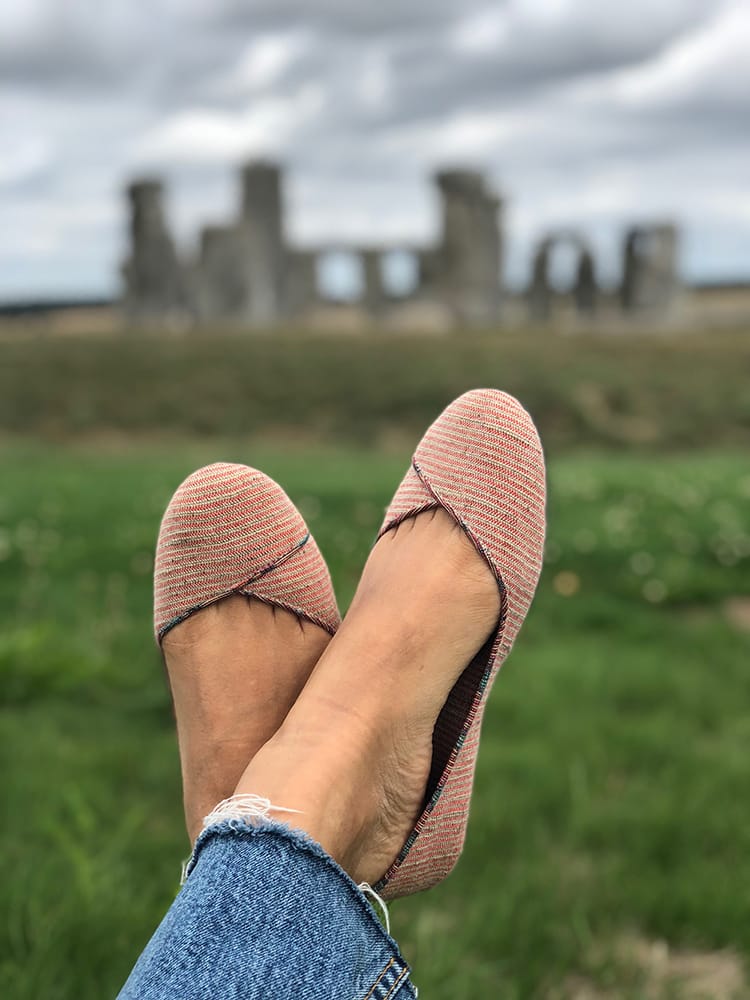 Tell me a little about yourself…
---
I'm Mingma Sherpa. I was born in the Sankhuwasabha District, Eastern Region in Nepal. My parents migrated from Sankhuwasabha to Kathmandu when I was two years old. I did my education up to bachelors in Kathmandu.
Some fun facts are that I am a self-taught designer. I can be too direct. The thing I enjoy the most is sitting next to a big window with a cup of tea and good music in the background.
---
What is your brand called and why did you name it that?
---
My brand name is "Paila" and it means step in Nepali. I named it that way because it represents the step I took to enter into this world of entrepreneurship, self-exploration and ideation.
---
What do you make?
---
Our main product is making beautiful shoes, but we also introduce bags sometimes. Our key resource is Himalayan Giant Nettle and its derivatives which is harvested, processed and hand loomed in the eastern region of Nepal, my birthplace.
---
What inspired you to come up with your brand?
---
There are many combined factors in making up my brand. My interest and curiosity in trying out the ideation into implementation. My exposure to different places in and around Nepal while working and finding about local products. Traveling to different countries and getting inspired by beautiful designs, attention to details and the link to its culture.
In the beginning, I had many ideas and concepts but with much research on resources and skills, its pros and cons for the environment etc. I narrowed down my idea to just making shoes.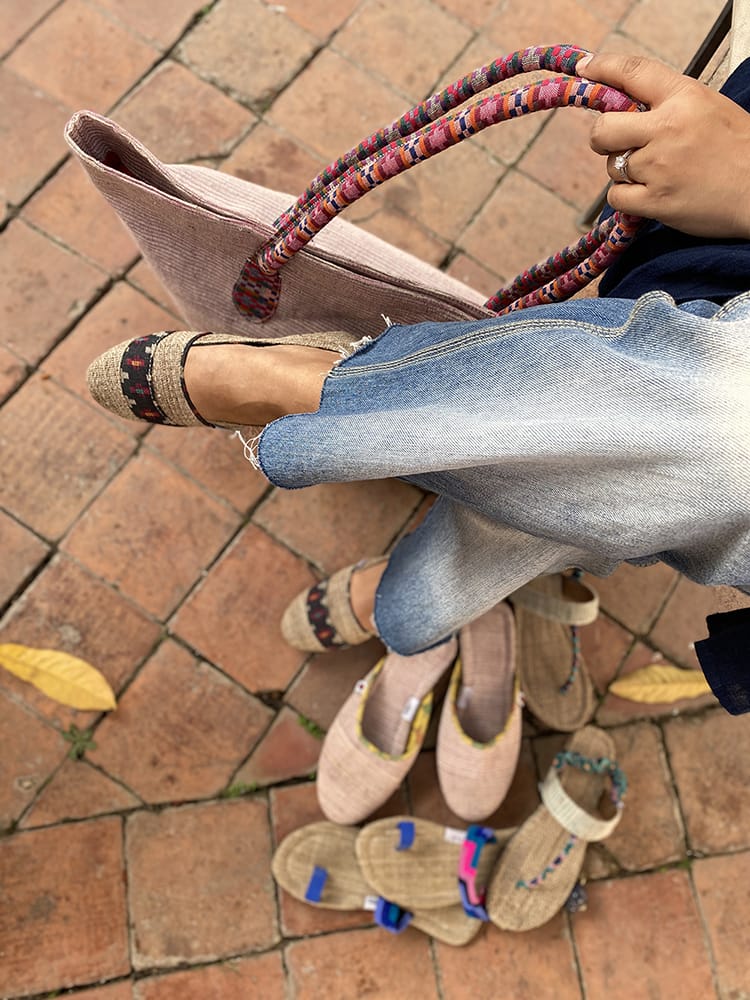 How are Paila's shoes produced?
---
We use local resources like Himalayan giant nettle fabric which is harvested, processed and hand loomed in the eastern region of Nepal. It's a sustainable fabric because they grow wildly in the jungles, do not need lots of water like cotton, are processed using local techniques and do not undergo any harsh chemical treatment. It is one of the main exclusive fabrics that is actually made in Nepal.
The soles we mainly use are made from discarded plastic shoes and slippers that was later processed to making the soles.
The skilled labors are from a community who has been engaged in shoes making and tannery from generations.
The term "sustainable" is a very broad term, but what Paila focuses on to remain under that umbrella are…
We source our fabrics locally – Himalayan giant nettle (giving work to communities in the village)
Giving work to local skilled labor with good working condition and salary on a monthly basis unlike piece basis.
Designing our products keeping in mind zero wastage.
Continuously researching on finding alternatives to better and eco-friendly options and solutions be it packaging, courier or making process.
For example, we used bicycle courier service until now to deliver our products in and around Kathmandu. We use cotton bags and paper boxes for packaging, avoiding any single use items, and we do all our production manually with minimum use of energy.
---
What makes your products special or unique?
---
Our products are special because they are made from one of a kind fabric that is only made in Nepal so far. Our product is unique because it has a very beautiful design and a great finesse. Our product has subtle Nepali touch to it but with international taste and standard.
---
How much do Paila shoes cost?
---
It ranges from Nepali Rupees 2500 (around $25 USD)
---
How many people do you currently employ in Nepal?
---
Directly we employ three and indirectly there are many considering all those associated with Paila from where we source our resources to those who are involved in distributing and retailing our products.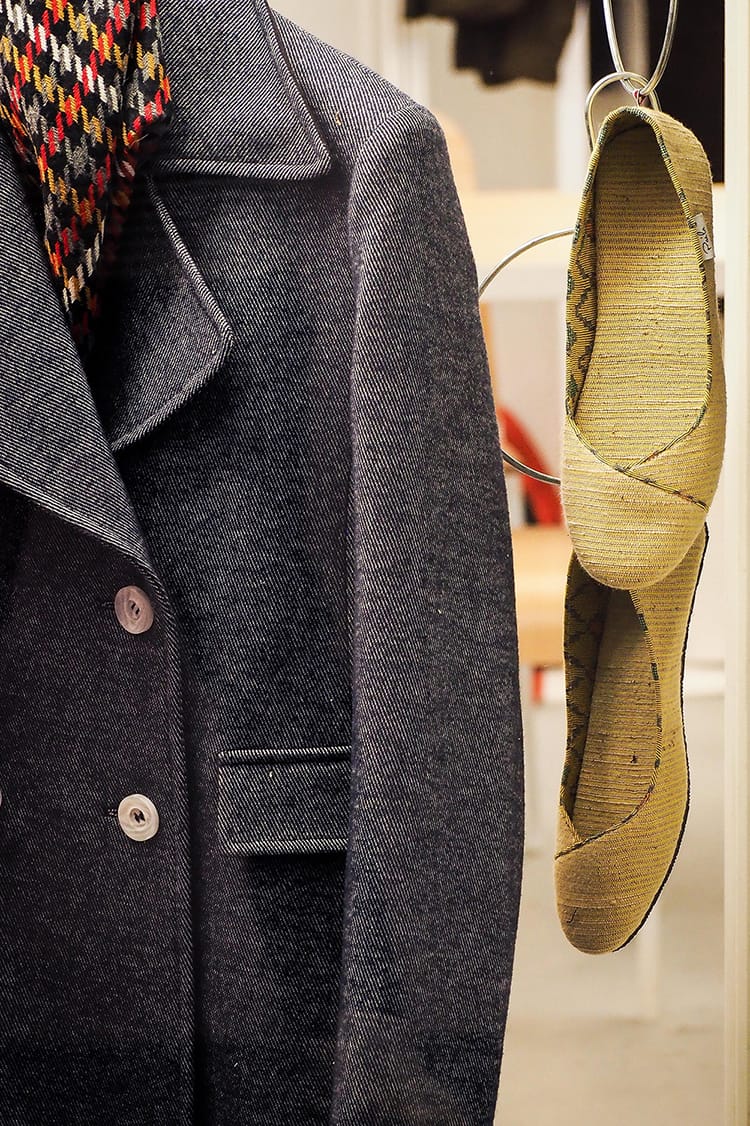 Where can people find your items?
---
Timro Concept Store, Bakhundole
Peacock Guest House, Bhaktapur
Urbanyeti, Lakeside, Pokhara
---
What's in store for Paila in the future?
---
My plan is to go global but taking baby steps to reach there. We are working on developing new designs. I think looking into online platform for sales will be our priority.
---
What is the best part of owning your company?
---
The best part of running my "Paila" brand is that it has helped me to bring out the best part of me and accept the worst /weak part of me.
For me it has been like aiming to climb Mount Everest. The excitement, anxiety and uncertainty associated with it. You need a lot of courage, assistance, team, support, proper equipment, plan and guidance. You might reach a point when you feel like giving up due to harsh conditions but at that point it's just about waiting, seeing it from different perspective and even deciding to take one step back "acclimatization"
You just need to take one step at a time. At the end, it's not about the destination, it's about the journey.
---
Follow Paila on social media…
---
---
Is there anything else you'd like to share about Paila?
---
I can proudly say that Paila is the first homegrown shoes brand in context to using 70% of local resources and skills. We are the only shoes brand in Nepal that focuses and prioritizes the impact it leaves to the environment and to the people. We are small, slow but steady to be recognized globally as sustainable shoes brand.
---
You might also like…