I'm back with another made in Nepal brand highlight. This time, I'm talking to Kushal Achhami, the co-founder of Samsara Creation. Samsara Creation is a brand that focuses on up-cycling and is most well known for their reuse of denim jeans which are turned into stylish bags! As someone who loves a good up-cycled item, I was excited to hear more about their collection. Check it out…
Tell us a little about yourself…
Hello everyone, my name is Kushal Achhami from Kathmandu. Currently, I am the co-founder and head of business development at Samsara Creation.
Before Samsara, I spent most of my college days watching movies and playing video games. After completing my BBA from Apex college, it was time for me to do something. This drive led me to volunteer in the ICS project for 6 months in Makwanpur and then I worked as a field officer in Gorkha for a year.
After working for almost 2 years, I felt that I was not able to create the impact I had expected. So, I decided to leave my job and reflect on my career options. That is when I joined the Masters Course at Kathmandu University School of Arts. In a 2 year period at the university, I identified two things: Street Photography, and Samsara Creation. I have been working in this start-up for 2 years now and photography has definitely helped to expand my horizons.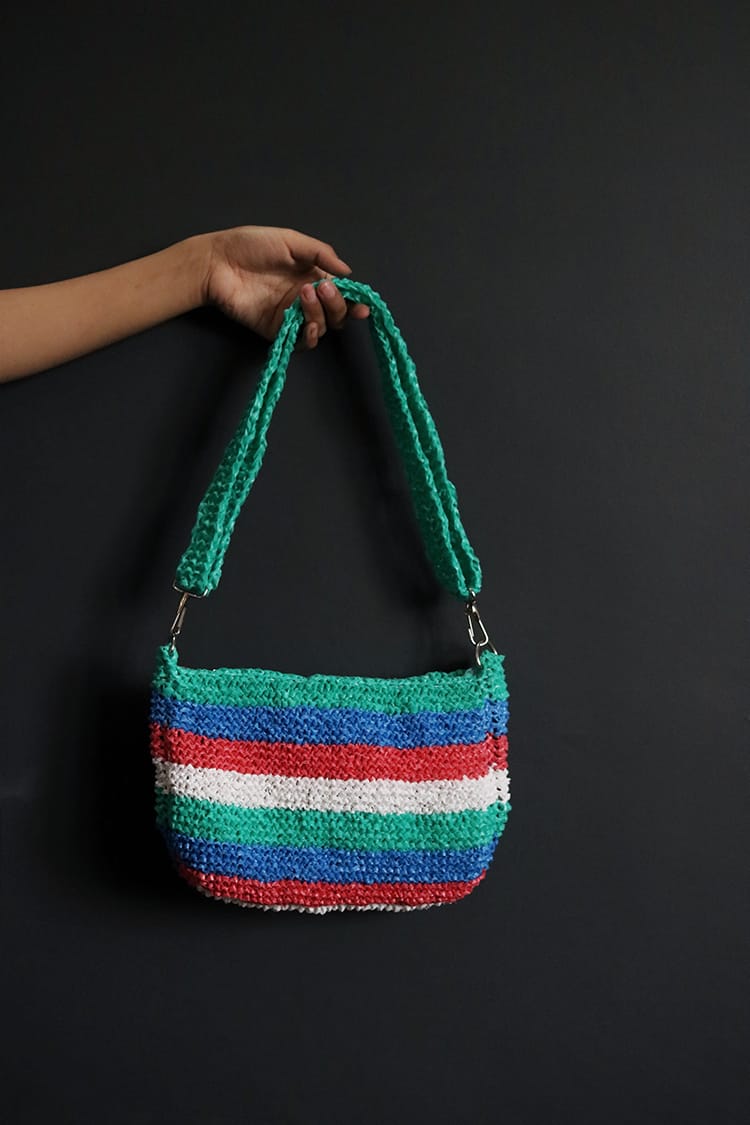 What is your brand called and why did you name it that?
The idea of the name came to me from the documentary "Samsara" directed by Ron Fricke. If you haven't watched it, then you definitely should. After watching the documentary, I studied the meaning which was fascinating as Samsara means the continuous cycle of death and rebirth which is bound to life in the material world.
It was after 6-7 months, we decided to build a start-up that will upcycle solid waste. Now, we had to name our start-up. After struggling for many days, I proposed the name Samsara. Everyone liked it but the name felt incomplete. So, we came up with Samsara Creation. The brand name was perfect for us as the meaning of Samsara directly connects us with waste upcycling and recycling as the reincarnation or rebirth of waste; creation adds a value of creativity that we pour into our work.
What does Samsara Creation make?
Samsara works on two fronts when it comes to products i.e. repurposing solid waste and promoting natural fibers. Currently, we are selling utility and fashionable bags, bucket hats, purses, etc. made from up-cycled jeans. We are also up-cycling polythene plastics into handbags for women and various other utility bags. The idea of thrift-flip has led us to focus on apparel and decor products as well.
In the case of natural fabrics, we are selling various travel bags that are naturally dyed and made from hemp and dhaka fabrics.
What inspired you to come up with your brand?
For us, inspiration came with two things. First was witnessing the problem of solid waste in Kathmandu as we were studying the issue of waste management very closely. For instance, one of our co-founders (Bijay) has been working in the waste management sector for more than 3 years. So, the inspiration came from all of us as we were continuously talking about the issue. This led to the birth of our initiation.
Second was to start something on our own. For example, Tanoshi (Product Designer of Samsara) was already planning to work in the field of up-cycling. Bijay was involved in his start-up and he wanted to expand more into the waste sector. Ajit was leading awareness raising activities on SDG 12: responsible consumption and production in KU through SDG hub. In my case, having already worked in the development sector, I wanted to work on something that would be impactful. So, Samsara Creation was the right choice for all of us working on a common objective.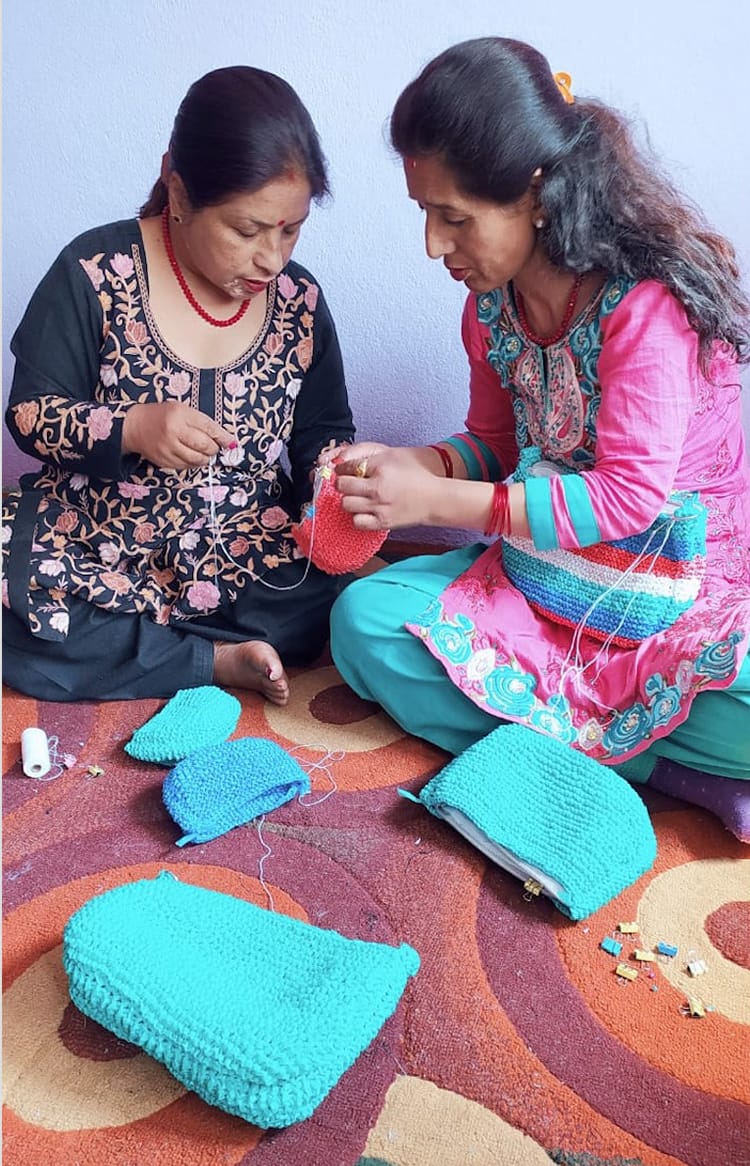 How are your items produced?
To manufacture our products, we are collaborating with local artisans and fashion designers. We believe that Samsara Creation is going to be a platform where local artisans and modern designers will collaborate, co-create, and work with each other with a common objective as promotion of a circular economy.
After raw materials and sample design of the products have been decided by the designer, it is given to local artisans for final observation. This consultation with local artisans helps us to produce the products more efficiently and sustainably. Only then, we step into manufacturing.
Besides this, we have also promoted the products of local artisans from Kathmandu, Bhaktapur, and Patan. Since we are a green business, all of our products are eco-friendly because we up-cycle textile and plastic waste, and use natural fibers sourced from hemp or nettle.
What is the price range of your items?
Our products' price ranges from 750 NRs ($7.50 USD) to 1550 NRs ($15.50 USD).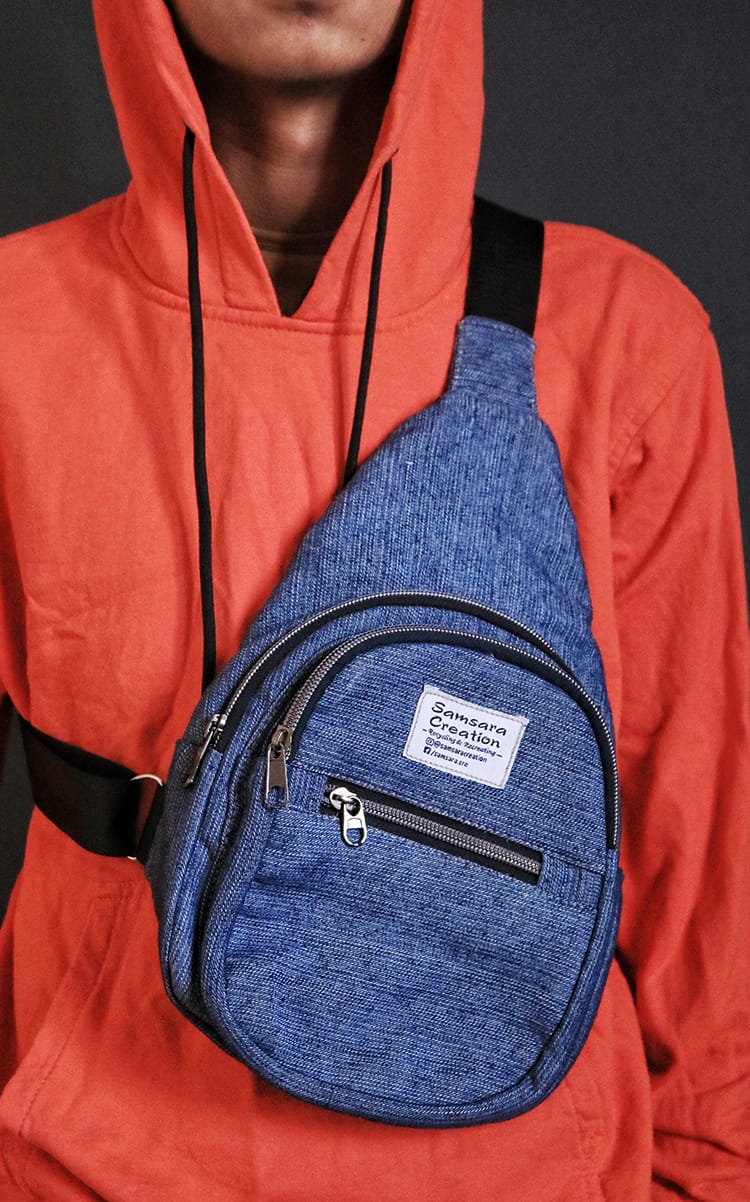 Where can people purchase Samsara Creation's products?
Currently, we are selling through our social media handle i.e. Instagram and Facebook. In the future, we are planning to build a website for more visibility. Also, we have been in conversation with many retail stores that promote eco-friendly products. So, we will definitely inform our customers when these things will be finalized.
What is the best part of running your company?
In Samsara, we believe in collaboration at its core. Through our initiative, we have been able to collaborate with various local artisans from different parts of Nepal. Recently, we collaborated with Dhaka Udhyog from Palpa who have been manufacturing dhaka and providing weaving training for more than 60 years. Also, we organized an awareness-raising workshop for the women's committee in Pokhara.
Now, we are trying to build up a network with local-scale entrepreneurs from various parts of Nepal; and we have identified a lot of them. So, it motivates and inspires us that there are many rural entrepreneurs with whom we can collaborate and promote a sharing economy where everyone would prosper.
Follow Samsara Creation on social media…
You might also like…