One of the things I really love about Nepal is how easy it is to support local companies. Buying vegetables from a local stand or visiting a farmer market doesn't take a lot of effort. I stumbled across Sanchai at my favorite market (Le Sherpa) where you can buy lots of tasty local treats. Sanchai makes peanut butter which is grown sustainably in Nepal. Check out my interview with the owner Kotobuki Naka.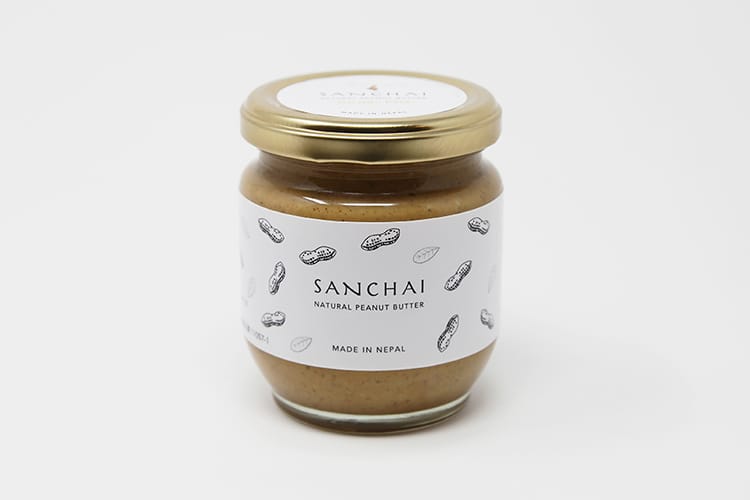 Tell me a little about yourself…
---
My name is Kotobuki Naka. I am from Japan and a Japanese citizen. I decided to set up this company when I first visited Nepal about 4 years ago. At that time, I worked for an IOT (Internet of things) company and visited Nepal to explore the possibilities of charity programs. I have an interest in art. When I first visited Khotang, Nepal I felt as wonderful as encountering some wonderful art-piece. That's why I thought there was no world of spectacle. It was a very exciting experience for me which still stays in my heart.
---
What is your brand called and why did you name it that?
---
Our brand name is SANCHAI which is the Nepalese way to ask, "if you are fine?" It is also a common way to greet people extending concern for one's wellbeing. When we launched this brand, we aimed to create something that the Nepalese own as one of their authentic products and they could be proud of. Hence, we thought of this word which people are quite familiar with. Also, we are longing to make it a global brand, so we thought of something that would be easy to remember.
---
What does Sanchai make?
---
We manufacture peanut butter- with sugar and without added sugar. We also do our sales on our own.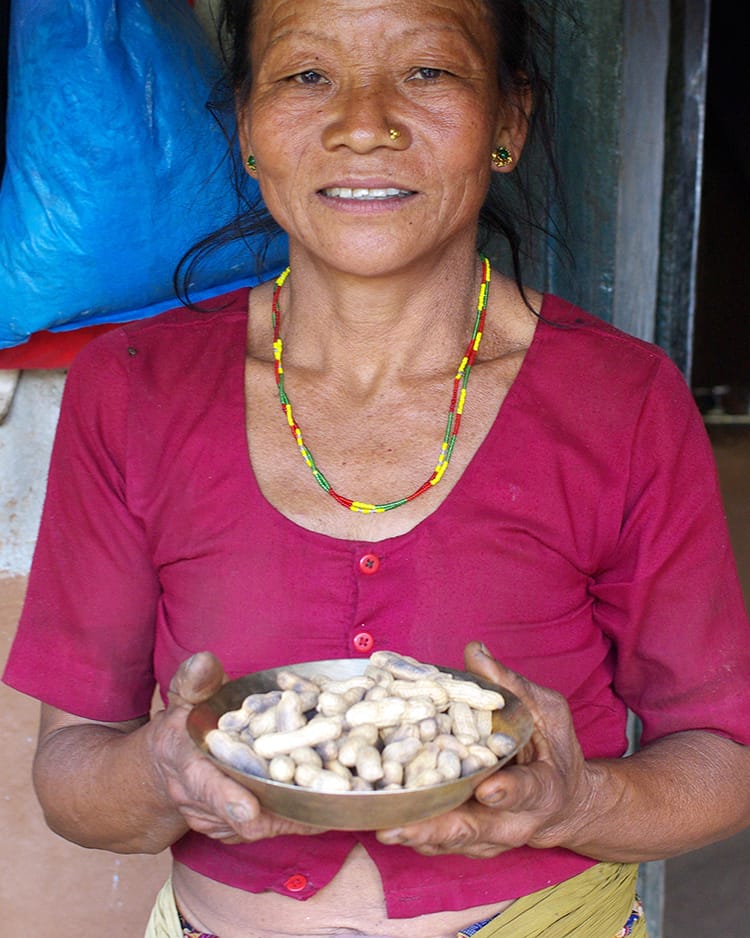 What inspired you to come up with your brand?
---
A lot of our actions were/are based on the interactions with the farmers and the local people there in Khotang. They expressed their serious concerns over migration and not much opportunity or incentives in staying in the village. So, we explored the best possible ways to create something authentic and local with them being a major contributor.
---
How is your peanut butter produced?
---
There is a unique aroma and texture in the native peanuts grown in Khotang. They are naturally organic and grown with a lot of hard work. It was our first inspiration to explore the possibilities. Then, there were a lot of women who extended their commitment to work on the project which further strengthened our guts. We set up a factory and started the processing with the farmers and those women as our most confident partners.
For the processing, we buy only small sized native peanuts which are hand peeled and go through manual filtering three times. Then, the peanuts go through the rest of the due process. The entire process happens in the factory based in Khotang.
This venture has encouraged more farmers to grow those native peanut breeds. Our staff in the factory have enhanced economic confidence and they are inspiring a great deal of women in the community towards economic engagements.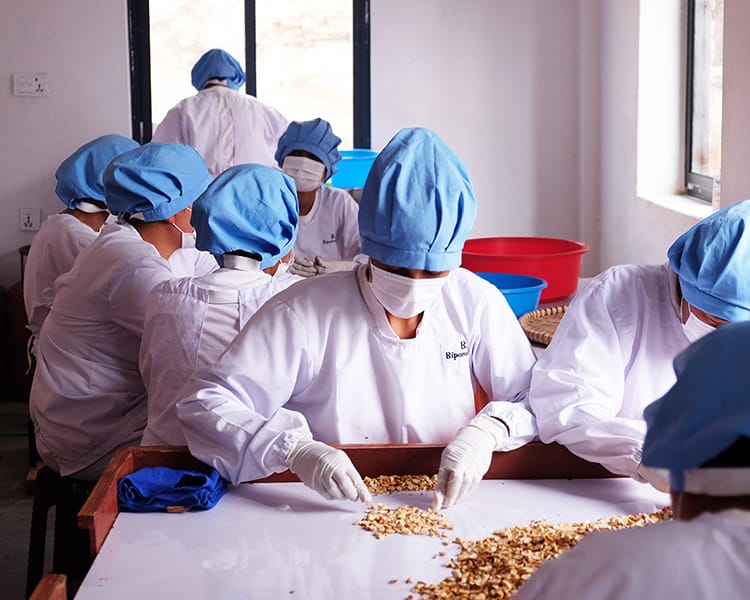 What makes your product unique?
---
As said above, the texture and the aroma of our special peanut is the most crucial factor in terms of taste and other nutritional values. Furthermore, these peanuts come with 1.3 times more protein than usual. The addition of some spices enhances the pleasant aroma. The entire process adds certain values in making the peanut-butter special.
---
What is the price range of your items?
---
The price range of our product is Rs.700 ($7 USD) for the 180 gram jar (each with sugar and sugar free) and Rs.150 ($1.50) for the 30 gram jar (each with sugar and sugar free).
---
How many people does Sanchai currently employee in Nepal?
---
There are 15 people engaged with this project (13 female & 2 male).
---
Where can people purchase your items?
---
On our Website
In Kathmandu Valley
Farmers market at Le Sherpa (every Saturday, Maharajgunj)
The Local Project Nepal (Inside the Le Sherpa)
Himgiri Organic Hub (Bouddha)
Hotel Kaze Durbar (Kamalpokhari)
Hotel Ambassador (Lazimpat)
Friendly Pashmina Export (Thamel)
Ananda Tree House (Bouddha)
In Lalitpur Area
The Local Project Nepal (inside the Evoke Café in Jhamsikhel)
Piano B Restaurant (Jhamsikhel)
Nepal Ganesha (old patan near Krishna Mandir)
Fuji Bakery (Patan Dhoka)
Nina & Hager Grocer (Bakhundol near British School)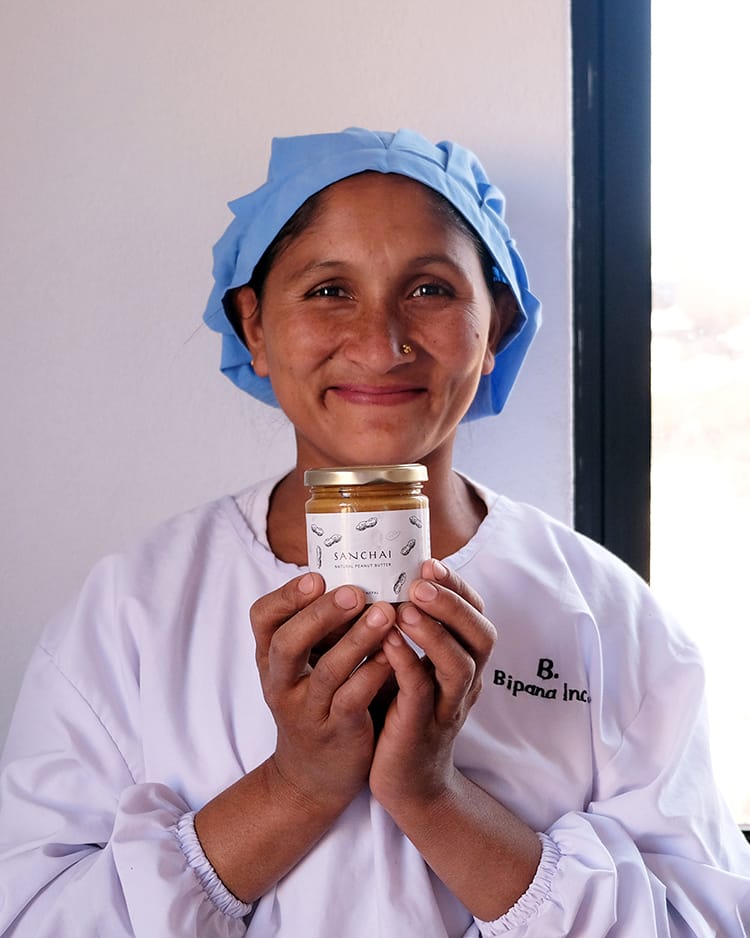 What are your plans for Sanchai in the future?
---
First of all, we want to develop a sales channel as inbound and export. By maintaining the visualization of value, storytelling, hygiene and quality control. Also, to create a D2C marketing system in the future. We also plan to develop new products using peanut butter.
---
What is the best part of owning your company?
---
We built this venture to strengthen the community there in Khotang, and we are so happy that all the farmers and their family trust us with their crops. Our factory staff has grown confident and exhibit a great deal of independence in their personal and professional lives. All the collaborators in the market have expressed their encouragement, acceptance and trust. This all makes us a diverse community of people dedicated towards social change and the journey itself is very satisfying so far.
---
Follow Sanchai on Social Media…
---
---
You might also like…