Melamchi Ghyang (not to be confused with Melamchi City), is a small village in Langtang National Park along the Helambu Trekking Route. It's known for its dense population of Yolmo (Hyolmo) people as well as its religious significance among Tibetan Buddhists. According to the Nepal Tourism Board, "Sermathang, Tarkeghyang, and Melamchi Ghyang are the largest and oldest cultural villages inhabited by the Hyolmo/Yolmo community, a culturally rich ethnic group in this (Langtang) conservation area."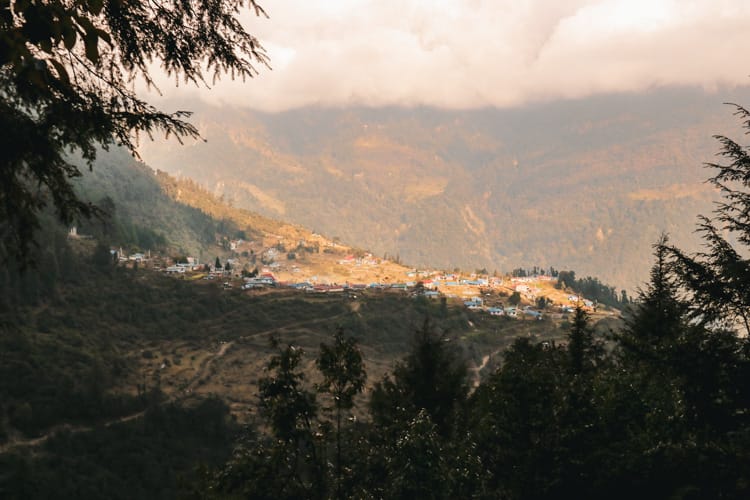 ---
Brief History of Melamchi Ghyang, Nepal
---
According to locals and legend, the village was founded in the 8th or 9th century. Guru Padmasambhava Rinpoche (the founder of Tibetan Buddhism) visited the area around 600 years ago to meditate. Legend says that he heard from other Lamas (gurus) that the area was sacred. It's said that to be born in the area or to have visited is a good deed and gives good karma. Today, people come to visit the Nyinda Rengjon Meditation Cave where Guru Rinpoche meditated. Some followers believe that meditating in the same spots as Guru Rinpoche enhances the meditation and helps them to reach enlightenment.
If you're interested in learning more about the Hyolmo/Yolmo people and Tibetan Buddhism in the area, I'd recommend checking out Guide to the Hidden Land of the Yolmo Snow Enclosure and its History which also mentions the holy sites in the area.
---
Melamchi Ghyang Guide
---
Major Ethnicity:
Yolmo (Hyolmo)
Major Religion:
Buddhism
Language:
Nepali and Yolmo (Hyolmo)
Melamchi Ghyang Altitude:
2,530 m (8,300 feet)
Oxygen Concentration:
75% compared to 100% at sea level
Melamchi Ghyang Population:
Approximately 650 people live in Melamchi Ghyang according to locals.
Best Time of Year to Visit:
It's best to visit in the peak season around October or November as the skies are clear offering great views. It's also a popular destination during the Janai Purnima Festival when pilgrims trek to Gosaikunda around August.
Wild Animals in the Region:
Animals in the Langtang National Park region include musk deer, Himalayan tahr (looks like a large mountain goat), red pandas, Himalayan black bears, snow leopards, ghoral (looks like a small goat/deer), mountain mice, gray langur monkeys, and over 250 different bird species.
Location:
Melamchi Ghyang is located 58 km (36 miles) northeast of Kathmandu inside Langtang National Park. It takes a 5 hour drive and a two day trek to reach the village. You can drive directly to the village if you'd like but it's a long bumpy road and a private vehicle costs about 16,000 rupees ($150 USD). We also saw some people arriving by helicopter.
Entry Permit:
Melamchi Ghyang requires a Langtang National Park Permit which costs 3,000 rupees (about $26). This permit can be purchased on the way at the park entrance or in advance at the Nepal Tourism Board office in Kathmandu.
NTC or Ncell service:
NTC has four bars and 4G.
Ncell has only one bar and 4G.
---
What to Eat in Melamchi Ghyang
---
Most villages in Nepal recommend you try the local dal bhat (rice, dal, and curries) which varies from region to region. The villagers here also recommend trying Tibetan tea (butter tea), Tibetan bread, dhindo, boiled potatoes, and thenthuk (Tibetan soup).
---
Things to do in Melamchi Ghyang
---
Melamchi Ghyang is known for its religious significance to Tibetan Buddhists, therefore most of the things to do in town are holy sites. Guru Rinpoche visited the area around 600 years ago. Some of the famous places to visit include Amitabha Temple, Nyinda Rangjon Meditation Cave, and the new monastery when it is completed.
This area is also a stop on the Helambu Trekking route, so trekking through nearby villages or up to Gosaikunda Lake are also popular options.
---
Melamchi Ghyang Lodges & Teahouses
---
Types of accommodation:
Hotels and lodges are available in the area.
Number of accommodations:
There are three places to stay in town.
Our choice:
Hotel Eco-Friendly – This hotel was recommended to us by trekkers we met at a lunch break who had been staying in the village for a few weeks. The hotel is clean with attached bathrooms. After trekking, this was a nice surprise. Most trekking routes don't have such nice places to stay. I would have to say that out of the 10 treks I've done in Nepal, this was the best bed I've ever slept in while trekking.
Price of a Room:
2000 rupees (about $20.00 USD) for a double room with an attached bath. 1000 rupees (about $10.00 USD) for a double room with a shared bath.
Price of Veg Dal Bhat:
500 rupees (about $5.00 USD)
Electricity:
There is electricity and it's free to charge devices in your room.
Toilet Situation:
Our room had an attached bath with a western toilet. The bathroom was brand new and modern.
Shower:
If you have an attached bathroom, hot showers are free. If you choose the shared bath, then hot showers are available for 200 rupees (about $2 USD).
Wifi:
Wifi is available in the dining area for a fee.
---
Melamchi Ghyang, Nepal Photography
---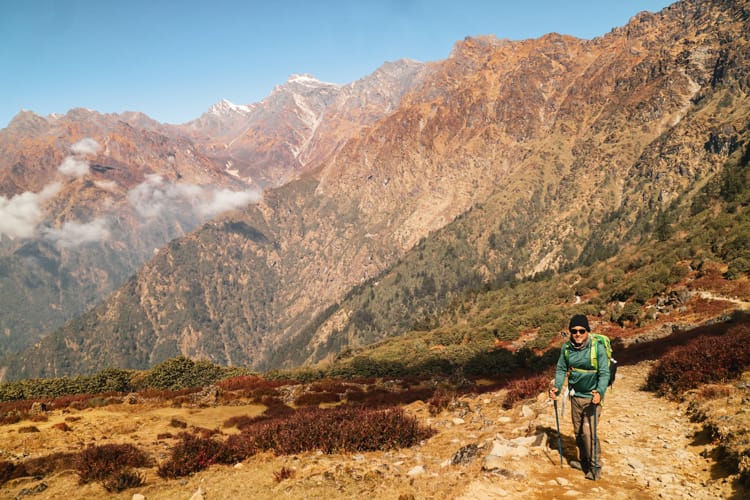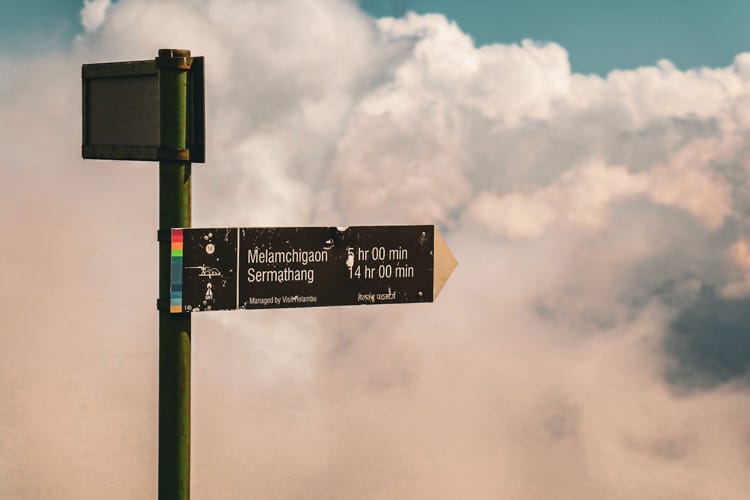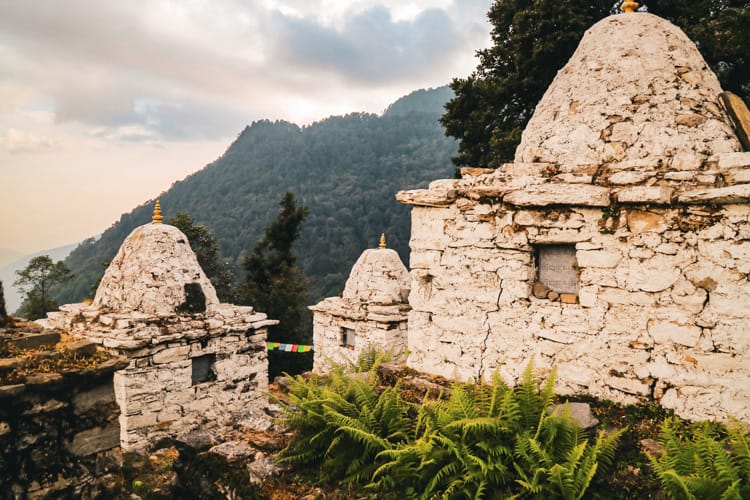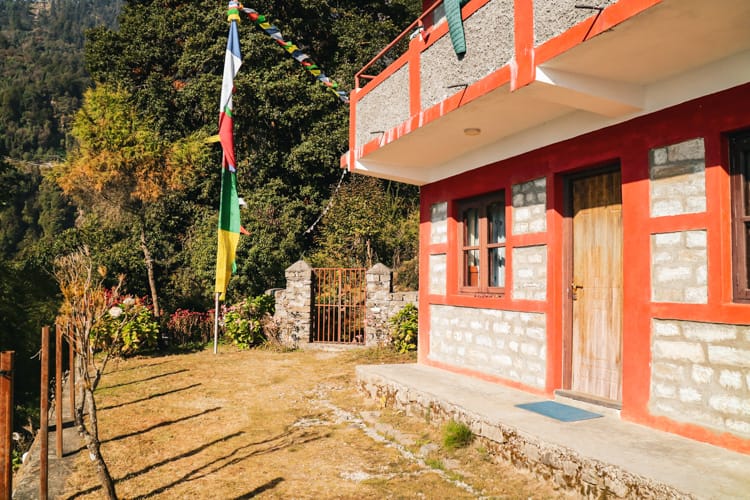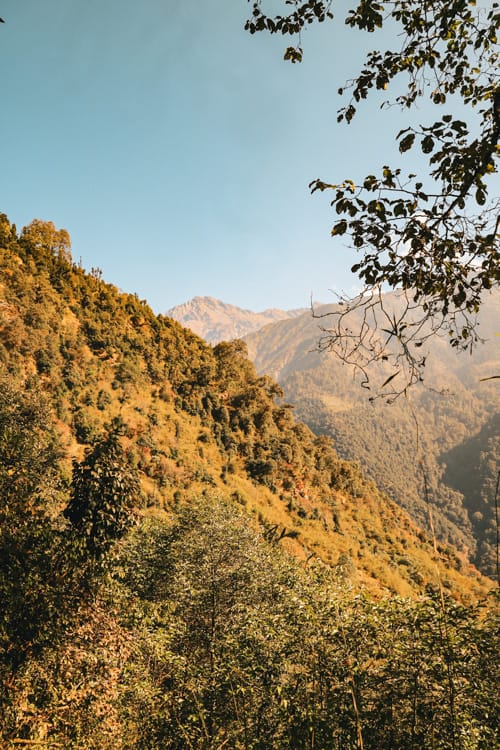 You might also like…