Lopburi… Gosh where to start. Lopburi was filled with an odd amount of excitement and overall confusion. My day started off fairly normal. I went to the train station and in true Thai custom it was running over an hour late. I spotted another backpacker (Jenny from Germany) close by and introduced myself. We were both headed to Lopburi and decided to team up. While waiting for the extremely late train we tried a weird dessert called roti-sai-mai, which I'm just now finding out from Google is "Thai cotton candy." It consists of a thin crepe and a bag of what looks like blond and green hair. Yes, hair. Not knowing what we were eating (a common theme in my life now) we gave it a go. Turns out, it's spun sugar. The texture is light and crunchy. Luckily nothing like hair.
After befriending yet another backpacker (Neal from Australia), we finally boarded the train. The ride is about two hours from Ayutthaya to Lopburi and it was completely packed. Imagine street vendors walking back and forth, selling every kind of food you could imagine on a crowded subway train during rush hour with no air conditioning. So yeah, that was happening. Luckily, Jenny and I got seats. The bad news, a guy nearby decided he had more of a right to sit down than I did. He told me that I had to stand in the aisle in broken english. When I didn't move, he tried to lift my bag off my lap. The humorous part was that I don't think he expected it to weigh so much, so he made little progress.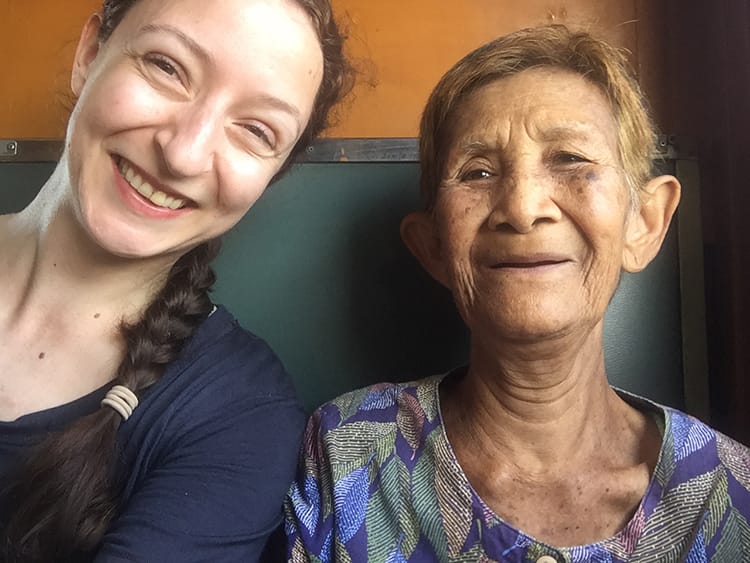 After feeling confused about what was happening, I turned to the woman next to me (an older woman who spoke no english) and looked her in the eyes questioning what to do. The woman shook her head and yelled at the aggressive man. I don't speak Thai, but I imagine the conversation went something like this… "You leave us alone. No. No. Go away. I said go away." There were some intense hand gestures that made me think she might be cursing at the end. The woman smiled at me, letting me know it was ok and not to take the guy seriously. Later on, she bought food and shared with me and Jenny. I absolutely adored this woman. I got to take a selfie with my new friend and she burst out laughing when her picture showed up on the screen.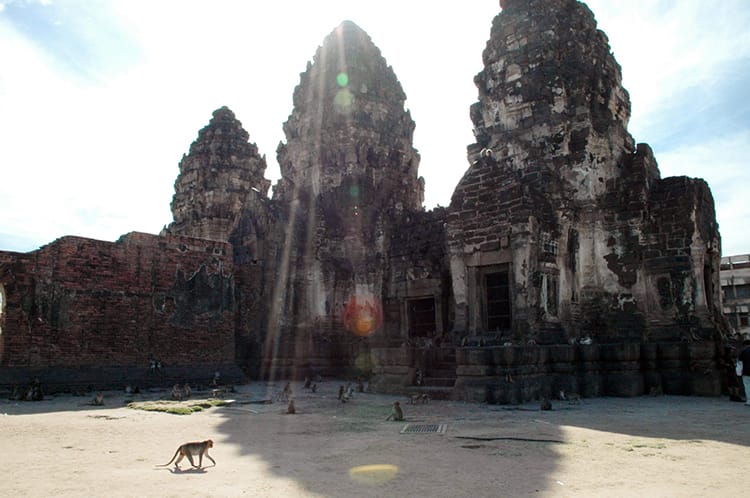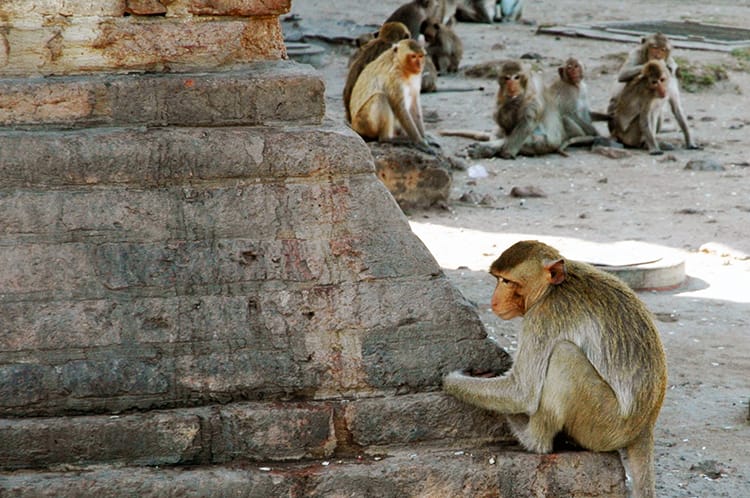 After saying goodbye and exiting the train, the three of us decided to hit up the infamous monkey temple since it's the main attraction. We were about a block away when we hit a herd of monkeys on the sidewalk. We quickly put away anything we didn't need because these little guys are shifty. Someone described them to me as "little humans with no morals," and that sums them up perfectly. They steal everything from earrings to iPhones. They even know how to unzip your backpack. No item is off limits. Not to mention the poop throwing and the biting which results in a series of rabies vaccinations.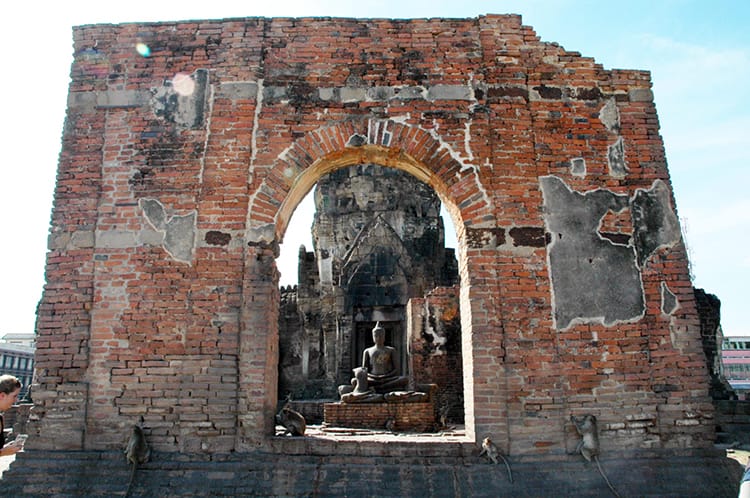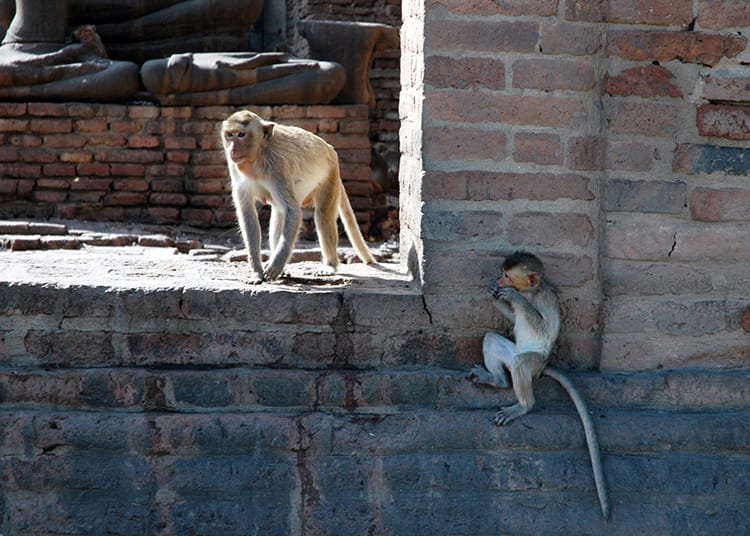 As soon as we entered the temple grounds, Jenny went to throw out her water bottle. Before she even reached the garbage a monkey stole it out of her hands and ran away. After realizing it was empty, he looked so sad. Neal gave the last of his water to the monkey who picked it up and drank it like a tiny person. I was absolutely stunned by the human like behavior of these little furry creatures.
We did a lap around the temple and Jenny bravely attempted to take a selfie with three little monkeys lined up in a row on the stairs. One jumped on her leg which she gently shook off. Minutes later, Neal squatted down to take a picture next to the temple. As soon as he got low enough, a monkey jumped on his backpack and tried to steal his water. We started taking photos while he laughed. Then, another monkey saw how much fun his friend was having and joined in followed by a third. Neal turned to us and said, "Is it still on me?" right as a fourth and fifth jumped on for fun. One was literally sprawled across his chest. "I'm just gunna keep walking and pretend this isn't happening."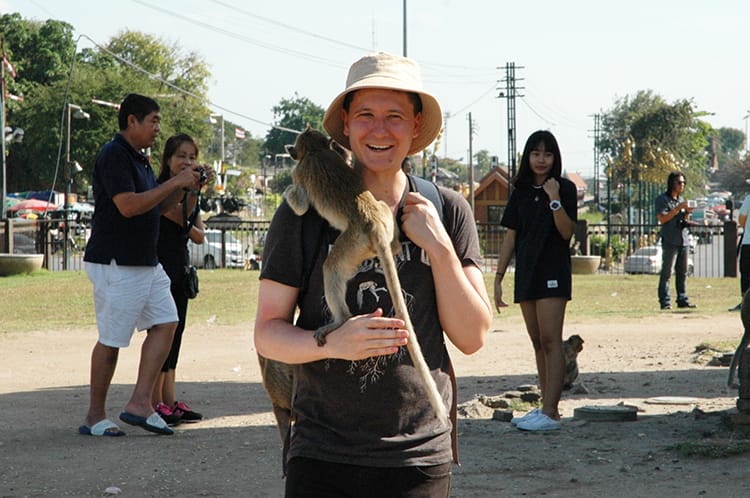 Jenny and I were cracking up, but none of us actually knew how to get the monkeys off. Another one jumped on and Neal started to freak out a little. "Guys seriously, how do I get them off?" I suggested he remove his backpack but truth be told he might not get it back. I saw a Thai person feeding some monkeys ahead of us and waved my arms and pointed at Neal. The man came over calmly clapped his hands and made a tisk noise with his mouth and they all jumped down immediately. Apparently, that's how you get them off.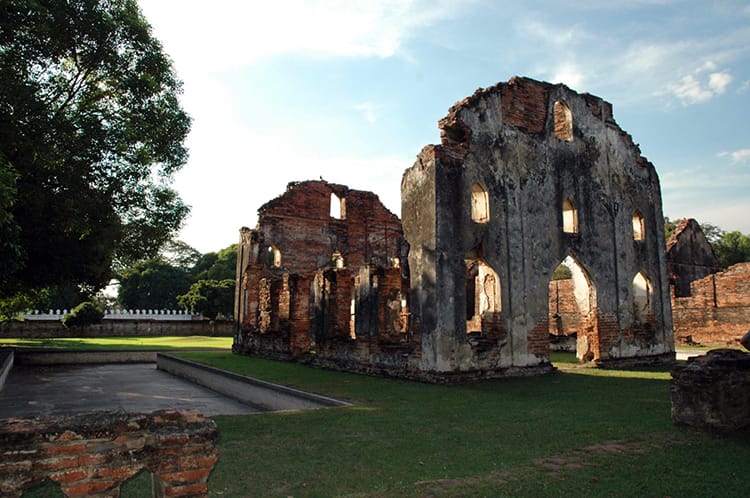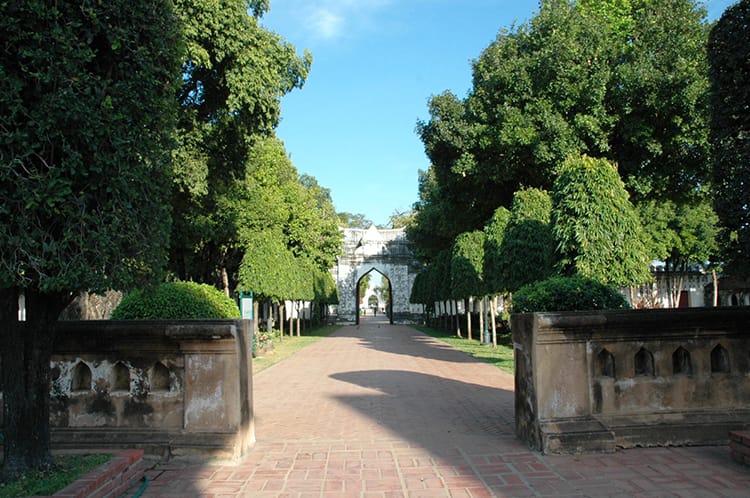 We continued on to see a few other temples and ruins and ended up at a bar/restaurant drinking the best banana smoothies I've ever had. Overall, Lopburi was definitely interesting and worth checking out. I feel like I really got to experience Thai culture on the train and seeing mischievous monkeys was definitely fun. Have you ever seen a monkey or visited Lopburi? Share your crazy monkey tale in the comments!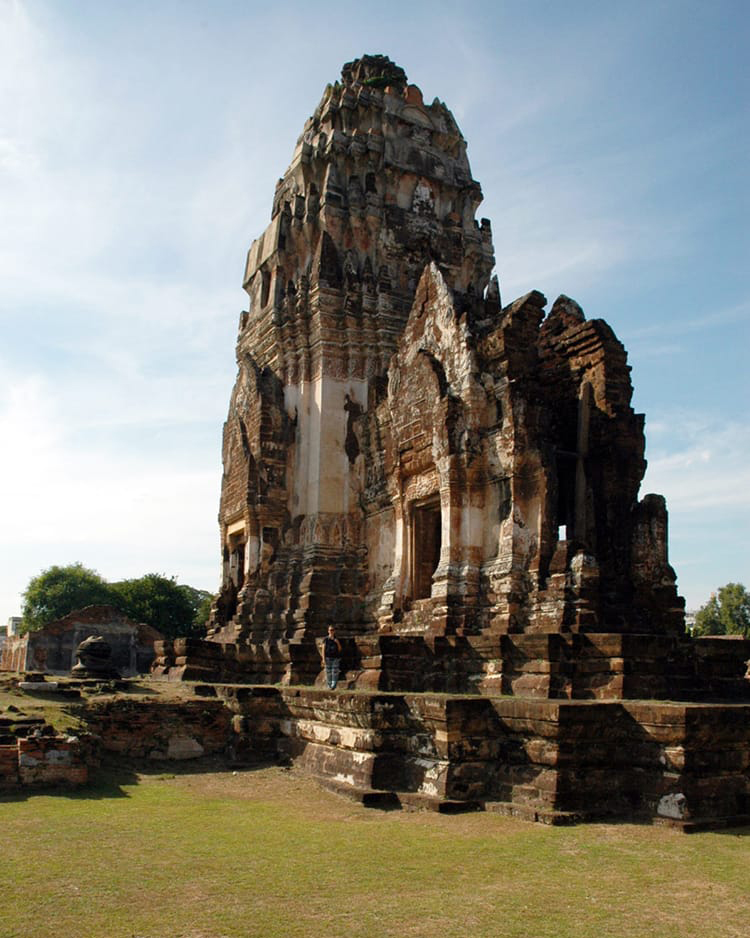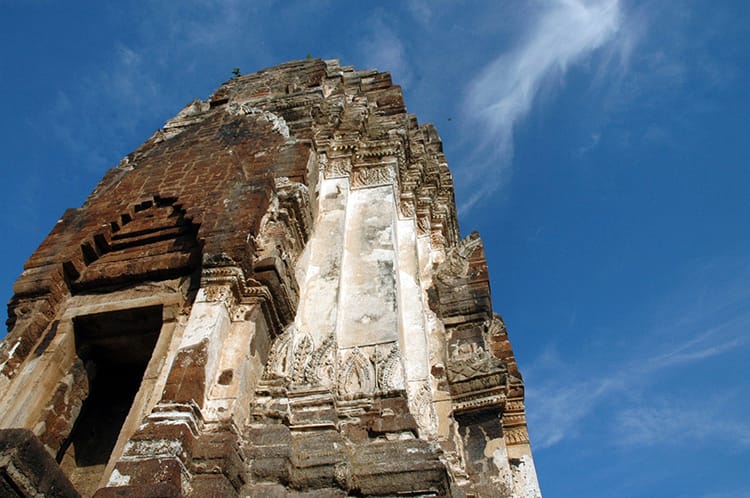 Looking for a Hotel in Lopburi?
---
You might also like…