After a rough first day in Bangkok of feeling lost and out of place, I managed to get my act together. I'd done so much research online but never really made any plans for my day to day activity. So I took a deep breath, and thought "What do I normally do when I visit other countries?" And I realized I usually get a tourist map, circle all the places I want to go, and then see if there's a pattern for walking to them. I pulled out my map and began Googling every monument and temple listed and created my very own self-guided Bangkok temple tour! I grabbed my daypack and walked out the door feeling like a total tourist and proud of it.
---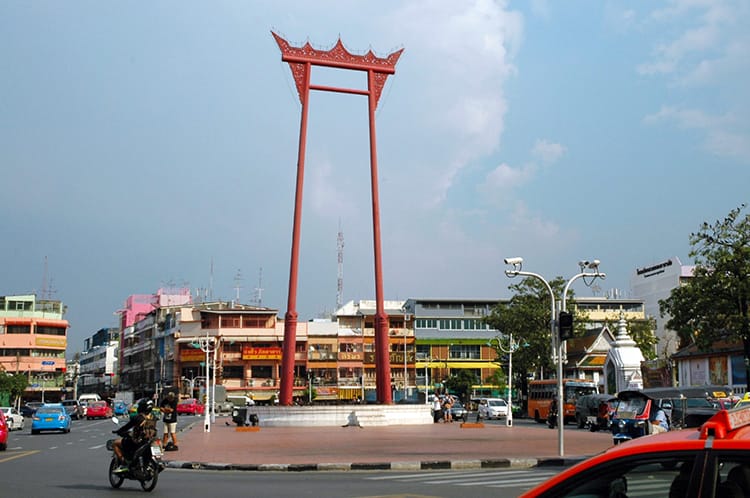 The Giant Swing
---
My hotel was located by the Giant Swing which is an easy landmark to find on maps. I'm not really sure it's worth going out of the way to see, but I walked by it almost every day since it's right around the corner from where I was staying.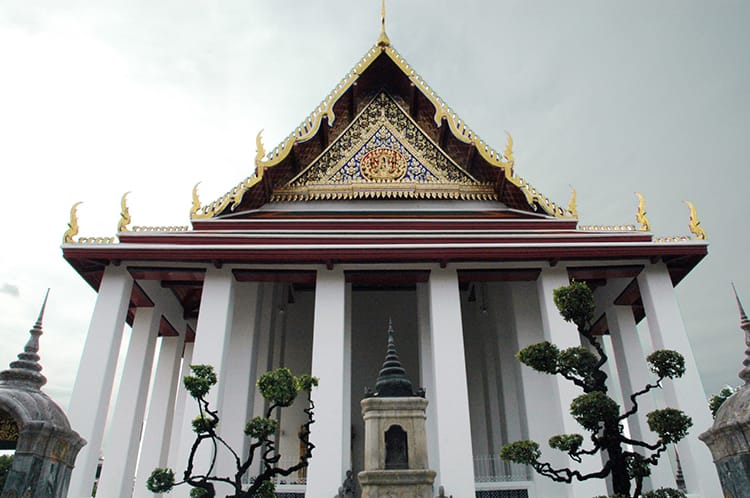 Wat Suthat
---
On maps, this temple looks small and kind of unimportant. In reality, it's fairly large. Right opposite the Giant Swing, it too is a place I've passed multiple times. I've noticed that it often looks closed, but you can go inside if it's before 3:30 or walk the grounds if it's after 3:30. This seems to apply to all the temples I've found.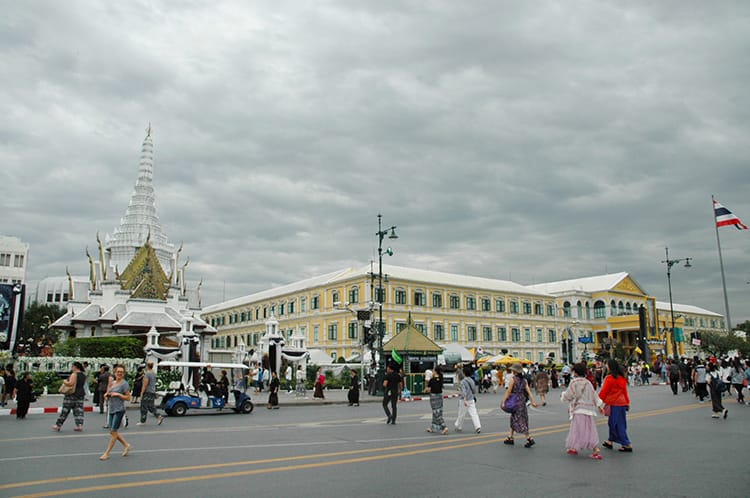 Sanamluang
---
This area made me love Bangkok. It's a closed off street which appears to only let government vehicles in. You will need to go through a quick security check, but this is how you gain access to a few temples and The Grand Palace. Being able to cross the street without getting hit by four different vehicles is like a breath of fresh air, so I really enjoyed walking around here. Everyone always mentions looking both ways when crossing a street, but I feel like no one mentions that cross walks are almost impossible to find. In addition, there are very few stop lights making it an all out free for all at every corner. It's like real life Frogger.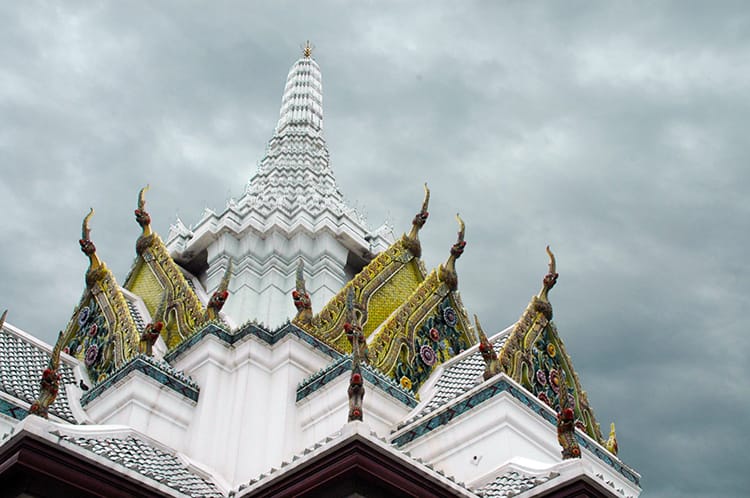 Wat Phra Kaew
---
Wat Phra Kaew consists of several smaller temples. This is a place where many people come to pray. I wish I understood the customs a little better or that someone was there to explain it because it was very cool to watch. You can purchase offerings and each one seems to go in a different place. Brightly colored fabric is tied to parts of the temple, rings of flowers are placed by statues, incense are lit, and other items are available which each have their own meaning.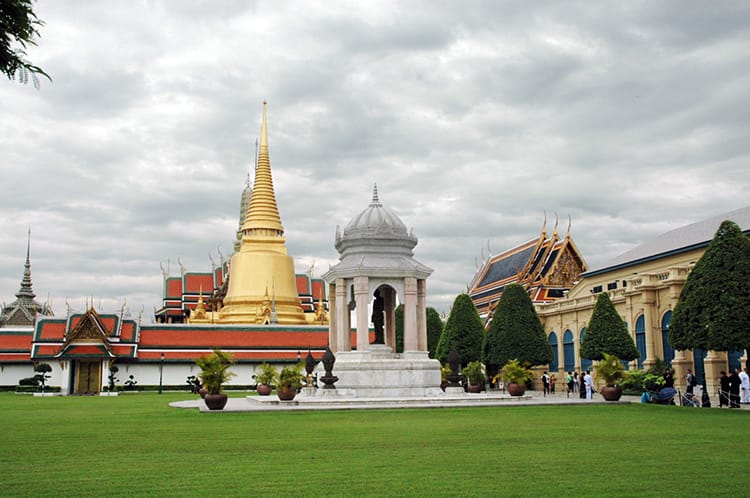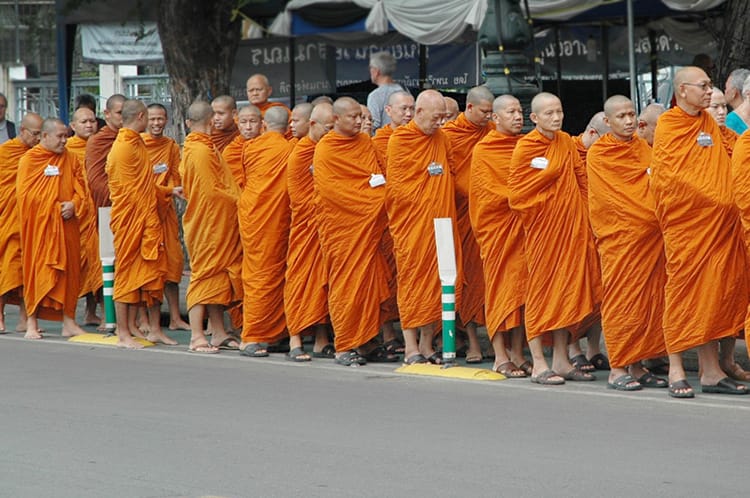 The Grand Palace
---
I walked the grounds of the Grand Palace but didn't go inside since it wasn't in my budget. The grounds are beautiful, but the thing I found striking was the line of people wearing all black paying tribute to the late King. A certain area was closed off specifically for people in mourning and the line to get in was very long. You can tell how beloved he was by the sheer amount of people visiting the palace months after his passing.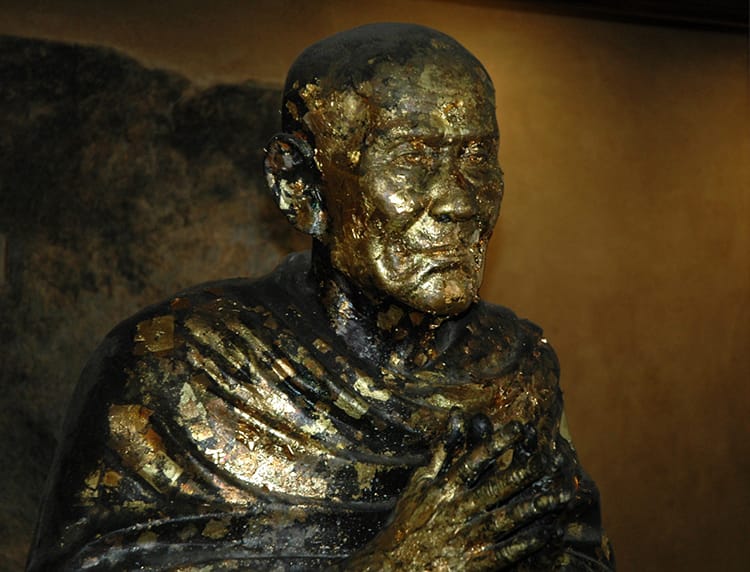 Wat Pho
---
A short walk down the street is Wat Pho. This is my favorite one thus far. I'd seen hundreds of photos of "The Reclining Buddha" and always kind of thought "Meh." But after asking Facebook friends for recommendations, I heard a few people say I had to go there. I totally understand why. The photos don't do it justice and it's impossible to capture how large it is on film. Here's the thing, I'm 5'7″ and I'm probably shorter than one of the Buddha's fingers. It is massive and absolutely awe inspiring! I actually said "Whoa" out loud when I entered. Not only was the Buddha amazing, but so were the grounds around the temple. Plus, admission was only 100 baht ($2.94) and it included a free water.
Wat Chakrawat
---
By the time I reached Wat Chakrawat, it was closed, so I could only walk around the grounds. A few women stood by the entrance, appearing to be security. Other than that, I had the place all to myself. There were two small dogs, one by the women's feet and the other wandering around smelling things. I took a picture from a safe distance and said, "Hey little guy" which must have offended him because he snarled and barked at me. I started to walk away, and the next thing I know the little monster is running after me. Of course, the only vaccine I didn't get was the rabies shot. So here I go sprinting across the temple with no one else in sight and a rabid dog chasing me. Luckily I escaped the little bastard and managed to get a few more photos of the temple before taking off.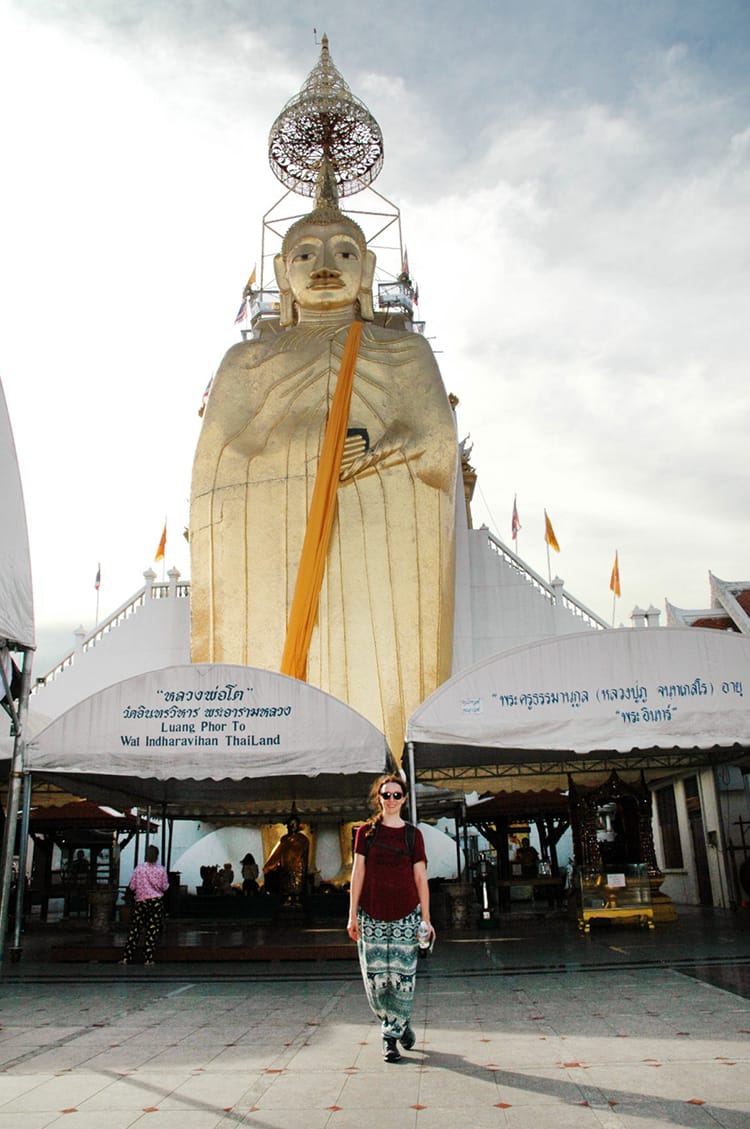 Wat Indraviharn
---
This temple was a lot further away than I thought it was. Unfortunately, I didn't really think it was worth the trek. After seeing the giant reclining Bubbha, this Buddha didn't seem as impressive. I guess you can't be blown away by every temple.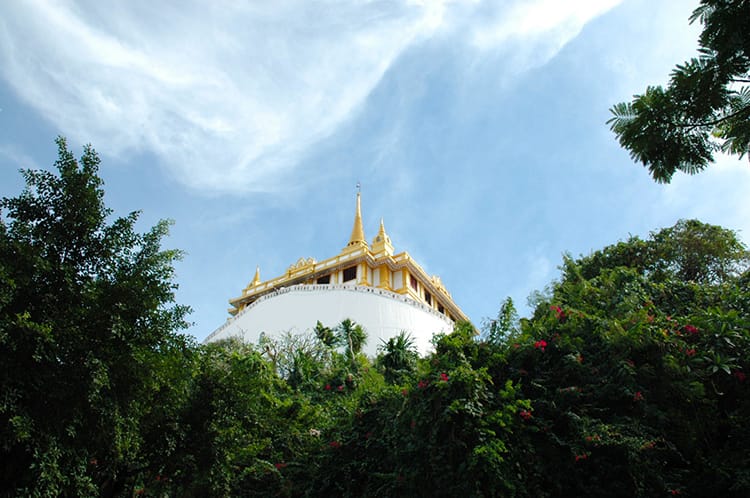 Wat Saket (The Golden Mountain)
---
Climbing the stairs to Wat Saket in 92 degree weather is a bit of a challenge. And by that, I mean I almost passed out. Luckily, the climb up was totally worth it. If ever there was a place to meditate, this would be it. I actually wish I could have done yoga there. It was so quiet once you got away from the noisy street below, and there are hundreds of tiny wind chimes hanging from the roof. As the wind blew, a thousand little instruments created the most peaceful orchestra. This was one of those experiences I don't think I'll ever forget.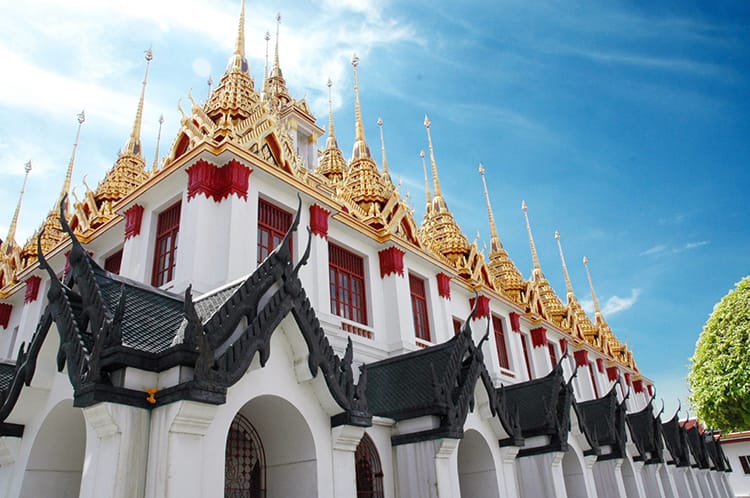 Wat Ratchanadda
(The Metal Castle or Loha Prasat)
---
The odd thing I've noticed about most of the temples is that very few people are at them. I saw maybe 10 other people walking around here. In Europe when I went to cathedrals it was impossible to take a photo without 100 people in it. The amazing thing is that you feel a sense of calm as soon as you enter the grounds. I loved walking around this temple and taking in the incredible architecture of each building.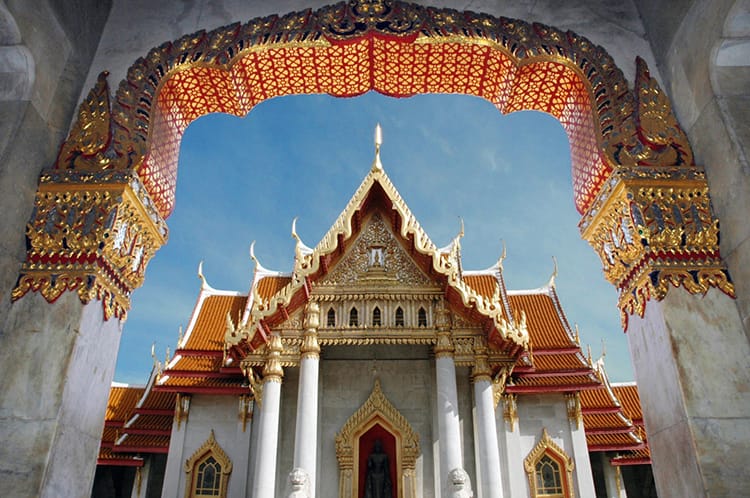 Wat Benchamabophit
(The Marble Temple)
---
The marble temple is out of walking distance from the other temples so I took a tuk tuk there. Being in a tuk tuk is like going 60mph on a bicycle with no helmut in traffic. I'm pretty sure that if I sustain any kind of injury on this journey, it will be in some form of a traffic accident. Despite the exciting journey there, the destination was incredible. I wish the photos did it justice, but this was one of my favorite temples. The areas that look gold in the photos were covered with glass and mirrors that reflected the sun making it look like a giant piece of very expensive jewelry. It honestly took my breath away, and again I was one of the few people walking around.
There were so many wats that I didn't even make it to. If I come back through I may try to see a few more but my two days spent hunting down temples definitely made me fall in love with this crazy, exciting, and somewhat overwhelming city.
---
Looking for a Hotel in Bangkok?
---
You might also like…