Even though I've lived in Nepal on and off for the last few years, it has taken being stuck inside for three months for me to finally learn to make traditional Nepalese food. My Mother-in-law (who we call Muwa), was kind enough to teach me how to cook a few of the basics starting with dry brinjal curry with potato. If you're tuning in from America, brinjal is the word South Asian countries use for eggplant.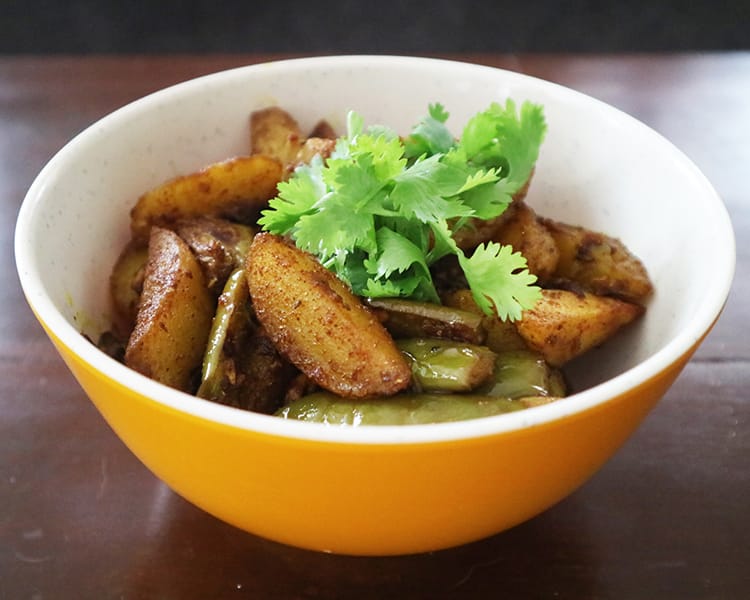 What you need to make Nepalese Dry Brinjal Curry
---
The thing is, Nepali food really isn't that difficult to cook. There are a few spices I've never heard of, but once you know the basics, you can cook a lot of different things. In case it's your first time cooking Nepalese food, I'm including a list below of the basic spices and ingredients you'll need (excluding produce) that you can purchase online. Some things can easily be bought at a local grocery store while others may take a little more searching. Note: not all items listed below are needed for this recipe.
How to serve Dry Brinjal Curry
---
In Nepal, it's customary to have rice with dal (lentil soup) along with a few side dishes whether these be meat or vegetable. The dry brinjal curry is best served as a side dish with rice and dal. The flavor is rather strong, so the rice and other items help balance the flavor as you would typically mix everything together on your plate.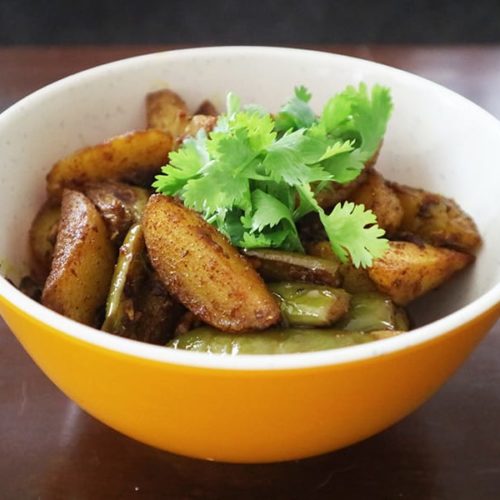 Nepalese Dry Brinjal Curry Recipe
Dry Nepalese style brinjal (eggplant) and potato curry
Equipment
Mortar and Pestle

Wok or Large Fry Pan
Ingredients
5

tbsp

mustard seed oil

1

pinch

fenugreek

2

pinches

thyme seeds

(not leaves)

1

pinch

hing

¾

tsp

salt

1

tsp

turmeric

½

tsp

garam masala

½

tsp

coriander powder

2

whole dried red chilies

(add 2 more if you like very spicy food)

4

cloves

garlic

1

inch

fresh ginger

2

large potatoes

(or 3 small)

1

large Chinese eggplant

(or 2 small)

1

sprig

cilantro

(optional for garnish)
Instructions
Prep
In a small bowl, combine a large pinch of fenugreek (should be about 10-15 pieces), 2 pinches of thyme seeds, and a pinch of hing.

In a second small bowl, combine 1 tsp turmeric and 3/4 tsp salt.

In a third small bowl, combine 1/2 tsp garam masala and 1/2 tsp coriander powder.

Remove the stems from the chilies but leave the rest of them whole.

Using a mortar, finely crush 4 cloves of garlic and 1 inch of ginger together. (You can use a small blender if you don't have a mortar)

Remove the skin from the potatoes and cut them into wedges about the size of a finger. Soak them in cold water for 10 mins. After done, strain the potatoes.

Cut the Chinese eggplant into wedges about the same length and size as the potato wedges.
Cooking
In a wok or a large nonstick fry pan, add the mustard oil. Heat the oil on medium high heat.

Add the fenugreek, thyme seeds, and hing. Let the fenugreek roast (about 40 seconds) until it turns a light brown

Add the two whole dried chilies. Fry for about 20 seconds. The fenugreek should be a dark brown.

Add the potatoes wedges (be careful as the oil may spit).

Add the salt and turmeric and stir until the potatoes are fully coated. Let the potatoes cook for 4 minutes and stir somewhat regularly so they don't stick to the pan.

Add the crushed garlic and ginger and stir it in. If the pan looks dry (not enough oil), you can add 1 tbsp of mustard oil.

Add garam masala and coriander powder. Stir it in.

Once the garlic/ginger has cooked for 1 minute, add the eggplant. Stir for 1 minute.

Turn the heat down to low, cover the pan, and cook for 7 minutes. Only open the lid quickly to stir it every couple of minutes.

After 7 minutes, turn off the heat and let it sit for 2-3 minutes before serving.
Notes
In Nepal, most homes have a spice tray where all of the spices are easy to access in a matter of seconds. If you have a spice tray, you don't need to combine the spices in advance. If all of your spices are in separate containers that need to be opened, then it's best to prep the spices in advance since the recipe moves quickly.
Photos of Nepalese Dry Brinjal Curry cooking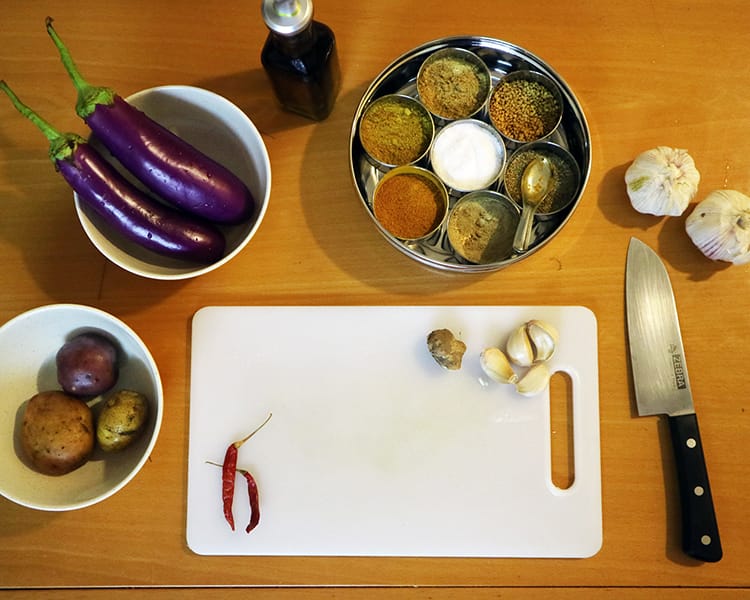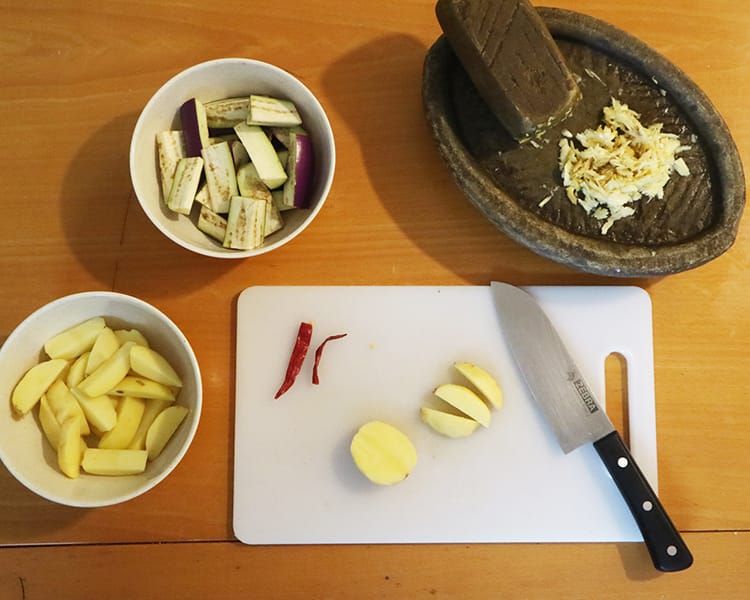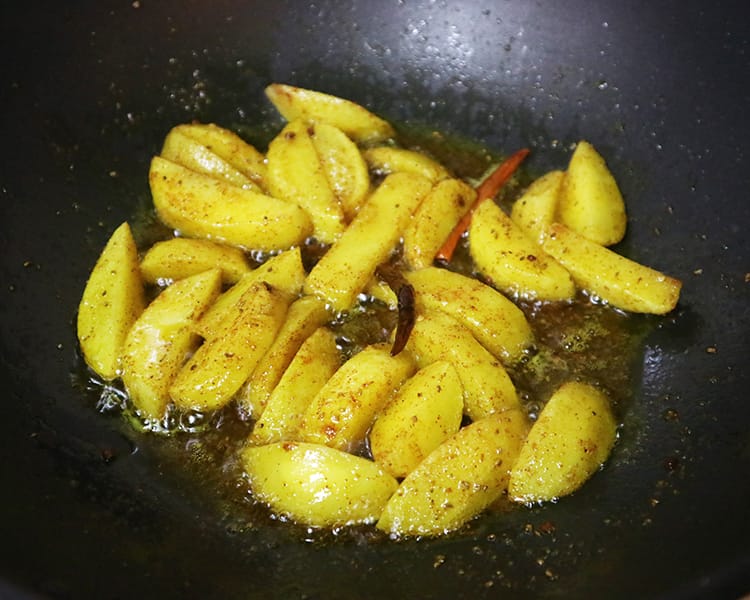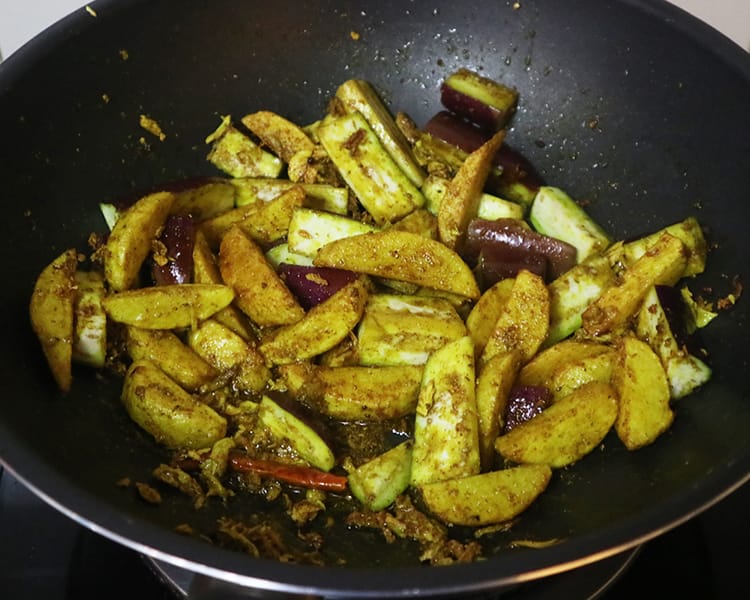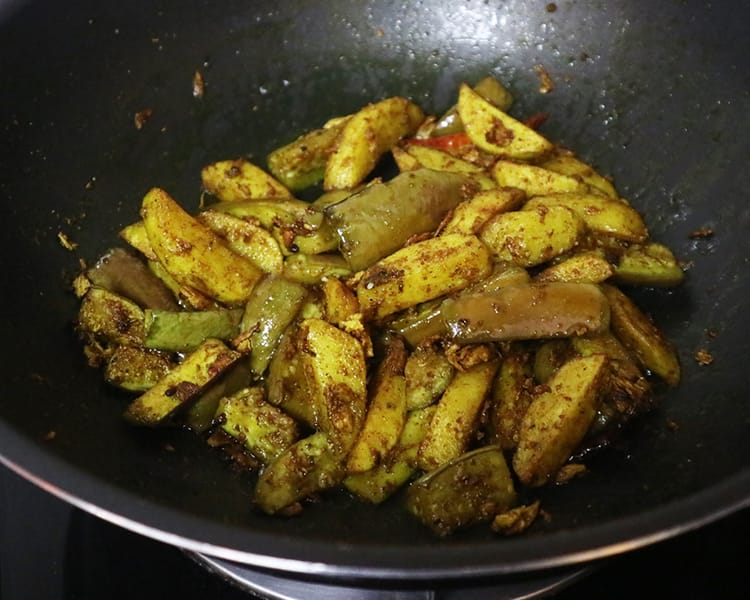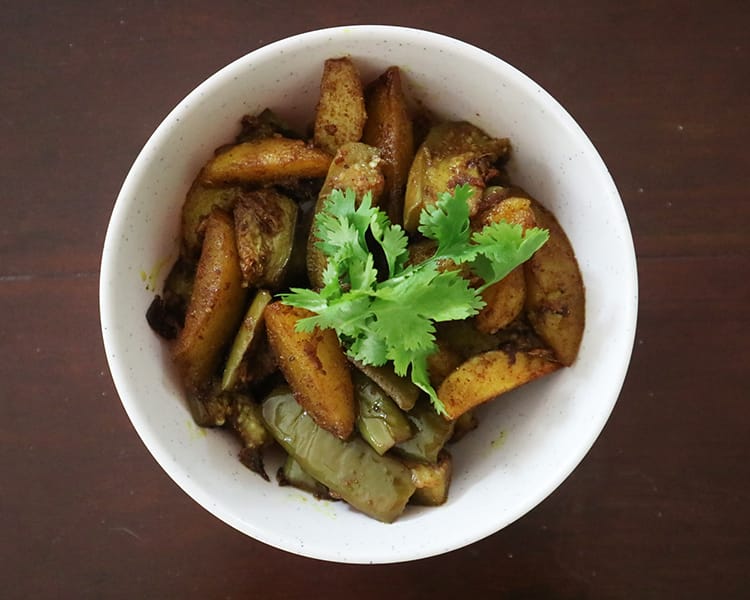 ---
You might also like…