Achar is probably one of the most memorable parts of a Nepali dish simply because we don't have anything like it back home. Achar is a bit like a Nepali salsa, or at least that's the closest thing I can compare it to in America. It's served on the side of dishes as a way to make your food spicier. It's made with lots of red chili and timor (Szechuan) which gives it a big kick. My husband raves about his mom's homemade tomato achar recipe and after trying it, I can't help but agree. It's the best one I've had in Nepal. Luckily, she was kind enough to teach it to me. Thanks Muwa!
Tomato achar isn't hard to make, but the traditional way involves using a mortar. It's said that this makes it taste better than if you did it in a blender. We make it with a mortar at home. To be honest, we don't have a blender in our apartment in Nepal. Using the mortar is labor intensive, but you appreciate the final product a lot more.
---
What do you need to make this Tomato Achar recipe?
---
Tomato achar is fairly easy to make. The ingredients aren't too out of the ordinary. Some of the things you might not have on hand are mustard oil, Szechuan powder and dried red chilies. I've compiled a list of all the basic cooking ingredients for Nepali food below so that you can find them on Amazon since some of these items are harder to locate in a typical supermarket. Note: not all items listed below are needed for this recipe.
How to serve Tomato Achar…
---
Typically, you'll be given a tablespoon worth of achar along with your meal. In Nepal, people eat with their hands and mix all the different dishes together to make it tastier. For instance, you may be served rice, lentil soup, a vegetable curry, a chicken curry, and achar. You'd then mix it together to get the perfect bite. Yum!
Nepali Tomato Achar Recipe
A spicy tomato sauce that is often served with dal baht in Nepal. Kind of like a Nepali salsa.
Equipment
Mortar and Pestle

Small Sauce Pan

Small Fry Pan
Ingredients
7

small tomatoes

(plum sized)

½

cup

water

4

whole dried red chilies

1

tsp

mustard oil

½

tsp

salt

3

cloves

garlic

½

tsp

timor powder

(Szechuan powder)
Instructions
Add 7 small whole tomatoes to a sauce pan along with ½ cup of water, and cook on high heat. The tomatoes will cook for a total of 20 minutes.

Once the tomatoes have been cooking for 5 minutes, rotate the tomatoes so that the tops are on the bottom. This allows them to cook evenly.

When they have cooked a total of 10 minutes (5 minutes after rotating), begin to mush the tomatoes with a spoon so that they become a sauce. Stir every couple of minutes to prevent them from sticking to the pan.

Once they have been cooking for 15 minutes all together (5 minutes after mushing), turn the heat down to low and let simmer for the remaining 5 minutes.

When they have cooked 20 minutes total, remove from the heat and set them aside. Let them cool down to room temperature (about an hour).

While the tomatoes are cooling, you can prepare your spices. In a small fry pan, add 1 tsp of mustard oil and heat it over high heat. Once it's hot, add the 4 whole dried chilies (remove the stems first). Fry for 15-20 seconds.

Once cooled, put the chilies into the mortar and grind to a fine paste.

Next, add the 3 cloves of garlic to the mortar and grind to a fine paste with the chilies.

Add the salt and timor powder and mix it into the garlic/chili paste.

When the tomatoes have cooled, mush them up by hand and pull the tomato skins out. Put all of the tomato skins into the mortar and leave the sauce part of the tomato in a separate bowl.

Grind up the tomato skins until they become a paste with the other items in the grinder. There should be no large chunks.

Once everything is ground up, combine the paste with the cooled tomato sauce. Stir it together with a spoon.

Serve cold (or room temperature) with dal baht.
Notes
This dish is very spicy. If you'd like to make it less spicy, use two chilies instead of four.
The serving size is based on if each person took about 1-2 tbsp with their meal. If you only use a little bit each, it can serve a lot more people.
Photos of the Tomato Achar recipe being made…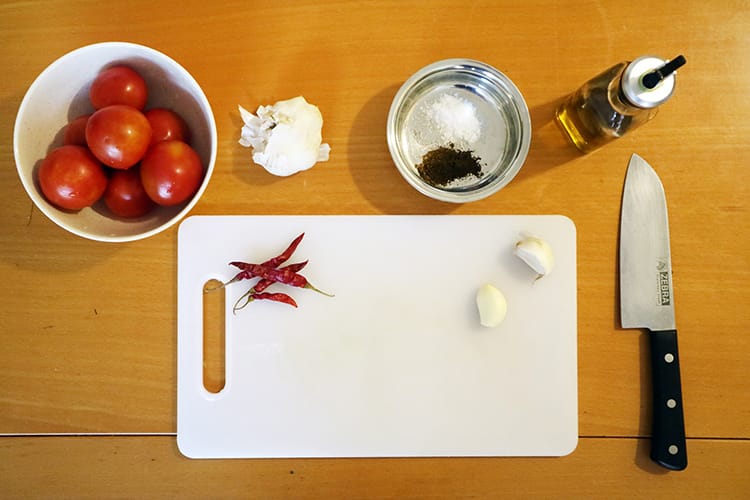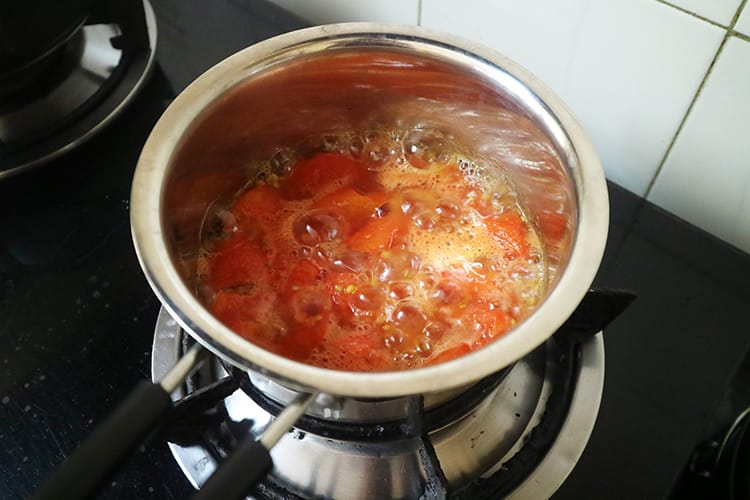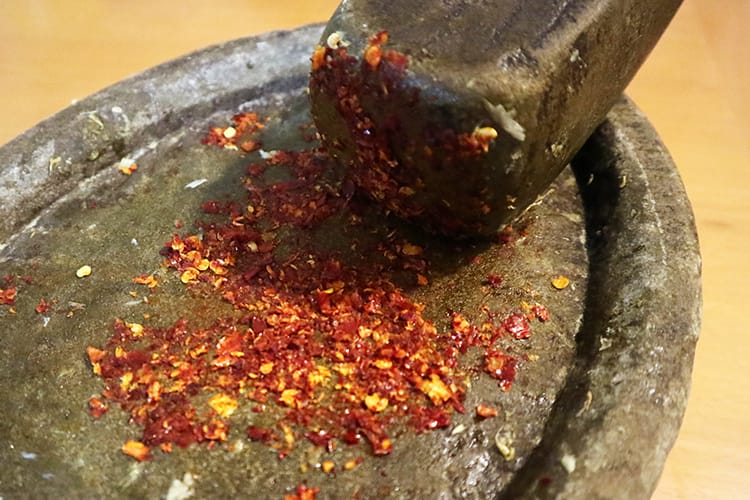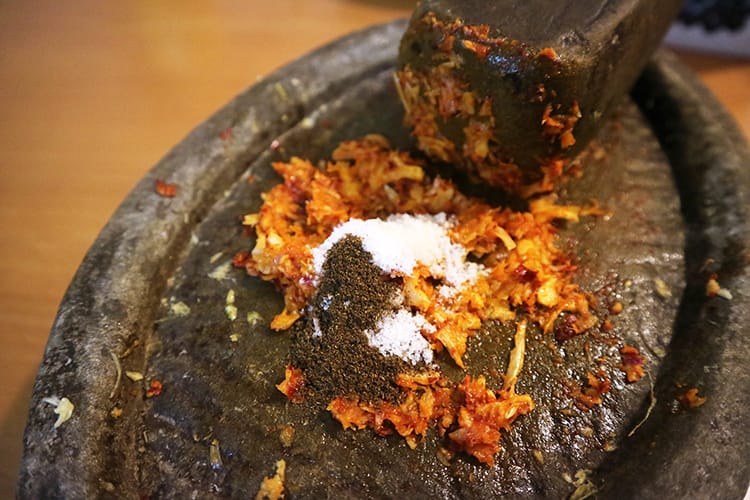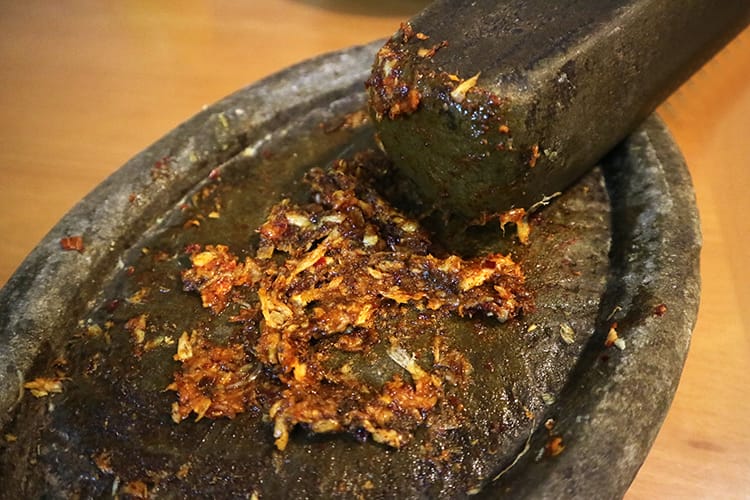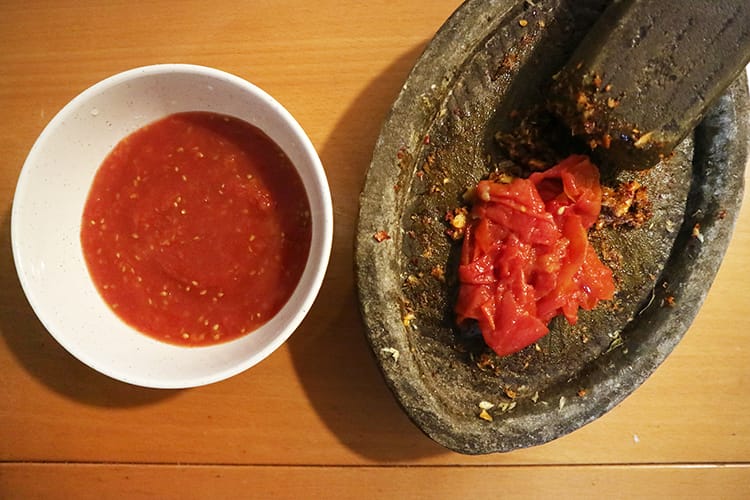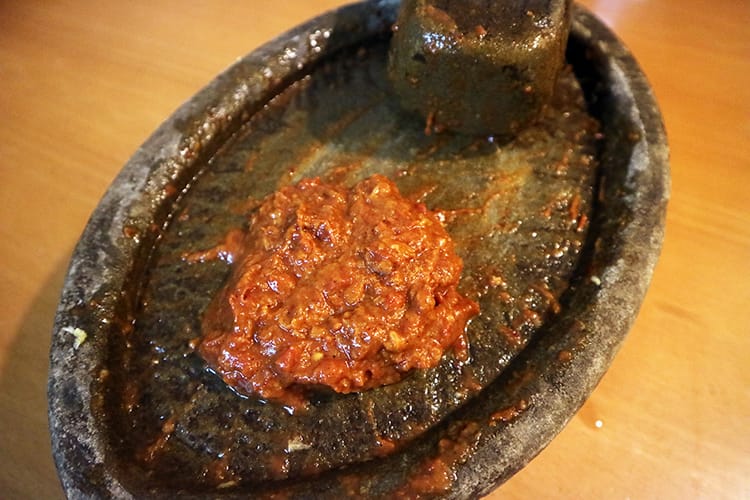 ---
You might also like…