Dal is a Nepali lentil soup which can be made from any type of lentil. My personal favorite is yellow dal which is often mixed with garlic. As an Italian, I love anything with garlic in it. Dal is extremely easy to make, and it's highly affordable which makes it a staple in Nepali cuisine. This yellow dal fry recipe only has a few ingredients and is typically served over rice or with dal bhat.
Dal bhat is a Nepali dish consisting of rice, lentil soup, a vegetable curry, spinach, achar (spicy salsa), and sometimes a chicken or mutton curry. If you make this recipe as part of a dal bhat set, then this will make enough lentil soup for about 4-6 people. If you want to have this yellow dal as a soup (without rice or sides), this recipe makes enough for 2-3 large bowls.
---
Nepali Cooking Ingredients
---
In Nepal, we cook in an old fashioned pressure cooker (the type that whistles to release the pressure) however, it can also be made in a modern pressure cooker. The ingredients should be easy to find at most supermarkets, however, I've included a list of items on Amazon below in case you are having trouble finding them. This list has all the common ingredients for Nepali cooking, so you won't need everything on the list.
Yellow Dal Fry Recipe Photos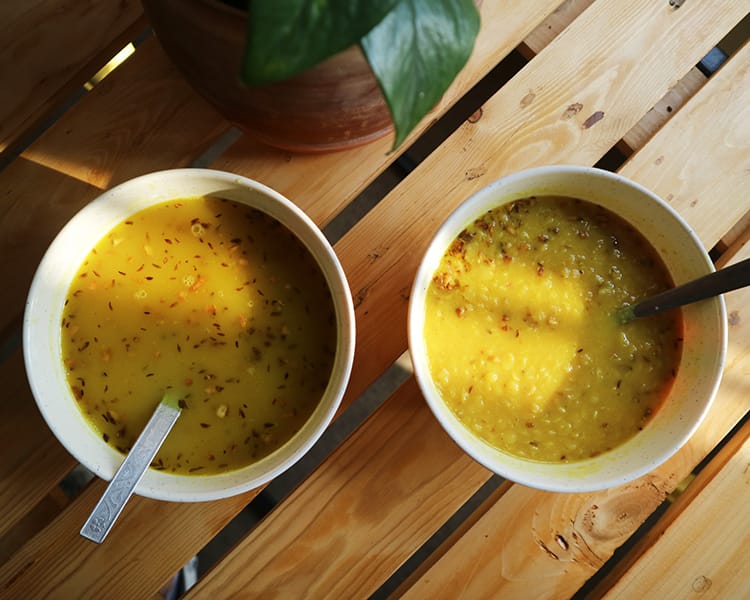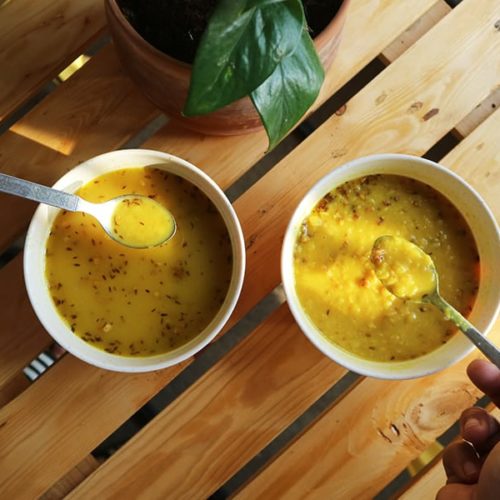 Yellow Dal Fry Recipe
This delicious Nepali style lentil soup is typically served with dal bhat (rice and lentil soup), however it also makes a great stand alone soup!
Ingredients
Dal Soup
1

cup

split yellow peas

1

tsp

mustard oil

½

tsp

salt

½

tsp

turmeric

2 ½

cups

water

(3 ½ cups if you want it to be thinner)
Dal Fry
3-4

cloves

garlic

1 ½

tbsp

mustard oil

1

pinch

hing

½

tsp

cumin seeds
Instructions
Dal Soup
Before starting, rinse the lentils with water until the water runs clear.

Add lentils to the pressure cooker along with the desired amount of water (between 2½ – 3½ cups).

Add the mustard oil, salt, and turmeric before closing the lid of the pressure cooker.

Once the lid is tightly secured, set it to medium heat and let it cook for 15 mins.

When done, let it sit until the pressure releases. Only open the lid once all the pressure has released from the pot.

If the soup is too thick for your taste, you can add hot water to it at this time.
Dal Fry
While the dal is cooking, mince the garlic.

Only start the dal fry once the dal has completed cooking. In a small frying pan on medium heat, add the mustard seed oil.

Once the oil is hot, add a pinch of hing and the cumin seeds until you smell the cumin (about 30 seconds).

Add the minced garlic and cook until browned (about 2-3mins)

Pour the hot oil and garlic mixture straight into the hot dal. To get the last of the garlic out of the pan, and a scoop of dal into the pan and swish it around and then pour it back in with the dal.
Notes
If you want the soup to be thinner, you can add 3 1/2 cups of water to the pressure cooker instead of 2 1/2. You can also add more hot water to the soup before adding the dal fry if it is too thick for your taste. 
---
You might also like…