Something that comes as a huge shock and topic of contempt to people entering Nepal for the first time is the "Nepali Price." Most tourist attractions, hotels, and even some restaurants offer a "Nepali Price" versus a "Tourist Price." So why the mass outrage over this? Usually the "Nepali Price" is more than half the amount of the "Tourist Price." It's infuriating. In fact, everyone should throw a fit because it's insanely unfair. Here's why…
Oh, and in case you don't know me, you can go ahead and read this entire article with as much sarcasm as you can muster.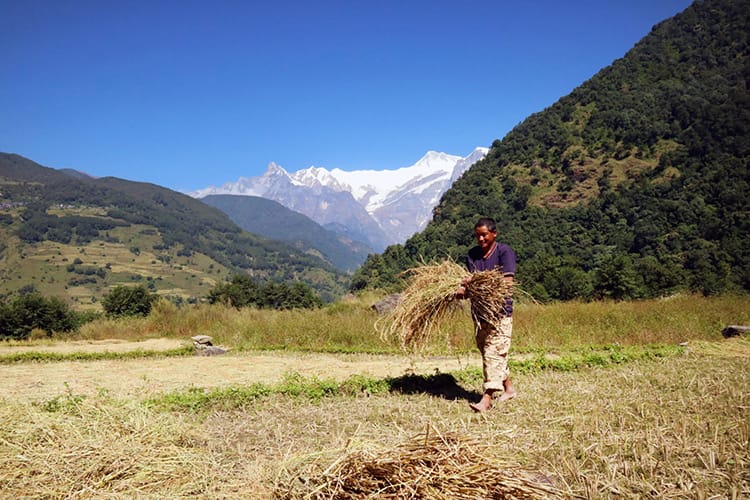 The Average Income in Nepal
---
Of course you shouldn't pay more than someone else for the same service. Especially when the average salary in a Nepali fiscal year is $862 (according to myRepublica). Meanwhile, the average weekly income of an American is $857 (according to the Bureau of Labor Statistics). That's right. What the average American makes in a week, is an entire salary for the average Nepali person. So paying $2 for entry to a tourist attraction rather than the $.50 a Nepali person pays is preposterous! Why should a local person be able to afford visiting places in their own country?
The fact is, we have local pricing at tons of places in the U.S., but we call it a "local discount." Oddly, tourists rarely complain when they are from out of the country or even from out of town. I know a lot of the restaurants in Myrtle Beach have local discounts to encourage year round customers who live in the area. The Ripley's Aquarium also has local days where tickets are $5 compared to the usual $30 as long as you show your ID.
---
Paying Taxes
---
I know all tourists pay Nepali taxes which go towards rebuilding the country, right? Locals do, but that doesn't mean they should get special treatment. Why should they get to enjoy the things that their government actually spends their tax dollars on?
I used to go to museums for free in NYC because I paid the taxes there, but that's totally different. And Europeans get free access to some tourist attractions within the EU, but that's different as well. Why should Nepali people get special treatment just because they pay year round for these places to be maintained?
---
Charging for Religion
---
For us, places like Durbar Square, Boudhanath Temple, and other popular sites are tourist attractions. For locals, these are places of worship. You pay $10 to go to church every Sunday right? And, I'm sure hundreds, if not thousands, of tourists walk through said church each day to take photos while you are trying to have a private moment and pray. Obviously, we shouldn't have to pay to enter these places when a local gets to go for free. It's unfair.
---
I'm not Privileged
---
"I'm a broke backpacker, so I make less than a Nepali person. So, it's unfair to say that they can't afford it. Neither can I."
The fact that I was able to quit my job and travel the world for fun doesn't mean I'm privileged. So what? They work all year round (mostly doing hard labor in fields) to support their families just to scrape by. If we're both broke, we are totally the same. Right?
Just because you choose not to make money and are traveling, does not mean that you're the same as a local who is working hard to make ends meet. They should be able to enjoy and explore Nepal. It is their country after all. Not yours. You're a guest.
---
More for the Same Service
---
"Why should we have to pay more for the same exact bus a local is taking?"
What's interesting is that most Nepalese do pay the same as tourists for the tourist bus. The only time they don't is if they aren't going to the end destination. Those getting dropped off halfway only pay for the price of where they get dropped off. When my boyfriend (who is Nepali) and I take the bus, he pays the same fare I do. If the tourist bus is too expensive for you, there's a local bus that's almost half the price. It's just not comfortable. You'll get charged the same as a Nepali person on that bus too.
---
The Nepali Passport
---
"I could visit anywhere in the world, and I choose to spend my money here! It's wrong to charge me more when I'm helping their economy!"
How dare the government charge us more when we should be honored guests! I wonder why the government of Nepal encourages Nepali people to travel within their own country by offering discounts. Seems silly. Why don't they just go somewhere else?
It doesn't matter that the Nepali passport is one of the weakest in the world, and it's extremely difficult for Nepalese people to travel outside their own country. In fact, the U.S. makes it difficult just to apply for a tourist visa by charging $175 for an interview, and that's without a guarantee that they'll be granted a visa.
---
Conclusion on the "Nepali Price"
---
Yes, there is a "Tourist Price" and a "Nepali Price," but if you think about it, it's really not unfair. There's actually a local price in a lot of countries, we just refer to it as a "local discount". While I'm sure this can be upsetting at first, try to look at it from a local's point of view. Surviving in Nepal is tough, and the cost of living there is surprisingly high. Local's should be able to afford traveling within their own country and have the ability to experience their own culture. That shouldn't be a privilege. It should be a right. So, let's stop arguing over the extra $.50 we have to pay as tourists. It's really not that big of a deal.
---
You might also like…