The first time I Googled the Everest Base Camp Trek, I was shocked when the price tags jumped up on my screen. They ranged from $1,500 to $2,000, and there weren't any budget friendly options listed online. I knew booking in person with a local company would be cheaper, but even then, the prices were in the thousands. Most people see the cost and quickly decide that hiring a trekking guide in Nepal is too expensive. So, they go alone despite an obvious lack of experience. Recently, I realized how many unadvertised options there are for trekking in Nepal, and I want everyone to know their options so they can be safe.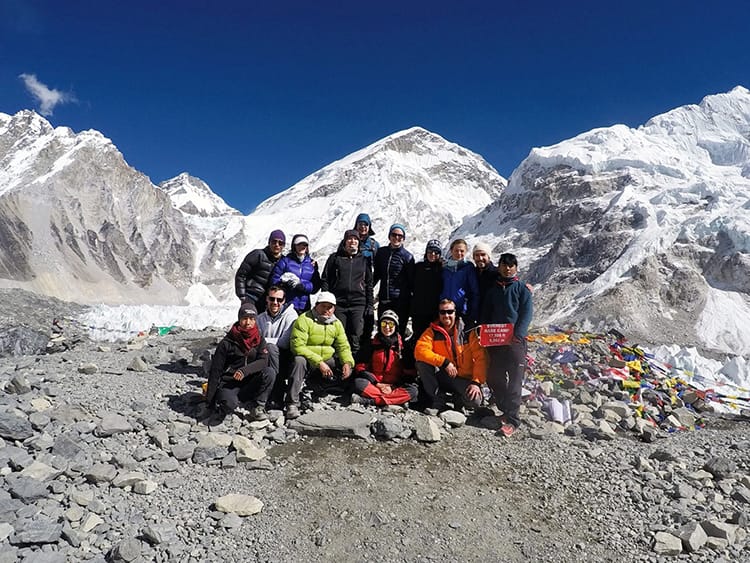 Booking a Group Tour – $$$$
---
Pros
Think of a group tour as an all-inclusive resort vacation. This is generally for people who have full time jobs and only get a few weeks off a year. They've saved up their money and want their vacation to be perfect. They don't want to worry about picking out hotels or negotiating prices. They just want to kick back and relax. After all, they deserve it. In this aspect, you get what you pay for. If you want to go to the mountains with a head guide, assistant guides, and porters, then this is worth the money. Your food and lodging will be included, and your guides will know all the best places to stay.
Cons
The only reason I wouldn't do this again is because I really can't afford it, and I like having to work some things out on my own. I don't necessarily like everything planned out for me. Each morning we had to wake up and eat when we were told. We had to leave by a certain time. I felt a bit rushed during the trek and didn't always feel comfortable taking a long break or stopping for photos.
Price
Trekking in Nepal with a tour group usually cost around $1,400 – $2,500 depending on the length and location of the trek.
My experience
I joined a group tour on my first trek to Everest Base Camp, and it really is great for beginners with no prior trekking experience. Everyone else in my group was a young professional with a good job. For them, it was important to enjoy the trip and not have to worry about the details.
Hiring a Trekking Guide & Porter – $$$
---
Pros
In this scenario, you're most likely on a budget, but are new to trekking. If you have never been at altitude, I think it's dumb not to have a guide. I used to encourage people to do it, but after a few of my friends got sick, I don't recommend it anymore. Having a guide who knows what they're doing will help put you at ease in an emergency.
Another benefit is that guides do the same trek over and over. It's likely they know the best trails, nicest view points, and shortcuts. They can also tell you about the culture, history, flora, fauna, and more.
Cons
I'm the type of person who hates to be on a schedule, so having any kind of itinerary that is not flexible is hard for me. I always make it clear when I book that I want two flexible days in my itinerary to be able to stop or vary from the plan.
If you are not splitting these costs with a group, it can get pretty expensive.
Price
Having a guide and porter will generally cost around $40 a day, but you can split this cost between your friends. This doesn't include your food or lodging, so you should budget for that accordingly. Most people spend between $15 and $30 a day depending on how much food they eat.
Different areas in Nepal have different systems for the guides and porters. For instance, on the EBC trek, teahouses sometimes give them free food and lodging for bringing clients to their teahouse. In some regions, they don't. Make sure to ask if you need to pay for your guides/porters food and lodging prior to booking.
Tipping 10% is customary.
My Experience
On my second trek (Mera Peak), I was required to have a guide and wanted a porter because I needed heavier gear. I also had no idea what "packing light" was at the time. Having a porter on my first and second trek made it more enjoyable. I'm embarrassed to admit that I even complained about my daypack being too heavy on my peak climb. I booked a guide and porter through Swotah Travel (a local company in Nepal)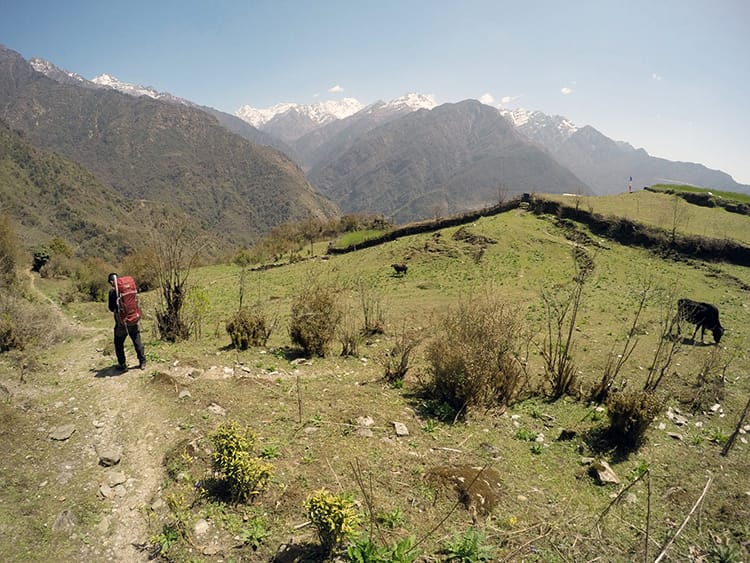 Hiring a Trekking Guide in Nepal- $$
---
Pros
You'll have someone who is familiar with the trail, and someone who can tell you about the culture, wildlife, and history of Nepal. You don't have to worry about getting lost or navigating the way. They also have training for emergency situations.
Cons
I don't have any cons for this option except that you have to carry your own bag. Make sure to pack light. Training with your backpack on prior to the trek with help make this easier.
Price
A guide costs around $25 a day. Again, you can share this cost between a few people. Make sure to ask ahead of time if you are responsible for their food and lodging. This cost does not include your food and lodging. Most people spend $15-$30 a day.
Tipping 10% is customary.
My Experience
This is the option I recommend the most. I did the Annapurna Circuit without a guide, and we were able to navigate easily, but we might have missed some nice views. A lot of times, the road split several ways, and we didn't always see the scenic route. I was really lucky that my trekking partner was a pro navigator with tons of GPS gadgets. Otherwise, I'm pretty sure I would have gotten lost.
On my recent trek to Tsho Rolpa, we went with only a guide and it was great. We didn't have to worry about navigating and he pointed out a lot of interesting things we would have missed. He knew a lot of history about the area which we never would have known without him. Even with three major high altitude treks under my belt, I still plan to have a guide for every trek in the future.
Hiring a Porter in Nepal- $$
---
Pros
I've met a few people who only hired a porter. Without their bags, they were able to take their time and enjoy the trek. Their backs didn't hurt, and they had more energy to do side treks. If they were unsure of the trail, they asked their porter for advice.
Cons
The only downfall of this is that most porters are working their way up to being guides, and their English might not be as strong as a guide who regularly interacts with clients. Porters don't generally walk with you during the day, so organizing a meeting point at each village can be a little tricky.
Price
Porters usually cost $15 a day, however they can only carry a certain amount of weight. Therefore, if you have 5 people, you may need two or three porters to carry your bags.
Tipping 10% is customary.
Trekking Solo – $
---
Pros
I only recommend trekking in Nepal without a guide if you are an experienced trekker/hiker who has been at altitude before. The benefit is that you can make your own itinerary and take your time. If you like a place, you can stay. If you don't, you can move on. There's no rush.
Cons
You miss out on the culture and history of an area. You constantly have to pay attention to navigation because small trails can be hard to spot. Finding out weather conditions can be difficult. If it snows and the trail disappears, you have to be able to navigate without cell phone GPS. If you are off-the-beaten path there may be a language barrier at the teahouses. You have to carry your own backpack.
Price
You only pay for your food and lodging, plus the cost of your permits.
My Experience
I only recommend trekking in Nepal without a guide if you are an experienced trekker/hiker who has been at altitude before. One of my friends had a seizure on her third day. I had encouraged her to go on her own and really regretted telling her that later. She ended up being fine, and was able to finish the trek, but it was very scary at the time.
I had a second friend faint at 4,000m. Luckily, we had a doctor who had just completed a mountain course with us (what are the odds), and she was able to give her a checkup.
Another friend was trekking by herself when it started to snow. The easy to navigate path suddenly disappeared. She ended up running to the next village and was terrified she'd get lost in the snow on the way.
We took a wrong trail one time that had been ruined due to road construction. We had to cross over what looked like a landslide with no trail. The rocks slipped under my feet. I froze and couldn't move because I was so scared the whole ground was going to collapse. My trekking partner had to come get my bag and basically hold my hand the whole way while I cried.
Really ask yourself how you handle emergency situations. I've done several high altitude treks, but in a white out snow storm I can't navigate. I don't know what to do if there's an avalanche or landslide. I'm not sure how to survive if I get lost. I don't even have a way to call for help if there's no cell signal. All of that is okay, but is saving $25 a day worth my life? No. Just be honest with yourself. I've met so many people who say "It's so easy, you can do it yourself!" and when I admit that I've freaked out or found myself in a bad situation, they all have a story about something going wrong and wishing they had a guide.
---
To sum it up…
---
At the very least, I recommend getting a guide. You really don't need to pay $2,000 to go trekking in Nepal unless you want a worry free trip. A guide will cost around $350 for 14 days. If you can get a group of five people to split the cost, you're only adding $70 each to your entire trip. Plus, you're helping provide a local with a job. Trust me, you'll learn so much more about the area, and you won't have to worry about getting lost or missing out on a prettier trail.
For a second opinion, you can check out my friend Megan's post on trekking the Great Himalayan Trail which spans the length of the entire country! She talks about whether or not going solo is a good idea and why!
---
You might also like…