It seems that most lists of things to do in Patan, Nepal consist of seeing every temple in the famous Durbar Square, and that's it. Yes, there are some great temples, but Patan has so much more to offer. I was lucky enough to visit Patan a few times and explore a lot more of this quaint little city to the southeast of Kathmandu. You can easily do a day trip here by taking the bus or a $3.50 taxi ride. I would recommend spending a few days if you have the time. From art studios to archery classes, there's really so much to do and see. Here's a few of my favorite things I stumbled upon.
---
Durbar Square
---
Entry 1000 rupees ($10)
Patan Durbar Square is one of three Durbar Squares in Nepal. Patan is especially famous for its Newari architecture dating back to 1637 which features intricate wood carvings and brick work. I could get lost staring at the details for hours. The area features several important temples and residences, one of which was home to a former king. Now, the area is under heavy construction from the earthquake that hit two years ago. Although some buildings have scaffolding, the progress being made is really amazing to see. You can also watch the rebuilding effort which I found interesting.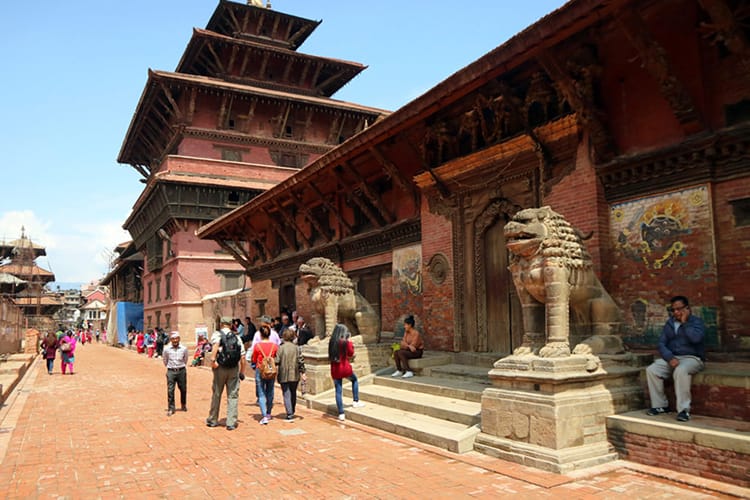 Patan Museum
---
Entry 250 rupees ($2.50)
The Patan Museum is actually located within Durbar Square. If you show your entry ticket to the square, you don't have to pay to get in. The museum is really interesting, but I actually liked the little garden in the back the best. It's extremely peaceful with plenty of places to sit and relax. There's even a cute little café. It was a nice break from the sweltering sun, dust, motorbikes and noise. It's a perfect little escape from the hectic city.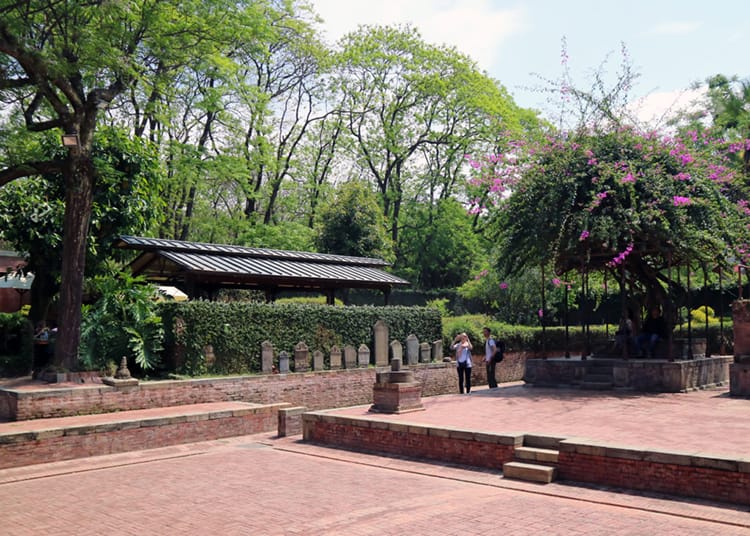 Golden Temple
---
Entry 50 rupees ($0.50)
Built in the twelfth century, the Golden Temple is famous for its golden color, hence the name. In fact, it's actually a monastery, which is why you'll see many monks coming and going in this particular building. My favorite part of this temple is the prayer wheels surrounding the courtyard and the monkey statues. In Hindi culture, Hanuman is the famous monkey god, and I've seen the monkey depicted in many places throughout Kathmandu. I'm not sure if this is the connection, but I like to think they are attributed to him.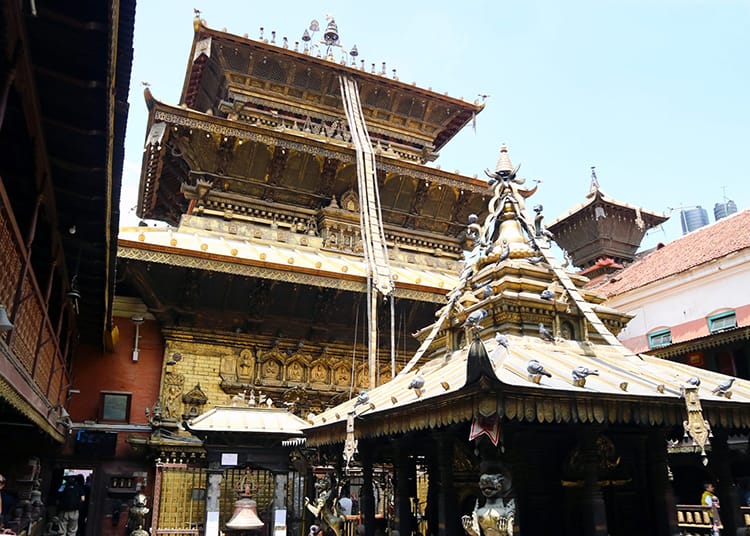 ---
---
Getting Lost
---
Free (unless you get too lost and need a taxi)
Getting lost in Kathmandu can be a little stressful. You can stumble upon areas covered in garbage and void of any beauty, but in Patan, it's hard to stumble upon a bad place. I love getting off the main road and wandering down tiny alleyways barely wide enough for a motorbike. Somehow, these little streets come out into big beautiful squares with small places of worship for the people of that street. Some open up to little parks. Others just turn and turn until you end up back on the main road. I could honestly get lost for hours here without ever getting bored.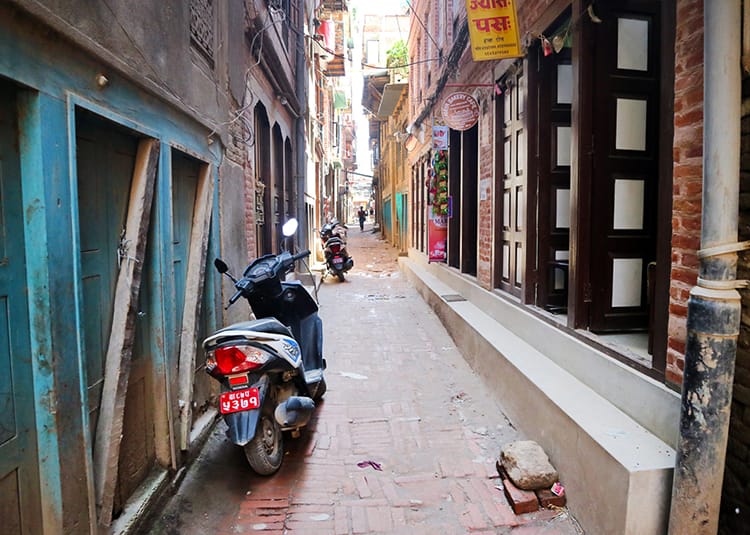 ---
The Best Archery
---
Entry 400 rupees ($4) per half hour or 600 rupees ($6) per hour
I couldn't find much information about the Best Archery, so I took a chance and randomly showed up. It seems walk-ins are totally okay. In fact, I was the only one there on a Monday morning. The gentlemen working there showed me how to put the gear on and how to shoot. He gave me some constructive criticism so that I could get better. By the end, I was actually hitting the target and even got two bullseyes. I'm practically Katniss Everdeen.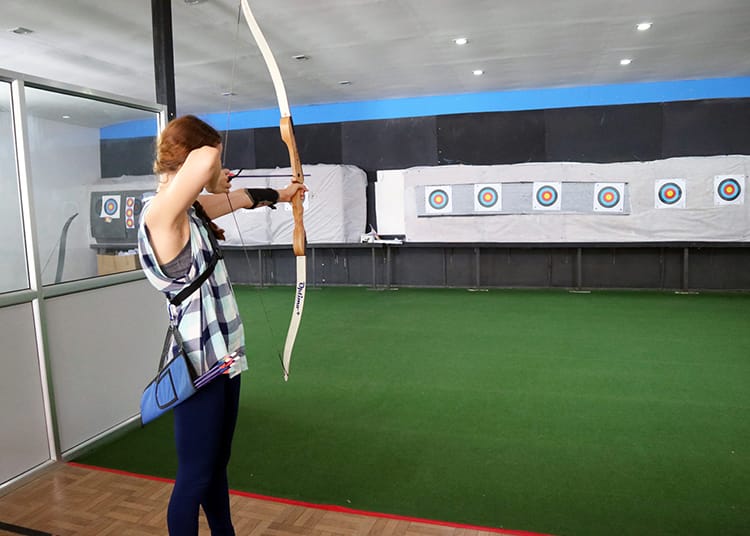 Seeing Hands Clinic
---
Price 1800 rupees($18) for 60 minute massage
Seeing Hands is a social enterprise that supports blind people in Nepal by giving them a career as a masseuse. I went to the location in Jawalakhel and walked in without an appointment. I chose to get a sports massage after the many hours of Muay Thai practice I'd been doing. Jima, my masseuse, was incredible. It was actually the most painful massage I've ever had because she found every single sore muscle and massaged it into oblivion. Although the massage was a grit and bear it experience, I could tell she knew exactly what she was doing, and when I stood up a lot of my shoulder and back pain had been relieved.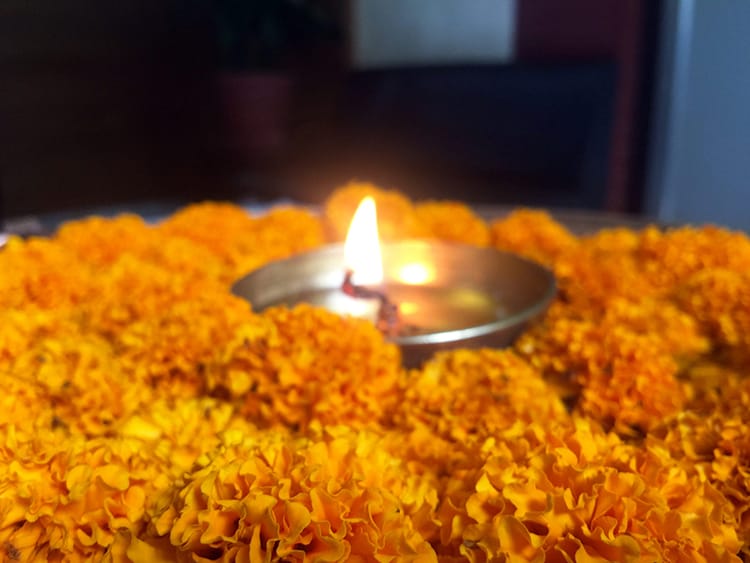 Henna
---
Price 200 rupees ($2)
If you want to get henna done for cheap, head towards the Banglamukhi Temple. There are women selling flowers, and if you show them a picture of henna on your phone, they'll point you to a small shop nearby where one women does it for a reasonable price. The one I chose only cost $2. It's currently Shravan here in Nepal which is considered the holiest month of the year (the fourth month of the Nepali Calendar). Hindu people give offerings in honor of Lord Shiva, the god of destruction. During this month, single women pray for a husband while married women pray for the health and happiness of their husband. Getting a henna tattoo is extremely popular as part of the celebration.
---
---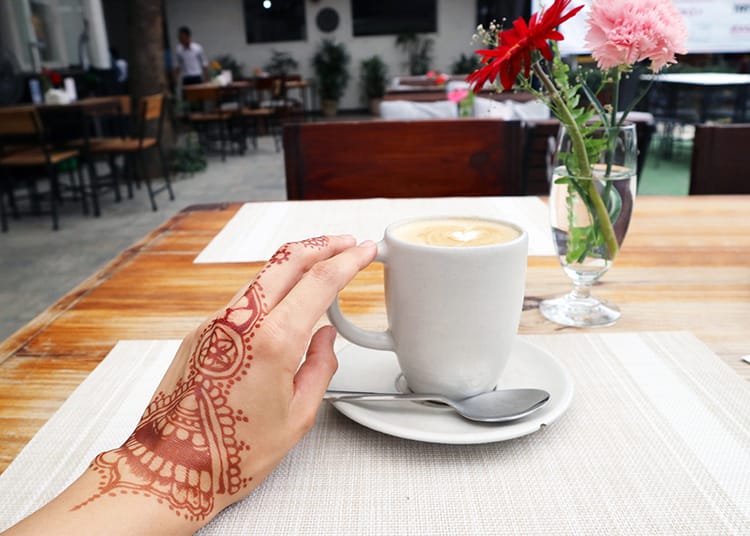 The Local Project Nepal
---
I don't normally recommend stores in my lists of things to do, but this place is too cute not to mention. The Local Project Nepal puts an emphasis on shopping from local brands that have a conscience. I walked in with the intention of taking a few photos and ended up buying four things. The items are reasonably priced considering the high quality. I bought a few souvenirs for friends as well as some photo albums for myself. I really loved this place and felt like they offered something really special and different from the touristy stuff you see being sold at every store on the street.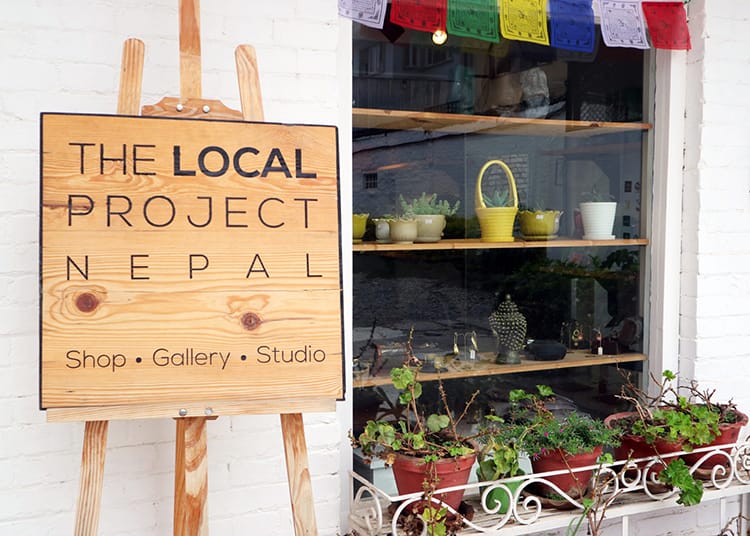 House of Palettes
---
Price 800 rupees ($8) and up
Right next to The Local Project Nepal is the House of Palettes. This little art studio is open from 12pm to 7pm several days a week. The cool thing about House of Palettes is that you can purchase any size canvas (starting at 800 rupees) and use the studio and paint for free. You can come back multiple days to work on your creation as there is no time constraint, and you get to take your artwork home with you. The studio is attached to Evoke (a restaurant and bar), so you can snack and drink while working. I decided I'll go back another day with friends, but I'm really excited to spend some time here getting creative!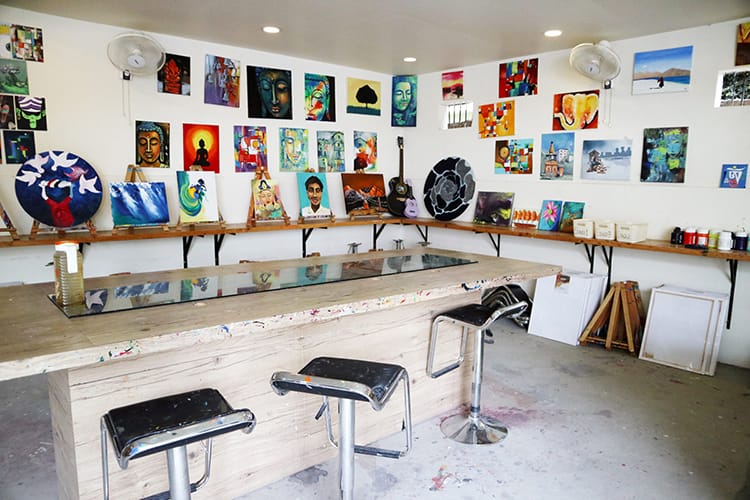 Pimbahal Pond
---
Free
This pond is a little off the beaten path, but worth checking out. The temple behind it, Chandeswari Temple, was built in 1663. It's a great place to relax and feed ducks. It's also the perfect place to people watch as locals come and go from the temple. I'd recommend visiting in the morning before it's too hot outside, that way you can sit and relax on a bench while enjoying the daily life of Patan.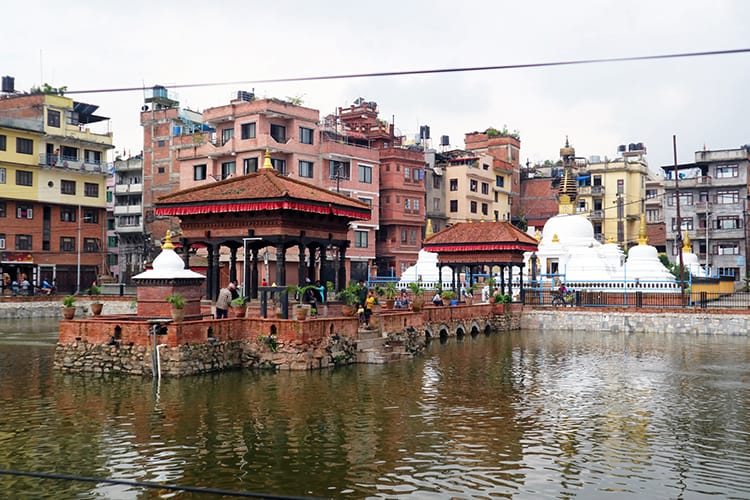 Gallery Mcube
---
Free
Gallery Mcube is a cute little local art gallery located near Patan Dhoka (the entryway to Patan). The gallery features local artists from Nepal. The art that was on exhibit when we arrived was mostly modern art which was a nice change from the traditional art that is typically sold on the streets of tourist areas. The artwork is for sale, so if you are looking for some nice pieces to take home, this would be an ideal place to find art that is unique and a little less traditional.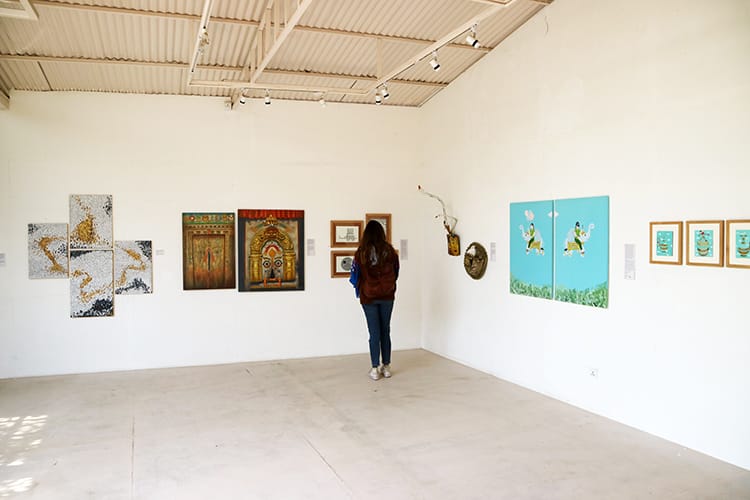 Jawalakhel Handicraft Center
---
Free
The Jawalakhel Handicraft Center is famous for it's Tibetan rugs. The center is associated with the Tibetan Refugee Camp which is located just across the street. You can watch women weaving the rugs by hand and view the collection in case you're in the market to buy one. There's also a small community building with small handmade knick knacks. I bought a beautiful little jewelry box for 200 rupees ($2). In addition, there's an area with yak wool shawls and lovely scarves. It's a great place to buy souvenirs as the money goes to support refugees and even small contributions help.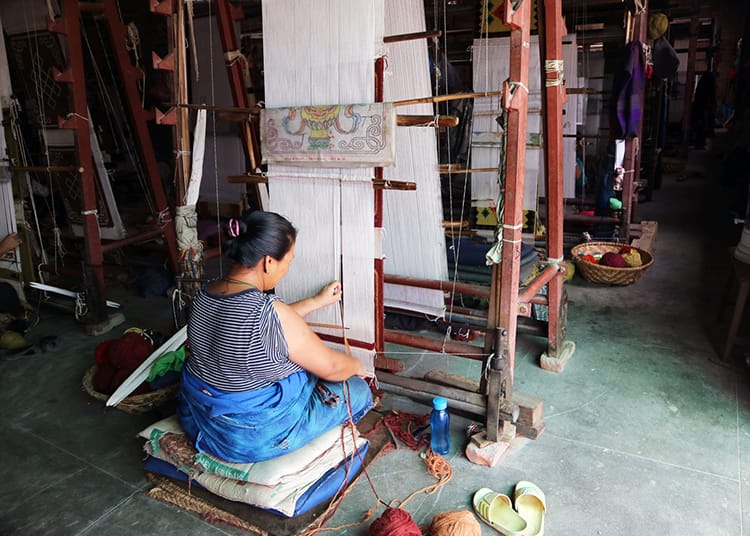 Aerial Silks Class
---
800 rupees ($8) for 90 minutes
Circus Kathmandu teaches aerial silks classes on Saturday afternoons at the Sport Hive complex in Jhamsikhel. It's a 15-20 minute walk from Durbar Square, but well worth the trip. The class was hard and left me with some seriously sore muscles, but it was also a ton of fun and something really cool to try. What I love about this organization is that they also raise awareness for trafficking victims. If you don't feel like taking a class, keep an eye out for their performances around Nepal as well! Our instructor is an incredible aerial artist and just watching her in class was pretty amazing. I can only imagine how great she'd be in an actual performance.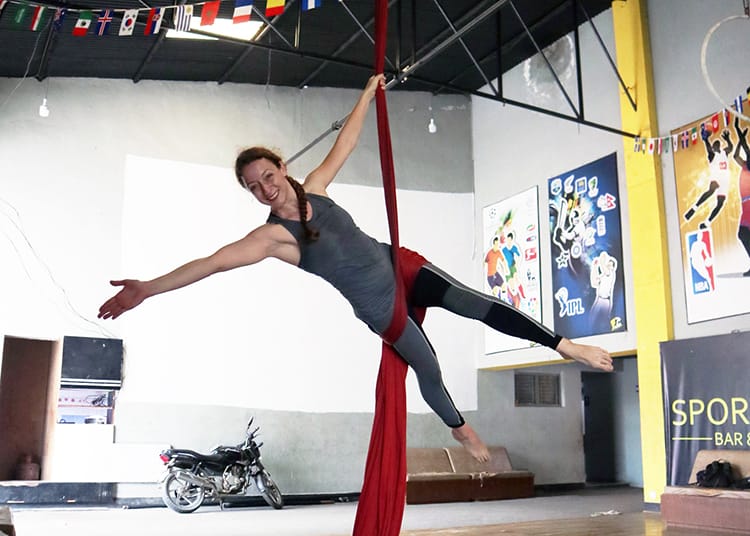 ---
---
Mangal Bazar
---
Free
On the southeast corner of Patan Durbar Square is a street full of local wares. You can find everything from metal dining sets to spices and traditional clothing. It's a bright beautiful street that's full of life as locals grab all the things they need for their home. It's also a really great place to get some interesting finds like genie lamps, buddha statues, and bright fabrics. Best of all, the prices aren't as high as the tourist shopping areas.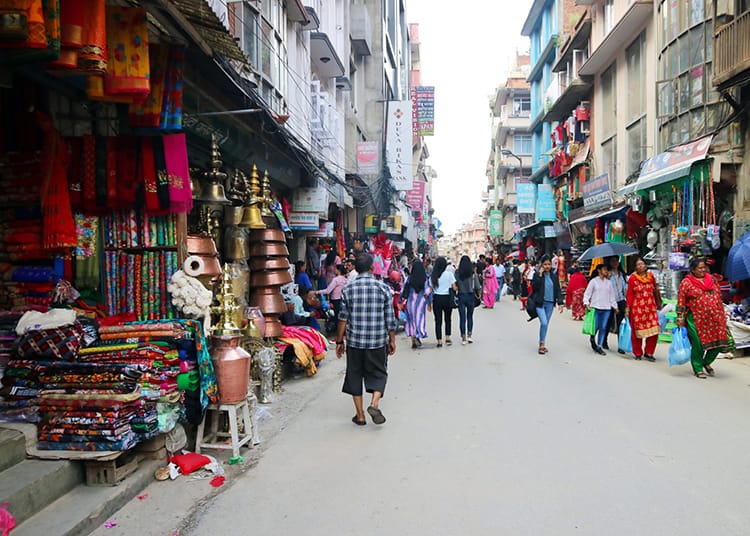 Yellow House Farmers Market
---
Free
I love farmers markets. They're something I always miss from home because I like to shop local. If you're in Nepal for awhile, this is a great place to buy some local produce, jams, dips, cheeses, and more. There are also some fun items you could bring home with you as souvenirs. Yellow House has a restaurant where you can have brunch and listen to live performances. They had a drummer and flute player when we were there which was very peaceful and relaxing. The Yellow House farmers market is open on Sundays from 9am to 12pm.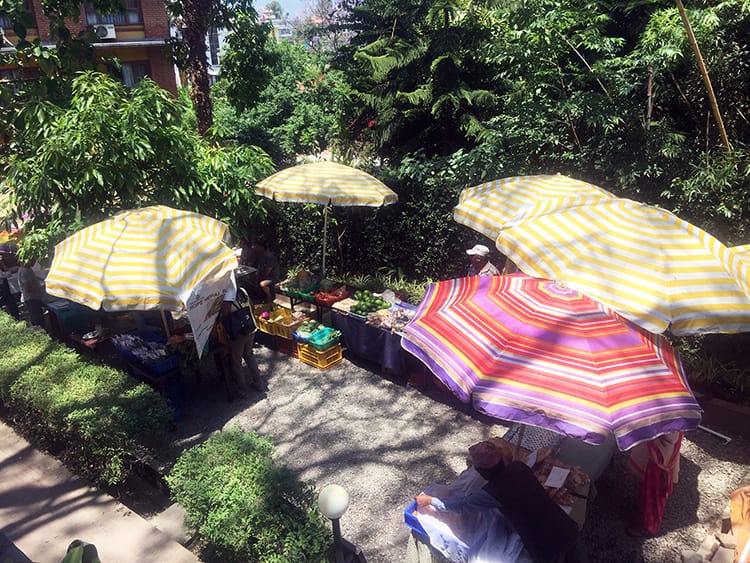 Labim Mall
---
Free
A Mall? Why would you ever go to a mall in another country!? I know, this is a weird recommendation, but if you've been traveling as long as I have, sometimes a little reminder of home is nice. Not to mention, it's a little less intimidating than finding something in the narrow alleyways of Kathmandu or Patan. For instance, maybe you'll need a haircut at a salon that speaks fluent English to avoid a bang catastrophe. Or maybe you need a pair of regular sneakers or a simple t-shirt that won't fall apart after one wash. Trust me, there's always a time when a mall might come in handy.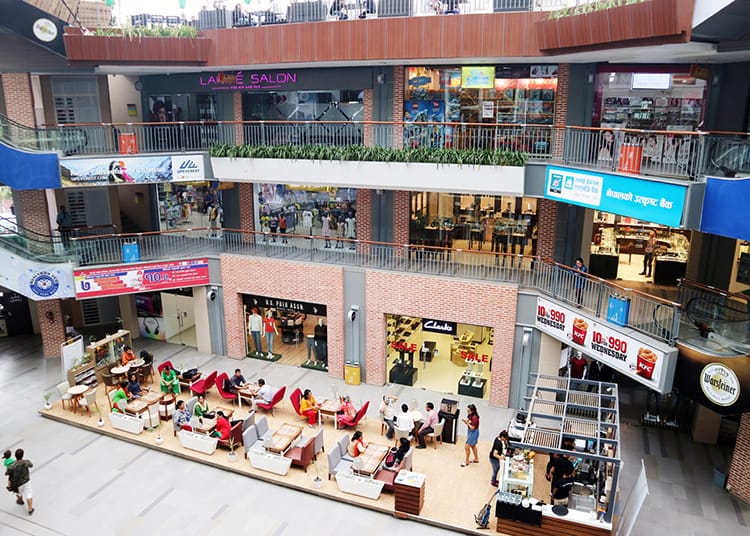 Central Zoo
---
Entry 750 rupees ($7.50)
Online, it says the zoo costs 250 rupees for visitors, so I figured I'd check it out. Turns out, it cost 750 rupees. Honestly, I didn't think it was worth that much and wouldn't really recommend people to go unless they want something kid friendly to do. I found the zoo to be a little sad. The animals didn't have a lot of room and some of them had open wounds. There were no zoo keepers around to answer questions, and it was hard to tell if the animals were getting appropriate treatment. I did enjoy the bird exhibit since there were so many varieties that we don't have back home.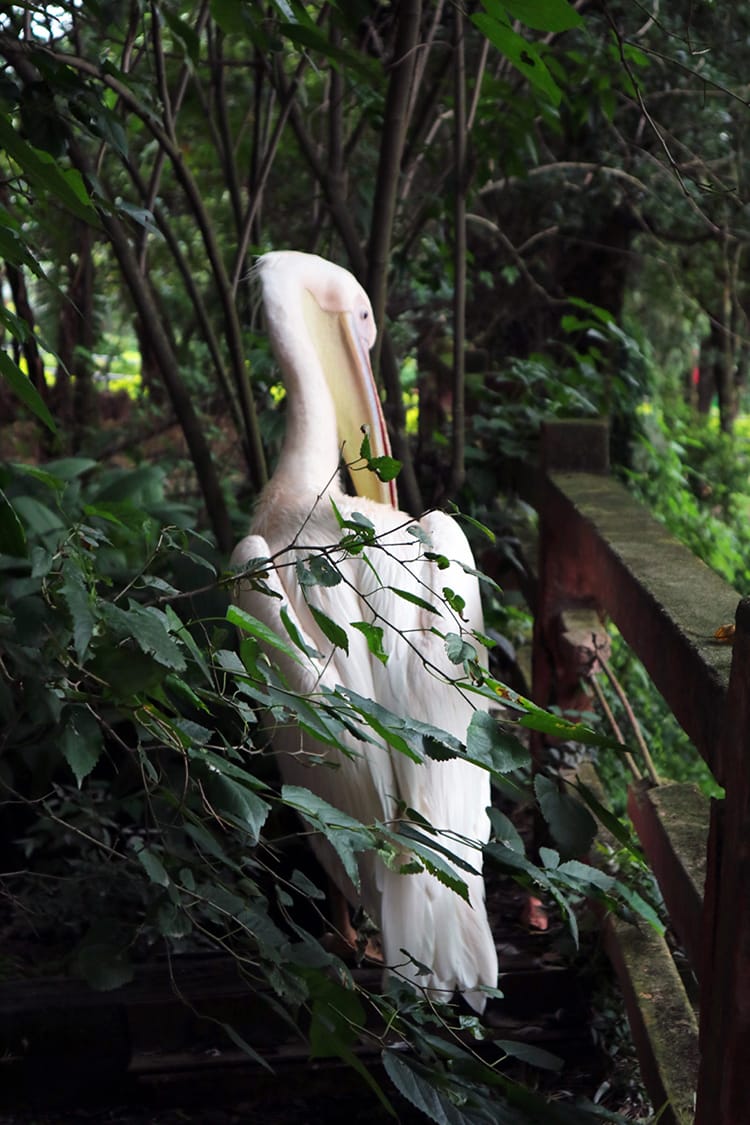 Patan Hotels & Accommodations
Best Budget Accommodation: I stayed in Looniva Guest House when I was traveling solo, and it was perfect for a cheap hotel near all the attractions. Unfortunately, Patan doesn't have any hostels or dorms, so this was the cheapest one I could find that fit my criteria and basic needs.
Book on BOOKING.COM | AGODA
Best Boutique Hotel: Hiranya Guest House is a beautiful traditional boutique hotel. The building looks like it could be part of a museum. The detailed wood work is really lovely, and it's very well-kept. This is perfect if you want a traditional feel while in Patan.
Book on BOOKING.COM | AGODA
Best Comfort Hotel: I ended up at Shakya House by accident when a hotel in Khokana ended up being really weird and uncomfortable. We fled to Patan and need a nice place to decompress from our adventure. The owners are so amazing. They made us feel at home immediately. It was a little more expensive than we usually spend, but it was perfect since we split it between the two of us. I had such an amazing night sleep there. It was one of the best beds I've slept on recently.
Book on BOOKING.COM | AGODA
---
You might also like…