Patan, a small city, just a half hour drive outside of Kathmandu is known for its beautiful architecture. Its little windy alleyways and colorful shops draw visitors from all over Nepal. But, when I looked online for restaurant recommendations, the lists seemed repetitive and to be honest, not that great. Most recommended the same five restaurants that surround the popular Patan Durbar Square. After eating a less than mediocre meal at a few, I decided to investigate and find some better options. Here are my picks for the best restaurants in Patan and Lalitpur.
---
Raithaane
---
Type of Cuisine: Nepali Food with a twist
Price range: 200 – 350 rupees ($2 to $3.50 USD)
My pick: Roasted veggies salad, sweet potato and turbar fries, rikikur (potato pancake), and batuk with chukauni (lentil patties with a local style potato salad)
I went to Raithaane with a friend who lives in Lalitpur at her recommendation. Let me tell you, this place is awesome. It's tucked away behind a back alley and its appearance is unassuming with simple tables set in a garden, but the food speaks volumes. This restaurant takes traditional Nepali cuisine from all over the country and elevates it to a fine dining experience minus the fine dining price tag. Most of the dishes range from 200 – 350 rupees ($2 to $3.50 USD). We chose to share 4 plates including the roasted veggies salad, sweet potato and turbar fries, rikikur (potato pancake), and batuk with chukauni (lentil patties with a local style potato salad). The rikikur was amazing and by far the best potato pancake I've had in all of Nepal. The dipping sauce that came with it which was described on the menu as "serkam spring onion achar" was phenomenal. I highly recommend this as one of the best restaurants in Patan, but also as one of the best places to try Nepali cuisine in Nepal.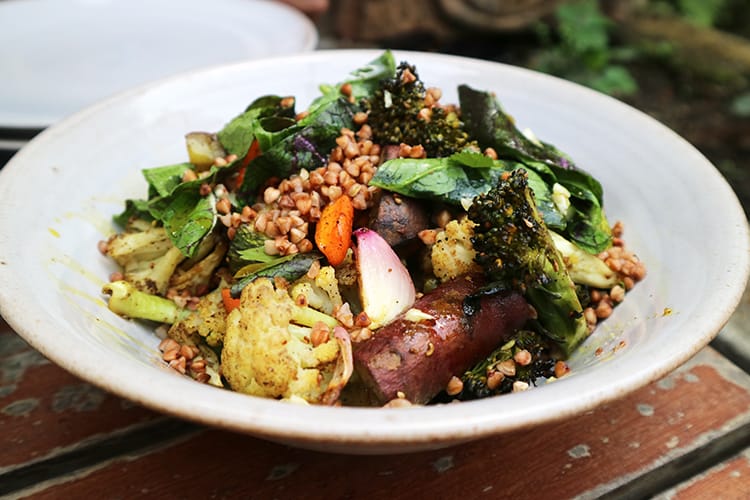 ---
The Village Cafe
---
Type of Cuisine: Newari and Nepali food
Price range: 150 – 700 rupees ($1.50 – $7.00 USD)
My pick: Samaybaji
A few friends had mentioned The Village Cafe to me, and when I searched online, I liked what the restaurant stood for. They source their ingredients from local villagers while teaching them to put an emphasis on quality and freshness. The women who grow the food then come to the restaurant and prepare the meals making them as authentic as going to someone's home. They also receive special training to help them cook like professionals. Even without knowing all of that, the food itself is incredible. The only time I've had food this good was when I was invited to local's homes.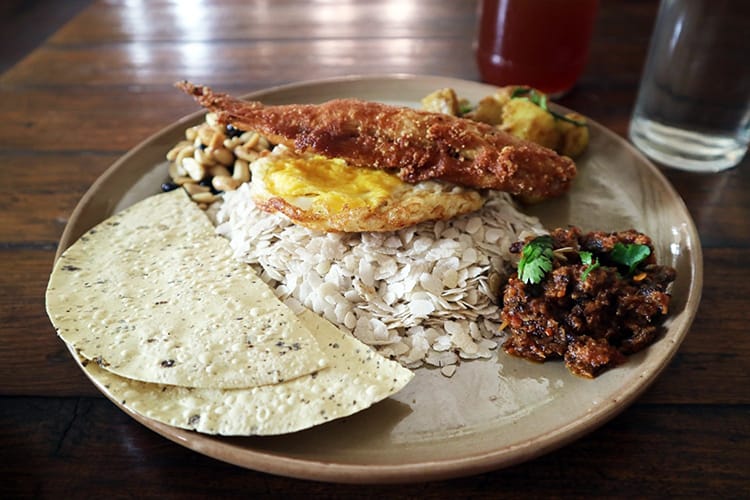 ---
---
Queens Eatery
---
Type of Cuisine: Burgers (they offer non-veg and vegetarian options)
Price range: 450-900 rupees ($4.50 – $9.00)
My pick: Fried Kimchi Chicken Burger
I've been hearing about Queens Eatery for a long time. They became insanely popular during lockdowns with their takeout menu, and everyone who has been there raves about it. I tried to go in the past and it was so crowded we couldn't get a seat. My friends and I finally made it back for lunch and this place lives up to the hype. We asked the waiter what was popular, and he recommended the Kimchi Burger. I never would have thought to order that, but it was amazing. We'd already been to four other restaurants prior to Queens that day, and we figured we'd take one bite and take the rest to go for later because we were so full. It was so good that we seriously couldn't resist eating the entire thing. It was extremely unique and the perfect combination of flavors. I can see why Queens has become one of the most popular restaurants in Patan.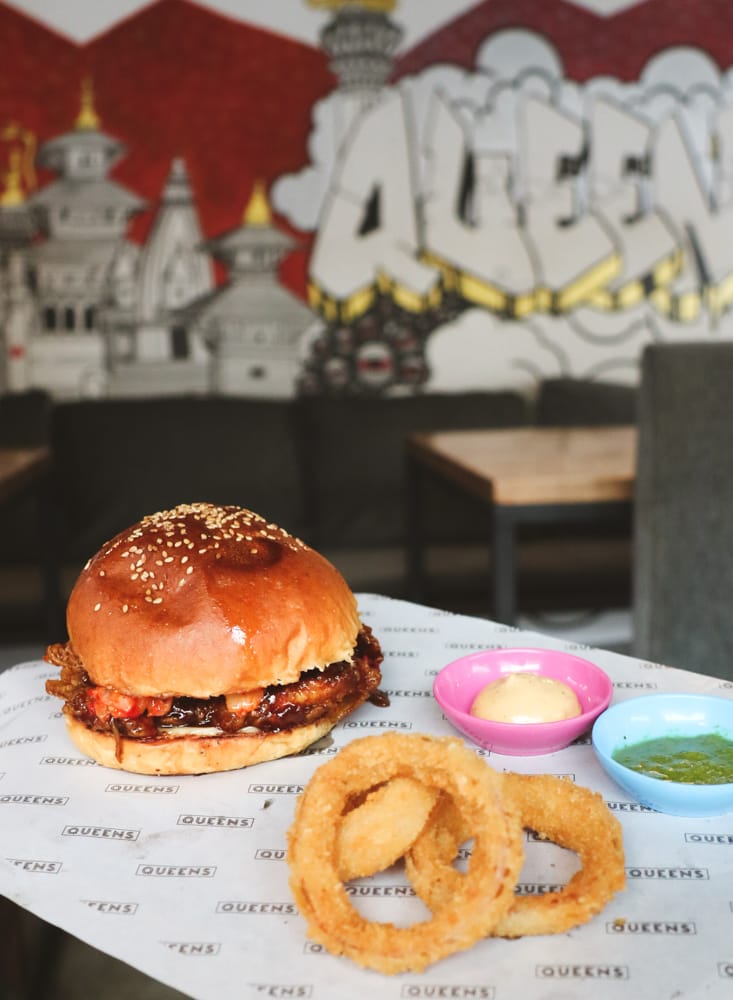 ---
Kyampa The Social Hub
---
Type of Cuisine: Salads, Burgers, Pizza, and Continental
Price range: 400 – 1000 rupees for most meals, and 400 – 900 for most drinks
My pick: Chicken Sliders, Smoked Chicken Salad, Mint Mango Frozen Margarita
Kyampa The Social Hub is a beer garden with small shops in the front and a playground for kids in the back. The eclectic vibe and locally made items in the shops made me want to love this place, but the food is what really sold it. We ordered the sliders which were more like two small burgers than a tiny slider. They were cooked perfectly and were perfect for sharing with a date. The smoked chicken salad was also wonderful. This is the perfect place for casual drinks and shared food with friends.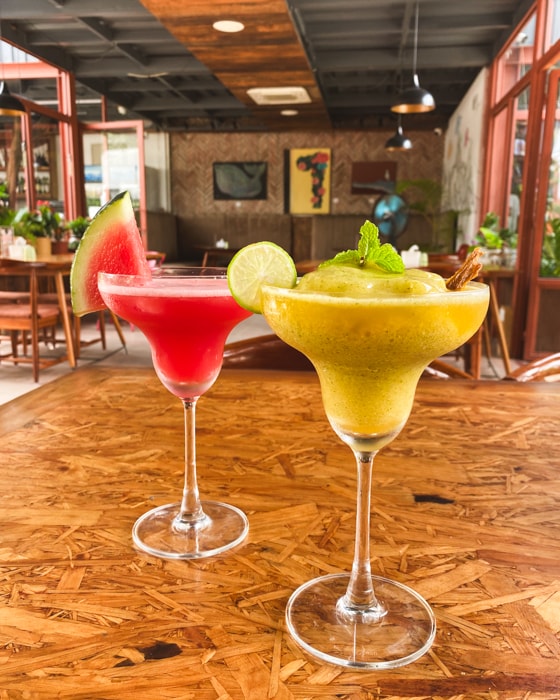 ---
Himalayan Java
---
Type of Cuisine: Coffee and pastries
Price range: 150 – 350 rupees for drinks ($1.50 – $3.50 USD)
My pick: Honey Latte
One of my favorite spots to grab a coffee and baked good is the Himalayan Java chain. It's like the Starbucks of Nepal and is the perfect place to whip out your computer, chill with friends, and drink good coffee. My favorite is the honey latte, which I've been trying to order at cafes in the USA to no avail. The pastries and baked goods are also worth a try. I'm a big fan of the no baked cheesecake topped with blueberries. If you're looking for a place to work, then this is one of the best restaurants in Patan for internet access.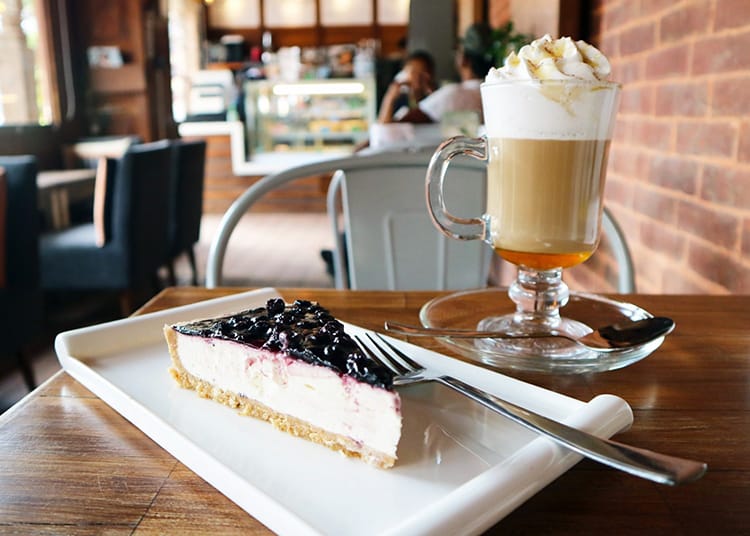 ---
Honacha
---
Type of Cuisine: Traditional Newari
Price range: 100 – 300 rupees ($1.00 – $3.00 USD)
My pick: They only serve a few items each day, so try whatever they have
It's super hard to find Honacha because there is no sign in English. It is on Google Maps though, so just follow that until you find a little hole in the wall that looks like you are walking into someone's private kitchen. If there's a woman sitting on the floor cooking, then you're in the right place. This little restaurant in Patan has amazing local food for crazy cheap. The food pictured below only cost $1.25. They make a few items each day, and that's what is served so there is no menu. When I went, there was beaten rice (my favorite), bara (egg and buffalo pancake), and barbecue buffalo rubbed in chili spices. It was insanely spicy. Like my eyes were watering, but it was also delicious.
I should mention that you shouldn't eat here if it's your first week in Nepal (your stomach might not be able to handle it if you haven't adjusted to the local food yet).
---
---
The Yellow House
---
Type of Cuisine: Bistro (salads and sandwiches), Continental, and Italian
Price range: 300-700 rupees ($3.00-$7.00 USD)
My pick: Ancient Grains Salad
I'd been to The Yellow House a couple of years ago for their Sunday Farmer's Market, but I'd never eaten at the restaurant. My friends and I went for lunch and it's a great place to hang out with friends. They have a beautiful covered patio with rattan furniture and a gorgeous old tree providing shade which gives it a laid back feel. We tried the ancient grains salad, and I thought it would be good but it exceeded my expectations. It consisted of finely chopped kale, onions, tomatoes, corn and quinoa, but it was the dressing that made it so addicting. It was a mix of sesame oil and lemon which was so original that I couldn't stop eating it.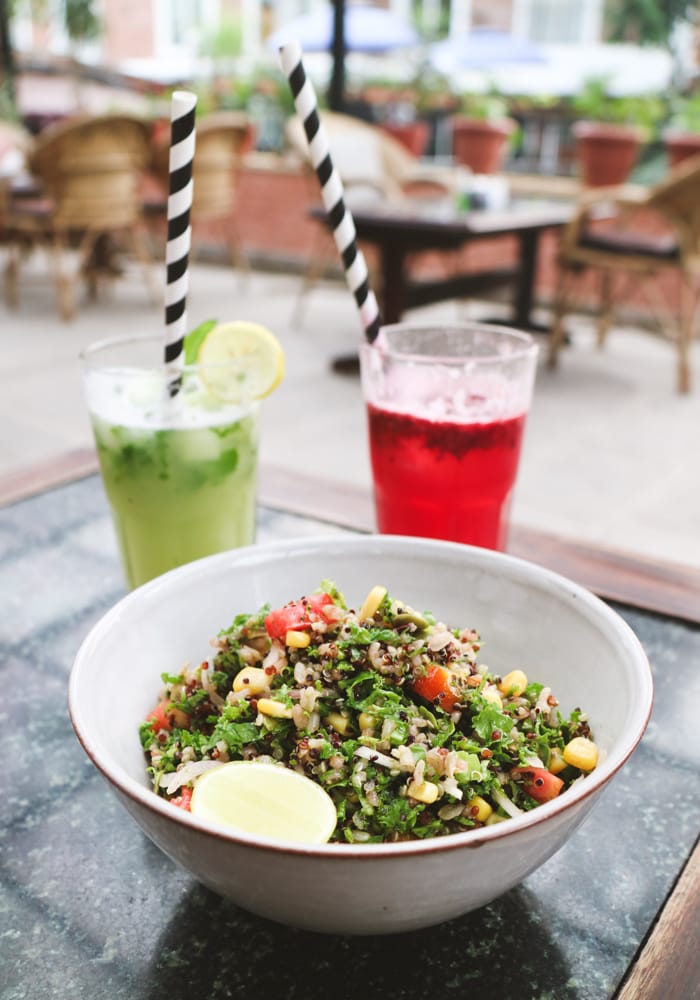 ---
Dhokaima Cafe
---
Type of Cuisine: Continental, Italian, Nepali, Thai, and Chinese
Price range: 200 – 900 rupees ($2.00 – $9.00 USD)
My pick: California Veggie Omelette
Dhokaima is located right next to Patan Dhoka. It's a cute little restaurant with indoor and outdoor seating in a peaceful courtyard. There's also a book shop attached in case you want to grab a book with your breakfast. It's a little on the expensive side with a full breakfast coming in around 700 rupees ($7), but it comes with coffee, juice, toast, and your main. I've eaten at places for a similar price and the food honestly sucked. Here, everything is super fresh. The bread looks homemade and the jam is full of actual strawberries. The California Veggie Omelette tasted like everything was picked fresh from the garden. The coffee also seemed more like a cappuccino than the typical instant coffee other places serve.
---
The Workshop
---
Type of Cuisine: Donuts, bagels and burgers
Price range: 200 – 600 rupees for burgers ($2.00 – $6.00 USD), 90 to 150 rupees for donuts ($0.90 – $1.50)
My pick: Creme brûlée donut, fried chicken burger, bagels
When a friend told me about a creme brûlée donut in Kathmandu Valley, my jaw dropped. My favorite donut ever is from Brooklyn and it's a creme brûlée donut. I went to The Workshop with low expectations but it was almost as good as my favorite Brooklyn donut! These are by far the best donuts I've had in Nepal, and I make excuses to drive to Patan just to stop in and grab a few. Clearly, this is one of my go to restaurants in Patan.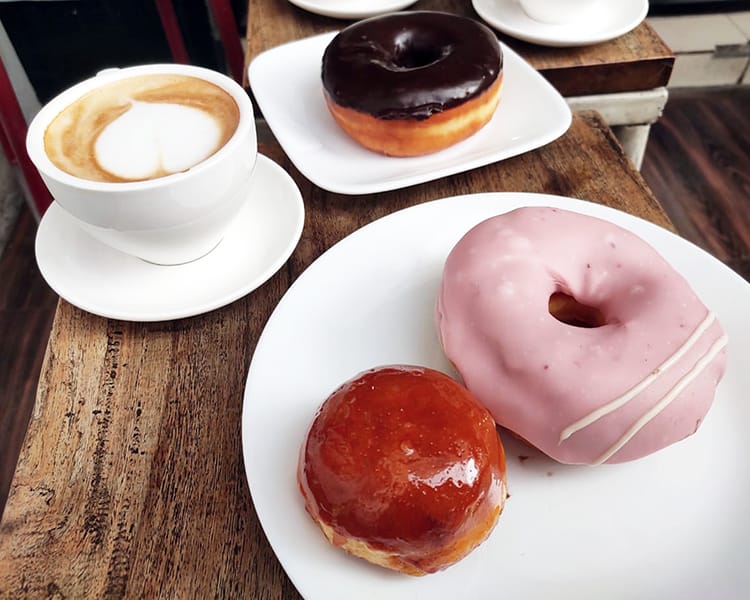 ---
---
Casa Mexicana
---
Type of Cuisine: Mexican
Price range: 200 – 700 rupees ($2.00 – $7.00 USD)
My pick: All-In-One Veg Taco, Veg Enchiladas, and Horchata
Casa Mexicana is a Mexican restaurant with a few locations around Kathmandu. I tend to get bored of eating the same thing all the time, so this was a nice way to mix it up. The restaurant is quaint with indoor and outdoor seating and fun vibrant decor. We ordered the enchiladas and horchata as a drink. The horchata was delicious. It tastes like cinnamon infused milk. I also enjoyed the enchiladas, but if you're not into spicy food, I would ask for things without chili. Nepali people love spicy food, so the food here doesn't shy away from spices. On my second visit, I ordered the all-in-one veg tacos which are now my go-to item to order here. They were amazing!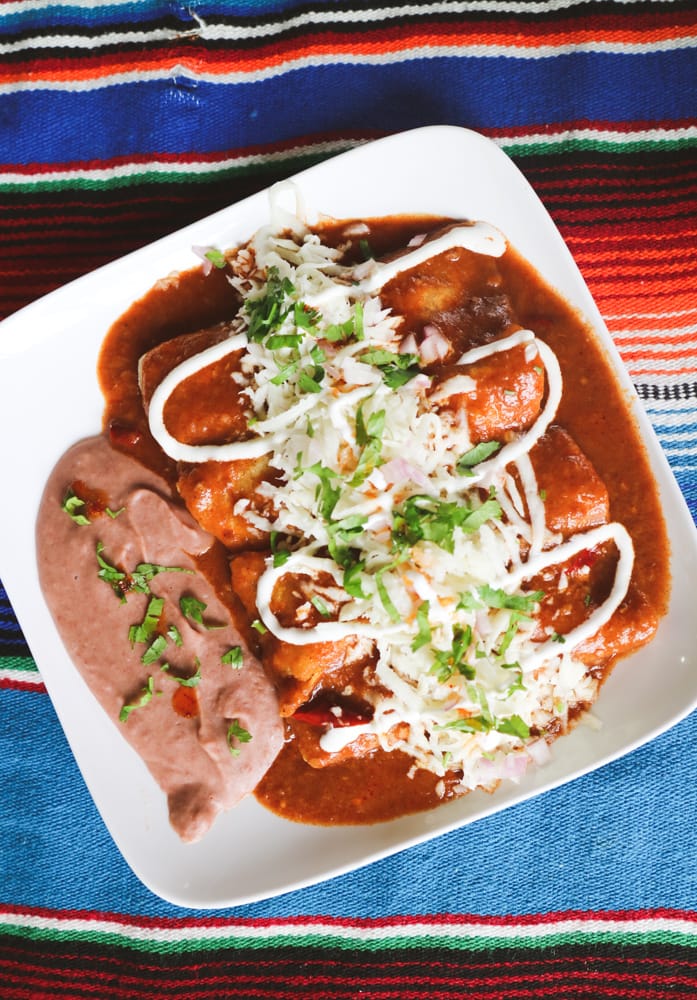 ---
Evoke Cafe & Bistro
---
Type of Cuisine: Burgers, salads, sandwiches, pasta
Price range: 300 – 1500 rupees ($3.00 – $15.00 USD)
My pick: Grilled ham and cheese
I've been to Evoke a few times because it's honestly one of my favorite places. I highly recommend it for late night eats. I came here for an event one night and ordered a grilled cheese when I was a little drunk. It was the BEST grilled ham and cheese sandwich I've ever had. The other reason I like this place is the atmosphere. There's a painting studio, tattoo parlor, and store selling locally made items attached. It's a cool place with a little bit of something for everyone.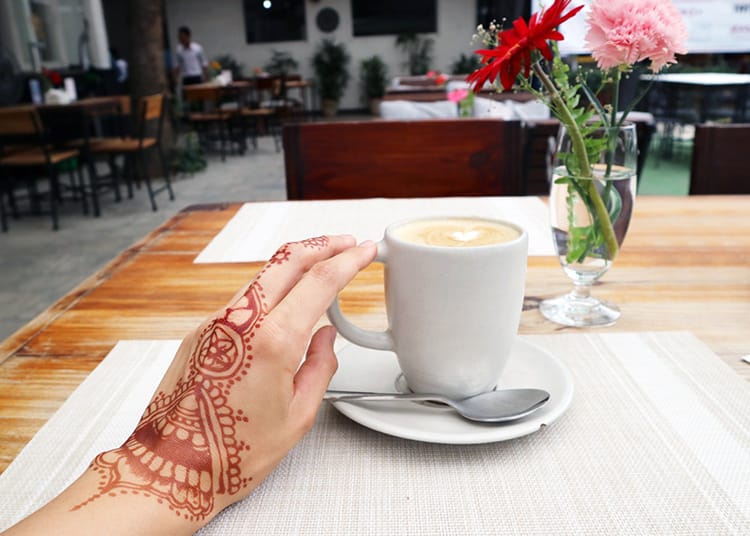 ---
Annamaya
---
Type of Cuisine: Vegetarian
Price range: 300 – 600 rupees ($3.00 – $6.00 USD)
My pick: Rainbow bowl
Annamaya is one of those restaurants I've heard about from multiple friends multiple times, and they were always surprised I hadn't been there. It was time to finally change that, and I'm glad I did. Annamaya is a rooftop restaurant located in the Gyan Mandala complex which is worth a visit. They specialize in vegetarian cuisine. Specifically Buddha bowls, salads, sandwiches, and pastas. We tried the rainbow bowl which is one of the lighter options. It came with fresh raw ingredients and a wonderful peanut dressing. It was the perfect healthy meal for a hot day.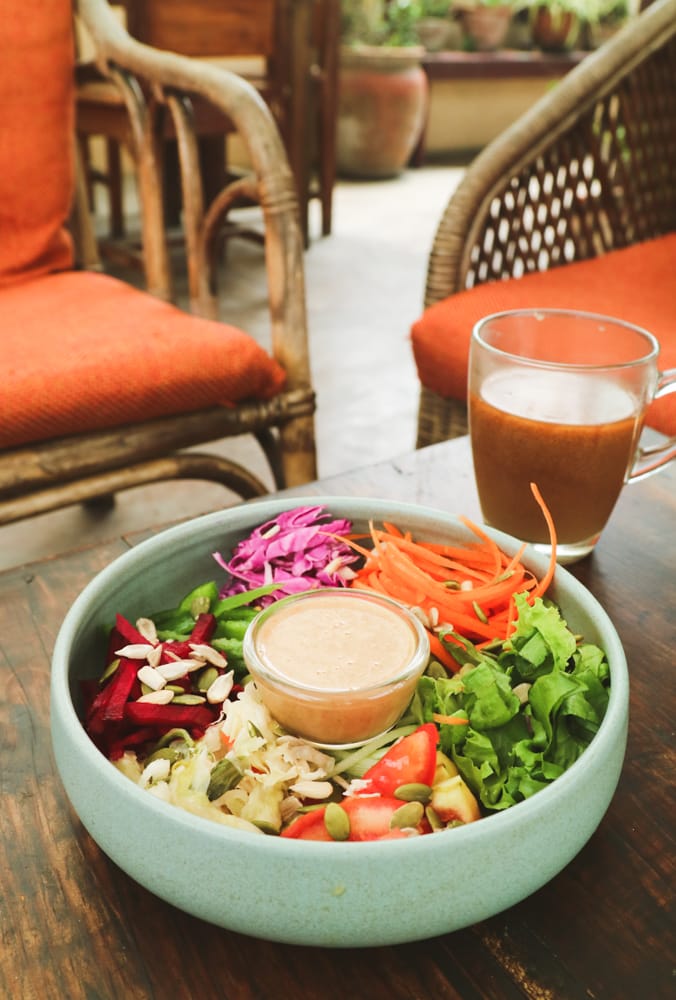 ---
Higher Ground
---
Type of Cuisine: Continental
Price range: 200 – 500 rupees ($2.00 – $5.00 USD)
My pick: English breakfast
Higher Ground is a social enterprise that trains and hires women from poverty stricken areas. They also have a community development organization which creates scholarships. On top of that, you can get a great meal here while supporting a good cause. I went for breakfast and ordered the English breakfast and a cappuccino and it was amazing!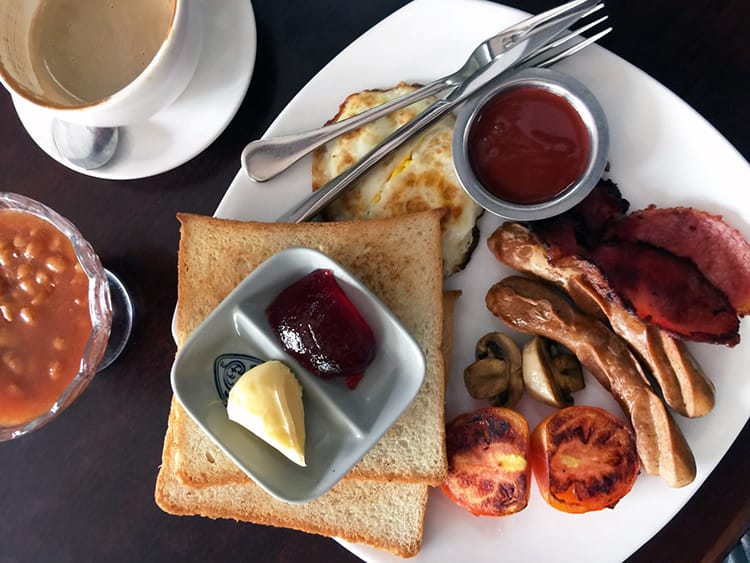 ---
Sami Croissant
---
Type of Cuisine: Vegan pastries and coffee
Price range: 150 – 800 rupees ($1.50 – $8.00 USD)
My pick: Chocolate cronut, Lebanese cheese croissant
My friend lives nearby Sami Croissant and was raving about it, so I was excited to try this vegan bakery. I'm all about eating less meat products, so I was instantly intrigued. We ordered a chocolate cronut and a Lebanese cheese croissant along with some coffees. The cronut was good, but a little doughy compared to other cronuts I've had. I wouldn't call it a "cronut" for that reason, but if you put the name aside it was really tasty. The Lebanese croissant was delicious, and I would definitely order it again. If I hadn't known it was vegan, I never would have guessed that. Overall, this place is a fantastic find for vegetarians and vegans!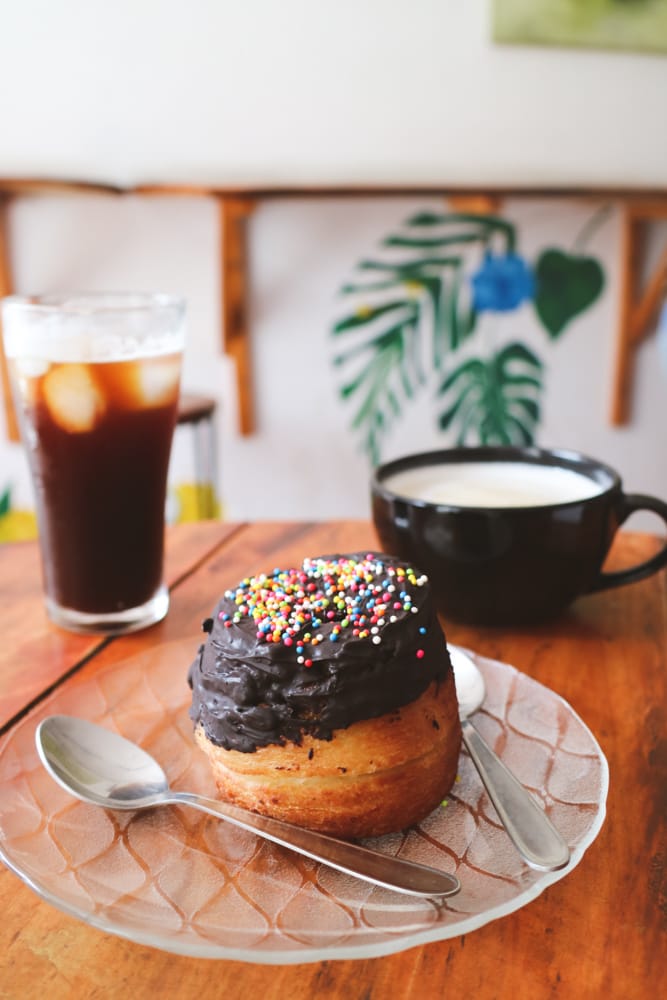 ---
Taza
---
Type of Cuisine: Syrian
Price range: 200 – 800 rupees ($2.00 – $8.00 USD)
My pick: Falafel and Kunafeh Eshta
I was excited to see a Syrian restaurant because I'm obsessed with trying new foods. We opted for the falafel platter because I love falafel, and I have to say this is by far the best falafel I've had in Nepal. It was perfectly crispy and crunchy and the flavor was great. But, the real surprise was the dessert we chose, which is called Kunafeh Eshta. It's a combination of shredded dough and cream filling. It was so different and interesting. We definitely enjoyed the food we tried at Taza. I should note that they also have a bakery across the street.
Have any questions about the best restaurants in Patan? Ask me in the comments.
---
You might also like…