My relationship with India has been strained to say the least. Each country has it's own version of order or way things work. Usually it takes a few days to adjust and understand a country. As far as I can tell, India has no logic, rhyme, or reason. I've been here for over two weeks and still, I feel at a total loss. Visiting the Periyar National Park proved to be no different.
---
Buying tickets for Periyar National Park
---
"We would like to go on the boat safari in Periyar National Park" That statement was met with a blank stare from the tourism desk at our hotel.
"Can we buy tickets?" I pointed to the sign advertising tickets next to the desk.
"Yes, mam."
I waited for further details. The concierge stared at me with a giant grin.
"How much is the ticket?" I asked.
"125 rupees mam."
"Okay, we'd like two tickets."
"Yes, mam." He continued to stare without moving, his smile never wavering.
"Can we buy the tickets from you?"
"No, mam."
…
"How do we buy the tickets?"
"You get from the boat landing mam."
"So we have to go to town to buy tickets? Can you arrange a car for us?"
"Yes, mam. A car is 1,400 rupees. Drop off and pick up mam. What time do you go?"
We decided on arriving an hour before the boat ride. "Is an hour enough time in advance to get a ticket?"
"No problem, mam. You see if you get ticket when you get there."
"Is it hard to get a ticket?"
"Yes, mam." Another long stare and confident smile followed. Clearly this was all the information we were getting.
The Periyar National Park ticket office
---
The next morning we arrived to find that tickets were sold out. If I said I was starting to get frustrated it would be an understatement, alas we would try again tomorrow. However, India had other plans. The following day there was a strike and nothing was open. Not even a single car was on the road. We were in an absolute ghost town, which I have to say is almost amusing considering how hectic India usually is. On our third morning, we attempted again. Upon arriving, we found the ticket booth open; a positive sign!
I asked for two boat tickets. "Mam, we do not sell boat tickets here. We sell you ticket to the Periyar National Park. 450 rupee each. Then you take bus to boat landing. Then you buy ticket for boat." I asked if there were still tickets available, which resulted in a response of, "Not guaranteed mam. People have been waiting there since 6am when we open." I reiterated that we wouldn't know if we could get on the boat until we paid to enter the park and took a bus 2.5 miles. He gave me a head bobble. I took it to mean yes.
Biking in Periyar National Park
---
This was India: a constant struggle to do simple things. We'd finally conceded that we would not be visiting the Periyar Tiger Reserve today, or any day. I had finally accepted defeat. We began to walk around town, following the general direction of the Tiger Reserves entrance. Eventually we happened upon it and asked the guard if we could enter without doing the boat tour. He explained that it was possible and offered a bike rental service.
We hopped on our bikes and were off! It may not be the coveted boat tour, but we made it inside. About three whole minutes later, we were hit with our next obstacle. There were small hills in the park and our bikes had no gears. Tuk tuks and buses sped past us with ease as we pedaled as fast and as hard as we could, barely making it up the daintiest hill. We must have looked ridiculous. Finally, we decided to return the bikes and just walk.
Walking in the Periyar Tiger Reserve
---
If you count the bikes as a failed attempt, we were actually on our fifth crack at seeing the reserve. Fifth times the charm, right? We walked into the park ready to take on the world, until I saw monkeys. I really hate monkeys. If anyone ever says they love monkeys, I'll know they've never actually met one. I slowed down to take a photo, careful not to have anything on me that they could steal. Luckily, they were too busy trying to break into a locked garbage pail to bother messing with me.
We continued down the path and saw a Malabar giant squirrel high up in the trees. It was a black squirrel about three times the size of a U.S. squirrel and made a very strange noise that I thought was a bird. Shortly after, we saw water buffalo going for a dip in the water near the road. It occurred to me that walking through a wildlife reserve where tigers live isn't the smartest idea.
We came to a checkpoint and were about to turn back when the park ranger approached us and began to point out some of the nearby wildlife. He informed us that the boat landing was only 300 meters further so we decided to keep going. We'd already walked 4k, so we might as well walk the remaining 300 meters.
Boating in the Periyar Tiger Reserve
---
We arrived at the boat landing and discovered a beautiful view. The lake stretched out in front of us with mountains off in the distance. The sun was shining and birds were chirping. After looking around and taking photos, we realized it wasn't all that crowded. We found the ticket desk for the boat tour and were able to get tickets on the next boat, which was only a half hour wait! It seemed almost too good to be true! Had we finally made it?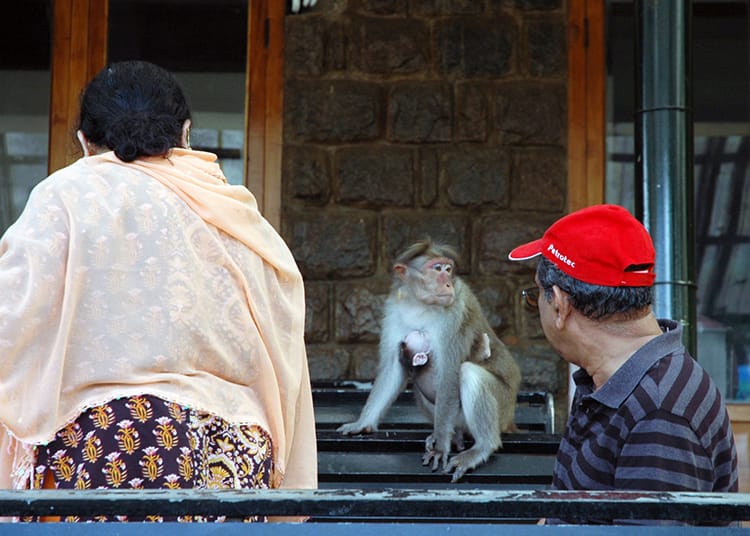 After another run in with monkeys who were slightly more aggressive, (one stole a person's banana and another tried to steal a woman's purse) the boat arrived. We boarded the half empty boat and each grabbed a window seat. No one knew what lay before us. Buffalo? Wild boar? The coveted tiger? For most people, the adventure was about to begin, but for us the adventure had started three days ago with a few simple words… "We would like to go on the boat safari in Periyar."
Our journey was a little rocky, but if you'd like a better tiger spotting experience, I'd recommend reading about going on a Tiger Safari in Bandhavgarh National Park instead. It sounds like Ravenous Travellers had a way better experience than we did.
---
Need a hotel near Periyar National Park?
---
You might also like…