Fort Kochi, a small city on the coast of southern India goes overlooked on most itineraries. Although a popular hub for northerners, it's not often visited by foreigners who prefer to see monuments like the Taj Mahal in the north. Those who do venture south often find themselves in larger cities like Goa, however, there are tons of things to do in Fort Kochi, so it's worth a visit for a few days. After spending over two weeks there, we got the lay of the land and even repeated Uber drivers (a sure sign you've seen it all). So what did we do in two weeks? Check it out…
---
Things to do in Fort Kochi Map
---
Things to do in Fort Kochi
---
The Chinese Fishing Nets
The Chinese fishing nets are located just off the beach in Fort Kochi. You can spend some time talking to the men who run them, and they'll even let you pull the nets up! It's a lot of fun, but be prepared to be asked for a tip upon leaving. You can read my post on the Chinese Fishing Nets for more information.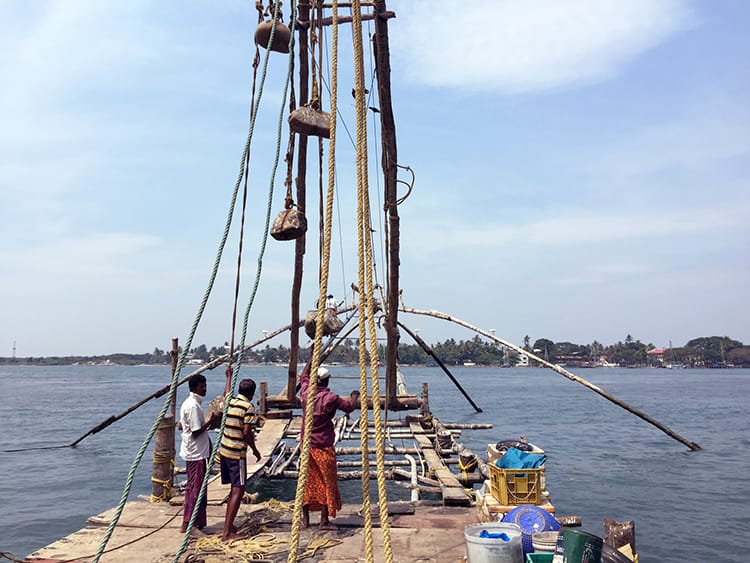 Fort Kochi /Mahatma Gandhi Beach
The beach is a great place to go when you want to slow down. Bring a book to read under the trees, or just take a stroll on the boardwalk while eating freshly cut pineapple. Unlike many beaches in the world, this one isn't meant for swimming or tanning. You may see a few young men splashing in the waves, but women will be fully dressed in sari's. Although it's very modest, it's still worth walking around (fully clothed).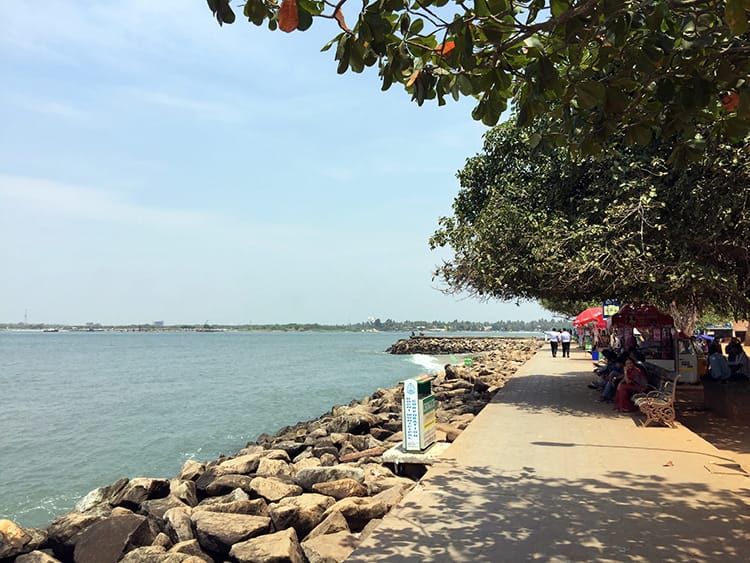 The Dutch Palace
The Dutch Palace (Mattancherry Palace) was built by the Portuguese and later renovated by the Dutch. It features beautiful murals and has exquisite architecture. It's currently a museum which exhibits the history of the Rajas of Kochi. It was interesting to read about all of the different rulers and their relationships with other parts of India and the world. Unfortunately, no photos were allowed.
---
Museums / Art in Fort Kochi
---
Art Galleries
I happened to be in town during the Biennale which gave us an abundance of art to see. Despite that, there seems to be a lot of art galleries in Fort Kochi. I saw a short film with another backpacker that was so bizarre, I don't think I could even describe it. Let's just say there was an octopus with a pug head flying through the sky. I also stumbled upon a few smaller exhibits that were really interesting and worth checking out.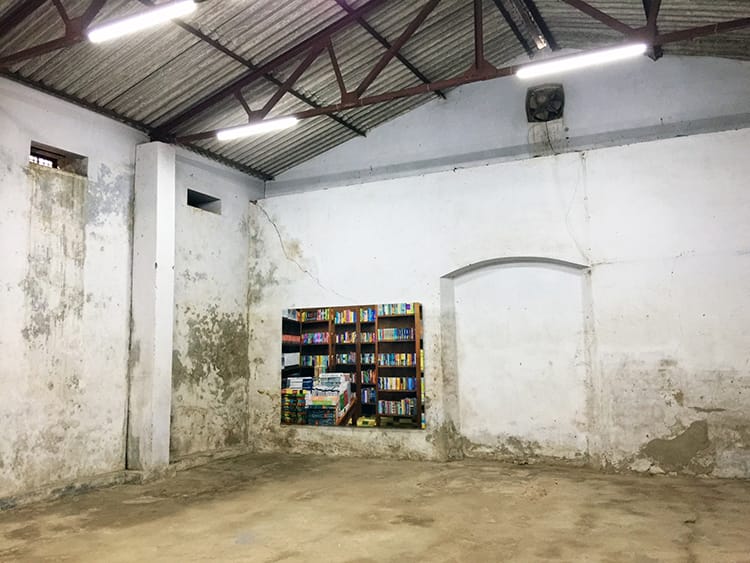 Kerala Folklore Museum
The Kerala Folklore Museum is a privately owned museum with lots of interesting items to look at. From clothing to stone statues, you can really see a vast variety of artifacts. The setup inside feels more like a home than a museum, which I loved. There's a ton to look at, but only a couple of floors, so it won't take too long to see the whole thing.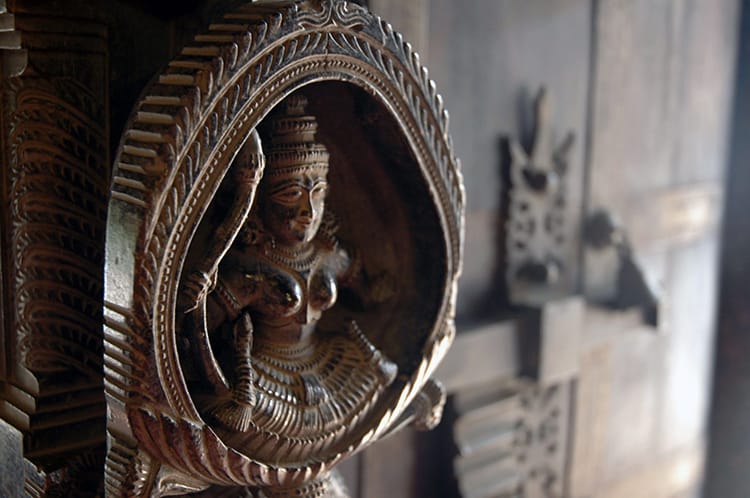 Museum of the History of Kerala
The museum of the History of Kerala is on the small side as well. One of the exhibits features small dolls dressed in traditional Indian clothing. You can see what all of the different states wear as well as what brides wear in different parts of India. There's also a section of life size wax figures with audio that explains the history of the area from the first natives to present time.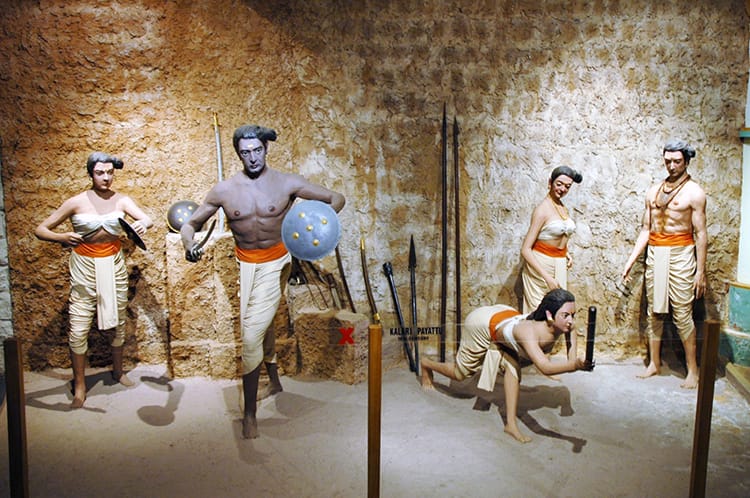 Indo-Portuguese Museum
We had an hour or two to kill before seeing a performance at night, so we stopped by the Indo-Portuguese Museum (Bishop's House). This museum features religious relics from the area. Most of the items came from the first churches built when westerners arrived. It's a small museum, but it has some interesting items. For instance, downstairs you can see remains of the original Fort Kochi.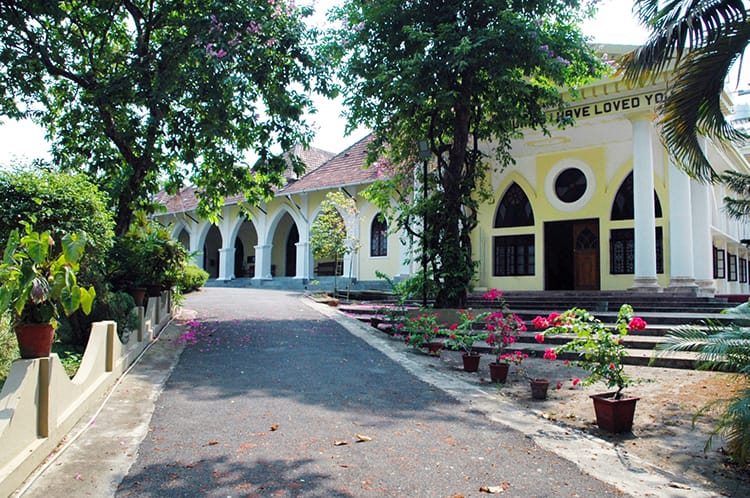 Kathakali Show
Kathakali is a classical Indian dance. It's most known for it's extreme makeup and costume and is a must see when visiting India. Most places will let you arrive an hour before the show to watch the actors apply makeup and get into character. Kathakali doesn't use any words. There are singers and drummers who create the sound and the actors communicate with eye movements, facial expressions, and hand gestures. The shows are extremely long and aren't shown all at once, so you'll most likely see a one hour chunk of an eight hour show. It's really incredible/bizarre to watch.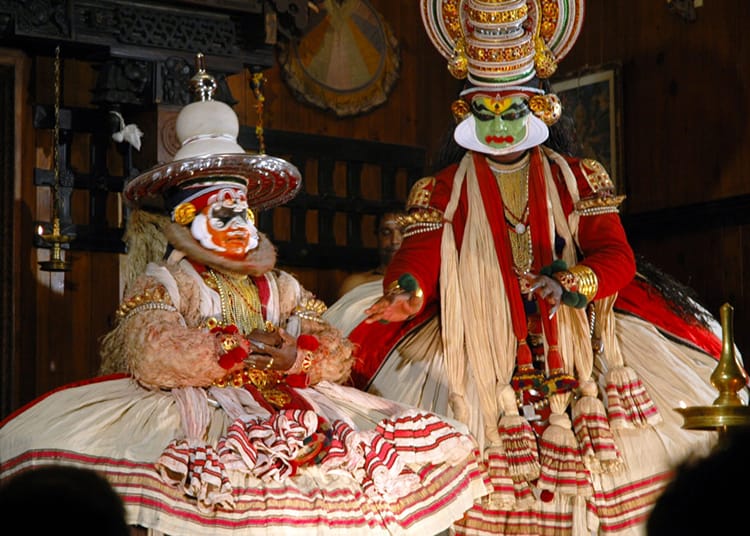 Shopping in Fort Kochi
---
Bazaar Road
Bazaar Road makes the top of my list for shopping. Although most items are overpriced, they have really cool home decor if you like rustic antiques/hardware or bohemian vibes. We bought an incredible mask of Ganesh, six pieces of art to be framed, an elephant shaped door handle, and a singing bowl. It took some major bargaining, but buying a lot from one store ensured an excellent price. Make sure to walk all the way down to the area where the stores are sparse because you'll get the best deals from them.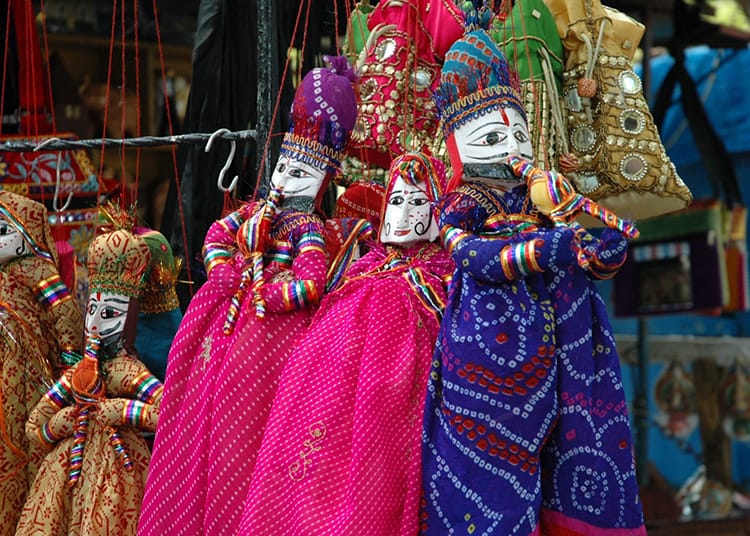 Jew Town
Jew Town is a bit of a tourist trap for shopping as most foreigners flock there. Be prepared for some very pushy sales peoples. The shop owners are incredibly friendly and will talk to you for an hour about life before starting their sales pitch. At that point you're practically family and feel obligated to buy something, which is how I ended up buying a cashmere scarf in 95 degree weather. This area is best for souvenirs. You can find everything from christmas ornaments to clothing. Make sure to walk the whole area first and then go back and buy. Most places have the same items, and the prices vary a lot.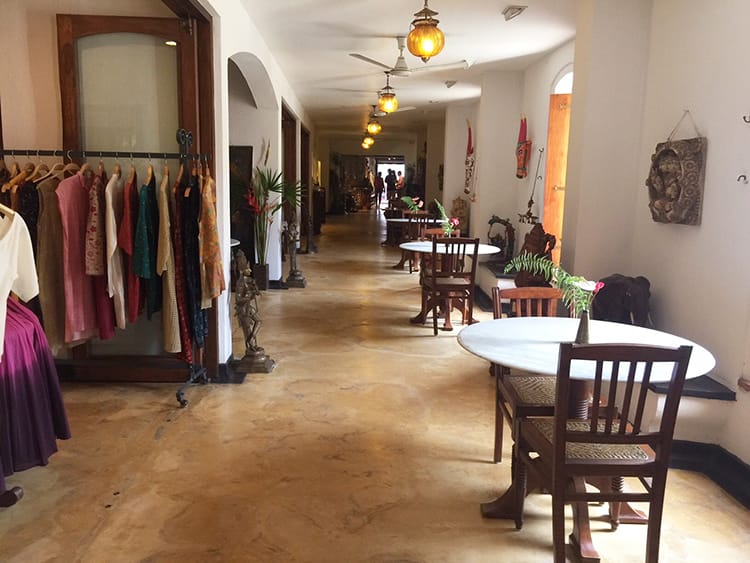 Princess Street & Beach Walkway
This was my favorite area because it wasn't as crowded. The small roads surrounding Princess Street are filled with similar items to Jew Town, but you'll also find some cool treasures. The foot traffic isn't as high, so the owners seem more willing to negotiate. A lot of the owners are friends or work together, so if you're looking for something specific, let them know. I spotted a great leather photo album but didn't like the design. One of the owners took me two shops down where they had more, and I ended up loving two of them. I also found a great genie lamp (which I got for half the original price) and two pillow cases in this area.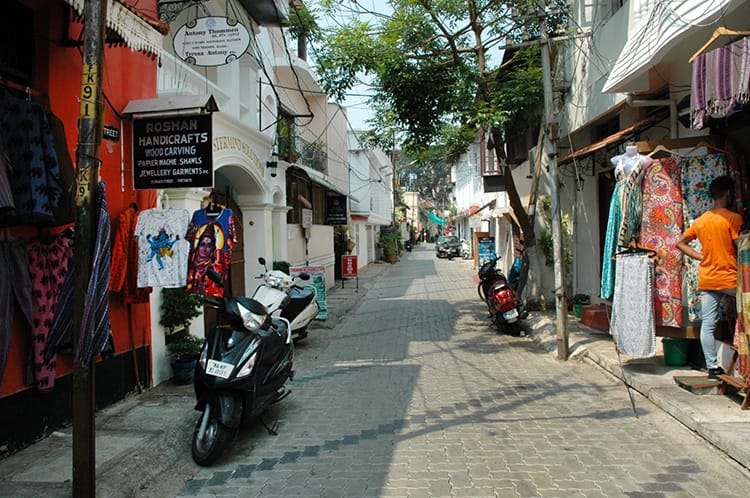 Lulu Mall
I'm not the type of person who visits malls when I travel to other countries, but if you want to buy clothes, get them here. The clothes sold in the above mentioned areas are overpriced and cheaply made. If you look closely, you'll see most of them are falling apart. Local people shop at the mall, so you'll find beautiful pieces that are well made and not too expensive. A cheap shirt sold in tourist areas cost $20. A beautiful, well made shirt at the mall will cost $30. My favorite store, Global Desi, had gorgeous dresses and tops for women. There's also a movie theater in the mall if you are interested in seeing a Bollywood film.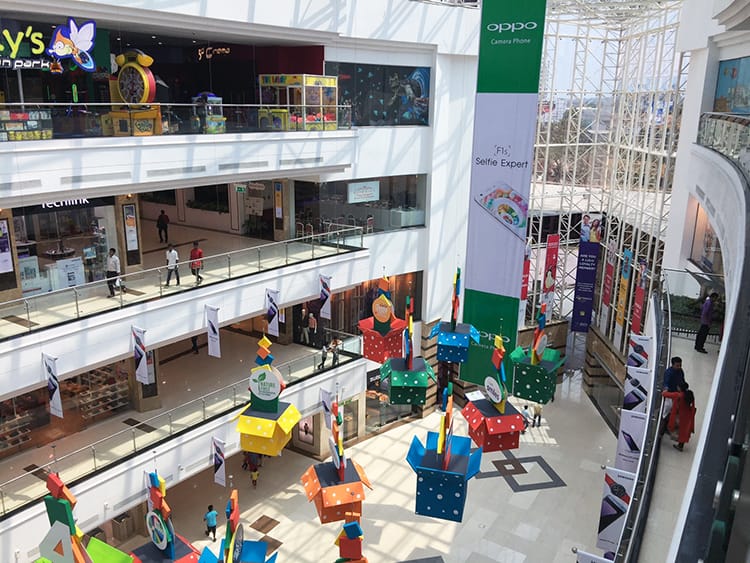 Food in Fort Kochi
---
Cooking Class
Try taking a traditional Indian cooking class. We went with Flavors Cooking Classes since they got great reviews on Trip Advisor. We learned five different dishes including curries and rice. It was my favorite cooking class I've taken thus far. Later, I made these dishes at home for family, and it was a huge hit. Everyone still talks about it.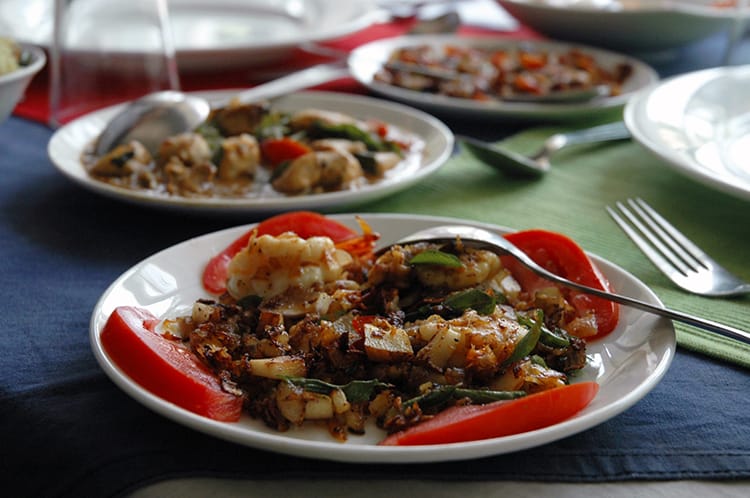 Tea Time
Tea is practically a religion in India, so you should try as many kinds as you can. There's a small hole in the wall place on Bazaar Road that serves saffron tea. Yum. The most popular teas are masala and cardamom. Always ask for milk tea when you order (unless you're lactose intolerant). It tastes best if they mix it for you. Locals drink it with lots of sugar, which takes a little getting used to, but it's really delicious. If you want to bring some home, look for Ripple brand tea which is grown only two hours away in Munnar.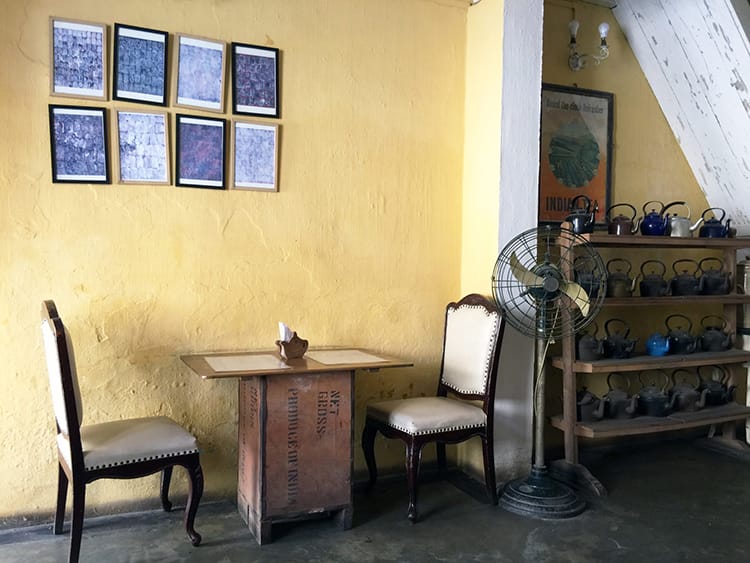 Thali
Thali is a popular lunch in India. You receive a large silver tray with several small cups on it. Each cup is different. Usually you'll get a few curries, lentils, yogurt, dessert, naan, rice, and more. As you eat, the dishes are refilled. It's great if you're new to Indian food or don't know what to order. You'll get a little bit of everything to try and when you like something, they keep refilling it. If you end up going to Lulu Mall, there's a great place on the top floor in the corner. It was the best Thali I had, although it's on the expensive (approximately $10).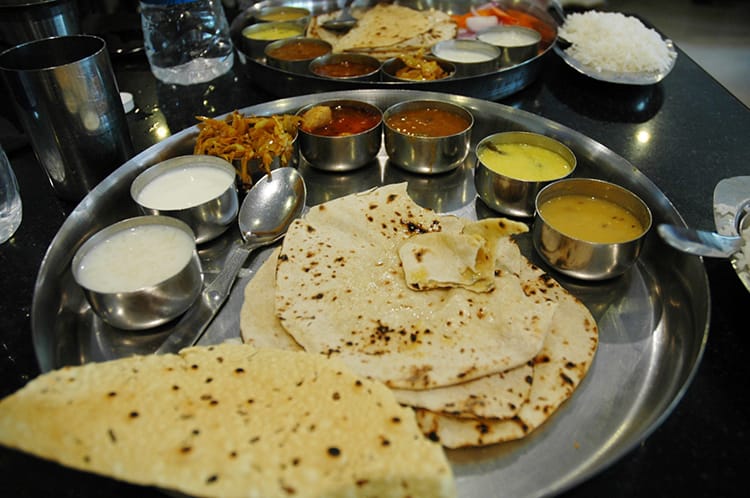 Other Things To Do in Fort Kochi
---
Ayurveda Massage
Ayurveda is a type of medicine using natural ingredients. It was founded in India, but is used in the western world as a holistic treatment. You can get an Ayurveda massage in India using medicated oil. The massage I chose focused on pressure points to ease stress and sore muscles. They start by dousing you in oil (including your hair). Seriously, I could have gone down a slip and slide without water. Then they massage all the tension out of your body. When you're done, you have to shower because there's no way you can put your clothes on with all the oil on you. My treatment was super relaxing and moisturizing. We went to a high end place, so the one hour massage was $50, but you can find one for cheaper.
---
Fort Kochi Hotels & Accommodation
We stayed just outside of Fort Kochi in the Ramada Resort, but if you're looking for a place to stay in the city, you can check out Brogan Abroads review of the Brunton Boatyard Hotel.
---
You might also like…